XM for Customer Frontlines

Digital

Root out friction in every digital experience, super-charge conversion rates, and optimize digital self-service

Care

Uncover insights from any interaction, deliver AI-powered agent coaching, and reduce cost to serve

Locations

Increase revenue and loyalty with real-time insights and recommendations delivered straight to teams on the ground

XM for People Teams

Engage

Know exactly how your people feel and empower managers to improve employee engagement, productivity, and retention

Lifecycle

Take action in the moments that matter most along the employee journey and drive bottom line growth

Analytics

Whatever they're are saying, wherever they're saying it, know exactly what's going on with your people

XM for Strategy & Research

Research

Get faster, richer insights with qual and quant tools that make powerful market research available to everyone

User Experience

Run concept tests, pricing studies, prototyping + more with fast, powerful studies designed by UX research experts

Brand

Track your brand performance 24/7 and act quickly to respond to opportunities and challenges in your market

XM Platform

Explore the platform powering Experience Management

Teams

For Digital

For Customer Care

For Human Resources

For Researchers

All Teams

Industries

Healthcare

Education

Financial Services

Government

All Industries

Customer Experience

Employee Experience

Employee Exit Interviews

Net Promoter Score

Voice of Customer

Customer Success Hub

Product Documentation

Training & Certification

Community

XM Institute

About Us

Careers

Partnerships

Marketplace

X4 Summit

The annual gathering of the experience leaders at the world's iconic brands building breakthrough business results, live in Salt Lake City.
Market Research
What is design research methodology and why is it important?
From apps to architecture, successful designs that address real-world needs are made possible by data and insights, not guesswork. This is where design research comes in.
What is design research?
Design research is the process of gathering, analyzing and interpreting data and insights to inspire, guide and provide context for designs. It's a research discipline that applies both quantitative and qualitative research methods to help make well-informed design decisions.
Not to be confused with user experience research – focused on the usability of primarily digital products and experiences – design research is a broader discipline that informs the entire design process across various design fields. Beyond focusing solely on researching with users, design research can also explore aesthetics, cultural trends, historical context and more.
Design research has become more important in business, as brands place greater emphasis on building high-quality customer experiences as a point of differentiation.
Elevate Your Brand's Potential with Qualtrics
Design research vs. market research
The two may seem like the same thing at face value, but really they use different methods, serve different purposes and produce different insights.
Design research focuses on understanding user needs, behaviors and experiences to inform and improve product or service design.  Market research, on the other hand, is more concerned with the broader market dynamics, identifying opportunities, and maximizing sales and profitability.
Both are essential for the success of a product or service, but cater to different aspects of its lifecycle.
Design research in action: A mini mock case study
A popular furniture brand, known for its sleek and simple designs, faced an unexpected challenge: dropping sales in some overseas markets. To address this, they turned to design research – using quantitative and qualitative methods – to build a holistic view of the issue.
Company researchers visited homes in these areas to interview members of their target audience and understand local living spaces and preferences. Through these visits, they realized that while the local customers appreciated quality, their choices in furniture were heavily influenced by traditions and regional aesthetics, which the company's portfolio wasn't addressing.
To further their understanding, the company rolled out surveys, asking people about their favorite materials, colors and furniture functionalities. They discovered a consistent desire for versatile furniture pieces that could serve multiple purposes. Additionally, the preference leaned towards certain regional colors and patterns that echoed local culture.
Armed with these insights, the company took to the drawing board. They worked on combining their minimalist style with the elements people in those markets valued. The result was a refreshed furniture line that seamlessly blended the brand's signature simplicity with local tastes. As this new line hit the market, it resonated deeply with customers in the markets, leading to a notable recovery in sales and even attracting new buyers.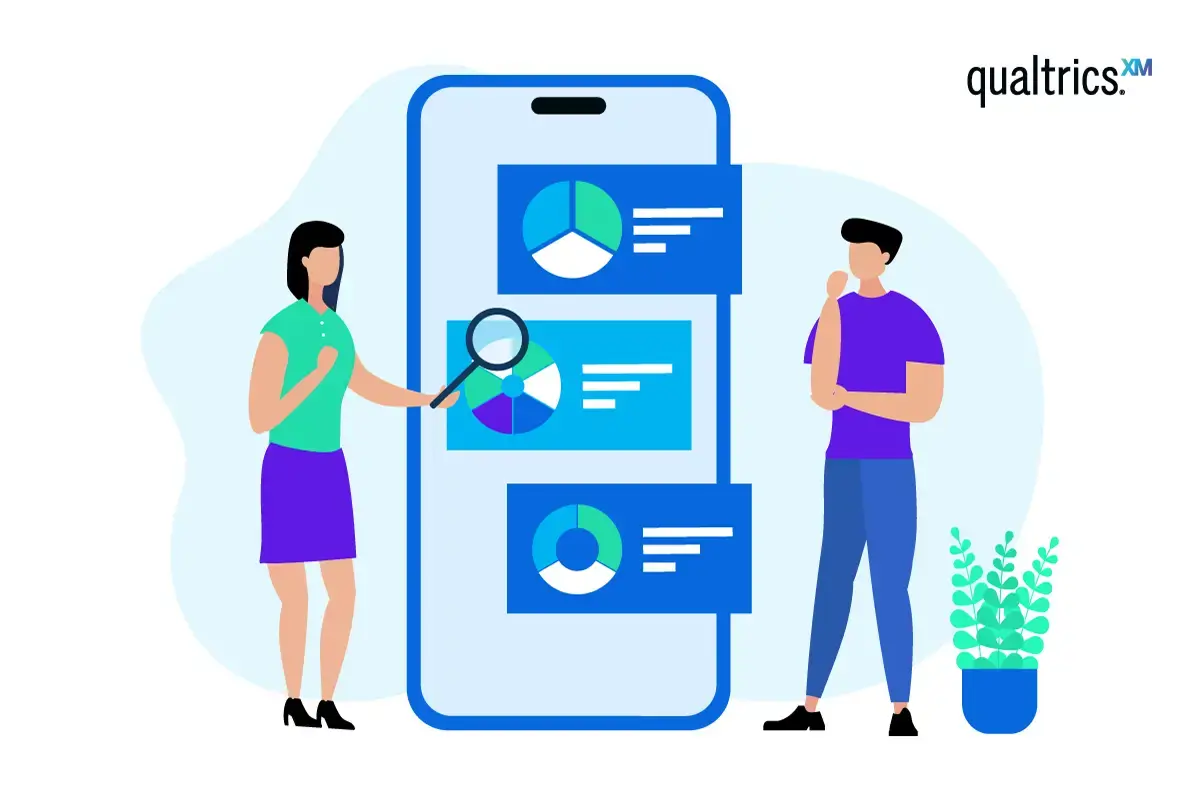 When to use design research
Like most forms of research, design research should be used whenever there are gaps in your understanding of your audience's needs, behaviors or preferences. It's most valuable when used throughout the product development and design process.
When differing opinions within a team can derail a design process, design research provides concrete data and evidence-based insights, preventing decisions based on assumptions.
Design research brings value to any product development and design process, but it's especially important in larger, resource intensive projects to minimize risk and create better outcomes for all.
The benefits of design research
Design research may be perceived as time-consuming, but in reality it's often a time – and money – saver that can. easily prove to be the difference between strong product-market fit and a product with no real audience.
Deeper customer knowledge
Understanding your audience on a granular level is paramount – without tapping into the nuances of their desires, preferences and pain points, you run the risk of misalignment.
Design research dives deep into these intricacies, ensuring that products and services don't just meet surface level demands. Instead, they can resonate and foster a bond between the user and the brand, building foundations for lasting loyalty.
Efficiency and cost savings
More often than not, designing products or services based on assumptions or gut feelings leads to costly revisions, underwhelming market reception and wasted resources.
Design research offers a safeguard against these pitfalls by grounding decisions in real, tangible insights directly from the target market – streamlining the development process and ensuring that every dollar spent yields maximum value.
New opportunities
Design research often brings to light overlooked customer needs and emerging trends. The insights generated can shift the trajectory of product development, open doors to new and novel solutions, and carve out fresh market niches.
Sometimes it's not just about avoiding mistakes – it can be about illuminating new paths of innovation.
Enhanced competitive edge
In today's world, one of the most powerful ways to stand out as a business is to be relentlessly user focused. By ensuring that products and services are continuously refined based on user feedback, businesses can maintain a step ahead of competitors.
Whether it's addressing pain points competitors might overlook, or creating user experiences that are not just satisfactory but delightful, design research can be the foundations for a sharpened competitive edge.
Design research methods
The broad scope of design research means it demands a variety of research tools, with both numbers-driven and people-driven methods coming into play. There are many methods to choose from, so we've outlined those that are most common and can have the biggest impact.
To ensure we use the right method at the right time, we've structured them into four linear stages: discover, explore, test and listen.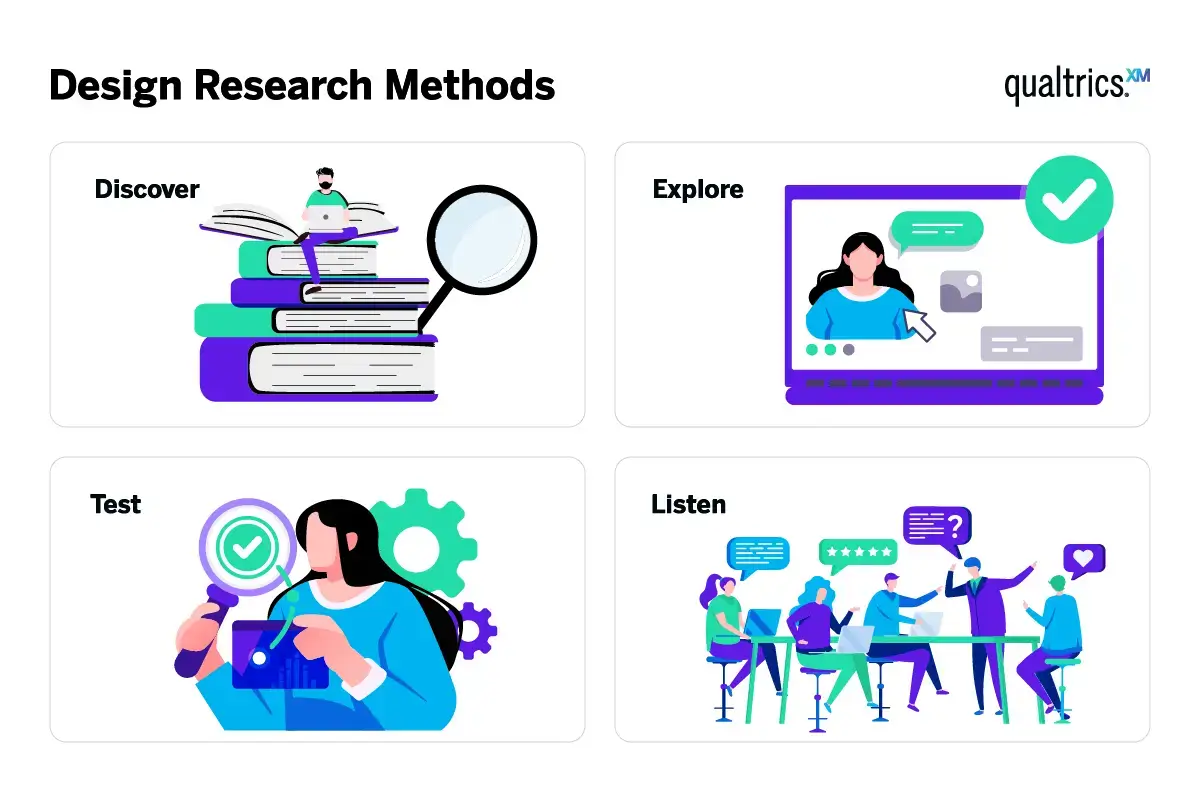 Discover
This stage is about gathering initial insights to set a clear direction.
Literature review
Simply put, this research method involves investigating existing secondary research, like studies and articles, in your design area. It's a foundational method that helps you understand current knowledge and identify any gaps – think of it like surveying the landscape before navigating through it.
Field observations
By observing people's interactions in real-world settings, we gather genuine insights. Field observations are about connecting the dots between observed behaviors and your design's intended purpose. This method proves invaluable as it can reveal how design choices can impact everyday experiences.
Stakeholder interviews
Talking to those invested in the design's outcome, be it users or experts, is key. These discussions provide first-hand feedback that can clarify user expectations and illuminate the path towards a design that resonates with its audience.
Explore
This stage is about delving deeper and starting to shape your design concepts based on what you've already discovered.
Design review
This is a closer look at existing designs in the market or other related areas. Design reviews are very valuable because they can provide an understanding of current design trends and standards – helping you see where there's room for innovation or improvement.
Without a design review, you could be at risk of reinventing the wheel.
Persona building
This involves creating detailed profiles representing different groups in your target audience using real data and insights.
Personas help bring to life potential users, ensuring your designs address actual needs and scenarios. By having these "stand-in" users, you can make more informed design choices tailored to specific user experiences.
Test
Putting your evolving design ideas to the test and gauging their effectiveness in the real world.
Usability testing
This is about seeing how real users interact with a design.
In usability testing you observe this process, note where they face difficulties and moments of satisfaction. It's a hands-on way to ensure that the design is intuitive and meets user needs.
Benchmark testing
Benchmark testing is about comparing your design's performance against set standards or competitor products.
Doing this gives a clearer idea of where your design stands in the broader context and highlights areas for improvement or differentiation. With these insights you can make informed decisions to either meet or exceed those benchmarks.
Listen
This final stage is about gathering feedback once your design is out in the world, ensuring it stays relevant and effective.
Feedback surveys
After users have interacted with the design for some time, use feedback surveys to gather their thoughts. The results of these surveys will help to ensure that you have your finger on the pulse of user sentiment – enabling iterative improvements.
Remember, simple questions can reveal a lot about what's working and where improvements might be needed.
Focus groups
These are structured, moderator-led discussions with a small group of users. The aim is for the conversation to dive deep into their experiences with the design and extract rich insights – not only capturing what users think but also why.
Start your free 30-day trial of DesignXM® today
Understanding what your market wants before they even know it can set your business apart in a saturated market. That's where DesignXM by Qualtrics® comes in – offering a top-tier platform designed for those who want to lead, not just follow.
Why dive into DesignXM?
Quick insights: Get to the heart of the matter faster and make informed decisions swiftly
Cost-effective research: Cut back on outsourced studies and get more bang for your buck, all while ensuring top-notch quality
Premium quality: Stand shoulder to shoulder with leading brands, using best-in-class research methods
Elevate Your Brand's Potential with Qualtrics