Customer Experience
New research: The current state of customer experience within seven major industries
The Qualtrics XM Institute recently published a series of new reports that examine the current quality of customer experience (CX) within seven key industries: airline, automotive, banking, health insurance, hotel, insurance, and retail.
The Large-Scale CX Benchmarks Study
These Industry Snapshots are based on a large-scale benchmark study, which asked 10,000 U.S. consumers to rate their recent interactions with 294 companies across 20 industries. Consumers evaluated their experiences with companies across the three areas of customer experience – success, effort, and emotion – and we averaged these three scores together to generate each company's CX rating, also known as their XMI Customer Rating – Overall score.
Respondents were also asked how likely they were to exhibit certain loyalty behaviors, such as recommending, repurchasing from, or trusting a company. Once we had company-level CX and loyalty data for each individual organization, we then derived industry-level data by averaging the scores of companies within each industry.
Each Industry Snapshot looks at how the highlighted industry's XMI Customer Rating compares to the Ratings of the other 19 industries and examines the connection between a customer's experience and the likelihood that they will recommend, rebuy from, and trust a company within that industry. These Industry Snapshots also explore the potential cost of delivering poor experiences, the most broken journeys within each industry, and how experience perceptions differ across age groups. For example, the graphic below shows the overall state of CX within the airline industry: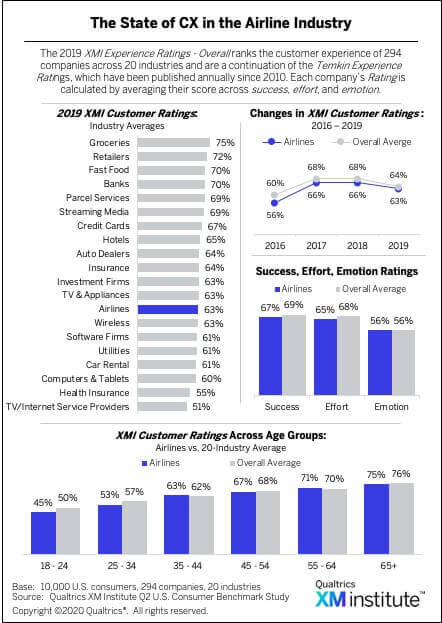 Notable Industry Findings
Some notable findings from each of the seven Industry Snapshots include:
Airlines risk losing significant business from poor experiences
Although airlines received average ratings in most of the CX dimensions we examined, they deliver one of the highest rates of poor experiences, with 9% of customers who interacted with an airline over the previous six months saying they had a bad experience. Of the customers who endured a poor experience, over half say that they decreased or stopped their spending entirely with the airline after that one bad interaction.
Auto Dealerships' CX varies widely
The automotive industry earned an NPS of 38, with 58% of customers who recently interacted with a dealership saying they are likely to recommend the dealership and only 20% saying they aren't. While this is higher than the overall industry NPS of 31, there is a significant difference within the industry between auto dealers that earn the highest and those who receive the lowest CX scores, which results in average ratings for the industry overall. This contrast is illustrated by the fact that despite their average ratings, 10% of customers' interactions with auto dealerships are negative, one of the highest rates of any industry.
Banks inspire trust
Banks deliver a fairly low percentage of poor experiences – only 6%. It is unsurprising, therefore, that the banking industry outperforms the overall industry average when it comes to trust, with over two-thirds of customers saying they trust their bank to take care of their needs. The difference is particularly stark among 18- to 24-year-olds, who give banks a trust rating that's eight points higher than the overall industry average, and for 25- to 34-year-olds, who give them a rating that's seven points higher.
Health insurers enjoy high retention rates
Although 9% of customers who recently interacted with a health insurer say they had a bad experience – one of the highest across the 20 industries – only 21% of those customers say they decreased or stopped spending with that health insurer after that negative interaction, which is one of the lowest rates of any industry. This high retention rate in spite of the frequency of bad experiences is likely a result of industry dynamics, which make it very difficult for customers to change health insurers, rather than a reflection of good CX practices within the industry.
Hotels benefit from engendering positive emotions
Almost 70% of hotel customers say they are likely to purchase more from a hotel. Guests' likelihood to repurchase is highly correlated to the emotion component of their experience. Eighty-six percent of customers who gave a hotel a high emotion rating say they will likely rebuy, compared to only 12% who gave it a low rating. Delivering emotionally resonant experiences is particularly important in the hotel industry, where 53% of customers say they either stopped or decreased spending with the company following a single poor experience.
Insurers struggle with self-service and communicating policies
When we asked customers who recently interacted with an insurer which journeys most needed improvement, the most commonly identified journeys were using online self-service, finding answers to questions about the policy, and selecting a policy that best meets my needs. Although slightly fewer customers chose resolving customer service issues as a broken journey, those who did gave insurers an NPS that was 52 points below the insurance industry average.
Retailers deliver strong CX
Retailers earned an average XMI Customer Rating – Overall score of 72%, the second highest of any industry included in this study after groceries. And while retailers outperform most other industries across all three loyalty behaviors, they particularly stand out when it comes to likelihood to rebuy, where the retail industry average is nine points higher than the overall industry average (76% versus 67%).
Using the CX Industry Snapshots
Each Industry Snapshot also makes specific recommendations for how companies within the industry can improve the experiences they deliver to their customers. As we describe in the report Operationalizing XM, the environment in which organizations operate is changing.
To thrive in the new business landscape, companies across all industries should be on a multi-year journey to build the organizational capabilities that will allow them to continuously learn what people are thinking and feeling, propagate insights across their ecosystems, and rapidly adapt based on the key findings they uncover. To build these organizational capabilities, companies must establish Experience Management (XM) as an organizational discipline by mastering six XM Competencies and 20 XM Skills.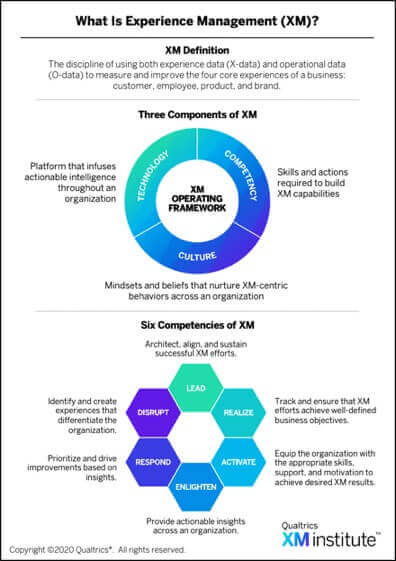 Overall, we have designed these Industry Snapshots to help companies within these seven industries – airline, automotive, banking, health insurance, hotel, insurance, and retail – better understand the current state of CX and customer loyalty within each market. These reports also highlight which customer journey improvement opportunities will likely drive the most value for the business. To download the Industry Snapshots for free, visit the XM Institute homepage.
Download Detailed Industry Snapshots Free