From the Q-mmunity
Humans of Qualtrics: Vince Vu
MosaiQ is highlighting the diverse stories of its members throughout May for Asian American Pacific Islander Heritage Month with the Humans of Qualtrics project. Vince shared his story of healing with us.
---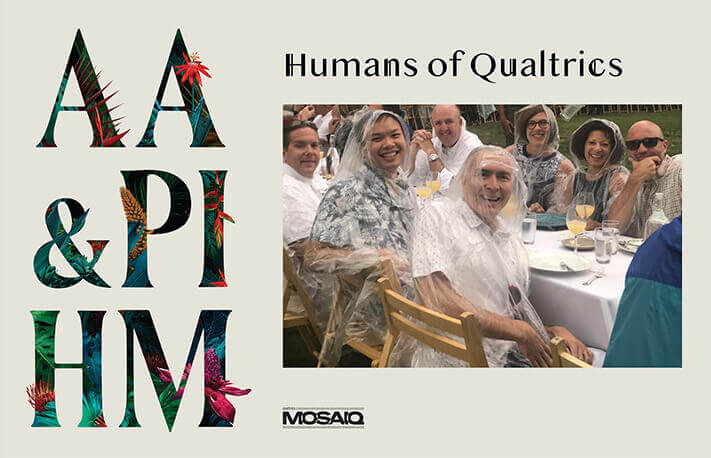 "For the longest time, I used to have a card in my wallet with just 3 words: Not a CB. C standing for chill, and B standing for...bro, or whatever other more flavorful b word you want to put there. Growing up, I had a mother who would separate each seed in a mixed wildflower seed packet to plant them individually and a father who would, EVERY NIGHT, re-string his guitar. Friends and loved ones throughout the years have always gently commented on the persnickety (ok, control freak-y) tendencies of my family. I shrugged it all off as a Vu family defect until I slowly realized the truth. My parents are refugees from Vietnam, 2 among millions who severed ties with their homeland in pursuit of a better life. When they fled, the only power they had left was the ability to make their own choices. My parents' obsession with controlling their environment was born from exercising this tiny power - a gift that didn't fall far from the tree. I'm trying to break the chain of our transgenerational trauma in hopes that one day, my own family WILL be CBs - that they'll feel safe and secure enough to live their lives without a crippling fear of uncertainty. Last fall, I had dinner al fresco on a friend's farm, on a beautiful night that turned into one of the rainiest days in eastern Washington. I didn't rearrange my entire schedule to keep the pie dry. I didn't agonize over the card being wet. I donned a poncho, and had a great night of sharing stories with my friends over the rain."
---
Make sure to check back for more highlights from the Qualtrics team and MosaiQ members throughout the rest of this and upcoming heritage months.
| | |
| --- | --- |
| | Vince is an alumnus of the University of Texas at Austin and University of Minnesota, and works in Solution Strategy. He is based out of our Seattle, WA headquarters. You can find his "Why Qualtrics" story here. |
Related Articles