Awards and Events
People Leader of the Year Awards: 2019
We know that effective leadership is one of the keys to having happy, engaged team members. How? As "Customer 0" for much of the Qualtrics XM platform, we've been doing quarterly surveys since September 2018 to gather data on employee engagement and leadership effectiveness. This data pointed in one direction: leaders with high leadership effectiveness scores were the leaders with high levels of engagement on their teams. And while we've always believed in being a people-first company, the first year of data showed us we were on the right track: you can't put people first without having people-focused leadership.
Each quarter, we put the gathered data to work, refining our leadership training, and giving real-time guidance to managers to keep the development of leaders on our teams front and center. We wanted to build a leadership team worthy of the "All In" mentality that underpins our culture. 
People Leader of the Year Awards
After the first year of data gathering, it became clear that we had another opportunity to be "All In" on our leaders. It was with that clarity of thought that the People Leader of the Year award came to life at Qualtrics as an opportunity to recognize the outstanding impact these leaders were having on our company.
To decide who should receive the award, we gathered three main data points from 2019 on each of our approximately 400 managers. We used that data to create a shortlist of nominees for each of our Sales, Technical, and Business Operations departments. The nominees consisted of leaders who had consistently high employee engagement and manager effectiveness scores, as well as those who consistently met their personal OKRs. The nominees were then voted on by our Executive Leadership team and a single winner was chosen from each department. 
The three winners were announced in March during TGIT, our weekly company all-hands. A surprise to the entire Qualtrics team, the nominations, voting, and award creation had all been done behind the scenes. Dave Dequeljoe, our guardian of the Leadership Development programs at Qualtrics, shared the background to the award before introducing us to our 2019 People Leaders of the Year, who had been notified of the award just hours before. Despite the sudden limelight, they were able to share some of how they prioritized the success of their teams. 
2019 Winners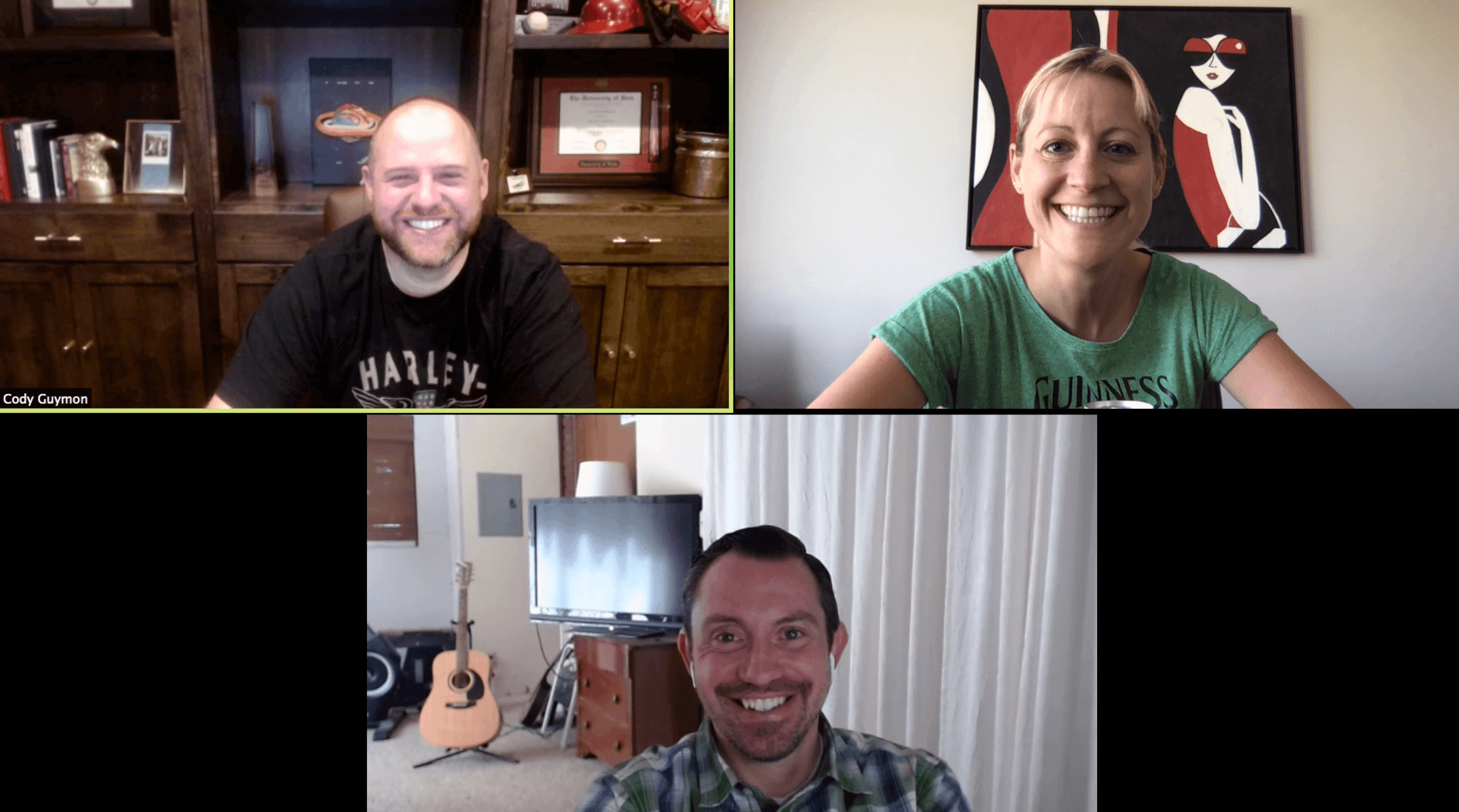 It was clear from the reaction how electrified the whole Qualtrics team was by the recognition of these leaders, and we're looking forward to seeing how the leadership at Qualtrics has prevailed during a challenging 2020 when the awards are announced again next year. But we didn't want to stop there. We took the opportunity to sit down with each of our 2019 winners and are bringing their stories and insights straight to you. 
---
"I want everyone around me to be happy and connected to others."
Vicki Tisdale was awarded the 2019 People Leader of the Year award as a leader in our Sales organization. Vicki joined Qualtrics in April 2018 and is currently a Sales Manager in our Research Services department. She was recognized as an Outstanding Sales Leader by the department in October 2019 before going on to win this 2019 People Leader of the Year Award in 2020. Vicki has a degree in History and Theater and started her sales career in the Bay area before coming to Qualtrics. Want to get to know Vicki and her leadership style better? Head over to her interview with the Qualtrics Life team, then take some time to read through her Why Qualtrics story. 
---
"The bottom line is you have to care, and it can't be fake, and it can't be manufactured."
Adam Marrè was awarded the 2019 People Leader of the Year award as a leader in our Technical organization. Adam joined Qualtrics in February of 2018 and is currently the leader of our InfoSec team's Security Operations Center, Incident Response Team, and Threat Intelligence Center, as well as overseeing corporate Physical Security. Adam started his career as a video game designer before joining the FBI and eventually Qualtrics. Want to get to know Adam and his leadership style better? You can find his interview with the Qualtrics Life team right here. 
---
"I think the most important thing I can do as a people leader is to develop good people leaders."
Cody Guymon was awarded the 2019 People Leader of the Year award as a leader in our Business Operations organization. Cody joined Qualtrics in January of 2017 and is COO of Global Sales coordinating all operations supporting the Sales organization globally. From the Bay Area originally, Cody moved to Utah for school and began his career in healthcare consulting before making the jump to the tech industry. Want to get to know Cody and his leadership style better? Read our full interview with him here on the blog.
---
Valuing Leadership
With solid data in hand, we've been able to connect operational results with the experiences that were part of achieving them. It has allowed us to continue the prioritization and development of our team, as we build an employee experience around what matters most to them. 
The ability to recognize three top leaders is a reflection of how deeply invested our executive team is in the success of the people of Qualtrics. From a formalized Leadership at Qualtrics (L@Q) program to the newly launched Imaqt course for our earlier career team members, we believe in investing in the employee experience and the moments that matter within it. It is because of consistent work on our employee experience that we had 400 leaders, and the data from all of their teams, to inform the award process as well as the crafting (and recrafting) of our development courses at Qualtrics.
Qualtrics is growing, and if you're ready to find your "why" at a place like this, you can explore our open opportunities at any time by visiting our career page or by joining our talent community.
See more of the Qualtrics Life on Facebook, Instagram, and Twitter.
Related Articles