Why Qualtrics
Summer as an SDR intern in Dallas
Just over three years ago, Qualtrics launched its first North America Corporate Sales office in Dallas, TX. Starting with just four individuals who relocated from the company's Headquarters in Provo, UT, the Dallas office has since grown to over 90 people and counting. With the office's accelerated growth, the Dallas team launched the company's first sales internship in Summer 2017.
The group consisted of seven interns from Baylor, University of Michigan, Western Michigan, and UTDallas. The interview process was selective with over 100 applicants and a limited seven openings. After a mere 12 weeks on the job, those seven interns generated a whopping amount of revenue for the company and became integral members of the Qualtrics sales team.
Who are these people?
Qualtrics' Sales Internship Program consists of students who are top academic performers going into their Junior or Senior year of college. The company recruits students who are eager to embark upon a career in sales, particularly at a hyper-growth, tech organization. However, whether you've decided a career in sales is the right path for you or not, Qualtrics is always looking for individuals with grit, a team-player mentality, and a desire to learn. Whether you join the team as a full-time employee or an intern, Qualtrics has proven time and time again: the most successful people are those who can take a little and do a lot with it.
After a successful first Sales Internship Program in 2017, resulting in three interns returning full-time the following Summer, the Dallas office embarked upon another exciting Internship Program in Summer 2018. This time around, the company expanded the program to its Headquarters in Provo, UT. Today, the program consists of 6 interns in Dallas and 3 in Provo with students joining the company from Baylor, University of Michigan, Texas A&M, Penn State, UTDallas, University of Massachusetts, Brigham Young University, and Purdue -- some of which are top universities for a Professional Sales education.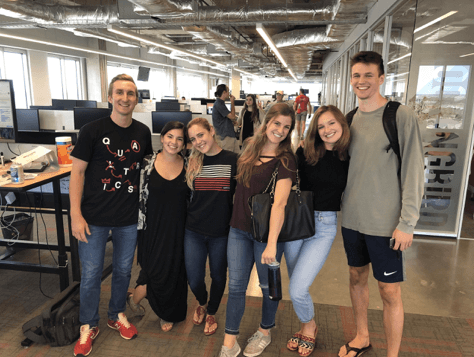 Being on the Job
The Sales Internship Program is designed to give students an idea of what #QualtricsLife is really like. Qualtrics strives for its interns to gain real-world exposure to a career in sales; gain experience and knowledge about various areas of the business; sharpen communication and critical thinking skills; and most importantly, embrace the Qualtrics culture and core values (TACOS).
With Qualtrics being the complex sell that it is, the Internship Program kicks off with a week-long training in our Provo, UT Headquarters. After extensive sales and product training in our Headquarters, all sales interns have an objective to become Qualtrics certified upon completing the program. A typical day in the office consists of prospecting new clients to build out your pipeline, setting and executing discovery meetings with future Qualtrics clients, and working collaboratively with the team of account executives, tech sales, and the rest of the force needed to close a deal through the entire sales cycle. Management tracks all prospecting efforts, leads, meetings and daily tasks in order to evaluate the performance of each intern throughout the summer. A weekly 1:1 with your team lead allows you to discuss tangible data and real-time feedback regarding areas of your success and weaknesses, allowing you to learn and grow throughout the 12 weeks.
"For the first time ever, I feel like I'm being truly stretched in my job." - Dallas intern, Emily F.
To say the team appreciates the work the interns put in is an understatement; their efforts are essential to the Dallas office's growth and their fresh perspective on sales helps the team continue to improve.
"I used to dread going to work in previous internships, and I never feel like that here. I'm actually a valued member of the team and am doing the work of a full-time employee." - Dallas intern, Olivia G.
Summer Fun
While the Internship Program is designed to stretch students professionally, it's also designed to be a fun experience. From day one, Qualtrics' culture has been built on a "work hard, play hard" mentality. We know sales is a competitive field to be in, but the Dallas sales team doesn't take themselves too seriously.
"I try to get in at least 50 putts per day." - Dallas intern, Frank M.
While this may seem pretty humorous to some, the team definitely prioritize breaks throughout the day. The Dallas office is filled with ping-pong tables, massage chairs, skateboards, scooters, you name it... all to help the team de-stress. The Internship Program consists of its own special perks as well. Interns have one hour blocked off every day during which they are not allowed to make calls, mine contacts, or essentially, work. They are required to spend at least that one hour grabbing lunch, playing pool, reading a book, or hanging out in order to get to know others in the office or focus on self-development. The group of six also has a Bucket List which consists of both "in-office" and "out-of-office" tasks encouraging them to try new things throughout the Summer.
" the coolest internship I've ever had." - Dallas intern, Madison N.
Qualtrics Sales Development Team Lead, Kelsey L., is a big instigator of the fun as well. Every morning he sends the group an inspirational text to get the day started. He's been known to throw spontaneous happy hours on the calendar, organize "field trips" to Rangers games and Warped Tour, and even set up in-office Mario Kart competitions. From impeccable sales guidance to uncontrollable laughter, Kelsey is the go-to guy for more than 20+ employees in the office, including the interns.
"I would without a doubt rank my experience a 10/10." - Dallas intern, Emily M.
Related Articles