Impact
A Passion for Sales – Logan
My primary 'why' has always been rooted in my desire to be successful and provide for my family. Recently, we learned we are expecting our first child, which will make my 'why' even more important. Being the leader of our household and provider for my family gives me so much purpose and increases my desire to be successful. 
I also have a strong desire to help others succeed. That said, being able to coach and help others is my second 'why'. I love being a partner, coach, and friend at work to those around me. Whether it is diving into the details of a potential project, helping with an escalation, or celebrating a long-fought win, I have a strong desire to work closely with others and help make an impact on how they perform. 
My final 'why' is about my career growth and goals. I am so grateful to be in a position where I can learn and cultivate knowledge about different tactics that can impact my career growth long term. I want to eventually lead a sales organization and I know that the skills I am honing at Qualtrics can help me get to that goal. I hope that opportunity will show itself here at Qualtrics, and I am here for the long haul to continue refining my craft as a business professional! 
What attracted you to Qualtrics in the first place?
The opportunity to join an emerging business. The growth, team, and business got me really excited! I was recruited by a friend and former classmate from graduate school. At first, I never thought of Qualtrics for a career; however, once I took a second look, the opportunities were endless and I saw the business as a place for growth and development. 
What was the turning point where you knew you had to have the job at Qualtrics?
When I took my first tour of the office and "felt" the culture of Qualtrics I knew I had to be part of it. I was able to meet some team members [who I still work with to this day], and their energy was electric. The people I met were welcoming, kind, and were extremely helpful. I knew from then forward that I wanted to do anything I could to be part of that!
What does your day look like?
I usually start off at around 5:00 am by going to the gym. From there I will make/eat breakfast around 7:30 am and listen to a podcast. After breakfast, I get ready for work and start looking at what meetings I have that day. I spend the majority of my work day meeting with clients and digging into their strategic goals.  I am always focused on finding new revenue streams and opportunities for additional expansion and partnership. 
What is your favorite part of your role?
Getting to collaborate with my team! I work closely with a group of top-notch sales professionals that help challenge me and help me progress in my personal and professional goals.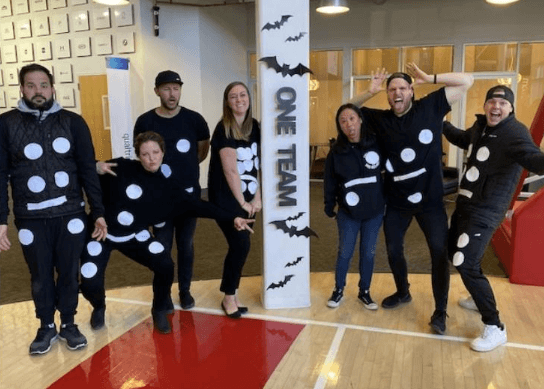 If you are not originally from Utah, can you tell us your story of moving here?
I am originally from Ponchatoula, Louisiana. Ponchatoula is a small community on the 'Northshore' of New Orleans. It's a small town with around 7,000 people and an alligator at the center of town called 'Ole Hardhide'. We are known for the Strawberry Festival and being America's Antique City. I loved growing up in the south and getting to be exposed to so many unique cultural elements that are hard to find outside of Southeast Louisiana! 
I moved to Utah for school in 2014 at Utah Valley University.  After finishing my bachelors program in management/marketing, I made the decision to apply to the Utah Valley University MBA program.  By this time, I really started to like living in the mountains away from the swamp and gators! I started graduate school in 2016 and met my wife in my first semester of the program. The rest is history!
Any tips for someone who is considering a role at Qualtrics?
Leverage your network and connections when looking for a job at Qualtrics! Connections go a long way and can help you navigate the process and ensure that you are applying for the right role that fits your level and skill set. 
What has surprised you most about working at Qualtrics?
The growth for sure. When I started, we had about 7,500 customers and around 1,700 employees. Since then, we have nearly tripled our customer count and grown to about 6,000 employees!
What made you want to get into sales?
Sales was never a career path I thought I would pursue, but I had a deep passion for it. Coming from a marketing background and having an MBA made me think that I would probably pursue a career in marketing strategy or management. While in school, I won a sales competition that made me stand out as someone who had strong sales acumen and a knack for the role. At the end of my graduate program, our career advisor said that I was made for sales and needed to consider a role in professional sales. After graduation, I managed a B2B team at a sports nutrition company where I truly found my love for sales. Working with customers, solving problems, and helping make your clients personally successful are some of the key tenets of sales that I love best. Here at Qualtrics, my role has solidified my passion for sales and has helped define my career path forward. 
What are your aspirations in your career?
I want to run sales organizations and help develop talented sales people in their careers. My end goal would be CRO or VP of Sales! 
What is your top life hack?
#RiseAndGrind — getting up early and starting with some physical activity always helps my day go better. 
If you've been at Qualtrics for a while, why is it still Qualtrics for you?
Qualtrics is the perfect place for me because it continues to challenge me and test my skills. I find creative ways to do my work and partner with my colleagues. I also feel like there are opportunities for me to grow and learn how to progress my career. 
What is a favorite moment or memory of your time at Qualtrics?
I won Salesperson of the Year in 2022 and 2021 on our Global Corporate Research Services Team. Both of those years helped me qualify for Q-club and helped me gain confidence in my ability to succeed in my role!
How do you feel you've been able to apply what you studied at school to your career?
While getting my MBA, we focused a lot of our time working on strategic consulting projects. My role requires that I think strategically about how we can solve a customer's problem and how I can consult them on the best solution for their challenge. This skill set has been very helpful in my day-to-day work with Qualtrics clients.
Qualtrics is growing, and if you're ready to find your "why" at a place like this, you can explore our open opportunities at any time by visiting our career page or by joining our talent community.
| | |
| --- | --- |
| | Logan is an alumnus of Utah Valley University and Southeastern Louisiana University and started his career at The Hut Group. Logan is a former emo kid turned fitness nut. |
See more of the Qualtrics Life on Facebook, Instagram, and Twitter.
Related Articles