Experience Management
3 ways AI will help you break through in the Experience Economy
The Experience Economy is changing the way businesses operate across the globe.
Organizations are judged by the experiences they deliver across the 4 core pillars of business - customer, product, employee, and brand. And while 80% of CEOs believe their business delivers a superior experience, only 8% of their customers agree.
At Qualtrics, we call this the experience gap.  To win in the experience economy, organizations have to continuously improve the four core experiences of business.
To do that, businesses need the ability to interpret and analyze large amounts of experience data (X-data), and understand its relationship to the operations (O-data) of the business.
X­-data is the human factor data. The beliefs, emotions, and sentiments that tell you why things are happening, and what to do about it. X-­data comes from things like customer feedback, Net Promoter Score, product reviews, brand preference, and employee engagement.
Today, organizations need to be able to digest and interpret massive amounts of X-data. But they also need to understand how it connects to their O-data.
This is where artificial intelligence (AI) has a critical role to play. AI empowers brands to get ahead of rapidly changing customer and employee expectations by combining X-data and O-data, ensuring they deliver products and services that help them breakthrough in crowded markets. Ultimately, AI-based automation allows businesses to rapidly understand and address gaps that would be virtually impossible for humans on their own.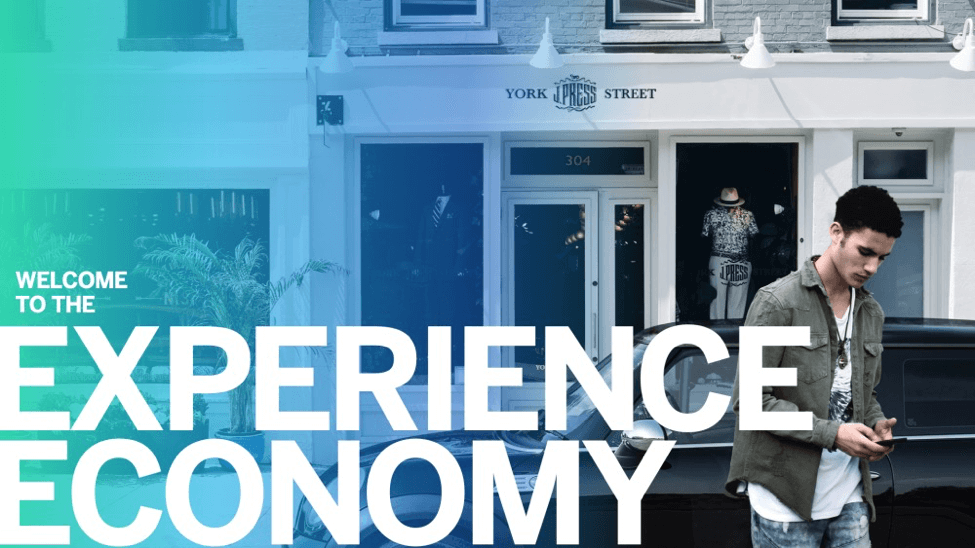 Closing the experience gap with AI comes down to 3 things:
The ability to listen and measure customer and employee experiences
Being able to understand the experiences being delivered
Having the ability to act on the insights captured and rapidly make changes improving the experience
How AI can help listen for X - Data
Listening to X-Data is something we are all born to do. Children start recognizing and taking cues from others based on their behaviors in their early years.
Experts estimate the average human mind experiences about 50,000 thoughts per day.[1] That is 14.7 trillion thoughts globally every hour! For a business to listen to these experiences and truly understand what their customers and employees are thinking, they require technologies allowing them to augment human capability.
AI can be trained across 3 aspects of human X-data listening:
What to listen for: AI can help humans know what to listen for, which is supported by ensuring the right questions are being asked
Where to listen: AI can help humans scale the listening across channels and medium, across direct, indirect, and front line platforms
Who to listen to: AI can help humans discern the good respondents from the bad and fraudulent ones
What to listen for
Listening is often part of a conversation. And the most insightful conversations are when you ask the right questions. Surveys, polls, focus groups, quantitative research and qualitative studies are all part of being able to ask the right questions at scale to get insights.
AI helps brands scan through billions of these past questionnaires and studies to help them understand what questions can provide the most insightful answers.
Based on a recent study by Greenbook, 10% of market researchers have already adopted methods to automate survey and project design, and 20% are actively exploring ways to automate their survey design process.[2]
In one instance, AI based software, like Qualtrics ExpertReview, is assisting experience managers scan though past conversations and recommend questions that would result in the most engaging and high-quality responses.[3] Users can also see best practices based on many years of research methodology and use that to ensure they ask questions in the most bias-free manner.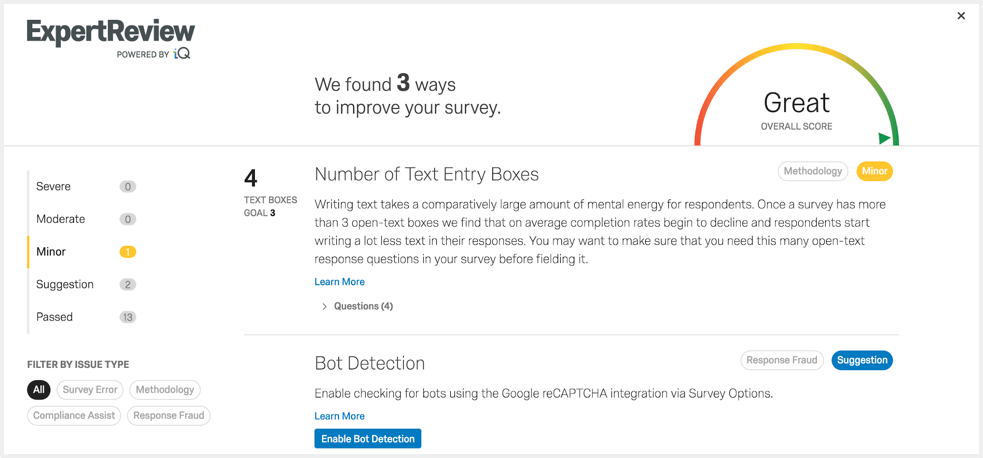 Where to listen
Consumers are engaging with businesses across a vast number of channels - over email, chat, phone, messenger, social media and even smart voice based devices like Alexa. And they expect the businesses to be able to interact and listen to them on these channels.
For example, in retail 54% of UK consumers feel more loyal to brands that show a deep understanding of their preferences and priorities for engagement.[4] Only 37% of shoppers feel like retailers know them and their channel preferences.[5]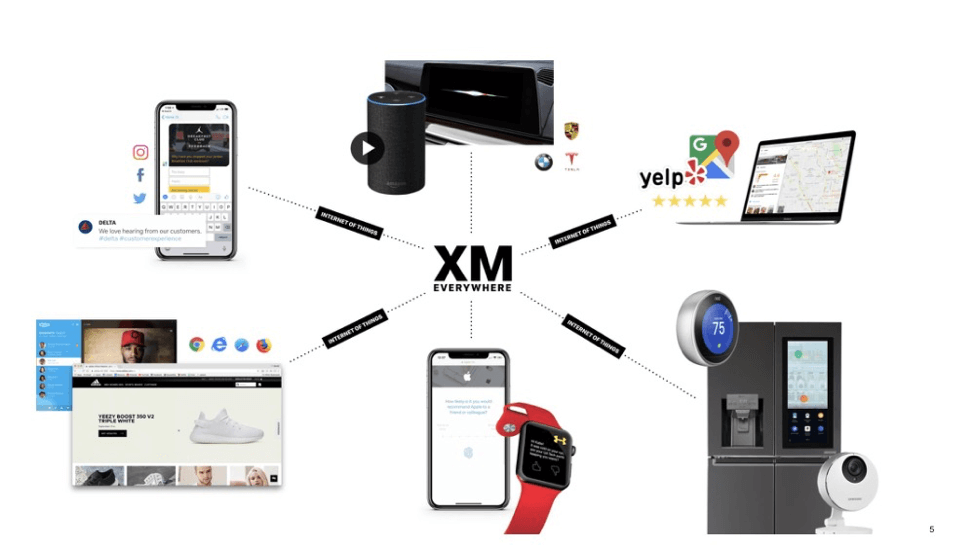 AI helps businesses understand the optimal channels to connect with consumers on. It also ensures that the experience consumers have on those channels is an engaging one.
For example, AI could recommend that XM managers ask questions differently so they are mobile optimized as most of the target consumers prefer mobile v/s desktop. AI could also help track how customers have interacted in the past and compile the information supplied across the customer journey to create a 360 view of their experiences with the business.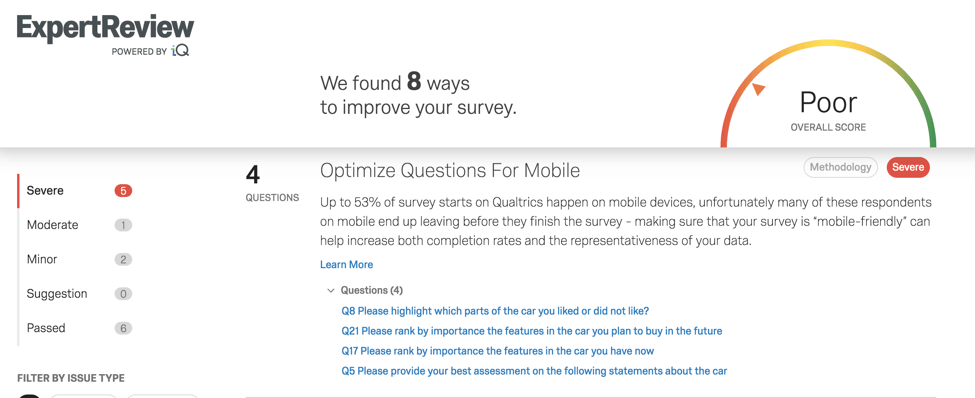 Who to listen to
While experiences can be found everywhere, it's important to separate the signal from the noise. What's worse is that much of the X-data collected is not just of poor quality, it can be fraudulent. In fact, a survey of Market Researchers showed that 59% said quality of X-data is the most important factor for deciding the Market Research software or vendor.[6] Another survey found Data Quality and integrity related challenges to be the most important challenges facing the industry![7]
Since one gets paid to take surveys, we often have bad actors trying to game the system and take surveys posing as someone else. Or you may have bots that will take millions of surveys posing as humans. If Experience Managers were to use this data to make conclusions, they will not just have poor data, but the decisions they make off that data will be erroneous.
AI technology - like ExpertReview - Response Quality - can be employed to look for patterns of data that are strongly correlated with poor quality. For example, AI is being used to detect bots, cheaters and fraud in surveys.[8]  Since the bad actors are always trying to find new ways to cheat the system, these AI-based systems have to constantly look at the incoming X-data to look for new patterns that could point to the wrong people providing the X-data.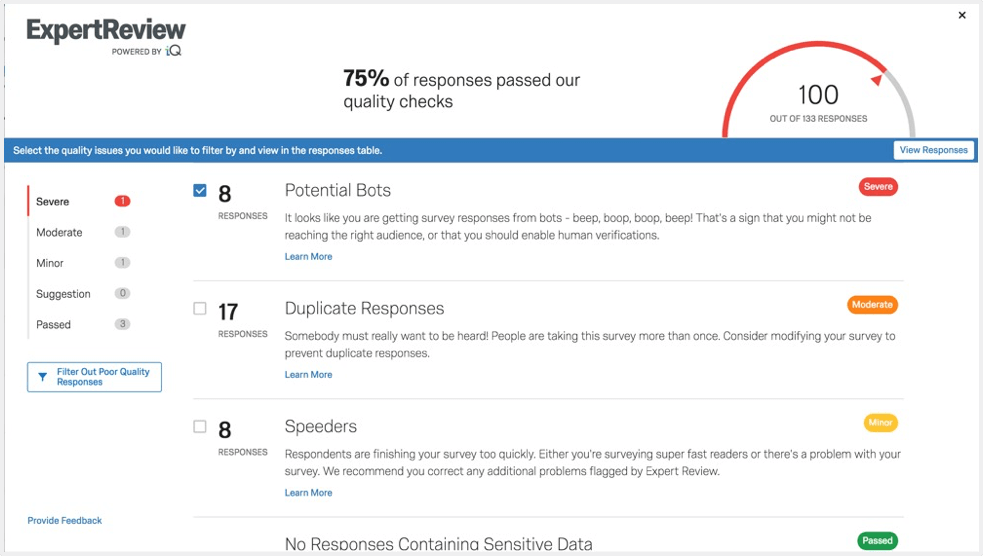 To win in the Experience Economy, businesses need to listen for X-data. This requires using AI to effectively collect such data at scale. AI can assist experience managers by helping them to know what to listen for, where to listen, and who to listen to. The AI powered Experience Economy will be game changing and Qualtrics is working with organizations across the globe, including Microsoft, BMW, and Under Armour, to help them break through and succeed in it!
Milind will be speaking at X4 Singapore about how Qualtrics helps organizations unlock research insights. Register your interest in receiving the latest updates from this event here.
See how you can close experience gaps with Qualtrics