XM for Customer Frontlines

Digital

Root out friction in every digital experience, super-charge conversion rates, and optimize digital self-service

Care

Uncover insights from any interaction, deliver AI-powered agent coaching, and reduce cost to serve

Locations

Increase revenue and loyalty with real-time insights and recommendations delivered straight to teams on the ground

XM for People Teams

Engage

Know exactly how your people feel and empower managers to improve employee engagement, productivity, and retention

Lifecycle

Take action in the moments that matter most along the employee journey and drive bottom line growth

Analytics

Whatever they're are saying, wherever they're saying it, know exactly what's going on with your people

XM for Strategy & Research

Research

Get faster, richer insights with qual and quant tools that make powerful market research available to everyone

User Experience

Run concept tests, pricing studies, prototyping + more with fast, powerful studies designed by UX research experts

Brand

Track your brand performance 24/7 and act quickly to respond to opportunities and challenges in your market

XM Platform

Explore the platform powering Experience Management

Teams

For Digital

For Customer Care

For Human Resources

For Researchers

All Teams

Industries

Healthcare

Education

Financial Services

Government

All Industries

Customer Experience

Employee Experience

Employee Exit Interviews

Net Promoter Score

Voice of Customer

Customer Success Hub

Product Documentation

Training & Certification

Community

XM Institute

About Us

Careers

Partnerships

Marketplace

X4 Summit

The annual gathering of the experience leaders at the world's iconic brands building breakthrough business results, live in Salt Lake City.
Employee Experience
BHP: Optimising candidate experience to unearth millions in productivity gains
When you're hiring for some of the most specialised skill sets in the tightest labour market, you need to get every element of your candidate experience right. At the X4 on Tour Sydney event, Nathan Wolyniec (Principal Organisational Development & Analytics) shared how BHP meticulously designs its candidate experience, measures the correlation with long-term employee engagement, and drives ongoing productivity and performance.
Welcome to the town of Leinster, 368km north of Kalgoorlie in WA.
Population: 1,000.
Besides having "a magnificent air-conditioned indoor sporting stadium", it is also one of many towns that BHP operates out of where they're currently hiring for a "Draw Control Officer".
BHP, more than most organisations, has a constant challenge of hiring talent in small regional towns. Image source: BHP
Therein lies the challenge BHP faces. In small towns where the pool of specialist talent is so small, delivering a subpar candidate experience simply risks ruining your ability to hire - potentially across generations.
What's more, BHP is facing a pivotal transition over the near future as it looks to industrial automation where it'll need to hire new skillsets.
To ensure BHP protects and builds on its reputation as an employer (where a candidate also has high likelihood of being a shareholder), BHP listened and redesigned their entire candidate experience with the help of Qualtrics.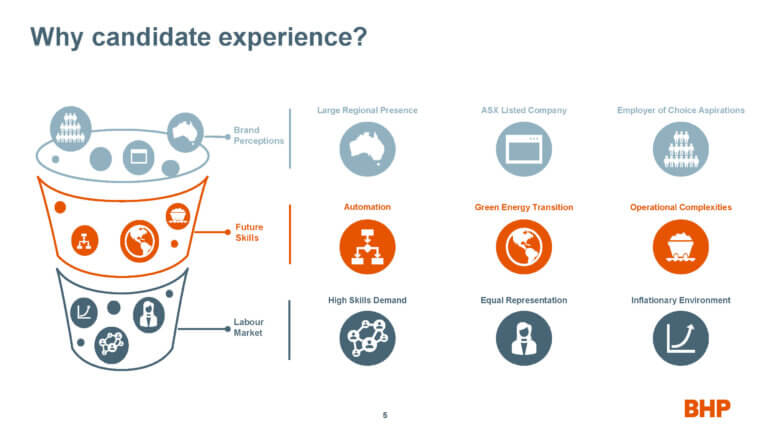 Changing skillset needs and labour forces are some of the reasons why BHP needs to deliver world-class candidate experience. Image source: BHP 
"A great candidate experience is vital for us on so many levels. It's not just about creating great first impressions, it's the flow-on effect to employee experience and business performance, particularly around productivity and profitability."
-Nathan Wolyniec, Principal, Organisational Development & Analytics, BHP
Revving the data engine
As part of BHP's wider employee engagement program, Nathan and his team began rethinking the candidate experience to gain a complete picture of the employee journey - from hire to retire.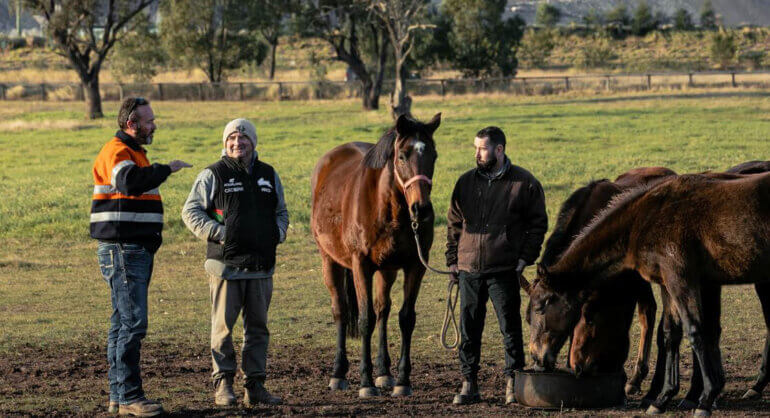 BHP hires in remote locations where specialist talent is scarce. Source: BHP
Leveraging Qualtrics EmployeeXM, the team ingested data from a whole host of HR resources already in use, identified bottlenecks and made changes to a variety of touchpoints, including:
Enhanced process clarity for job applicants: By providing a simple graphic at the bottom of job advertisements, there's a better understanding of the entire application and assessment process.
A smoother candidate journey: Candidates often apply for multiple roles, with numerous people from BHP's HR function involved in managing the candidate journey. A more holistic view means responsibilities of the hiring teams are clearer to deliver more seamless handoffs.
Decreasing new hire failure: The platform surfaces instances where candidates encounter negative experiences and unfavourable onboarding processes. This enables targeted interventions and improvements to enhance the overall experience.
Extending candidate experience ownership: Stakeholders from other departments are more involved in the hiring process. This includes engaging interviewers and mobilising operational readiness teams, all of whom play a role in improving the candidate experience.
A rounded approach: Hiring manager feedback enables BHP to gain deeper, more rounded insights of the hire-to-retire journey from all perspectives.
"The program helped us quickly identify gaps in the candidate experience, giving us richness of insights to solve issues more quickly. This then enabled quicker decision-making to accelerate the reduction in recruitment lead time."
-Nathan Wolyniec, Principal, Organisational Development & Analytics
People, productivity and performance
In our recent State of HR report, HR leaders are increasingly involved in their organisation's strategic initiatives, much more so than pre-pandemic. A key challenge often faced is the ability to demonstrate the impact of HR programs on productivity.
On this front, BHP has broken the mould by modelling the drivers between employee engagement and productivity. For instance, how a more engaged workforce could eliminate a lot of 'operator delays' that then translate into an employee's productive hours.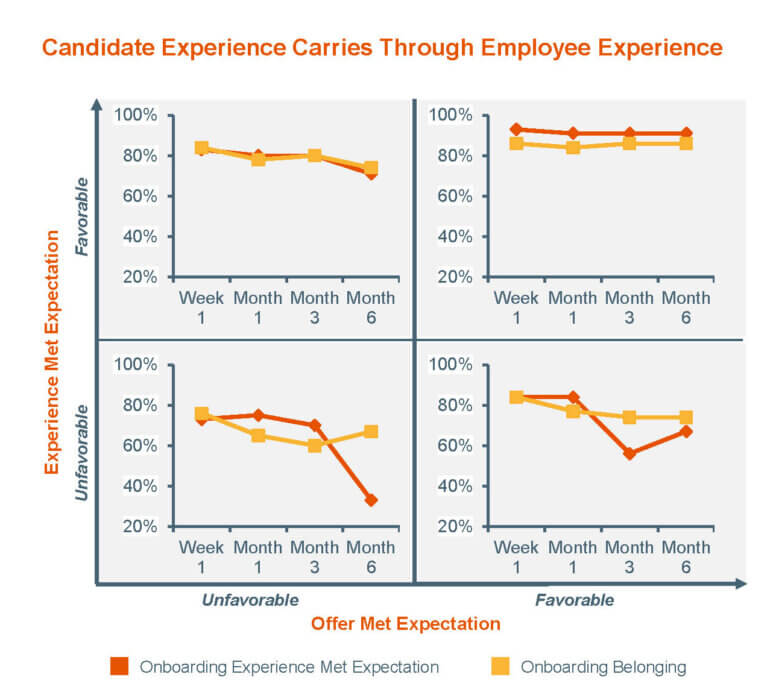 BHP modelled and developed a matrix to measure candidate expectations and their onboarding experience. Image source: BHP
"Every moment of a piece of machinery's life could be measured and categorised," adds Nathan. "As an example, we know that for a fleet of trucks at a site over a six-month period, there could be 105,000 hours of productive time. But some of those hours could be lost due to various unproductive factors."
"Our ability to track the entire employee journey, gain real-time insights into the challenges, and then act immediately to boost engagement, means the HR function is viewed as a critical business enabler delivering immense shareholder value."
-Nathan Wolyniec, Principal, Organisational Development & Analytics
The road ahead
BHP is looking to further integrate the program into routines that live outside HR and talent acquisition. For example, implementing hiring manager surveys, maturing the "Hire to Retire" lifecycle as part of wider employee experience program, and further optimising BHP's listening strategy.
"Creating a successful candidate experience program requires collaboration and a diverse skill set. It took a collective effort involving experience owners, talent and business partners, process specialists, Qualtrics, and solution architects to establish and maintain the program. This collaboration was crucial in overcoming challenges and ensuring the program's effectiveness."
-Nathan Wolyniec, Principal, Organisational Development & Analytics
Find out more about Qualtrics XM for PeopleTeams. Watch a demo here now.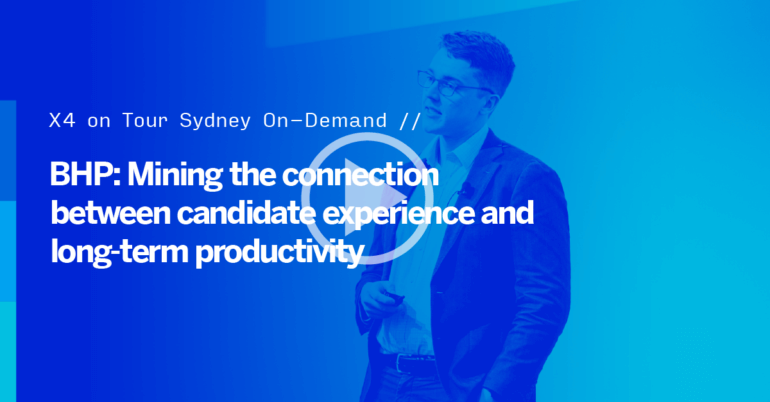 Related Articles