XM for Customer Frontlines

Digital

Root out friction in every digital experience, super-charge conversion rates, and optimize digital self-service

Care

Uncover insights from any interaction, deliver AI-powered agent coaching, and reduce cost to serve

Locations

Increase revenue and loyalty with real-time insights and recommendations delivered straight to teams on the ground

XM for People Teams

Engage

Know exactly how your people feel and empower managers to improve employee engagement, productivity, and retention

Lifecycle

Take action in the moments that matter most along the employee journey and drive bottom line growth

Analytics

Whatever they're are saying, wherever they're saying it, know exactly what's going on with your people

XM for Strategy & Research

Research

Get faster, richer insights with qual and quant tools that make powerful market research available to everyone

User Experience

Run concept tests, pricing studies, prototyping + more with fast, powerful studies designed by UX research experts

Brand

Track your brand performance 24/7 and act quickly to respond to opportunities and challenges in your market

XM Platform

Explore the platform powering Experience Management

Teams

For Digital

For Customer Care

For Human Resources

For Researchers

All Teams

Industries

Healthcare

Education

Financial Services

Government

All Industries

Customer Experience

Employee Experience

Employee Exit Interviews

Net Promoter Score

Voice of Customer

Customer Success Hub

Product Documentation

Training & Certification

Community

XM Institute

About Us

Careers

Partnerships

Marketplace

X4 Summit

The annual gathering of the experience leaders at the world's iconic brands building breakthrough business results, live in Salt Lake City.
Employee Experience
Why CIOs will be at the center of future of work strategies
The pandemic changed the digital work experience forever. For more than a year, the only way many teams have been able to onboard new team members, interact with colleagues, or get things done at work is through technology.
It's why over the past year, we've seen IT and technology experiences become inseparable from employee engagement and the HR experience, especially as it relates to the future of work and employee services.
The CIO has been at the forefront of driving the IT experience for years. But after going through years worth of digital transformation in the past 16 months alone, the CIO's responsibilities have expanded in real-time, providing them and their teams with a rare opportunity to leverage the digital acceleration we've seen in the past year and optimize experiences by partnering with departments and C-suite leaders across the company.
As employee experience continues to grow as a key metric for board level and C-level leadership, it will be critical for CIOs and IT to partner with HR for a more complete picture of how to empower employees and ensure that they're engaged, successful, and satisfied.
At Qualtrics, we recently asked more than 200 CIOs — or the most senior person responsible for IT in their organization — how their roles and responsibilities have shifted, how they're collaborating more across their organization and their growing influence on the employee experience.
Here's what we learned:
CIOs — and their teams — are seeing a surge in responsibilities
More than ever before, the office of the CIO is at the forefront of driving key organizational decisions, with leadership teams relying on them more and more to drive transformation within the organization. This trend has had a substantial impact on their standing in the company and led to a rise in responsibilities:
81% of CIOs cited an increase in responsibilities within their company as a result of the pandemic, with 72% saying that individual members of their team also saw an increase.

At smaller companies, 47% of respondents said that the pandemic has led to a significant increase in responsibilities for members of their team.
That number stood at 27% at mid-sized companies and 30% at larger companies.
The increase in responsibilities has gone hand-in-hand with financial compensation and budget:
80% of respondents said their compensation has increased over the past 18 months — and 23% said it increased by more than 20%.
59% of respondents also said their department's overall budget has increased over the past 18 months. And 56% remarked that their team size has increased over the same time period.
We've also seen changes to where CIOs sit in their organization:
Of those who said the CIO now reports to a different person/office than they did before the pandemic, 67% said they now report directly to the CEO.
Company size can impact where the CIO sits: At smaller companies (less than 5,000 employees), 24% of CIOs report to the CTO. That number stands at 11% for mid-sized companies (5,000-9,999 employees) and 17% for larger companies (10,000+ employees).
Cross-functionality is up — and continues to grow
The pandemic has redefined how different departments across an organization work together. CIOs and CHROs are now both responsible for the employee experience — and their partnership can have the power and ability to drive tangible business outcomes.
85% of CIOs said they now collaborate with the CHRO in their organization more than they did before the pandemic, and 70% said the office of the CIO now collaborates more with other departments in general.

At smaller companies, 53% of respondents said the pandemic led to significantly more collaboration with other departments, compared to just 28% at mid-sized companies and 23% at larger companies.

These three departments were most commonly cited when it came to an increase in collaboration: human resources, customer support/service, and engineering.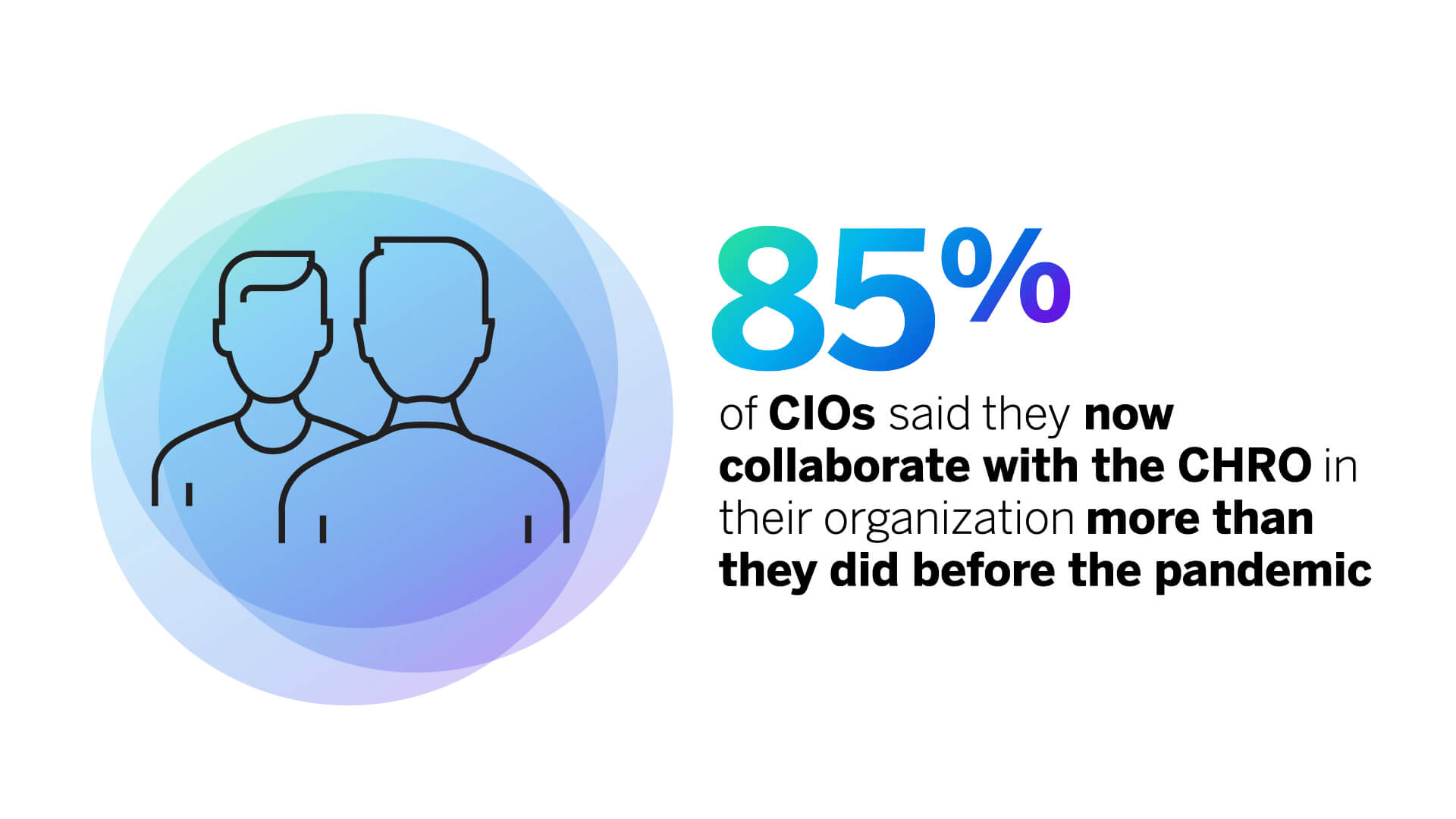 In the digital world, the technology experience is the employee experience
The vast majority of the workforce has spent most of the pandemic communicating through a screen. With in-person perks and benefits potentially becoming less important and more unknown as we prepare for the post-pandemic era, the IT experience has become a proxy for organizations' brands. It is crucial to their ability to attract, develop, and retain talent.
94% of CIOs believe the IT experience is important when it comes to attracting new talent, with 51% believing it's extremely important.
And 90% of respondents believe it's important when it comes to retaining talent, with 53% believing it's extremely important.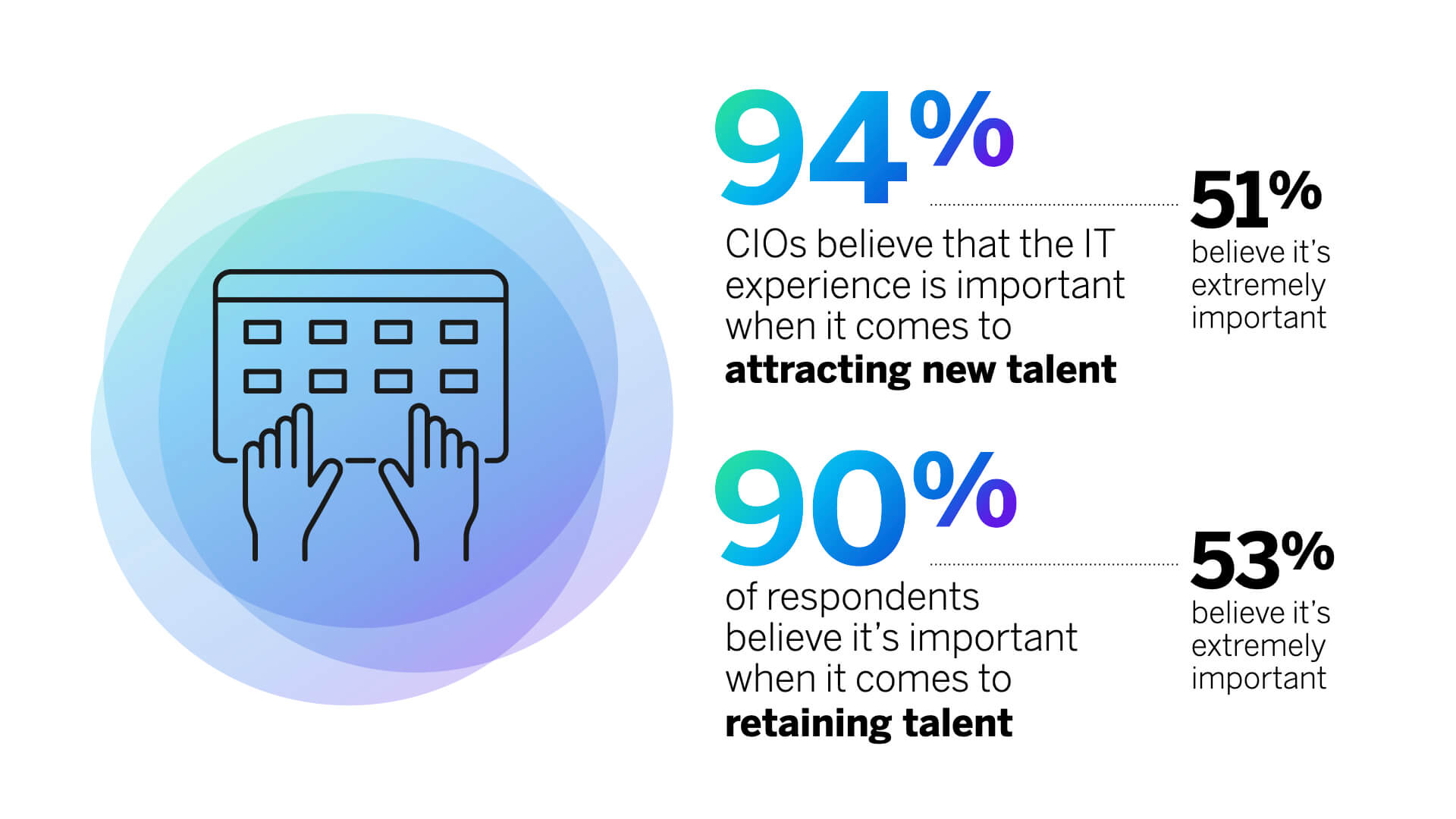 CIOs say that the technology experience is top-of-mind — and that they're confident in what they're delivering:
95% of respondents said the IT experience was a priority for their organization, with 93% of CIOs saying they're confident that the technology experiences they provide drive positive employee engagement or performance.
When asked which IT / technology investments shifted as a result of COVID-19, they listed:

Improving existing technology, tools, and application
Investing in new technology, tools, and services
Improving IT services
It's clear that the pandemic drove many organizations to make swift adjustments:
Less than half (49%) of respondents said they were prepared to support employee needs at the onset of the pandemic.
What's the future of employee experience programs?
It's become impossible to overstate the value of delivering an incredible employee experience in the face of unprecedented transition, and companies quickly learned the importance of capturing employee sentiment data.
Our 2021 Employee Experience Trends Report found that in the early stages of the pandemic — halfway through Q2 2020 — just 51% of employees felt that their company was listening to them, a number that jumped to 69% by the end of the year, with COVID-19 driving countless organizations to quickly pulse employees on their well-being and sentiment around work safety issues.
The future of employee experience programs may hinge on consolidation and frequency:
49% of respondents said their organization collects employee feedback on a weekly basis, with 26% saying daily.
45% of respondents said their organizations capture and analyze employee experience data through multiple platforms; of those respondents, 86% said their organization intended to consolidate the number of vendors used.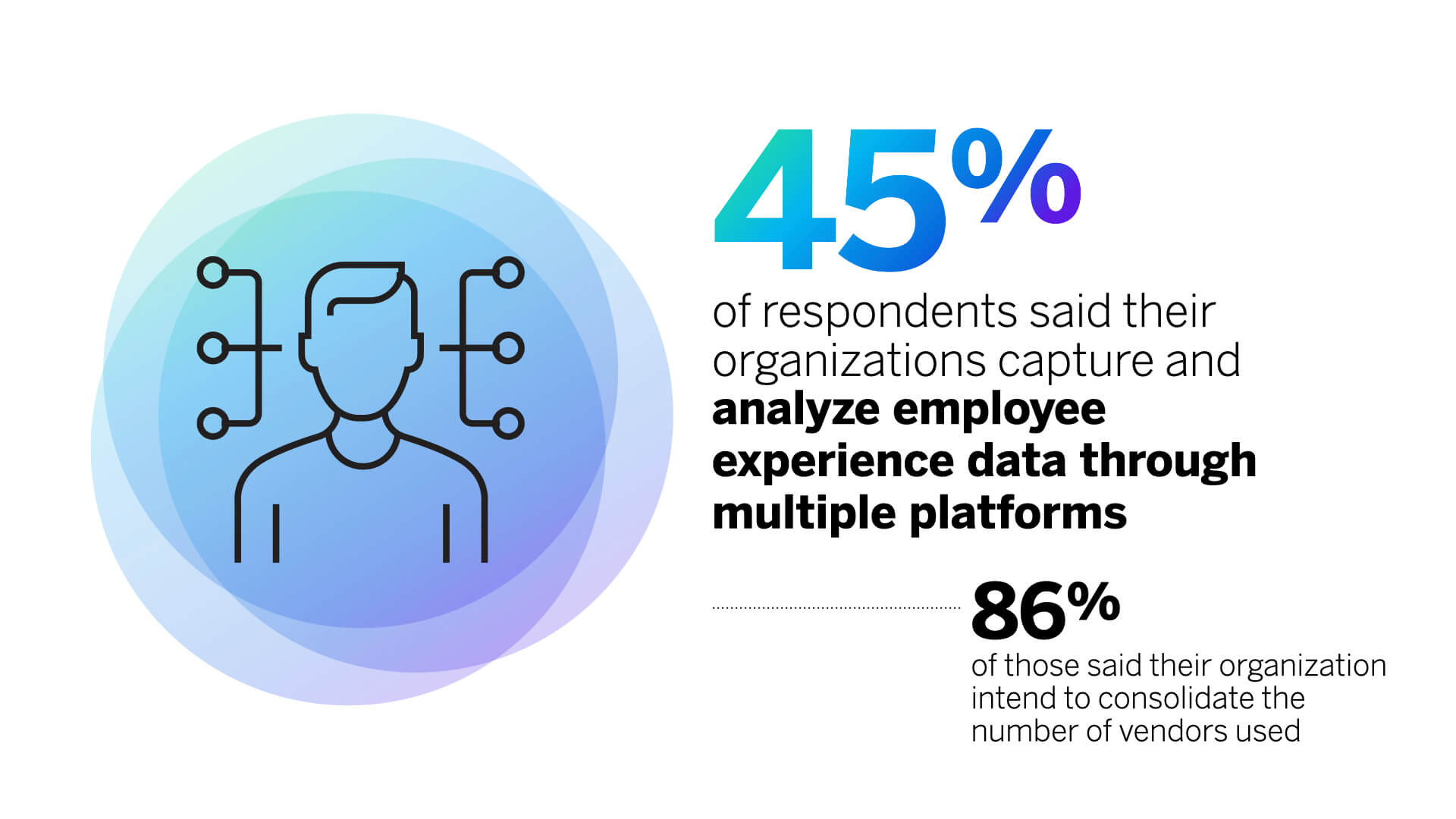 As organizations re-write their playbooks and offices open back up, they will be facing a challenge that may be just as demanding as the transition to fully remote work last year. The hybrid working model presents C-suite leaders with a rare opportunity to reimagine the workplace and the ways in which companies show up for employees — and the CIO and their team, in particular, will play an enormous role in driving company culture and perception.
Learn more about Qualtrics' Employee XM for IT solution
Warning
: foreach() argument must be of type array|object, bool given in
/var/www/www.qualtrics.com/blog/wp-content/themes/qualtrics/template-parts/components/controllers/single/single-tags-section.php
on line
43
Related Articles