Customer Experience
The breakthrough moments that defined CX in 2019 and are shaping 2020
Another year has passed, and it's yet another year where customer experience has evolved at a considerable pace. We've seen more and more companies expand their CX programs to bring in more channels, more respondents, and more internal stakeholders than ever before. And we don't expect it to slow down this year, in fact we expect the pace of innovation to accelerate.
ICYMI: here's a quick recap of the 2019 updates that made it easier than ever to listen, understand, and act on solicited and unsolicited customer feedback.
Listen - hear and understand EVERY customer, at EVERY touchpoint
We know that surveys aren't the be-all-and-end-all of customer experience — in fact the vast majority of your customers will never actually fill out a survey. So we've rolled out a number of new ways to hear the voice of your customers, wherever they are.
Online reputation management
Not all your unhappy customers will tell you about it. In fact, just 1 out of 26 unhappy customers complain — the rest churn. Now you can hear what people are saying about your company on social media and third-party websites like review sites. You can now pull in all this data into CustomerXM so you get the full picture, across all your channels. Plus, you can also close the loop on those same platforms, so wherever your customers are you can listen and take action.
More about Online Reputation Management
Facebook Messenger integration
Earlier this year we launched our new conversational API  to pull in insights from messaging apps.
With over 1 billion messages exchanged with businesses every month on Facebook Messenger, and 67% of consumers saying they will message with businesses more often over the next two years, we are excited to  announce the launch of our integration with Facebook Messenger.
With no coding necessary to configure the integration, it's now easier than ever to capture feedback from right inside Messenger, so you can immediately take action.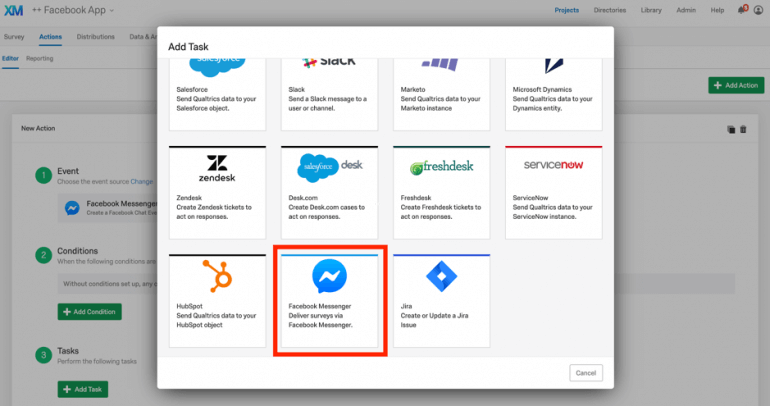 These chat logs can then be brought into the XM Platform™  alongside feedback from other listening channels.
You can learn more about the integration here.
Any channel, any time
It's not just social we've been investing in this year. 2019 is also the year responsive creative rolled out, helping you to control the feedback experience in digital, and new in-app reviews made it easier than ever to ask for feedback from your app users and post it straight to the app store to help promote your product.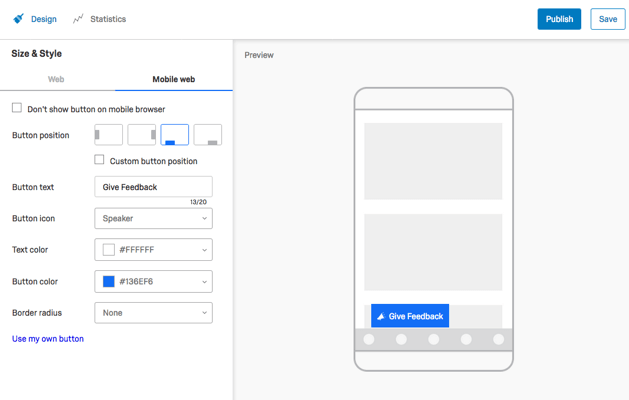 Similarly, our new integration with Adobe Launch makes it easy to launch feedback requests across your entire digital ecosystem, and see the data in real-time alongside all your customer data.
Understand - understand the hidden meaning in your data and get to insights faster
Voice, analyzed
It's the toughest data of all to analyze - unstructured data from natural human conversation. At X4 Summit last year we lifted the lid on Voice iQ, our new intelligence capability that helps you analyze conversations. You can now track topic and sentiment from voice calls, and automatically see key areas for improvement.
Text iQ made better
This year we've added plenty of features to our popular text analysis tool, including expanded language support, 7 new industry packs so you can see common topics specific to your industry, plus new dashboard widgets that make it easier to understand your feedback at a glance.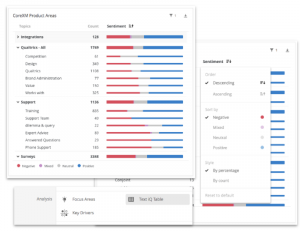 XM Institute Benchmarks
One of the most useful tools in understanding your own data is to benchmark it against others, whether that's competitors in your own industry or some of the CX leaders outside of it.
XM Institute benchmarks — a continuation of the Temkin Experience Ratings — were added to CustomerXM this year to give you more context to how you're performing and help set goals for the next stage of your program.
It means you now have the following benchmarks available:
XMI Customer Benchmarks - Consumer NPS
XMI Customer Ratings - Overall
XMI Customer Ratings - Digital
Plus, the Benchmark Editor allows you to upload benchmarks to your CX dashboard, so they can be more easily loaded onto your widgets.
Take action - enable everyone in the organization to take action on customer feedback
Frontline Feedback
Frontline Feedback is an always-on collaboration tool that helps organizations collect, prioritize and manage feedback in structured ways. Employees can submit their ideas, upvote and downvote ideas submitted by colleagues and provide comments on existing ideas.
It puts the people closest to your customers, products and organization at the heart of your XM program and helps you develop more engaged employees.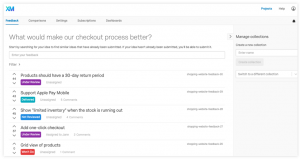 Check out our recent press release to learn more!
Prioritize your investments with Focus Areas
You know the problem — a ton of data, but no idea where to start on the improvements? If you were at X4 Summit in 2019 you'd have seen Focus Areas in action — personalized actions delivered automatically to the people that can make a difference.
It keeps everyone focused on their own role to play in transforming the customer experience, and helps you drive action and impact at every level of the organization.
Smart routing. The clever way to drive action.
Breakthrough CX happens when everyone has the insights at their fingertips to make the right decisions for customers.
Smart routing is how you deliver that, with feedback and insights automatically delivered to the teams and individuals who can make an impact. For example, let's say a website visitor discovers a broken buy button on your website. They open the chat widget and share this information with an agent. Once the conversation is closed, this information will then get routed to the appropriate team, in this case the digital marketing team so they can take action, close the loop and improve the experience for the next visitor.
And with integrations with leading platforms such as SAP, Salesforce.com, Microsoft Dynamics, JIRA, Zendesk, Marketo and more, everyone can make CX part of their daily routine, whatever systems they're using.
Last month, we also announced we'd be furthering our investment in the Qualtrics-Salesforce integration to help you drive action better. It's early days, so keep an eye out for updates and improvements as we head into 2020.
More about our Salesforce integration
Action planning tools built-in
Another key update in 2019 has been to our action planning tools, now available in the CustomerXM platform.
It's another tool that helps you to make sure all those insights don't go to waste, and that your teams have the tools they need to turn insights into actions that drive the business forward.
Simplified ticketing and closed-loop management
There have been quite a few changes to our ticketing system this year including new navigation elements that give you the option to switch between dashboards and tickets, resolution time fields so you can stay on top of how quickly you're responding, and new status rules to help you ensure proper processes are followed.
Check out all the latest ticketing updates
Access our complimentary COVID-19 solutions to help your business get back to work