Employee Experience
New research finds that stress & burnout are the main reasons more than half of leaders plan to leave their jobs in the next year
More people are leaving their jobs right now than have in the last 20 years, and job openings in the United States have reached a high, according to a recent report from the U.S. Department of Labor.
As we enter a post-pandemic world, organizations are scrambling, not only to figure out what the future of work looks like now but how to retain and engage their employees and effectively recruit candidates looking for new opportunities. As organizations compete for top talent, they'll need to take time to understand what employees are thinking and feeling, then act on that feedback to design programs that fit best for their workforce.
Especially since this workforce exodus is likely to continue, according to a new Qualtrics study of more than 1,000 U.S. employees. Forty-four percent of employees say they plan to look for a new job in the next year, while 39% say they'll stay, and 17% say they don't yet know. Younger workers, minorities, and leaders are especially likely to say they'll leave: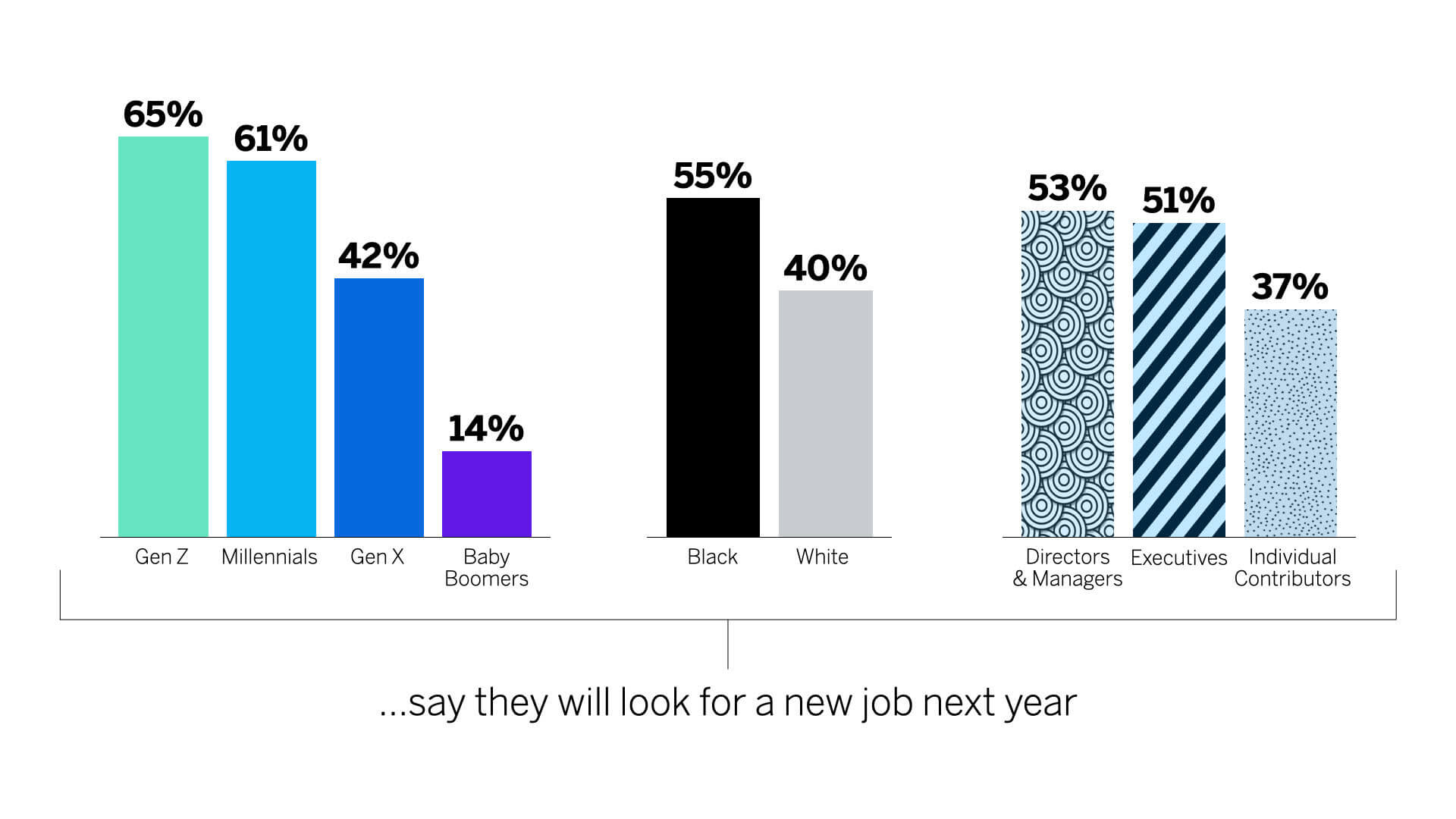 But why are we witnessing a mass departure? Here are five key insights into the changing labor force.
Burnout and stress are causing leaders to look for new jobs
The pandemic was difficult for everyone, and burnout and stress were among the top reasons employees say they will look for a new job in the next year. But COVID-19 was especially challenging for leaders who had to emotionally and professionally guide their teams through the effects of the last year.
Managers, directors, and executives are, in fact, the most likely to say they'll leave their job post-pandemic, with more than half of leaders saying they'll make the switch in the coming months, compared to only 37% of individual contributors who say the same.
The top three reasons managers and directors are making the switch:
29% say they want more growth opportunities vs. 19% of individual contributors
17% say their job is too stressful vs. 9% of individual contributors
15% say they're burnt out from the pandemic and need a break vs. 8% of individual contributors
Losing managers, directors, and executives is costly for most organizations, and hiring and training new leaders can often be a lengthy and expensive process. Data from Qualtrics also indicates that good managers are one of the main reasons employees will stay with a company, preceded only by fulfilling and purposeful work and work-life balance, which is the top driver of employee loyalty.
Employees are leaving for more growth opportunities
Nearly a quarter of employees (23%) who plan to leave their jobs in the next year say they're doing so to look for further growth opportunities — the main driver behind the workforce exodus.
But while growth opportunities are the main reason nearly every demographic of worker says they're leaving, an employee's gender can drastically change what they will look for in their next job:
54% of women say more flexible paid time off is a perk a company can offer to make them a more attractive employer vs. 39% of men
56% of women say flexibility matters to them when looking for a new place to work vs. 43% of men
Mentoring and training opportunities were not offered to women
It's not surprising, however, that most employees are looking for growth opportunities because the majority of employees (64%) report that their employer did not offer mentoring or networking opportunities during the last year, while 60% say the same about professional development and training.
This was especially stark for women, who were far less likely to say their employer offered them professional development and training or mentoring and networking opportunities than men: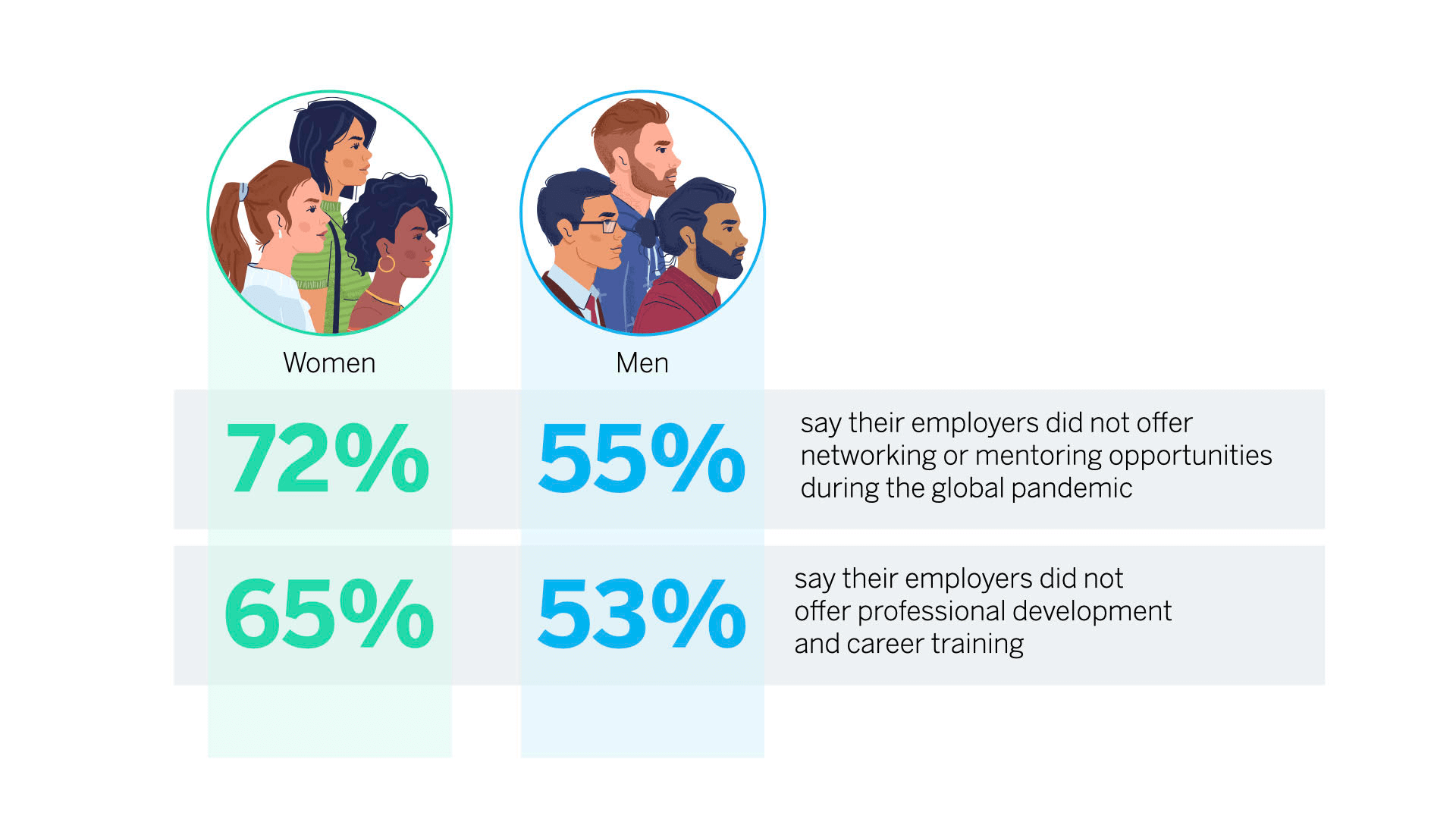 There's still a gap in the push for diversity — but the younger generation cares more
Although there may have been an increase in diversity, equity, and inclusion initiatives in the past year, there is still a major gap in the push for diversity.
Diverse leadership matters significantly more to Black respondents than white respondents when looking for a new place to work (40% vs. 18% )
Black respondents are more than twice as likely to say they will look for a new job because of a lack of diversity (10% say so vs. 4% of white respondents)
There's been an evolution of priorities, though, among generations. While Baby Boomers prioritize company benefits and perks significantly more than Millennials and Gen Z, the younger generations say diverse leadership matters significantly more to them than Baby Boomers and Gen X.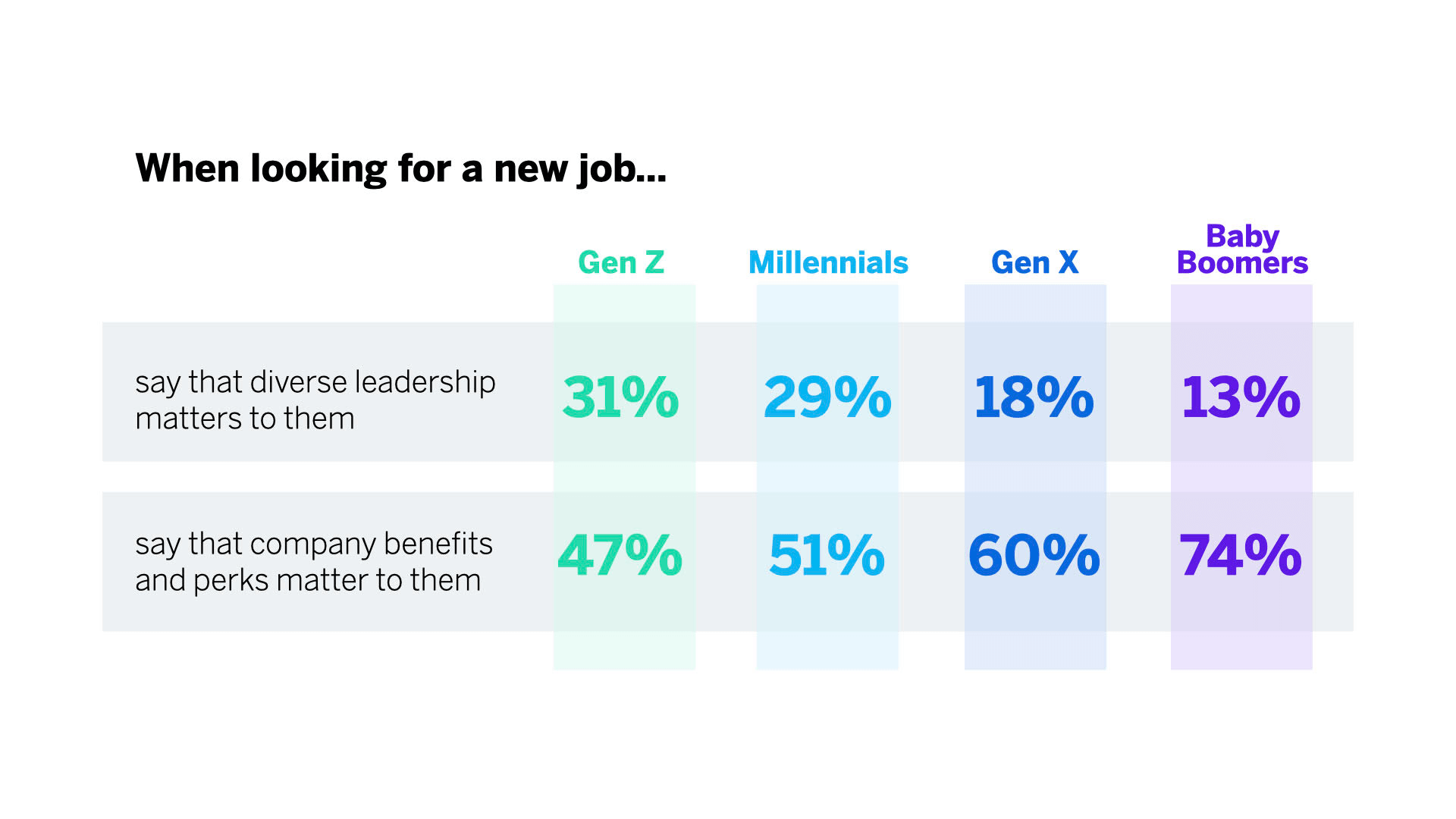 Work priorities vary by industry — especially in tech
As employers work to attract and retain talent, they'll need to listen to their own employees and candidates to discover what their priorities are, as they may differ from the norm. For the tech industry, that's often true.
What matters most when looking for a new place to work? For those in the tech industry, the technology a company offers is more important than the flexibility they provide — a stark difference from other industries
Better leadership and more growth opportunities almost tied for No. 1 on tech workers' wish list when looking for a new job in the next year, though better leadership wasn't high on any other industry's priority list
When asked about perks that a company can provide to make them a more attractive employer, the tech industry named a remote-first work policy as their No. 1 and best-in-class tech as No. 2, though other industries prioritized perks and paid time off
Flexibility is key to attract new talent
Companies have been knee-deep in the future of work and what it should look like. But what about the future of hiring? How will the process change and what are candidates looking for as they search for a new job?
The top 3 things that matter to candidates during the hiring process are: clearly communicated expectations, feeling like their well-being is a priority, and knowing the employer's work policy (i.e. remote, hybrid, or in-person work)
More than half (56%) prefer to experience the hiring process in person
The top 3 things that matter most to a candidate looking for a new job are: a company's benefits and perks, purposeful work, and flexibility

In the tech industry, it's slightly different. Top priorities for tech candidates are: feeling like their work is a priority, clearly communicated expectations, and getting to know the team
Executives, managers, and directors value feeling like their work is a priority more than individual contributors (42% of executives and 46% of managers and directors say so, compared to 30% of individual contributors 30%
As employers design the future of work, they'll need to remember there isn't a one-size-fits-all approach. Every industry, employee, and leader will find experiences that are unique to their culture and workforce. To get it right, they'll need to continuously listen, understand, and take action on what they hear.
Learn more about Qualtrics' employee experience management and employee engagement solutions