Customer Experience
How retail brands are using personalization to boost customer experience
The holidays are undoubtedly retail's busiest time as everyone scrambles to give Santa a run for his money. But this also means that competition for consumer cash is fierce. Research from advertising company Epsilon found that 80% of consumers are more likely to make a purchase when brands offer personalized CX (customer experience).
Personalization is core to experiences, according to Joe Pine, the godfather of experience economy. "People can't help but be engaged by something personalized especially for them," he says. "It makes them feel special to think that you've done something just for them." So which brands are doing it well? And what can you learn from them?
"People can't help but be engaged by something personalized especially for them"
Mirror, mirror on the wall
Sephora is the queen of personalization in beauty. The beauty brand is all about keeping in touch with its customers, by emailing them when their favorite products are back in stock, or reminding them of products they've left in their shopping carts. Members of its Beauty Insider loyalty program are made to feel valued and special with free gifts and invitations to exclusive events.
However, the beauty retailer offers hundreds of brands from all over the world. It caters for all skin colors and types, as well as seasons and occasions. So how can customers choose? Will they end up walking away empty handed because of the paradox of choice?
Enter stage left, Sephora's 3D augmented reality mirror. Launched originally in its Milan Store, customer can see what different makeup looks like on their face in real time.
Using technology from virtual makeover provider ModiFace, the mirror tracks the location of a user's facial features and applies eye shadow colors directly via a video feed from a camera.
Through using the mirror, shoppers are able to try out different shades of cosmetics by tapping a palette on the screen and also view eye shadows from different angles as they move their heads from side to side.
Why not just try on actual makeup? Well, that would be OK for one or maybe two looks at most, but you'd have to continually remove makeup and start again – it can become a frustrating process. This way you can potentially try on hundreds of looks in a matter of minutes. Not only are you saving your time and energy, but also your skin.
"We believe ModiFace's 3D Augmented Reality Mirror will be a breakthrough technology for our customers as they virtually try out different eye shadow shades quickly and easily," said Antonio Ferreira de Almeida, general manager, Sephora Italy.
However, the beauty retailer knows that it's not just CX that gets people buying – it's the entire XM experience. Including their staff.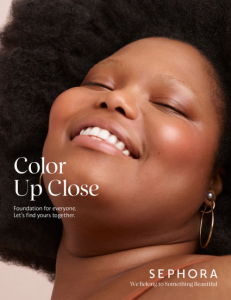 That's why the company's launched a diversity program for customers and employees, called 'Color Up Close.' This initiative is to help educate and inform their employees on how to correctly make up people of all skin tones and types. The program is a daily virtual learning lessons on inclusion — the focus is on the specific needs and desires of each individual.
"We've partnered with the NeuroLeadership Institute to create a research-driven curriculum focused on mitigating bias and driving positive behavioral change in all stores," said a spokesperson for the brand.
The takeaway?
Have hundreds of products with oodles of options? Find fun and engaging ways to showcase how your products could benefit your customers quickly and easily. But don't forget the fundamentals of training and empowering your employees to offer the best possible personalized experience for all your customers, not just a select few.
'Tell us about yourself'
One of the core areas that customers can't stand the cookie-cutter approach is health. After all, we all think of ourselves as being super unique and special. And our bodies' needs vary wildly from person to person.
Vitamin-supplement brand Care/of understands this and that that customers' need for vitamins to be "prescribed" especially for them. As such, Care/of invites its website visitors to take a quick quiz all about everyone's favorite subject (ourselves).
The quiz is engaging and fun, with cute copy and graphic laid out in a "choose your own adventure" style. As you work your way through the questions, you can pinpoint specific areas of your health you'd like to improve, such as poor sleep or low immunity.

Care/of then sends you a portable box of daily vitamin packs made with quality ingredients. Every pack has your name written on them for that added personalized vibe.
The company also gives you in-depth information about the reasoning behind the recommendations, and customers can also change the quantity or the kind of vitamins and supplements they receive, or adjust for things that may affect their health as pregnancy or training for a sporting event.
The takeaway?
Take a process that could be laborious and dull and make it an engaging experience. Not only do customers feel more invested in the process but also the product. Plus, with each customer interaction, the brand gains insights into how to improve product and targeted marketing techniques for existing customers and prospects.
"53% of consumers are ready to share personal information to get a personalized experience"
Making personalization profitable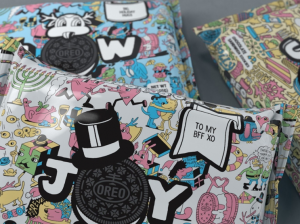 As marketing guru and author, Bonin Bough, explains in his Qualtrics Master Session, consumers will pay above the odds for almost exactly the same product that they can personalize.
While at food and drink company Mondelez, he was part of a team that launched the first ever customizable Oreo – a first in the brand's 120-year history.
The product inside was exactly the same, but customers could customize the packaging from the colors to the icons, as well as add their own unique message. And people went to town, writing sentimental messages, such as 'I miss you,' to celebratory messages such as 'Happy Birthday!' and 'it's a boy!'.
"I said 'do NOT send that to the wrong address!'" says Bonin. "Could you imagine receiving that and thinking: 'I didn't even know we were trying to get pregnant!'"
Suffice to say, the personalizable packaging were gobbled up as quickly as the cookies. "What we were really doing was challenging and testing a billion organization to see if it could print one package of a customized product in just as little time as traditional Oreos, as well as charge more for it," says Bonin.
"We live in a world where the consumer is going towards a more personalized product purchases and engagement and organizations are moving towards more mass and more scale," says Bonin.
He argues that organizations need to be able to move and pivot in real-time, creating products and services that adjust to what the consumer needs are.
The takeaway?
Mass is no longer where the world is. "Tech is going to unlock additional value and growth opportunity and for the organizations that can master it, it's going to be their secret sauce," says Bonin.
Want to create a great retail experiences? It all starts with getting good feedback about customers' in-store purchase experiences. Try using our free survey template.
Explore our research into retail CX during the holidays