---
What is contact center AI?
You know that AI stands for artificial intelligence, but what role does that computerized intelligence have to play in a contact center environment? Put simply, it's an enabler for smarter, more empathetic, and data-driven customer interactions at scale.
AI can make agents more productive, empowered, and efficient at their jobs. It can automate the rote, mundane parts of day-to-day contact center work, so agents can focus on the tasks that are better suited for human intervention. And it can free up agents to deliver more personal and effective service – which in turn enables better customer experiences and customer satisfaction.
Whether it's by augmenting intelligent chatbots, or implementing natural language processing (NLP), AI can transform the modern contact center – without stepping on the toes of human agents. In fact it's the opposite, it enables your agents to focus on what really matters.
How does AI fit into the contact center technology stack?
In the customer experience industry, AI offers much more than just task automation. It's increasingly becoming a staple of call center suites and technology platforms because it can leverage customer data to give each contact center agent additional empathetic information, while also rebalancing the workload appropriately for maximum output.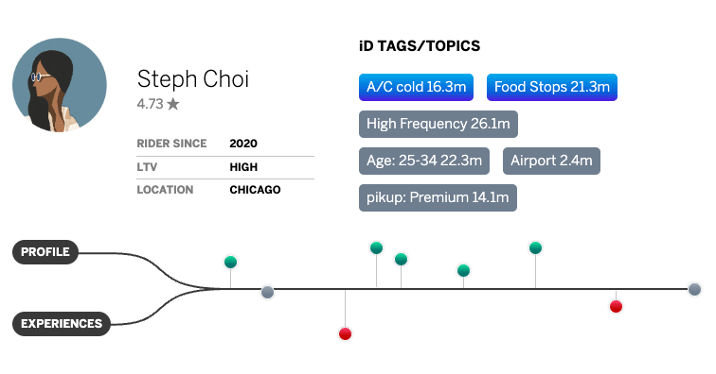 Whereas historically tasks like understanding customer history, post-call work, and agent scoring needed to be done manually, AI enables businesses to streamline things at a previously impossible scale.
AI-augmented technologies can scour massive amounts of customer data in the moment, across traditionally disparate customer interaction sources, to offer up unique insights and solutions at speed never before possible.
Free guide: Reimagining omnichannel CX in the age of AI
Why is contact center AI important?
AI offers huge business benefits for both the customer and the business implementing it. We'll cover more specific use cases and benefits later in this article, but – if there's one key takeaway – it's that consumers are increasingly expectant that the information enabled by AI factors into the customer experience.
Our research shows that 63% of consumers said companies need to get better at listening to their feedback, while 60% of consumers would buy more if businesses treated them better. In today's business environment – where omnichannel interactions are the norm – that can only really be achieved by augmenting human customer service agents with AI.
The ROI of this approach is huge. By using AI to handle simple, repetitive queries, your agents have time to work on priority cases – like those that are more complex or sensitive. This will mean that average times improve, CSAT improves, and agents are happier. A win-win for everyone.
Beyond this, AI has been proven to enable a better overall customer experience. When TXU Energy deployed Ivy, an automated customer care AI solution, it increased CSAT by 11%, and call containment by 18%.
In our industry research, one bank was struggling to meet its promise of responding to customer emails within 48 hours, and was drowning in some 25,000 daily emails.
What's more, 60% of its initial email routing had to be re-routed due to employees misunderstanding customer intent, and the bank only resolved 10% of issues in the first email interaction. AI, however, was able to automate its email response and routing process so that customers received an instant notification informing them that the bank had read their email, thanking them for reaching out, and confirming that it understood the intent of the initial inbound email. By instituting this change, the bank routed 90% of the emails correctly on the first try.
Using AI to elevate the customer experience
AI in the contact center is a driver of customer satisfaction, but not because it can replace human workers. Instead, AI can enable the frontline to do their best work in powerful new ways.
It can make them more productive, give them the tools they need to make decisions quicker and more efficiently, and give them valuable time back by handling time-consuming tasks. All of which make the customer experience better, and call centers run smoother.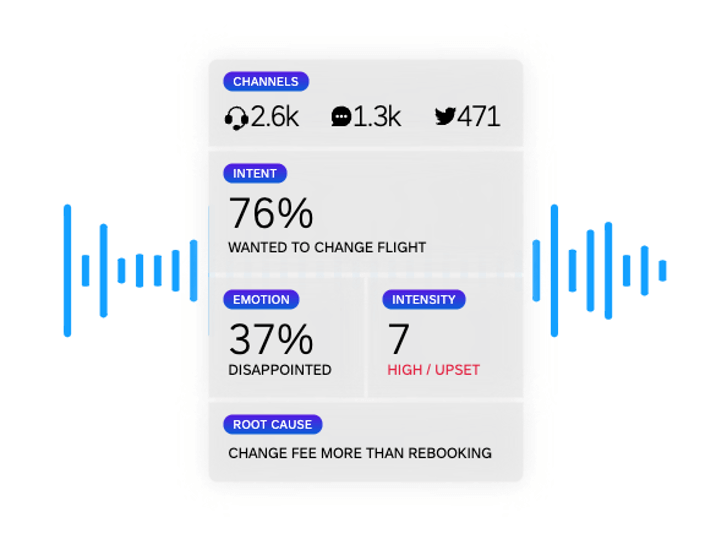 Machine learning NLP capabilities – like the kind on offer from Qualtrics XM discover – can understand customer intent in previously impossible ways, scanning text and calls for meaning, and even knowing the difference between the same words used in different emotional contexts.
In the modern call center environment, this is how you can turn customers into fans, issues into resolutions, and newcomers into long-term loyalists.
Discussion
Can artificial intelligence replace call center agents?
With the rise of chatbots over the last several years, it's understandable to wonder if AI might fully replace human agents one day. But really, this is the wrong way to think about the power that an AI-enabled system can offer.
Instead of replacing humans, AI can empower them to work smarter (rather than harder) and enable businesses to identify and act on priorities. The value of AI extends into so many other areas, like helping agents in calls with real-time guidance and support, reducing after-call work, or automatically flagging compliance or QA concerns.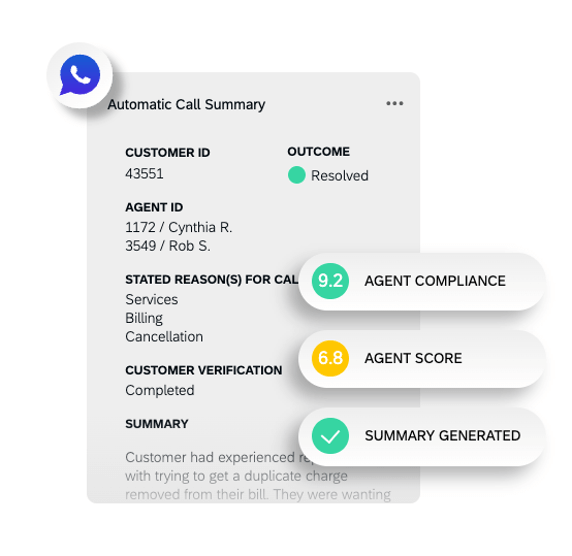 For example, if your agents are spending time on tasks that could be automated – including time-intensive post-call work – then they'll be able to use that time more effectively. AI can not only help some customers self-serve when they're happy to, but it can also flag which ones are priority cases that need urgent human help to stop them from becoming ex-customers.
What can contact center AI actually do?
Looking for headline features? While we'd argue that AI truly becomes useful as a holistic part of entire contact centers, it does have a few standout abilities that should immediately speak for themselves:
Natural language processing
Your customers don't always speak clearly or know exactly how to articulate a problem. That can be an issue even for the most empathetic human agent, especially when you consider the sheer volume of interactions some contact centers have each day.
Artificial Intelligence, however, can track every interaction across a multitude of touchpoints – including voice and text, on owned and third-party platforms – and discern effort, emotion and intent. AI can then route calls to agents and flag that full, holistic history, letting you know who's most in need of assistance, and what their issue's been about.

Power interactive voice and virtual assistants
While human call center agents will always be the bedrock of the customer experience, there is a growing demand from customers to be able to self-serve when possible. To that end, AI with natural language processing powers best-in-class virtual agents – chatbots and interactive voice responses that feel intelligent and useful, rather than rote and frustrating.
And that can even help internally. When Allstate Insurance upgraded its commercial line for small businesses, its 10,000 agents jammed internal call centers with questions about how policies and practices worked. To help meet this volume, the company developed a virtual assistant called "ABIe" (pronounced "Abby"), imbued with a knowledge of words, phrases, and data required to power potential responses. ABIe now handles more than 100,000 queries per month from agents and internal employees.
Automate quality management and coaching
Without AI that can understand what's being said, when and by whom, monitoring agent performance becomes a labor-intensive, time-consuming job that relies on sampling – sampling which is often out of date as soon as it's complete, or simply too small. Many sampling measures, for instance, only judge agents on 1-3% of their interactions.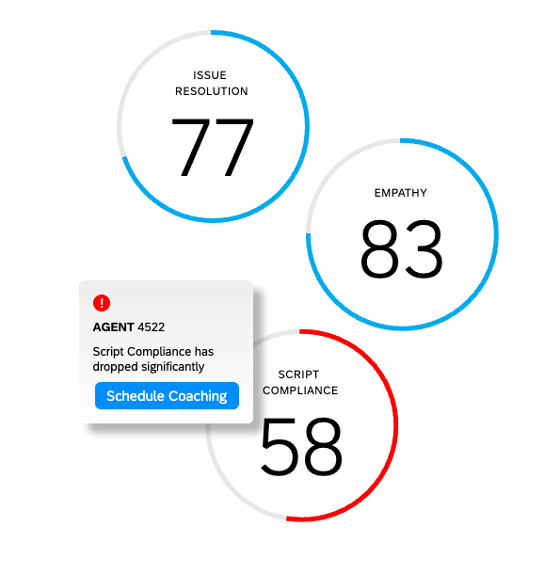 AI in the call center can automatically track agent performance, successful resolutions, and script compliance. With that information, AI-powered contact center software suites can offer up real-time insights on who's knocking it out of the park and where there are coaching opportunities. The best platforms can even automate the coaching process.
By automating your quality assurance process, analyzing and scoring 100% of interactions with a standardized, objective, intelligent scorecard, you'll save costs in resourcing and gain access to a huge array of new insights that will benefit the entire business.
This improves service quality and the agent experience by providing more objective, holistic insights into their performance.
AI assistance in your contact center: benefits and examples
Ok, so we know about the business value and know that contact centers can benefit in a bunch of different ways from AI implementation, but it's helpful to have some real-world examples. So let's take a look at a few benefits and tie them to particular scenarios…
The benefit: Saving time and money, at scale
AI's role in the contact center is to handle things that humans find time-consuming and to do so lightning-fast. That can have two effects: freeing up agents to do more meaningful, important work with customers who really need them, and also intelligently filtering support inquiries to surface high-priority cases.
The scenario: Prioritizing customer needs with NLP
Post-call work takes time, is subjective, and is difficult to analyze for insights. If an agent handles 50 calls a day, and their average post-call work takes four minutes, AI and machine learning could effectively take on around 16 hours' worth of transcription and analytical work per week – while also turning all that data into meaningful insight. AI can understand emotion, effort, and customer sentiment with human-level understanding, flagging when things need to be escalated, knowing what's happened before, and driving better agent effectiveness.
With automated post call summaries powered by NLP, agents can focus on the conversation rather than trying to take notes during the call. This enables them to listen better and deliver more empathetic service and it increases the legibility and accessibility by standardizing the summaries. This means that when customers are first transferred to an agent following an IVR interaction or are transferred from one agent to another, the next customer service representative has access to a thorough, easy-to-understand summary of the interaction without having to ask the customer to repeat themselves.
The benefit: Greater empathy and customer satisfaction
AI plays an essential role in helping agents provide quicker, more efficient responses to customer concerns, but it can also aid in boosting empathy. That's because AI can analyze the voices of both the customer and the phone representative during a call, and provide real-time guidance to the agent as a call progresses. As a result, agents can connect on a more emotional level with customers, listen more effectively, and feel more confident on calls. These cues can be used to help accelerate time to proficiency for new agents or help agents upskill faster as they take on more complex issues. The business benefits are clear. You'll:
Save time and money by eliminating post-call work with automated call summarization;
Improve employee engagement focus;
improve customer satisfaction/loyalty, reduce churn
Reduce risk by keeping an unbiased, historical record of interactions that remains consistent and readable
The scenario: Building rapport with smart cues
If a contact center agent is on a particularly tricky call, being able to build a rapport with the customer can mean the difference between keeping them or losing them. AI can analyze how things are going in real-time, using specific customer personality models, to provide agents with visual cues that advise them on how to communicate better. For example, the system might notify agents if they're speaking too quickly or interrupting the customer.

The benefit: Letting people self serve
Many contact centers often want to avoid automating more emotional interactions, assuming they're too complex for Artificial Intelligence. But there are certain circumstances where AI can actually improve the customer experience. During some emotional situations, for example, customers might prefer to deal with a machine rather than a human.
The scenario: Handling embarrassing conversations
Customers seeking help and advice around sensitive issues like debt or medical health may rather interact with a virtual assistant or interactive voice response system. But it can also help with much simpler queries. At Edwardian Hotels, for instance, customers ask "Edward," the hotel's chatbot concierge, questions they might be too embarrassed to ask a staff person – like whether in-room coffee and tea makers are complimentary. The hotel has found that even though customers never ask hotel staff this question, they frequently ask Edward about it.
The Qualtrics XM Platform™ – with inbuilt contact center analytics tools – is the easiest and most powerful way to bring AI into contact and call centers, and empower agents to do their best work ever.