---
TECHmarc Labs' founder Lisa Masiello said "Happy customers are your biggest advocates and can become your most successful sales team".
Good customer service goes hand-in-hand with sales and profits: 70% of Americans are willing to spend an average of 13% more with companies that provide excellent customer service, but 25% percent of customers will defect after just one bad experience.
So, it's no wonder that businesses are turning to customer service surveys to make sure their customers are happy.
Set up a customer service survey today with our free template.
What is a customer service survey?
A customer service survey is more than a questionnaire. It's a useful method for listening to your customers, to understand if they're happy or not with your brand, product or services.
When you analyze the results, you can use this customer data to drive better business decisions that ultimately impact the overall customer experience.
These surveys are usually made up of a selection of open-ended questions that encourage detail, and can be created as online surveys to ensure responses from a geographically wide net of customers across the world.
3 reasons why are they important
Continuous learning – Hearing directly from customers about how your products or services can be improved is gold-dust. You get several ways to gain more sales from the people you want to target. Or they may point out improvement areas, which can help overcome wider customer challenges to purchasing. Either way, you gain valuable information that can help you continuously learn, and improve.
Flexibility – Customer service surveys can be used in a flexible way. You could use one to carry out market research at times when you need to know what your customers are experiencing, or what challenges they face. Or it can be used periodically to check in for customer feedback and improvement ideas.
Brand image – When you ask to know what a customer thinks, you are perceived as caring about your customer's experience, and the continued improvement in your products and service quality. Both perceptions help your brand image and lead to customers experiencing positive feelings towards you. It helps to create a relationship with the consumer, and humanizes the brand.
Questions to ask on a customer service survey
There are many types of surveys and questions you can ask to get a pulse on your customer service, so it's important to define your goals before creating your survey.
5 of the best types of customer service survey questions are:
1. Agent-specific survey questions
The internal employees, or agents, that your customer interacts with across their customer journey can create a positive or negative experience. Asking agent-specific questions is important to see where internal agents are meeting your company's customer commitment. If you uncover specific improvement points, train and reward your employees to take action on this feedback and boost morale.
Examples:
Based on your recent interaction regarding (insert incident), how satisfied or dissatisfied were you with our service team member?
How courteous or uncourteous would you say our service team member was?
How knowledgeable or unknowledgeable would you say our service team member was?
How effective or ineffective would you say the service team member's communication was?
Did you feel confident in your agent's ability to help you?
How much did you feel our service member wanted to assist you?
What can our employees do to get a 10/10 service score?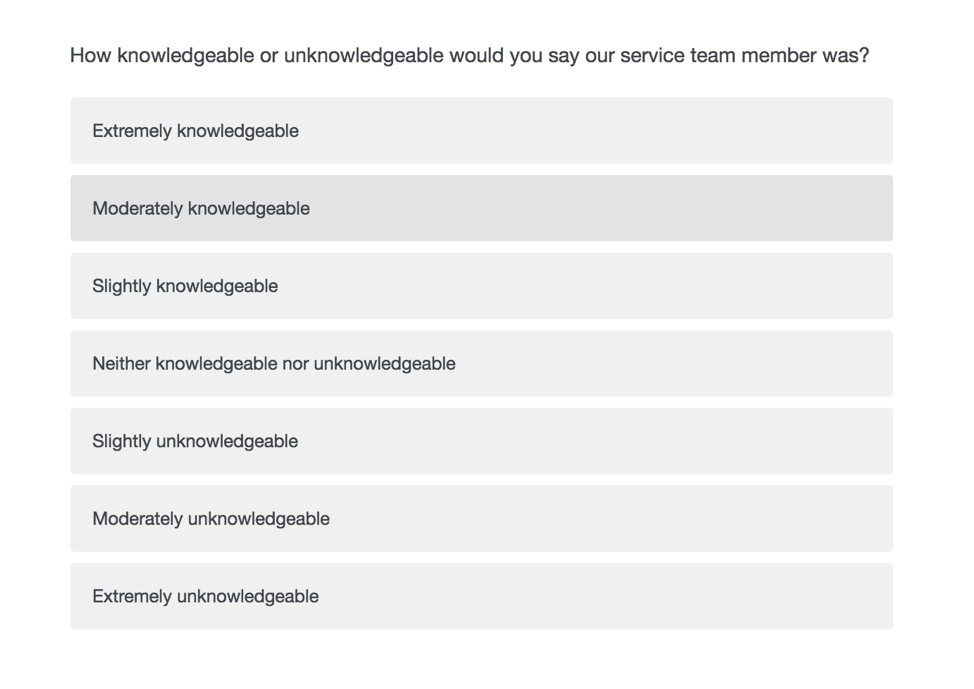 2. Channel-specific survey questions
Include channel-specific questions on a customer service survey to assess which customer support channels are the most effective, and which channels need to be revised.
Your goal might be to have customers' questions answered on the first attempt for a positive experience. The questions you ask will help you identify positive patterns or gaps in knowledge.
Examples:
Was this your first interaction with the [name of channel]?
Would you use this channel again, based on your experience today?
Were you able to locate what you were looking for on the channel?
What other channels have you used in the past?
Which specific channels do you like to use? (Customers can choose from options like live chat, call center, mobile app, etc).
How could we improve [name of channel], in your opinion?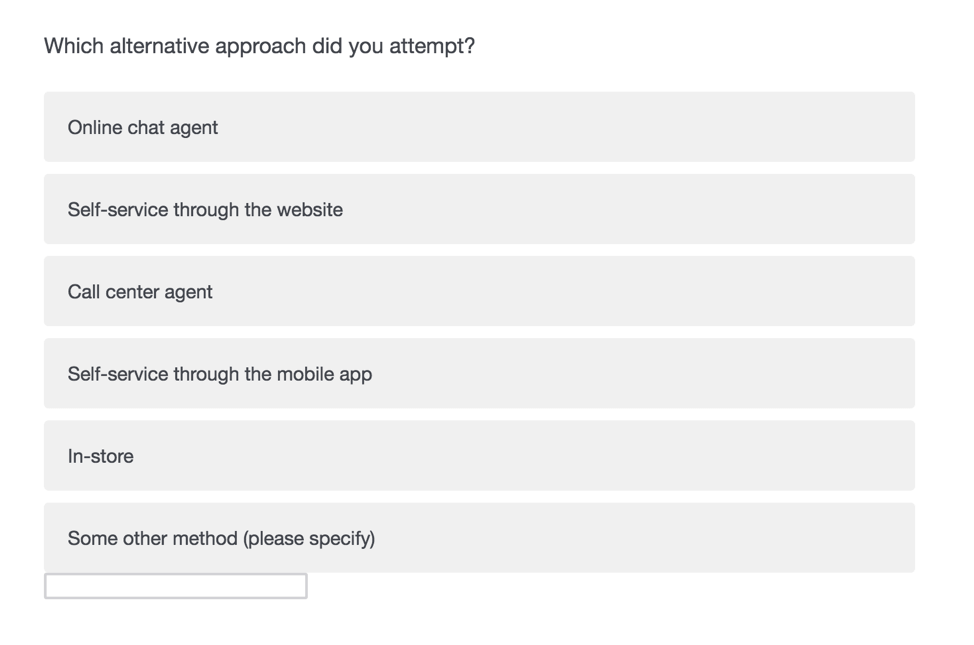 3. Customer Effort Score (CES) survey questions
CES survey questions understand how much effort the customer exerted to get their questions answered. The idea is that customers are more loyal to a product or service that is easier to use. CES surveys can be used immediately after interactions or specific touchpoints, like a product purchase or an interaction with customer service.
With this data, you can set goals, measure your performance over time, and see where you need to improve. The answers can tell you if a customer situation has been resolved, or if you need to take action to close the feedback loop fast. They can also help you understand where you stand among the competition.
Examples:
On a scale of 'very easy' to 'very difficult', how easy was it to interact with [company name]? What made your experience like that?
Were you able to accomplish your goal today?
If you needed to interact with an agent to accomplish your goal, did the agent fulfil your expectations?
Did the service agent contact you to let you know your issue had been resolved?
Is there anything else you'd like to share that could make your experience better?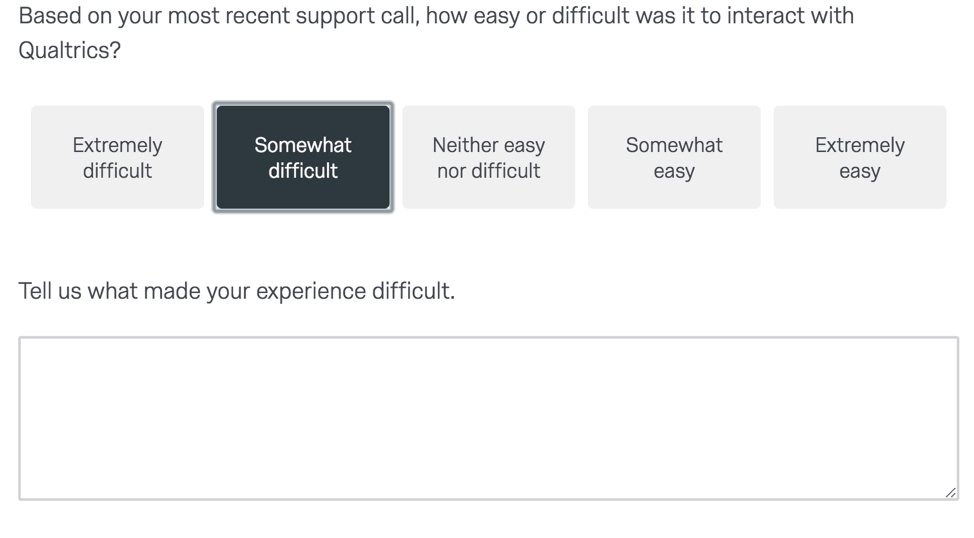 4. Customer satisfaction (CSAT) survey questions
Customer satisfaction surveys are used to understand your customer's satisfaction levels with your organization's products, services, or experiences.
The questions can help understand your customer needs and understand problems with your products and/or services.
Rating scales are used to measure changes over time, and gain a deeper understanding of whether your business is meeting the customer's expectations. By segmenting your customers by score you might be able to look for trends about why certain groups are scoring in certain ways.
Examples:
Overall, how satisfied were you with [company name or brand]?
How often do you typically use our products or services? (A 'Daily' to 'Do not use' scale works best here)
Based on your recent purchases, please rate your satisfaction with [a service or product attribute, like its value, purchase options, onboarding experience, etc]
How would you rate your overall satisfaction with the [product/service] you received? (A Likert scale question between 1-5, with 5 being 'highly satisfied' and 1 being 'highly unsatisfied', works best here).
How does the product or service help you achieve your goal?

5. NPS survey questions
The Net Promoter Score (NPS) survey question measures customer perception based on one simple question (below). It then provides customers with a chance to respond using a Likert scale from 0-10.
The beauty of this simple question is it's simple to calculate your final NPS score from the results; by subtracting the percentage of detractors (people who responded with score between 0-6) from the percentage of promoters (people who responded with scores of 9 or 10). You want the final score to be as close to 100 as possible.
Long-term, this question can help you monitor positive change by measuring when detractors become promoters, which indicates that more of your customers have a higher appreciation for your brand.
Example:
How likely is it that you would recommend [Organisation X/Product Y/Service Z] to a friend or colleague?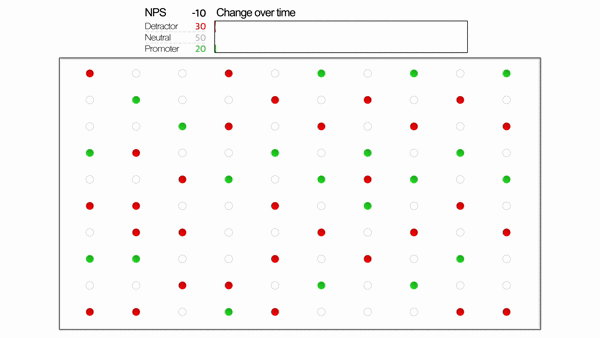 Our best practice tips for success
Keep your survey short – Just like you, customers don't enjoy taking surveys. And the average person's attention span is only 8 seconds long. You can respect your customer's time and patience by keeping your survey short. Research has found that shorter is better as long as you're getting the pertinent information, so it's better to send out 2 shorter surveys than one long survey.
Avoid asking unnecessary questions – Also, it's best to avoid adding in questions you already know the answer to (like the agent's name, that date the customer contacted you, what type of issue they had, what product they own, etc). Not only does this add time to a survey, it can be frustrating for a customer to complete, and highlights that your company does not use their existing customer data in a managed and optimized way for communications.
Consider a pre-built solution to act faster – If you want the benefit of a smart customer experience management platform will be able to automatically keep track of this information, learn about Qualtrics Customer Survey Software. This allows you to focus simply asking questions about your customer experience, and waiting for the results to be interpreted and delivered for you.
Act on your information in a structured, customer-centric way –When you have the customer data analyzed, turn this information into actionable customer intelligence. This combines multi-channel information with a 360° view of the customer's context and behavior patterns, to help you understand 'why' customers behave in the way they do. This creates opportunities for better business decisions so you can act on what you learn.
Download our free customer service survey template
By sending this customer service survey to the same customers at regular intervals, you can understand how they view your company's customer service over time.
Make a start on testing, or compare your customer service survey, with our free, pre-built customer service survey template.