Why Qualtrics
Careers Behind Careers: Laura's Story of Recruitment Coordination
Laura is a recruitment coordinator for the Talent Acquisition team in Dublin! The role of a recruitment coordinator is one that has nearly no bounds. Our coordinators are organisational geniuses and are dedicated to the candidate experience, managing everything from logistics for interviewing through to taking on critical projects within the recruitment team. Laura shared her story of "Why Qualtrics" is where she's starting her career, and why "Team Talent" is where she had to.
---
Qualtrics is the perfect place to start a career. I was fortunate enough to start off in our Support team as a Product Specialist, where I was told I could do - and be - pretty much anything. For someone fresh out of college that was music to my ears! It was a major reason why I joined in the first place. The amount of effort that the company puts into both my professional and personal development will never stop impressing me and will definitely continue to be part of my "why."
Why did you decide to join team talent as a recruitment coordinator?
Once my time in support was up, Team Talent seemed like a natural progression for me. I love working with people and understanding how we work so it's a perfect fit! Not only that, but we will continue growing like crazy over the next couple of years, so being part of that growth is something that really excites me. I get to have a massive impact really early on in my career which is such an amazing opportunity.
Why did you decide to continue working with Qualtrics after the role in support? We know you've mentioned the investment in you - but was there something else that made you want to stay?
For me, it's still Qualtrics for me for two reasons. Reason number one: the company culture. The small company mentality is still evident, even though we have scaled massively in the last few years. We're still all in as one team, and scrappy is our middle name!
The second reason is the amount of impact I can make so early on in my career. The EMEA office is growing like crazy, which means that our processes don't always grow as quickly. The opportunity to make a change and a lasting impact on these processes and the way we do things is one that I don't think I'd get anywhere else. It really gets me motivated to know that I can build my brand and accomplish great things even though I am still quite junior!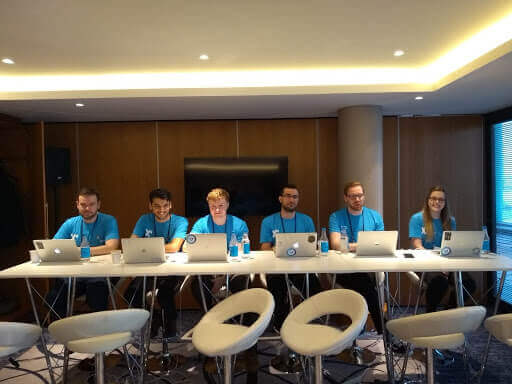 What is the "day to day of your role"?
My number one focus is managing the candidate experience. This means helping them through the interview process and working with the recruiter to ensure the candidates are set up for success. On top of that, I also work on recruiting MBA students and organising on-site visits to campuses, creating surveys to make recruitment life easier, and making travel arrangements.
How has your role differed from your expectations versus what you are doing now?
It definitely involves a lot more problem-solving than I had originally expected - but that's a good thing! We have quite a lot of interviews happening on any given day so trying to make sure the right candidate meets the right interviewer in the right room can be like playing Tetris, but it keeps it all interesting!
What are the most exciting elements of your current role and team?
The most exciting thing so far was getting to travel to INSEAD to meet their MBA students and get to talk about our open opportunities here at Qualtrics. Interacting with the students and learning about their passions and experiences is something I really loved.
The most exciting part of my team is how much experience they all have! I'm the most junior person on the team, which means I get to act like a sponge and learn from all of these brilliant mentors. The diversity of thinking amongst the team means that we can all work together to make the best candidate experience possible!
What does Experience Management mean to you?
As a psychology student, experiences are something that really interest me. Several studies have suggested that experiences have a more profound impact on our happiness levels - having an experience rather than buying a material object we don't really need keeps us happier for longer. So for me, being part of a company that tracks and manages these experiences is incredibly important. Happy experiences = happy people.
What do you like most about your job?
I love being around people and this is the ideal role for that. I get to meet new people every day as well as work with intelligent, friendly people as part of Team Talent. The people of Qualtrics are what drive our incredible culture of openness and scrappiness here, and it is definitely my favourite part of working here.
What is your top #LifeHack?
In the "Why Qualtrics" story I did when I was in support, I said my top #LifeHack was that a cup of tea can solve most problems! Still rings true, but I'll expand on it by saying to take the time for yourself. We all live hectic lives at the moment, so taking the time to have that cup of tea or read a book or do something that you really enjoy is so important to our well-being.
Can you tell me something about yourself which might surprise your colleagues?
I once hiked with the Irish army up the Slieve Bloom mountains for a few days. I slept on the forest floor, ate ration packs and learned how to skin a rabbit!
Qualtrics is growing, and if you're ready to find your "why" at a place like this, you can explore our open opportunities at any time by visiting our career page. Looking to discover more reasons "Why Qualtrics"?
You can find the whole series here. Want to chat? You can get in touch by checking out Qualtrics Life on Twitter, Facebook, and Instagram.
| | |
| --- | --- |
| | Laura is an alumnus of Maynooth University and is graduating from the University of East London in 2021 with her Master's degree. She started her career here at Qualtrics. Her biggest claim to fame is being on the Tesco Christmas Ad back in 2016, but she also taught piano for 8 years before working at Qualtrics and was treasurer of the Yoga Society in College. |
Related Articles