Why Qualtrics
Closing gaps with engineering: Yashmeet, Engineering Intern
I personally wish to build innovative solutions to important problems in society, with the hope of having a net positive impact on the world. I've always enjoyed science, technology, and problem-solving, which is why I've chosen to become an engineer in tech. Qualtrics works to close the experience gap between companies and their users, which can allow us to have better and more fulfilling experiences with products and services in our day to day lives. I've interned at Qualtrics as a software engineer for two summers - the Seattle office in 2019 and the remote experience due to the pandemic in 2020.
What attracted you to an internship at Qualtrics in the first place?
My initial impression of Qualtrics came from an entrepreneurship course when we learned about successful bootstrapped startup companies. It was impressive that they had sustained profitability and success for so long before taking outside funding. After reading about the extraordinary impact they have on businesses and customers all over the world, and seeing pictures of the beautiful Seattle office, I knew I had to apply and eventually join. 
What does your day look like as an intern?
An average day as an intern is filled with challenging problems, focused work, and fun interactions with other interns. I usually start off the day with breakfast (provided at the office!) which is a bowl of cereal and fruit. After writing down what I want to accomplish today in my journal, I get focused time to work until lunch at noon. I eat lunch with my fellow interns, which is followed by intense foosball matches. The afternoon brings more focused work, engaging team/project meetings, and occasional company-wide meetings where we get to hear from our executives. Often short breaks are filled with spontaneous intern meetups or gazing at the view of the mountains from the windows. 
About once a week the day will end in an awesome intern event hosted by our recruiting team. We've had board game nights, happy hours, and baseball games to look forward to after work! Although things in summer 2020 changed a lot, we still get to have great movie nights, happy hours, and game nights over video calls! I tried to get as much video chat time with my team members and my fellow interns in order to replicate some of that interpersonal experience that I missed from the office.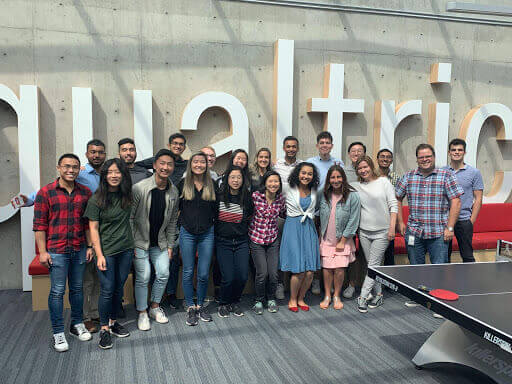 What is your favorite part of your role as an intern?
Two things: learning and making a tangible impact. I've found that one of the main objectives of any internship is to learn as much as possible, not only from your work but also from the people around you. There are so many great people to learn from and most are willing to help in any way they can. Interns are given impactful projects that are truly valuable to customers and the team's product. It's also pretty cool to have the CTO sit front row at your final project presentation and really care about your work!
What surprised you most about working at Qualtrics?
The people and culture: everyone is super willing to support you and your personal growth. In both of my internships, I've had managers, mentors, and team members that were always willing to help me improve my project work and answer any high-level career or work-related questions I had. It is also really easy to reach out to people outside your team in any organization, which can help you learn from all kinds of unique and interesting people! 
Any tips for someone who is considering an internship opportunity at Qualtrics?
The life of a Qualtrics intern is engaging and challenging, but also a ton of fun! By working on an impactful project, you'll learn a ton of new skills and have a fulfilling experience at the same time. The work, people, and awesome events will lead to growth in your professional career and personal growth as well. 
It is also important to see Qualtrics as a fast-paced company that will really invest in you and care about you as an employee. I've heard from many employees here (including the executive team!) that joining a growing company like Qualtrics can do wonders for your career, so take into consideration the type of environment and company you'll be working for.
Qualtrics is growing, and if you're ready to find your "why" at a place like this, you can explore our open opportunities at any time by visiting our career page or by joining our talent community.
| | |
| --- | --- |
| | Yashmeet is an alumnus of the University of Michigan, where he is currently working on his Master's degree, and has interned at Qualtrics twice! He runs club track and field at the University of Michigan (MRun) and competes in the hurdle events. |
See more of the Qualtrics Life on Facebook, Instagram, and Twitter.
Related Articles