Qualtrics Experience
Home Sweet (Work From) Home
Social distancing as a result of COVID-19 has us spending an unprecedented amount of time in our homes. We work from home, we homeschool, we don't get to go out for dinner or drinks with our friends and loved ones, and we have delayed our travel plans. As a result, work-life balance looks different these days. Read how some of us have used our experience bonuses to practice self-care, keep the kids entertained, promote quality family time, or improve our work from home setups to keep us happy and productive. 
Ming Yang / Manager, Program Architects
I used the experience bonus to build a home office with two 32" monitors, a standing desk and a really nice office chair. With the mandatory work at home, this investment is making my experience much better while working from home.
Josh Scott / SDR Team Lead
With my 2020 Experience bonus my wife and I chose to make some improvements to the backyard. With 4 energetic children, a fun backyard is an absolute necessity. We look forward to making a few improvements to the yard to help keep the kids happy, safe and engaged while we're confirmed to our homes. Thx Qualtrics!
Michal Ciesielski / Software Engineering Manager
I bought a BBQ set. Due to the pandemic outbreak, my family had to give up all travel plans. I decided to use my experience bonus to buy a BBQ set to make our weekends at home more interesting. I am now practicing my cooking skills, and I am surprised what one can put on a BBQ! We now have one more activity to do at home. The kids were so happy eating those grilled bananas with chocolate!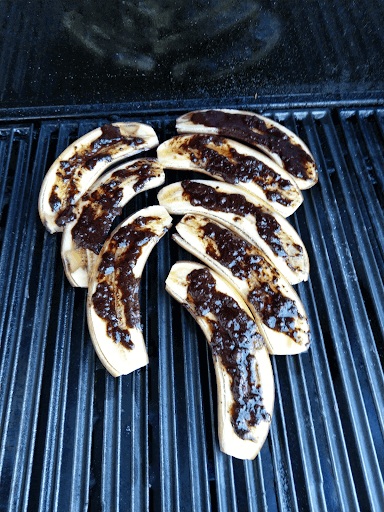 Carter Smith / Research Services Account Executive
We were forced to cancel our planned vacation due to COVID 19 concerns. With the new required WFH policy we've decided to use the experience bonus to improve our outdoor patio area so we can spend as much time outdoors with the family as possible. Being cramped up inside the house was a non starter for our family of 5.
We decided to live and embrace the new changes. We want to be able to make the most of our time as a family together and make the most out of the cards we've all been dealt. Adding extra square footage to the patio and additional seating is allowing us to get the fresh air we need and spend time with those most important to us.
Becky Beard / Sales Proposals Analyst
I chose to use my experience bonus to put a gym in my spare bedroom. Once we were sent to work from home, my mental health cratered. I depend on Qualtrics emotionally. My only friends are there, all of my dog's friends are there, all of my social interactions are there, and all weekend I'm excited for Monday to get back there. Outside of work, the way I relieve stress is by working out. Then, the gyms closed. I had to do something to help myself and I think the best thing for me was to give myself an outlet. Right now, all I have is work and my kids (which also feels like work), and my new gym has given me something outside of work to look forward to and focus on instead of the terrible things going on in the world. In a way, Qualtrics, yet again, made that possible. My small baby gym in my spare room has been my saving grace during this super scary time in all of our lives. Thank you.
Eric Moore / Research Services Account Executive
I used my experience bonus to help us move into my new house and prep for Covid -19. I couldn't get the trip to Bali in with everything going on. We definitely used this to help us survive these unprecedented times.
Kim Daly / Director, Solution Strategy
I used my experience bonus to purchase a fire pit for our family to use! It's a great opportunity for us to connect and get outside in the evenings, which will be awesome as soon as we can get it delivered! The company we bought from has it on order and we're looking forward to using it soon.
Bart Baxter / Sales Manager
Our intention was to use my experience bonus for our trip to Southern Utah! That said, COVID-19 happened and we shifted our focus to our VERY bored children, to do two things.
We were going to surprise the kids with an in-ground trampoline installation during spring break. That said when things started happening the crews needed work so we were able to move up the installation to keep them busy.

We purchased a bunch of cookies decorating kits and made up cards/cookies for family and friends. (Very clean environment, of course)
This taught the kids to serve others in time of need - uplifting gestures can do just that!
Related Articles