Why Qualtrics
'Why Qualtrics' – Robert Hyatt – Senior Software Engineer & U.S. Military Reservist – Provo
In honor of Veterans Day on November 11 we are curating a series of stories to highlight our Veterans at Qualtrics and pay tribute to the amazing ways they have served our country.
US Military
Civil Affairs / Military Intelligence Office
Qualtrics
Senior Software Engineer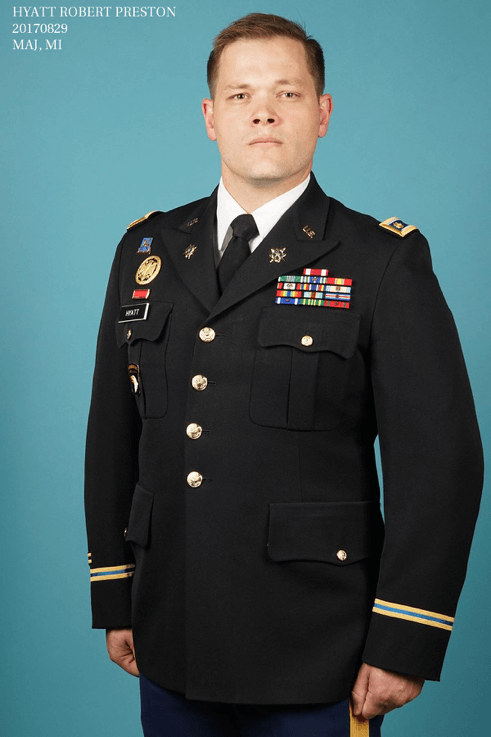 Which military skills have helped you the most in transitioning (or are most relate-able) to Qualtrics?
The military skills that helped me the most in the civilian sector are the importance of respect, professionalism and preparation that are ingrained in me from being in the military.
What is your 'why'? Why do you do what you do, where do you get your sense of purpose
My military "why" is to give back: I have been provided with so many opportunities and freedom is always only one generation away from disappearing. I see it as my personal duty to help safeguard the kinds of opportunities I have enjoyed for future generations.
My Qualtrics "why" compliments my military why: I want to be somewhere where I can contribute to a cause that matters, and knowing that Qualtrics is a powerful force for making everyone's lives better by helping businesses and other organizations improve is a cause I am happy to be a part of. Basically, my time in the military was to safeguard freedoms so that organizations like Qualtrics could exist to improve the quality of life for everyone else. Also, I'm happy to help support 5 for the fight, an amazing charity dedicated to eliminating cancer.
What attracted you to Qualtrics in the first place?
I was impressed first and foremost by the atmosphere here at Qualtrics: happy people, clean, open, well thought out work environments and management who obviously care about taking care of their employees. It almost felt like I walked onto a set of a movie where the director was trying to portray what an ideal tech company would look and feel like. I guess the best way to say it is that everything just felt "right". The interview questions were fair and allowed me to showcase my abilities. Interviewers were prepared and genuinely cared about the process. The longer I have worked here, the more I understand that my first impression wasn't skin deep, but goes to the heart of what Qualtrics is.
What does your day look like?
I get to solve interesting problems all day and every day the problems are different. I'm empowered to work with my team to quickly and efficiently resolve issues--so no frustration from being stuck in a political quagmire or endlessly jumping over nonsensical bureaucratic hurdles. My meetings tend to be pretty short and are only when needed. We have regular training for continual improvement. All of this is with tons of natural light from the gorgeous landscape that surrounds our building. If I want, I can take a break to play pool or walk in the gardens, and 1 on 1 conversations with my supervisors are often in those settings as well. Most days we have catered lunch and whenever I want a snack there are stocked kitchens, complete with drink and ice-cream dispensers.
What is your favorite part of your role?
My favorite part of my role is that I regularly get to feel the simple joy of being an engineer: understanding a problem and building or adjusting a solution to fix it.
Any tips for a veteran who is considering an opportunity at Qualtrics?
Apply! If you have what it takes in the position you apply for, Qualtrics is an amazing place to work.
| | |
| --- | --- |
| | Robert Hyatt is a Senior Software Development Engineer in Qualtrics' Provo, Utah office. He holds a Bachelors of Science in Computer Engineering from the Brigham Young University. He commissioned as an officer through the Utah Army National Guard & Reserve Officer Training Corps (ROTC) and has completed the Captains Career Courses for Military Intelligence and Civil Affairs. |
Related Articles