Why Qualtrics
A Life of Perseverance: Bernadette on a Career in Technical Recruiting
"I am my parents' American Dream."
I never realized how much I carried my parents' hopes and dreams throughout my life. My family immigrated from the Philippines in a hopeful attempt to provide their children with a better life. For as long as I can remember, I've worked a teensy bit harder to not only achieve for myself but also for my parents. Every A I got in school, every promotion I received & every obstacle I overcame was more savored because it represented the forgone opportunities of my parents.
My why is simple: I want to help others realize their true potential and not be hindered by hardship. My why is representing and standing up for those who don't have voices or the opportunities I have. It's to live my life breaking down societal standards, defying social norms, and becoming the best version of myself. Perseverance is key for me and if you want to learn how I developed it check out my TEDx!
What made you want to get into Recruiting?
I always saw recruiting as the "cool job" where it was socially acceptable and productive to spend hours in team meetings centered around creating fun experiences for everyone! Though I didn't major in anything related to recruiting, I worked as a career advisor at a university where I critiqued students' resumes and helped them land their dream jobs (fun fact: I now do that pro bono for friends & family). Seeing that a majority of students grappled with rejection from companies (myself included), I was curious to understand the gap between the candidate and recruiter experiences which led me to pursue a career in recruiting.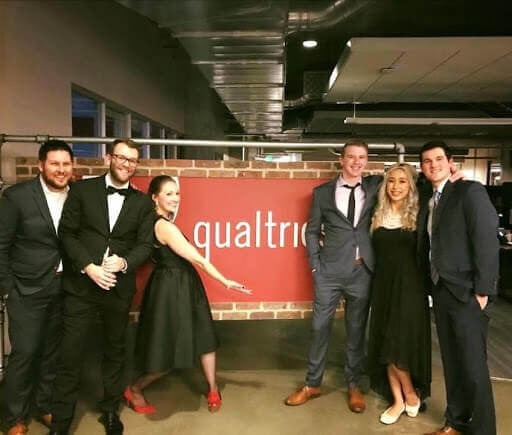 What are your aspirations in career/life?
My career aspirations have constantly changed, and I've prided myself on paving the way for non-traditional versions of success. In high school, I was the Founder and President of our Math & Engineering Organization. In university, I initially enrolled as a Biomedical Engineering student. And now I've come full circle in my unconventional engineering journey as a Technical Recruiter helping Software Engineers launch their careers. Both my life and long-term career goals intersect when I'm leveraging my strengths to create a positive impact on others. I would love to remain in the creative space whether it's starting my own start-up or consulting others one-on-one!
What is your top #LifeHack?
Well, I can tell you to drink plenty of water and exercise, but to be honest, you should really listen to Lizzo. She is my absolute favorite person and spirit animal.
Qualtrics is growing, and if you're ready to find your "why" at a place like this, you can explore our open opportunities at any time by visiting our career page. Looking to discover more reasons "Why Qualtrics"? You can find the whole series here.
Want to chat? You can get in touch by checking out Qualtrics Life on Twitter, Facebook, and Instagram.
| | |
| --- | --- |
| | Bernadette is an alumnus of the University of California, Davis, and started her career at Amazon. She is a Llama-Corn Lover and Baby Enthusiast. |
Related Articles