Why Qualtrics
'Why Qualtrics' – Dave G. – The Talent Guy
I was able to sit down with our Qualtrics Talent Acquisition Leader the other day and ask him a few questions about his role at Qualtrics. Before I dive into the interview I wanted to open with a quick story I witnessed of this leader with a team member.
So… this guy. This guy right here… the other day I witnessed something I've never ever seen any company leader do at any previous place of work. Dave, The Talent Guy, was on his way to a meeting with leadership. It was quarter ending time and reviews and calibration were 100% priority. As he was heading that way he noticed a junior member of the recruiting team had a bit of an anxious look on her face. I saw him stop in his tracks… literally back up… and went over to her. He simply said… "How's it going?" and she said she was a bit overwhelmed.
So, let me pause for a minute, not only did he care enough to ask but... she felt comfortable enough to answer with a real answer. Do you get that?! Do you understand the culture here?
Okay the story gets better... not only did he care enough to ask and she felt comfortable enough to answer… but I saw him set his stuff down and walk through a breathing, being present, exercise with her. Remember… he was on his way to a meeting with our executive leadership. He soon left and went on his way… I looked at her and saw a sense of peace and a bit of grit on her face!
So… this guy… he embodies the culture of our company. It's not just him that is like this. It is encouraged to be this way at our company. Dave not only is this way… he, and his team, hire in everyone else that continues to support this type of culture in this amazing company!
I decided it was time to sit down with him and see what causes this drive, this grit, this passion and care for his team and for Qualtrics.
Shaunda (S): Why Qualtrics? Why do you do what you do? What drives you?
Dave (D): (with the strongest look of determination on his face that I have ever seen in anyone)
Three things:
I am addicted to growth companies that are doing it right. I'm super-lucky to be at Qualtrics which is my third founder-led company!
I have never heard of a company that places Talent as a Big Bet (1 of 5 goals for the whole company). Lots of companies say that their people are the most important asset but Qualtrics makes it THE most important asset even in setting company goals.
I adore the caliber of people that I get to work with! They are so talented and cause the culture to get richer every day!
What is something about Qualtrics that people may not realize?
There is so much to this company but something I've been thinking about lately… I see a lot of content on LinkedIn about the "Multi-Generational Workforce". How important it is, how to encourage the diversity of it in the workplace, etc. Instead of yet one more academic perspective, allow me to share a personal experience about how concept this rolls (and rocks!) at Qualtrics.
Recently we had a celebration in our Dublin location where we opened Dermot's Pub. I had the honor to attend and they say a picture is worth 1000 words so I'll leave it here… Let's just say this old talent bloke is super-grateful to the millennials in our INCREDIBLE Irish Qualtrics Band for letting him sit in on the drums at our EMEA 5th Birthday Bash!
THAT is something you may not know about Qualtrics and it is so real to who we are!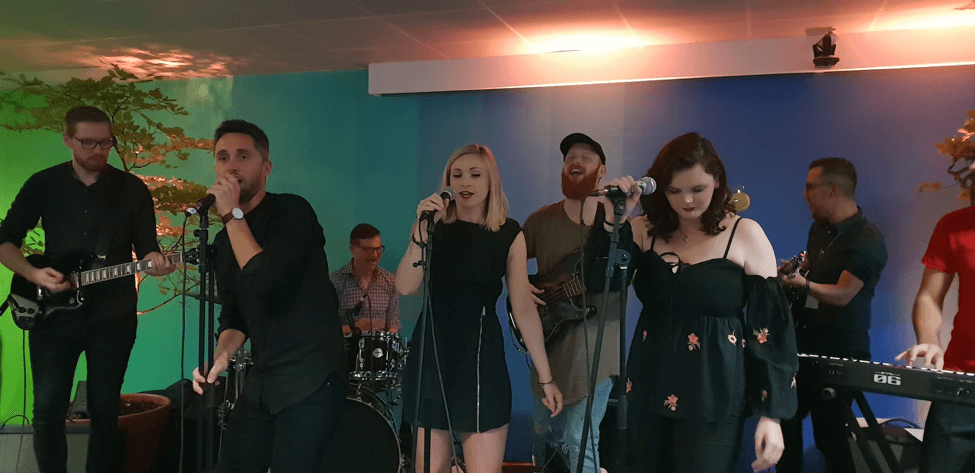 What is your favorite part about your role?
My favorite part about my role is my team. It's so fun to have a team who 'likes' each other. This past winter we had a quarterly team day where we just decided to take to the slopes. It was so much fun but the point is that I don't know of too many teams at other companies that WANT to hang out together.
Another thing about my team, and probably the most important, is that I learn from them EVERY day! This team has grit! This team has passion! They teach me every day what it is to believe in something bigger than ourselves but also so much of who we each are!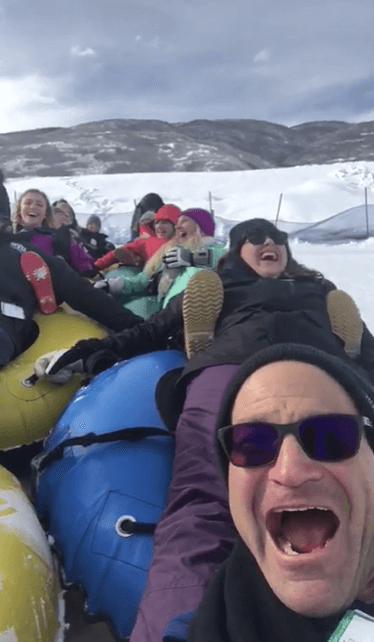 What first enticed you about Qualtrics?
There was a lot that I believed in but one thing that I think about every day is the impact that Qualtrics is having on the world. The company itself is having impact helping experiences with many organizations around the world... but the non-profit side, 5ForTheFight, is and will continue to change the world! Fighting cancer is in the DNA of Qualtrics. When Co-Founder & CEO Ryan Smith's father was diagnosed with cancer, Ryan left school to spend time with him. We always say… 'Instead of restoring a Mustang, they built a software company.' Since that time, Qualtrics has a history of funding cancer research internationally in the millions — now culminating in 5 For The Fight, the campaign to eradicate cancer, $5 at a time. This past year I rode in the Huntsman 140 to honor one of our leaders, Dermot Costello who succumbed to cancer earlier this year. When he passed, I committed to it and it was an honor to ride in his memory and continue the fight.
The cause and the impact are what enticed me and make me more proud to work for this company every day!
What made you want to get into recruiting in the first place?
I wanted to change lives. My training is in I/O psychology, and I started my career I leadership development, coaching, assessment, etc. I discovered along my journey that I had a real passion for matching the right talent to the right opportunities at the right companies
It's your chance to catch a ride on this incredible adventure!
Are you looking for a career change? Are you looking to work in a culture like this? Are you looking to work for/with a Talent Guy like this? We need help recruiting top talent around the world! The challenge is great and we know you are up for it! Join our team today!
| | |
| --- | --- |
| | Dave Gilbert is the Head of Global Talent Acquisition (aka the talent guy) for Qualtrics, based in Qualtrics' Provo office. He holds a Bachelors in Psychology and Business from Tulane University and a PhD in Industrial/Organizational Psychology from New York University. |
Related Articles