XM for Customer Frontlines

Digital

Root out friction in every digital experience, super-charge conversion rates, and optimize digital self-service

Care

Uncover insights from any interaction, deliver AI-powered agent coaching, and reduce cost to serve

Locations

Increase revenue and loyalty with real-time insights and recommendations delivered straight to teams on the ground

XM for People Teams

Engage

Know exactly how your people feel and empower managers to improve employee engagement, productivity, and retention

Lifecycle

Take action in the moments that matter most along the employee journey and drive bottom line growth

Analytics

Whatever they're are saying, wherever they're saying it, know exactly what's going on with your people

XM for Strategy & Research

Research

Get faster, richer insights with qual and quant tools that make powerful market research available to everyone

User Experience

Run concept tests, pricing studies, prototyping + more with fast, powerful studies designed by UX research experts

Brand

Track your brand performance 24/7 and act quickly to respond to opportunities and challenges in your market

XM Platform

Explore the platform powering Experience Management

Teams

For Digital

For Customer Care

For Human Resources

For Researchers

All Teams

Industries

Healthcare

Education

Financial Services

Government

All Industries

Customer Experience

Employee Experience

Employee Exit Interviews

Net Promoter Score

Voice of Customer

Customer Success Hub

Product Documentation

Training & Certification

Community

XM Institute

About Us

Careers

Partnerships

Marketplace

X4 Summit

The annual gathering of the experience leaders at the world's iconic brands building breakthrough business results, live in Salt Lake City.
Why Qualtrics
Why Qualtrics – Liz Dreyer – Candidate Experience Lead – Provo, UT
It's funny how things come full circle. I was actually sitting down with our Talent Attraction Lead doing this interview and at the end she told me that my career aspirations aligned with what they were trying to do on her team. She suggested that I learn more about the Candidate Experience Leader position, and here I am - about to move into this brand new role within the company. This happens all the time at Qualtrics, and I'm excited to tell my story!
I started my career as many Recruiting professionals do - by total accident. I fell into it headfirst right out of undergrad. I graduated in the height of the recession and was seeing many of my friends struggle to find jobs coming out of college. All I knew was life as a student-athlete and I was having trouble connecting that experience to the "real world." I was super competitive so I started applying for anything that seemed to fit that mold. I stumbled into the staffing industry because I liked the idea of being able to help people but I also got to compete and push myself to hit measurable goals.
Since then, my motivations have shifted. I rely less on my need to win and now I am fulfilled by the opportunity to build things and by getting the best results for my internal customers. Don't get me wrong, I'm still super competitive - but it's no longer my whole identity. At the heart of it, this passion for creating and building as well as the opportunity that lies ahead of Qualtrics, leading the charge with Candidate Experience, is what led me to pursue this new role.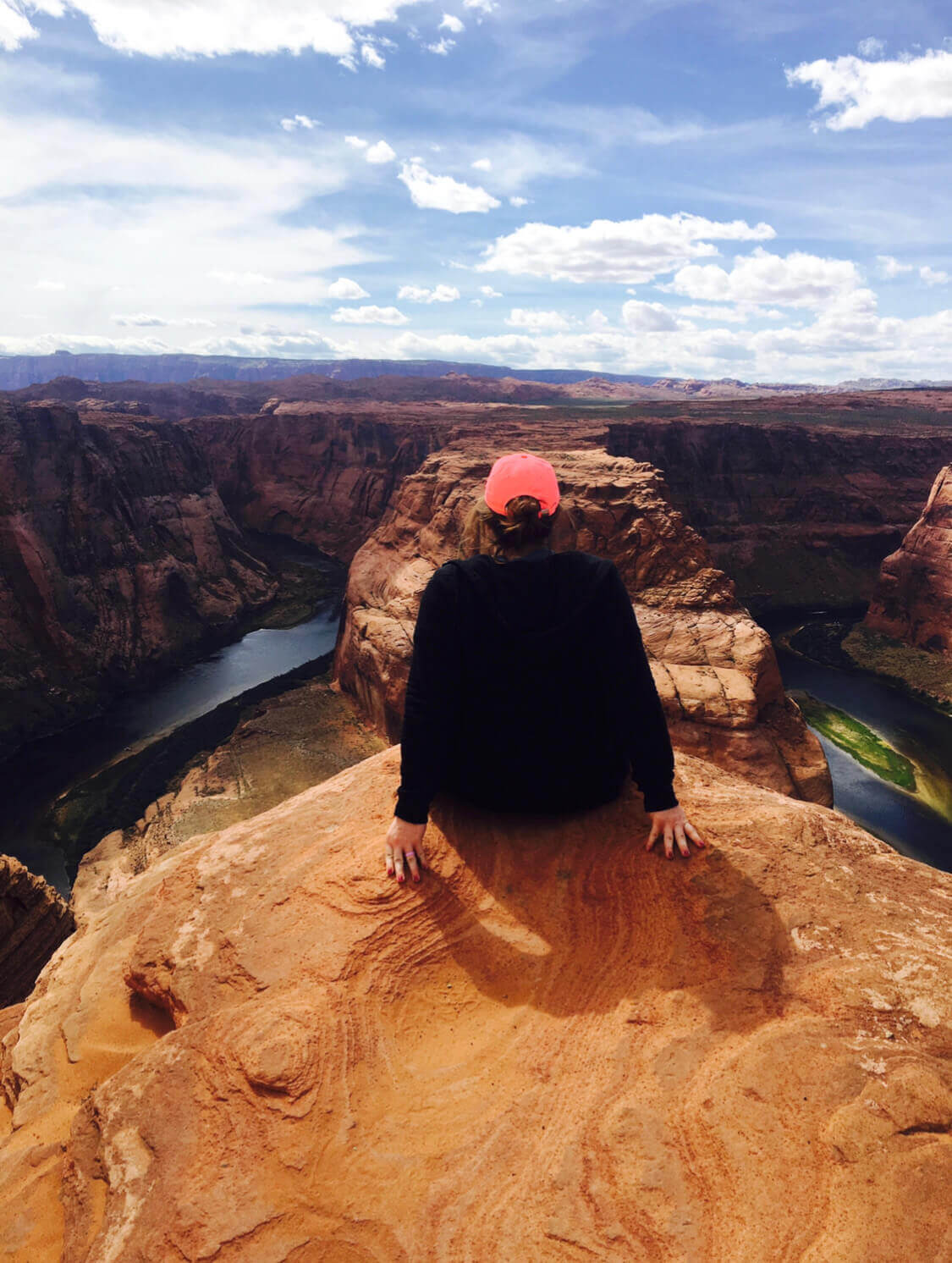 What attracted you to Qualtrics in the first place?
When I was hired into the Recruiting role, I was thrilled about the opportunity to grow & scale a company. At the time I was being recruited to come to Qualtrics, I was working in an environment where I was focused on backfilling roles and managing small scale growth so the opportunity to get into the tech industry and work for a company that was in "hypergrowth" mode was exciting.
In addition, I was ready for a change in scenery. I was living in the Midwest and the mountains in Utah were calling my name. When I visited SLC, I was hooked. I loved the vibe of the area where I stayed downtown, the mountains, the office culture...everything.
My husband and I were presented with the chance to have a totally different experience than what we were having in the Midwest and the long term career advancement opportunities at Qualtrics were more in line with my goals. I saw Qualtrics as a place where I could work with super-intelligent and driven people who would challenge me and push me to better myself (and I'd get the chance to ski, hike, and explore UT when not at work). And that has been the case - 100%.
What was the turning point where you had to have the Candidate Experience job?
I got to be the test pilot for Q-Mobility program, our new program built for internal mobility. As a company, we are committed to helping employees grow in their careers. This means conducting formal interviews to make sure we are finding the right fit for the employee's career journey as well as the needs of their potential new team. I interviewed with a couple of people from other departments and after the "grill sessions" were over, every interview morphed into a brainstorm where we talked about all of the cool things we could be doing with candidate experience. I left every conversation feeling even more excited about the new opportunity and felt really supported in my new endeavor.
At the end of the day, I feel like the process really worked. As we grow and scale the company, it's so cool to see people try new things and grow within Qualtrics. We are going to see more and more stories like mine. If you come in, work really hard, and perform well, the opportunities are endless.
So, you're a Midwest transplant - tell us the story of moving here.
My husband and I are originally from St. Louis and neither of us had friends or family here in UT, so we did a ton of planning before the actual move. One thing that was really helpful was how proactive we were with finding my husband a social circle.
He works remotely, so I was hypersensitive to the fact that it was going to be more challenging for him to have a social life. He wasn't going to benefit from being around awesome people at work every day like I would. He loves ice hockey and wanted to continue coaching and playing like he was doing in STL, so we got him into a men's hockey league and reached out to the local high school hockey association to get him set up with some interviews with local teams. Although it took some time and effort, it paid off. We both made friends through these networks and really helped to ease both of our minds around the transition.
What made you want to get into Talent Brand?
Recruiting has a massive impact on the business, and I didn't see myself going too far away from that space in my next opportunity. I love relationship building, especially with my internal partners, but I also wanted to continue to be in a strategic role that allowed me to be involved in broader initiatives with a global perspective.
When you think about Talent Brand - attracting the right talent into the organization, providing a great candidate experience, and then sharing the important moments employees have to continue that circular recruiting motion - there is a really cool opportunity to try things that haven't been done before and build programs that will impact the way that we scale our business moving forward. I couldn't miss out on the chance to be a part of it.
What are your aspirations in career/life?
My loftiest aspiration is to truly find a balance between work and life. I want to be successful in my career, but also be able to spend time with my family and have exceptional life experiences. The scale may tip at times as my priorities shift, but I hope to continue to be able to work in an environment that gives me the space I need to re-center.
Qualtrics is growing, and if you're ready to find your "why" at a place like this, you can explore our open opportunities at any time by visiting our career page. Looking to discover more reasons "Why Qualtrics"? You can find the whole series here.
Want to chat? You can get in touch by checking out Qualtrics Life on Twitter, Facebook, and Instagram.
| | |
| --- | --- |
| | Liz is an alumnus of McKendree University and started her career at TEKSystems. She loves podcasts and always appreciates recommendations. |
Related Articles