Why Qualtrics
Why Qualtrics – Mingxin Pang – Program Architect – Paris, France
First of all, I had a great recruiting experience! The best ever, not "one of." That's one of the elements which drove me to make the decision to join Qualtrics.
Then, it's a "lifestyle" choice :) After +10 years of experience in consulting firms in France, I wanted to live a different life by focusing on people around me and on myself.
The puzzle was to find a balance between using my limited time and building a meaningful business.
It turns out that Quatrics is the place where the puzzle can be solved:
- we provide powerful, innovative, and intuitive product for experience management;
- we truly focus on our customer's experience across our product and solution delivery;
- we truly take care of our own Q people
That's why. Simple reasons, but we try (hard) to do this every day to make sure that everyone - from customers to our Q people - has her/his own beautiful experience.
Why did you decide to join XMS at Qualtrics?
People. I love working with people with great talent, and strong team spirit.
I had a very good feeling when I met some of my future colleagues during the recruiting process. Not only because we shared a similar vision on professional aspects, but also because people were straightforward and open minded. That was confirmed during my onboarding period in the Dublin office.
Besides, the team is like a family, supporting each other and always giving a warm welcome to every new joiner. I always feel fully supported not only for my work but also for my personal projects.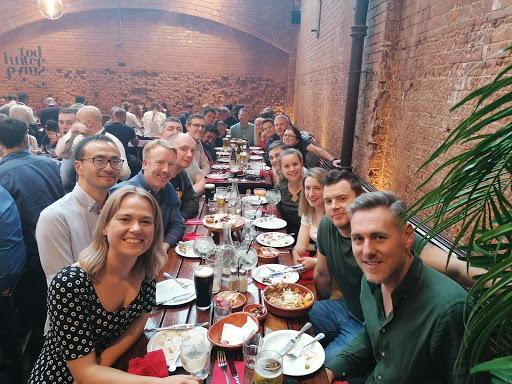 What is the "day to day of your role"?
I'm a Program Architect; a Delivery Program Manager in other words. I manage Qualtrics' solution delivery programs for our customers and support our pre-sales teams in shaping complex delivery service. All with a focus on France, my lovely country :)
How has your role changed from your initial role to what you are doing now?
Very similar, actually. But in Qualtrics, customer experience is truly the number ONE of the success criteria of our service. That's becoming my focus every day.
What is the most exciting element of your current role/team?
Orchestration. To make a delivery successful, you must know how to work with different internal teams, with Qualtrics service partners, as well as our customers. You need to be multi-skilled, in order to share and align with everyone the plan to achieve the common objective, which is, again, the success of the customer.
What does experience management mean to you?
I check ratings on the internet every time I choose a restaurant. End-users' feedback, rational or emotional, drives more and more how you do business, or how you run your team to keep your precious talent. That is literally happening in our daily life; I'm so excited to be part of this change.

What do you like most about your job?
People :) I must be boring, but it's truly what I believe and "ce n'est pas la langue de bois" if I may allow myself to use French.
Actually, and luckily, work is not the only priority in my life. Meeting people, knowing their history, learning from them: that's what I do in my real life. And, well, I'm never disappointed in Qualtrics. Next to me, there is a hurling player, rugby coach, fiddle champion, DJ, alpinist, marathon runner, triathlete, trekker, people speaking 4 languages. And during the day, they're the same people we work hard and do great business with!
How much I love being part of these fantastic people!
What is your top #LifeHack?
Take a 5 minute break with a nice espresso, breathe some fresh air, once in the morning, once in the afternoon, even on the busiest day. That's my daily meditation :)
Qualtrics is growing, and if you're ready to find your "why" at a place like this, you can explore our open opportunities at any time by visiting our career page. Looking to discover more reasons "Why Qualtrics"? You can find the whole series here.
Want to chat? You can get in touch by checking out Qualtrics Life on Twitter, Facebook, and Instagram.
| | |
| --- | --- |
| | Mingxin is an alumnus of Ecole Nationale Supérieure d'Arts et Métiers, and Tsinghua University. He started his career at NETPEOPLE in Paris. Born in Beijing, Mingxin is an oenophile and a alpinist amateur. Before joining Qualtrics, he had worked as a cellar man in a wine shop in Paris which specialised in wines of Burgundy. |
Related Articles