Why Qualtrics
Why Qualtrics – Paulina Fetha – Implementation Consultant – Dublin, Ireland
I strongly believe in the Qualtrics business model because the continual assessment of the four core experiences—customers, employees, products, and brands - is the only way to success for multinationals, and Small and Medium Enterprises in the global business climate we face today.

What is your favorite part of your role?
I enjoy working as an Implementation Consultant at Qualtrics because it is project-based and always evolving. There is never a dull moment and you are faced with new experiences daily, which allows for vast professional growth. Every project is a new challenge with very different business objectives, workstreams, and stakeholders. I also like the cohesion as a team. If someone struggles, everyone jumps in and helps out.
What attracted you to Qualtrics in the first place?
I came to Dublin in 2016 to complete a Masters in International Management at Trinity College. One of the major draws to Dublin, beside Trinity, was my interest in working for a global tech firm that would allow my personal background and expertise to make an impact in a progressive environment. Qualtrics fits these criteria, and the product was unique among many firms because it has a proven multifaceted impact on a business of any size. On the community level, I was drawn to the multicultural working environment full of highly talented, ambitious, and driven people within a collaborative, cross-divisional team, work culture. Qualtrics's immense growth rate is there for a reason!
What surprised you most about working at Qualtrics?
The office pub positively surprised me the most
.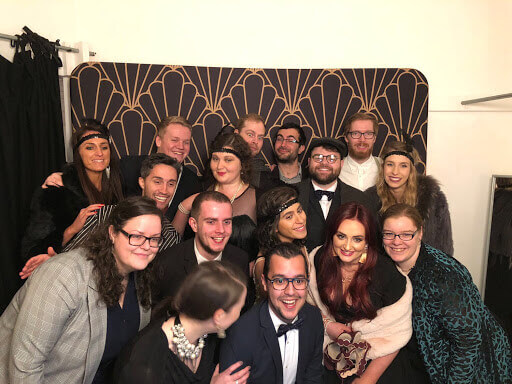 What's it like being a "Woman in Tech"?
To be honest, I never even think about being a "Woman in Tech"; everyone is equal at Qualtrics and there is no difference made between genders. Qualtrics has many initiatives to support this so that this remains this way. Within the tech industry, women currently make up a small percentage of executive and senior-level management. The Women in Leadership Development initiative, founded by members of the Qualtrics community, aims to develop and retain women at Qualtrics, to recruit talented women to join Qualtrics, and to continue creating a company culture that is supportive and aware so that diverse teams can thrive by to address this gender gap through education, community support, and mentorship.
Any tips for someone who is considering an opportunity at Qualtrics?
Be You at the Q! ;-) - This was the motto of our LGBTQ+ group's campaign for Pride this year and I think this is very applicable in all ways at Qualtrics. I would recommend to be natural in the interviews and to be who you are.
Qualtrics is growing, and if you're ready to find your "why" at a place like this, you can explore our open opportunities at any time by visiting our career page. Looking to discover more reasons "Why Qualtrics"? You can find the whole series here. Want to chat? You can get in touch by checking out Qualtrics Life on Twitter, Facebook, and Instagram.
| | |
| --- | --- |
| | Paulina is an alumnus of the University of Passau and Trinity College Dublin and started her career at Flick Gocke Schaumburg. As an alternative to starting work with Qualtrics, Paulina wanted to become a rescue helicopter pilot. |
Related Articles