Why Qualtrics
'Why Qualtrics' – Sarah A., Sales Training and Enablement
Qualtrics is 5 years old in Europe this year! To celebrate, we'll be showcasing some of the Qualtrics people who have made Qualtrics EMEA what it is today with stories from those who've experienced #QualtricsLife at different stages of our growth in EMEA.
Describe Qualtrics to a candidate in 3 words!
Dynamic, innovative, challenging
I do what I do because I love building something from scratch, coming up with new ideas, problem-solving and working with people. I get to do all of this and more at Qualtrics!
On a daily basis, I do this through my role on the Learning & Enablement team, as a programme manager. My second job, is co-leading the EMEA 5 For The Fight initiative, as part of our global goal to raise funds for cancer research. This employee-led, grassroots initiative is my 'why', with Dermot's legacy as inspiration and motivation to make a difference. There are very few people who haven't been impacted by cancer in some way, and I like many others in Qualtrics, want to ensure that our generation fund the research that leads to a cure.
What attracted you to Qualtrics in the first place?
I was looking for a challenge and was intrigued by all these cool, tech companies that were popping up all over Dublin. I wasn't 100% sure what role I was looking for, but I knew I was looking for a company that valued creativity, ownership, and autonomy. The Qualtrics principle of 'ask for forgiveness, not permission' really appealed to me.
And so, I began Qualtrics life as Office Manager in November 2015 and got the opportunity to put new initiatives in place straight away. At the time, we were growing rapidly and I decided we needed to onboard new hires in a way that continued the great experience they had through the interview process. I really loved it, and soon I got the opportunity into a Learning & Development role to focus on onboarding and ongoing training for employees - the first for EMEA. I created the role myself, and got the support of senior leaders which was pretty cool!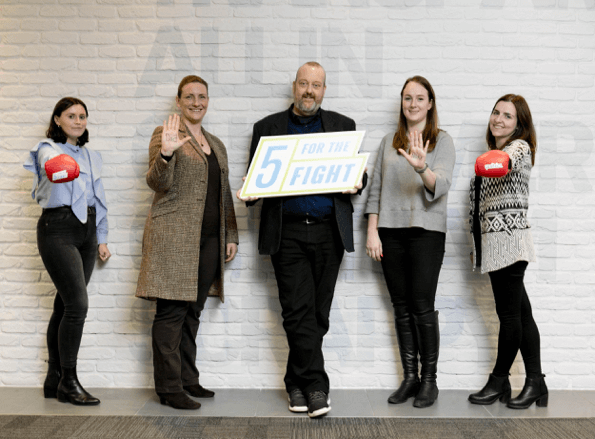 What was the turning point where you 'had to have the job'?
My first interview with Qualtrics was with Dermot Costello, and I left not being sure about the role, but sure I wanted to work for him. It was more like a career coaching session than an interview so I was intrigued and wanted to be part of the Qualtrics journey. This was the best career decision I have made to date - getting to work with Dermot for two years had a massive impact on me and I learned so much from him.
Aside from Dermot, everyone else I met through the recruitment process was great. Brian O'Driscoll who was my first manager at Qualtrics, had only recently started and his enthusiasm about Qualtrics was really infectious too!
What does your day look like?
I wish I could tell you! It is extremely varied which I like as a lot of my work is project based. If it's the first week of the month, I am in Q-Camp (New Hire Onboarding) introducing our Qubies to the Qualtrics Story, our Culture and Values, and our Solution. Otherwise, I am working on learning, development and sales enablement programmes/projects to support our EMEA teams.
What is your favorite part of your role?
I absolutely love spending time with Qubies. I get so much energy from their enthusiasm for their new role and having the opportunity to give them a great new hire experience. I also love the variety of being involved in different projects with different teams, from product training to content creation to programme development and everything in between.
Any tips for someone who is considering an opportunity at Qualtrics?
If you're a new graduate, this is an amazing company to kickstart your career in such a dynamic environment. If you're experienced, but maybe this is your first foray into tech, you will certainly learn a lot!
If you're curious, creative, resilient and like solving problems, Qualtrics is the place for you!
What surprised you most about working at Qualtrics?
I remember distinctly someone saying on my first or second day, that everyone is really nice. I thought to myself that's what everyone says, not really thinking it was true. I was wrong. Qualtrics is full of wonderful, fun, kind and supportive people who genuinely care about each other. If you are not a person who is a fan of hugs before you work here, you certainly will be after a couple of months - that's just how we roll :)
Also as a company, our commitment to doing good in the world. A lot of companies have CSR or social impact initiative that don't amount to much, but Qualtrics really is different. Through our cancer research initiative 5 For The Fight, we are 100% committed to finding a cure for cancer. For our part in EMEA since our launch in October 2017, we have raised almost $250,000! A remarkable feat of employees, their families and friends coming together with a common goal. Our goal is $500,000 to fund a three-year cancer tumour immunology research programme. We look forward to welcoming our first cancer researcher through the Dermot Costello Cancer Immunology Programme in September 2018.
What is your top #LifeHack?
I don't know if it's a hack but be authentic and stay true to yourself, which sometimes brings a world of pain when the easier thing would be to follow the status quo!
| | |
| --- | --- |
| | Sarah Argue is an Onboarding and Training Manager in Qualtrics's Dublin, Ireland office. She holds a Bachelors of Arts in International Relations from Dublin City University, as well as a Masters of Arts in Global and International Social Policy from the University of Sheffield and a CIPD Diploma in Learning and Development from the National College of Ireland. |
Related Articles