---
While WFA (work from anywhere) was beginning to gain traction as a flexible working option pre-2020, the pandemic then arrived and made it a necessity. And in the post-pandemic world of work, most companies are now considering hybrid working and remote workplace culture as a permanent fixture, owing to the benefits it offers both employer and employees.
But where office-based employees can socialise, bond, and build their team cohesion in the break room or cafeteria, at their desks, or at after-work functions, things get a little trickier when virtual team members are distributed remotely – maybe even throughout different time zones. This is where virtual team building comes in; you need to encourage human-to-human collective vision, purpose and enthusiasm to make sure your remote teams are as bonded as your in-house teams.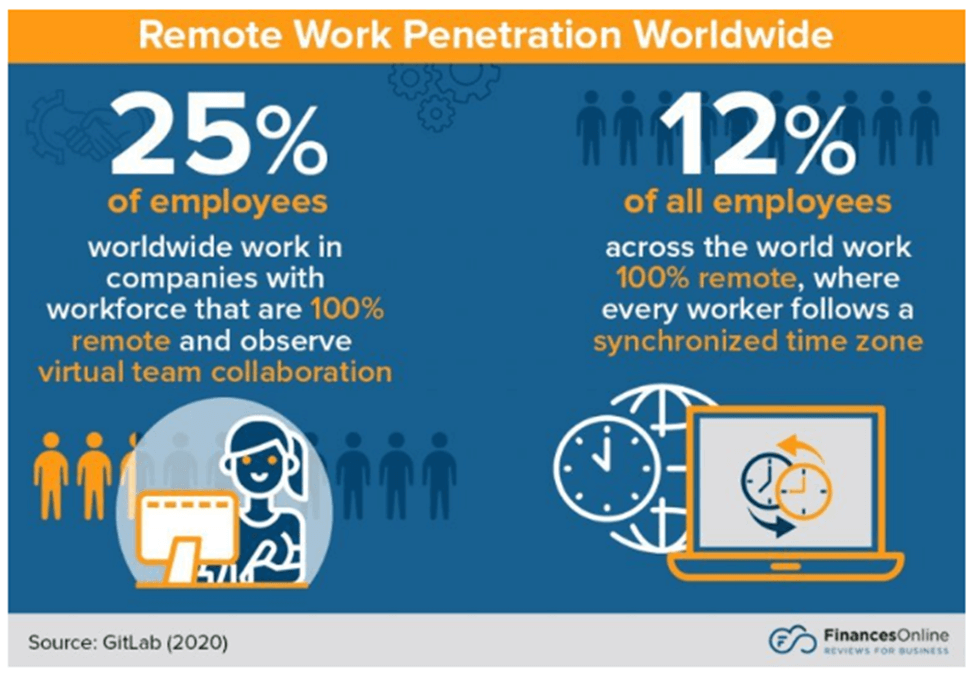 What is virtual team building?
Put simply, virtual team building is a way for remote employees to form bonds and develop their collective collaboration skills, using various online platforms and technologies. It's usually up to the team leader to instigate specific initiatives to do just that. These initiatives include icebreakers, games, activities, challenges or fun packages sent by post to peoples' homes. Done well, virtual team building will increase employee engagement and make the job more enjoyable for all team members as they get to know each other.
Why is virtual team building so important?
Working with remote teams should be more than just achieving set goals and objectives, collaborating on joint projects or having a weekly check-in meeting.
Working virtually has its challenges though, with virtual teams reporting the following issues in 2020: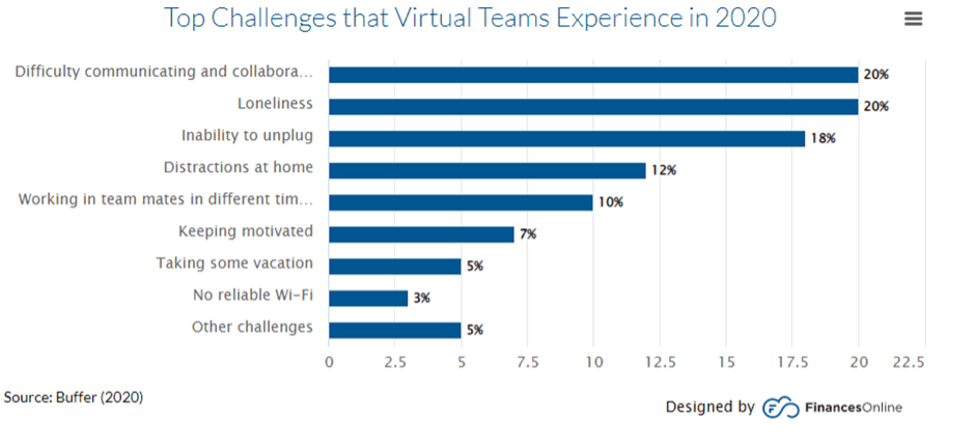 Virtual team building activities can help alleviate many of these challenges:
Loneliness and isolation: A reminder that the remote employee isn't alone – there are co-workers in exactly the same situation
Motivation: exposure to enthusiastic co-workers can give people a motivational morale boost
Collaboration: knowing your colleagues, and their strengths and weaknesses make organising and working on tasks easier
Working with people in different time zones: embraces diversity as team members build relationships and connections with people from other countries and cultures
Inability to unplug or take a vacation: Virtual lunches, coffee breaks and after-work drinks can all help employees feel it's OK to down tools for a break, or at the end of the day. Sharing experiences of vacations help encourage team members to take their full PTO allowance
Communication: When team members know each other well, communication becomes friendlier, more enjoyable, and easier
Unreliable technology: Team leaders can ensure employees are set up with the right tech and connectivity to interact with their colleagues
Autonomy: Where bonded teams like and trust each other, there is more scope for individuals to work more autonomously and own their work
What are virtual activities?
Virtual activities, by their very nature, have to be done over virtual conferencing platforms such as Zoom, Microsoft Teams, Webex and Google Meet, so there are no weekends away building oil drum rafts to get across lakes. The trick is to hook into what your teams find interesting, accessible, and shareable within their environments and work with that. And because teams need to get work done as well as have fun, the cadences of the activities will also vary. Depending upon what you want to achieve and how available team members are, activities fall roughly into these categories:
Regular: An activity done at the beginning or end of your regular team meeting, which could be every day or every week
One-off: An activity that's great just the once, or perhaps when new people join the team
Practical: An activity that enhances the work as well as brings the team together
Just for fun: Unrelated to work or productivity, this gives the team some refreshing light relief and downtime
Real-time: Everyone does the activity at the same time
Anytime: Each team member participates at a time that suits them
The different types of virtual team building activities
From simple icebreaker chats to evening murder mystery functions, there are many different types of virtual team building activities you can use to entertain, engage and bond your teams:
Icebreakers
These are great for getting to know everybody at the beginning of a meeting or to put an already cohering team on the same page for a task. Everyone gets a chance to share information and icebreakers done well give a lot of laughs.

Initial questions can be as simple as:
Where are you joining us from?
Do you like working from home or would you prefer to be in the office?
What's the hardest part about working virtually for you? The easiest?
Do you have a dedicated office space at home?
Are you an early bird or night owl?
 What's the last great TV show or movie you watched?
What's your favourite way to get in some exercise?
You can move on from icebreaker questions to icebreaker activities, either together or in breakout rooms, such as:
Show me your workspace/home/ workstation
this can be simply turning round the camera for a view of the desk, or a walkthrough of somebody's home. (Anybody wishing to opt-out of the activity can do) You can give virtual prizes for the tidiest or messiest workspace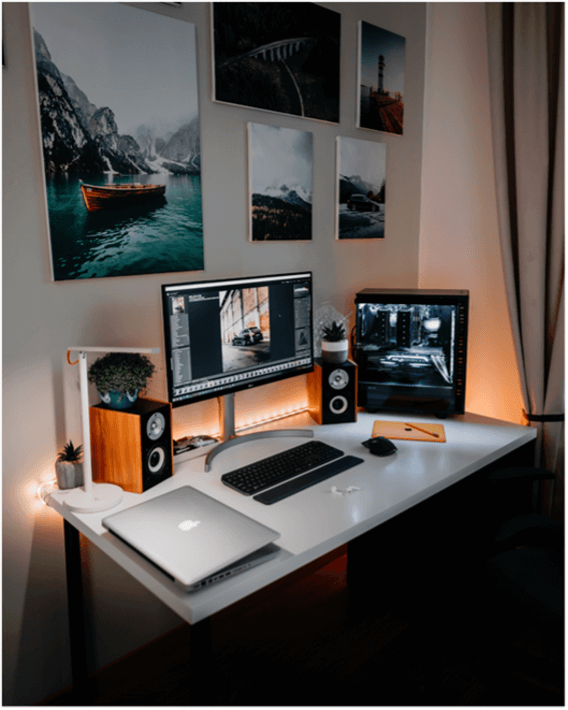 Celebrate silent heroes of week/month
Some people won't tell you what great work they've done that week, so it's a chance for co-workers to sing their praises.
One thing
Use breakout rooms to put team members into smaller groups of two or three and ask them to share the 'one thing' that they'd like their colleagues to know about them – and why. This leads to some great conversations and connections, even with people who have never met before.
Guilty pleasure
When you're doing introductions, ask people to share their guilty pleasure, such as enjoying Cheetos sandwiches, an obsession with 1970s schlock-horror movies, or eating Krispy Kremes while in pajamas.
Your  Week in three words
Ask team members to describe their week so far using just three words, and the others discuss it.
Speed dating
(For leaders very au fait with using the breakout room function.) Set people a question (e.g. What are you bringing to this meeting?) and then ask them to discuss that question in 'speed dating' style pairs for a couple of minutes, then reallocate people to different partners in breakout rooms. Bring everyone back into the main room at the end.
Improvisation
We all love Whose Line Is It Anyway – the quick-fire wit, the supportive team tag, the endless imaginary comic potential of everyday objects. Applied Improvisation is increasingly being used in the corporate world to increase resilience, change mindsets, boost creativity and encourage risk-taking. It's perfect as a virtual team-building activity. Working with a partner to improvise material helps team members:
Commit to a task
Be curious
Make the partner look good
Build with what they're given
Treat mistakes as gifts
Be obvious
A couple of improvisation activities include:
'What I like about that…'
Choose a boring object, and in pairs come up with ideas to reinvent it (you have an infinite budget and the laws of physics don't exist!). The second person always has to say what they liked about the first person's ideas, and add to them, saying 'Yes, and…' before adding their idea. The object is to make people listen to each other and respond positively.
Recreate a masterpiece
Choose a famous painting (Edvard Munch's The Scream or American Gothic are evergreen favourites) and ask members to recreate it in 10 minutes using items found in their environment. For bigger groups, you can divide your team members into breakout rooms and ask them to recreate a more complex painting.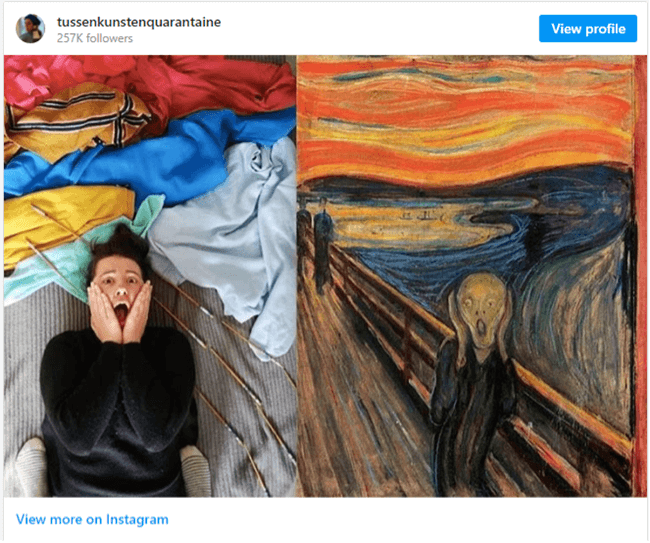 Image source: Instagram page of @tussenkunstenquarantaine
Energisers
There's a reason why Ted talks are typically 20 minutes long – humans can only really concentrate on something properly for 20 minutes. So, in a Zoom meeting when the first 10 minutes or so have been devoted to icebreakers or starter activities, people will begin to yawn and fidget 20 minutes later. This is when you need an energiser – something to shake team members awake and refocus them for the rest of the meeting.
To engage, refocus, entertain, create variety and alleviate any awkwardness, try:
Virtual Dance Party
Put on a funky, 3-minute high-energy track that will get everybody moving and encourage everyone to move around (shy members can switch off their cameras).
Rollercoaster
The leader tells the group they are about to ride a rollercoaster and everybody puts their hands in the air and moves according to the leaders' instructions.
Touch something Red/Blue/Green/Yellow
Team members have to reach out and touch something of a designated colour in their surroundings. This activity involves having to get up and move away from the desk.
Virtual team building ideas
Virtual coffee breaks
In the office, you'd chat over a cup of coffee in the break room or cafeteria, so it's important to replicate that virtually and take some downtime to go away, make a cup of coffee and bring it to the meeting.
Virtual lunch breaks
Similarly, with lunch breaks, although you might not want to do this every day as some people view a lunch break as a time for themselves away from colleagues, virtual or not.
Cook together virtually
As a pleasant change, you could organise a lunch where everyone makes the same dish in their kitchens while keeping their laptops on, then eats it as a communal effort, with plenty of entertaining comparisons. Some companies send goodie-boxes of ready-to-prepare food and the team all cook together in a kind of virtual cookery class.
Virtual Happy hours
Virtual teams can't just nip down to the pub or bar after work, but you can recreate after-work drinks. Everybody can choose what they drink, alcoholic or not, which makes it ideal for international companies with cultures whose remote team members don't drink. From the simplest of chats over drinks, to organising virtual pub quizzes or virtual team trivia, it is possible to capture some of that 'after work drinks' culture that's so important for kicking back and processing the day's events, progress and challenges.
Cocktail bar
You could also extend the virtual happy hours to cocktail/mocktail – making sessions – there are companies out there who supply each team member with the necessary ingredients to make, shake and stir their tipple of choice to enjoy in the virtual bar at the end of the day
Company days 'out'
Even the most old-fashioned brick and mortar firms do some sort of 'works day out' to bond their teams, and it's important that virtual teams get the same 'treats'. There are specialist firms who supply activities that include:
Virtual escape room
Not quite as claustrophobic as the real thing, but these team events that hone problem-solving skills can be just as challenging and intellectually stimulating:

Online murder mysteries
Love them or hate them, it's hard not to get caught up in the intrigue of a murder mystery. Whether you intend to find out 'if the butler did it or sit back and point out the holes in the plot, a murder mystery evening is a laugh for all the remote team.
What can we learn from fun virtual team-building activities?
Fun as all these virtual team-building games can be, there's also a lot of useful information for organisations that can be gleaned from them. All virtual team-building events are experiential learning, and it's important to reflect on that – its meaning comes from processing the experience. It's therefore essential that every team-building game has a plenary, or 'what have we learned from this?' session.
This is where employee feedback comes in: ask your employees what they liked/didn't like about the virtual team-building events and use the results of your survey to take action and develop even better virtual team bonding events. You can also take on board open text suggestions of future online team games. Keep an eye on your employee engagement metrics, and discover how Qualtrics can help you do this.