Employee Experience
The 5 EX trends to know in Asia-Pacific and Japan in 2023
Qualtrics spoke with nearly 11,000 employees across Asia-Pacific and Japan to measure and understand how their experiences and expectations at work have changed. Here's what they had to say.
2023 is the year employees transform their relationship with work and the organisations they work for.
Get exclusive insights on the top EX trends for 2023
Propelled by uncertainty and disruption, and motivated by meaning and opportunity, employees across Asia-Pacific and Japan (APJ) are taking a stand for themselves.
We spoke with nearly 11,000 employees across the region for our annual employee experience (EX) trends report, and just 38% of people said their expectations are met at work.
Addressing this gap makes good business sense. When people's expectations are met at work in APJ, they're more than twice as likely to stay longer and four times more likely to go above and beyond.
In APJ, there are five EX trends redefining how employees think about work. The challenge ahead for organisations is to understand what employees want — and how to deliver on their new expectations.
Let's take a closer look.
1. The experiences of new employees in APJ are not meeting expectations
When it comes to exceeding new employee expectations, organisations in APJ need to do a better job of creating great experiences. Compared to employees who have been with their current employer for more than six months, new employees have a more negative employee experience.
Our research shows new employees are less likely to have their expectations met, less engaged, less included, have lower well-being scores – and unsurprisingly, have the lowest intent to stay compared to their colleagues.
Intent to Stay by tenure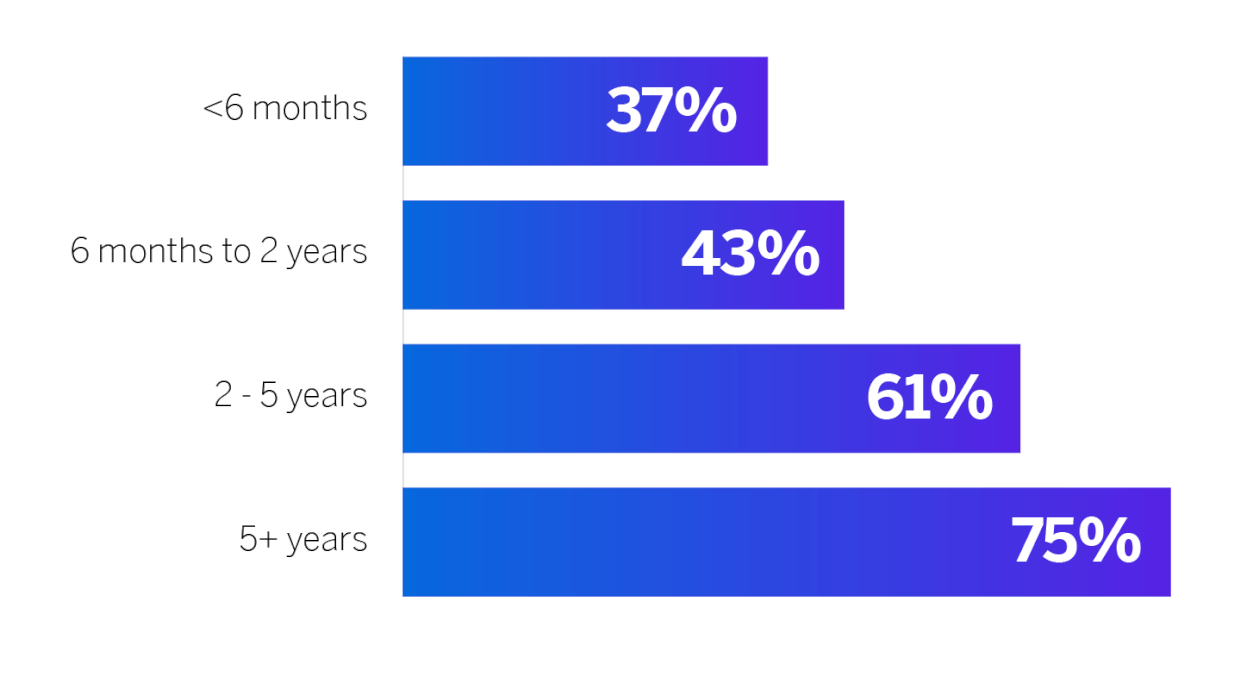 This presents a stark contrast to the typical "new starter glow" – and suggests that what may have worked in the past is no longer delivering new employees the experience they need.
Learn what APJ employers can do to improve the new employee experience.
When taking a closer look at our country-specific data, we saw that Australian employees are particularly concerned with the long-term focus on their career, and are evaluating whether their current role will set them up to reach future aspirations. This is substantiated by the number of employees who believe their career goals can be met at their current organisation – 66% – a 16% decrease from last year's data.
With lower Intent to Stay than both global and APJ averages, organisations in Australia must focus on talent retention – regardless of employee tenure.
2. The EX gap between leaders and their teams
Over the past several years, Qualtrics' research has consistently shown the more senior the position, the more positively rated the employee experience. And going into 2023, the gap between senior executives and frontline employees appears to be growing wider: the differences in engagement expanding 10 percentage points to reach a 32 percentage point difference.
To understand why these gaps exist, we looked at what factors are driving engagement among executives vs. among lower job levels. And there are clear differences:
(table row) creates a new row in the table
creates a new cell in a row, starting left to right
Top drivers of Engagement for executives
| | |
| --- | --- |
| Top drivers of Engagement for executives | Top drivers of Engagement for non-executives |
| 1/ "I receive meaningful recognition when I do a good job" | 1/ "I would recommend this company's products and/or services" |
| 2/ "I am encouraged to develop new ways of serving customers" | 2/ "I believe in the company values" |
| 3/ "I have a clear understanding of what is expected of me" | 3/ "I have good opportunities to learn and develop" |
So, what do these insights suggest? For starters, there is no one-size-fits-all approach to driving engagement within an organisation. Employers must take a close look at various employee segments, including job level, to determine what matters most to different employees, and then act on that information to ensure employees have what they need to feel engaged.
3. Growth and development are critical aspects of the employee value proposition in the new world of work
Growth and development are critical in shaping the employee experience. This year, two-thirds of APJ employees reported positive perceptions of growth and development with their current employer.
However, this does vary notably within the region: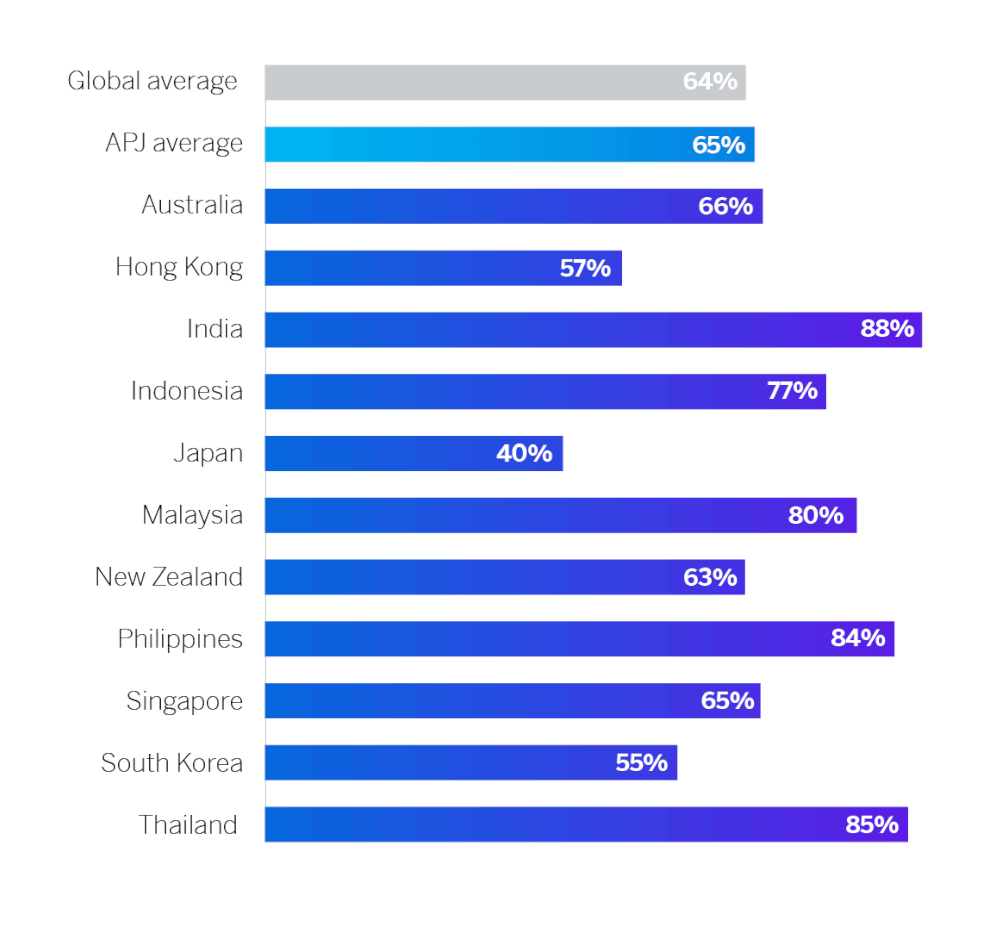 Of note, employees in India ranked the highest (88%) among their peers for positive perceptions of growth and development; meanwhile, employees in Singapore fared right at the APJ average (65%). Hong Kong (57%), South Korea (55%), and Japan (40%) fell below the regional and global average.
Our research found that employees' perception of growth opportunities was a key driver of how engaged and included they felt at their current employer, as well as their intent to remain with the organisation.
Employees in the region who agree/strongly agree that:
They have good growth opportunities at their current organisation are 15% more likely to have higher Engagement scores
They have the opportunity to learn and develop at their current organisation are 9% more likely to have higher Inclusion scores
Their career goals can be met at their current organisation are 8% more likely to have higher Inclusion scores
Their career goals can be met at their current organisation are 7% more likely to have higher Intent to Stay scores
Against a backdrop of talent and skills shortages across the region, organisations must reassess how and what they offer to develop the talent they need for the future.
For organisations in Japan, in particular, leveraging and increasing the experience in growth and development is likely to be key to driving Inclusion, with all three drivers related to career goal alignment, opportunity to learn and develop, and having meaningful career discussions.
Employees in Japan not only want to feel like they are growing their skills, but also that their employer values them and provides them with opportunities to learn and grow. Focusing on this will enable organisations to increase employees' feelings on inclusivity.
For more country-specific data to help you shape your EX programs for 2023, speak to your Qualtrics Account Manager or our Experience Management Consultants.
4. Employees expect to see organisations act aligned with values
Having values that employees believe in – and see demonstrated on a regular basis – has never been more important. It's the first step to creating a more empathetic and employee-centric organisation.
In the APJ region, employees' belief in organisational values is a key driver of nearly all the core EX KPIs, including Engagement, Intent to Stay, Inclusion, and Well-being.
Employees with higher endorsement of belief in company values are 9% more likely to stay with the company longer and 8% less likely to have high burnout risks.
A closer look at our country-specific research revealed Japanese employees' Intent to Stay behaviour is likely driven by their belief in the company values and the long-term belief that their career goals can be met at their current company. These factors are considered even more importantly in the era of VUCA (volatility, uncertainty, complexity, and ambiguity).
5. Work enablement is negatively impacting well-being and burnout
With the myriad of challenges and disruptions faced by organisations and employees over the past few years, the way we work – the processes, tools, strategies, etc. – have become muddled. These operational issues are hindering employees' ability to be productive.
Making employees' work easier (e.g. streamlining work processes), and giving them access to the resources they need to do their job (such as the right technology), is a core part of increasing their engagement, feelings of inclusivity and well-being, and reducing the risk of burnout.
In Hong Kong, for example, 17% of employees say highly inefficient work processes are hindering both their productivity and their well-being. Likewise, in Australia employees who agreed work processes allow them to be as productive as possible dropped 9% from last year. This suggests there is still more work to be done to create less friction in employees' day-to-day experiences in their workplaces.
Having effective processes in place is a critical step for all organisations to effectively enable their employees' success. Even the most engaged employees cannot perform at their best if processes are too complex, outdated, or broken.
Find out what it takes to attract, retain, and engage people on a more human level