Customer Experience
15 ways to improve the ecommerce customer experience
Like any other commerce, ecommerce needs outstanding customer experience to stay competitive and profitable. What is ecommerce CX and how can you achieve it?
ecommerce shopping has changed the retail landscape as more and more consumers are looking for convenience, variety, and competitive pricing. ecommerce sales are projected to hit $4.5 trillion in 2021, which shows that this massive shift from traditional retail is not going away anytime soon.
What is ecommerce customer experience?
This is your customers' perceptions of how your online business treats them. How they feel affects their behavior and loyalty. If a customer likes you, they'll continue to buy from you and recommend you to others. No one's going to carry on buying from a company that treats them badly.
Providing an excellent ecommerce customer experience is not only helpful for business, it's a necessity. As consumers turn to online shopping, their expectations for customer experience also continue to rise. Research from PwC found that 73% of all people point to customer experience as an important factor in their purchasing decisions, yet only 49% of U.S. consumers say companies provide a good customer experience.
Download our Designing a World-Class Digital Customer Experience Program eBook.
Why is customer experience so important for ecommerce?
Put simply, when you give customers a great experience they'll buy again, be more loyal to your brand and share their experience with other people.
You'll see improvements in:
15 ways to improve the ecommerce customer experience
1. Get your employee experience right first
Those companies that are leaders in excellent customer experience have employees that are 60% more engaged than the rest. Happy employees, make for happy customers. Survey your people, and set up an always-on employee experience program where feedback can be sent and actioned in real-time.
2. Audit your e-business with the following questions:
Is our website appealing to look at?
How easy is it to find specific products?
Do all the pages and content load properly?
Is the website content easy to read and informative?
Is the shopping cart easy to view and modify its contents?
How good is customer service, support and aftersales?
Is the customer experience enjoyable?
3. Make your website user-friendly
Customers want easy-to-navigate pages that allow them to browse your products and find exactly what they need. The online store should be organized by categories, just like a physical store is. The search button must be easy to find and everything should be tagged and categorized in the back end. This is a good customer success management practice. In ecommerce, customers tend to fall into three types:
Those that know what they want
Those that are browsing
Those that need help filtering through your products
A well-designed search feature allows all customer types to get their needs met.
A good example is Zara's website. It lists all the categories as a carousel and the search bar is big and clearly visible at the top. It's simple and doesn't offer the consumer too many options.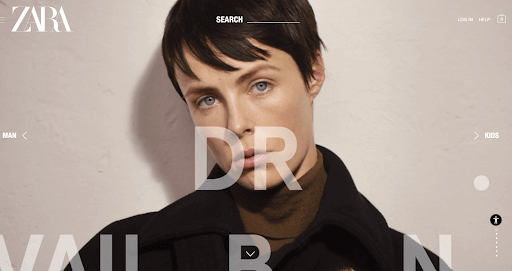 4. Have a seamless checkout process
Creating an easy checkout process could reduce the number of abandoned carts you see. It should be simple, the shopping cart should be visible from every page, and payments must be secure. Always showing the many types of checkout options, including Paypal, will make sure your customer doesn't get to checkout, only to find you don't take their preferred payment method. If you find that you have a high abandoned cart rate, you can quickly deploy a feedback intercept on your website to see if what the issue is.
One Qualtrics customer rolled out a new checkout process on their ecommerce site and found that they were losing thousands of dollars a minute after the release. After deploying a quick survey, they found it was a simple form field formatting issue that required dates to be formatted a certain way, but the error message didn't tell users what they were doing wrong.
5. Personalize your customers' experiences
Personalization is more than just putting the customer's name on email messages. Content, product offers, and even ads should be relevant to a user or they will get frustrated. Use real-time info like location or product-browsing history to give users offers, or make recommendations based on purchases by similar customers or their feedback in surveys.
Evergage's 2020 Trends in Personalization says the overwhelming majority of marketers (97%) report a measurable lift from their personalization efforts, up 7 percentage points from last year. Personalization drives impulse purchases, leads to fewer returns, and creates loyalty. Amazon does a great job of personalization. When you go to their homepage, they give you personalized recommendations based on your recent purchases and shopping trends.

6. Provide product support
Since many consumers are purchasing your products online, they also want online customer support. By offering multiple channels for customer support like live chats, product support pages, forums, etc., you can increase the chances of customers getting their questions answered. If you only offer one or two types of support options and customers can't get their questions answered quickly, they may search for a competitor with an easier-to-understand site. Just like people can ask a clerk for help in a bricks and mortar retail store, they must be able to talk to a live person about product questions, and many consumers prefer doing this over real-time chat.
7. Display compelling product pages
A compelling product page must have descriptive copy, captivating visuals, and clear navigation. Communicate your value proposition immediately and include pricing, a product description, and photos of the product in use. Consumers should know exactly what your products can do for them and they should be able to visualize themselves using the product.
Every detail of your website should be on-brand, including the copy on the product pages. Because social proof is important in today's world, you should have user-generated content like reviews to add validity. The Weber original kettle premium charcoal grill 26" has a cleanly-designed scrolling page, photos, features, information on sizing and spec, accessories and reviews, making it comprehensive and leaving little room for questions.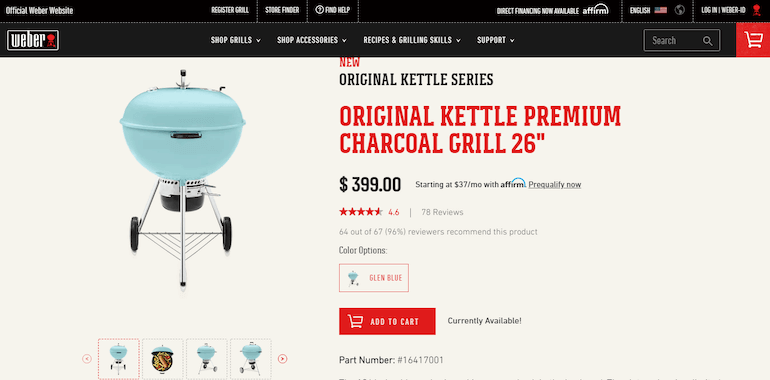 8. Optimize for mobile
By 2021, mobile ecommerce sales are expected to account for 54% of total ecommerce sales, so your mobile experience should be effortless. Make sure your forms are autofill-enabled on Android and Chrome, so the user has to do less typing. When the user does have to type, your fields should be formatted so that the number keypad pops up instead of the QWERTY keyboard. Research by Google suggests that 53% of people will leave a mobile page if it takes more than 3 seconds to load, so pages must load fast. It's a most crucial feature of ecommerce websites. This means you might need to exclude some fields to make the process easier.
9. Use educational and compelling content on your website
Content can be used as a customer acquisition tool — to attract and build your audience — but it can also be a resource they continually use to get expert advice on a topic. By creating content that consumers want to read and adds value to their lives, it builds brand trust and a reason to keep coming back to your website. Content should be published frequently and consistently, and be clearly integrated into the site. You could include infographics or video tutorials to make it interesting. Beauty Brand Goop has their content on the top navigation listed out by category. Of course, the products are listed first, but after that, there's tons of content that's not related to the product but provides value to the consumer.
10. Offer a clear returns policy
A challenge of online shopping is that the customers cannot try on or try out your product before they buy it. So that they feel confident being able to send purchases back, offer a fair, easy-to-find, clear returns policy.
11. Follow up
After a purchase, follow up with the customer to check everything went smoothly, using the customer contact details you have captured as part of the order process. You can also offer a discount on future purchases, keep customers informed of special offers, new products and services, and grow your business that way.
12. Add customer reviews
These provide an authentic way to help customers when they need advice. Prospective purchasers can find out if the product will meet their needs, its quality and whether others were happy with it. Provide a review space on your website where customers can comment on and rate their purchases.
13. Hire enough seasonal staff
The ecommerce calendar is full of special occasions and holidays – Thanksgiving, Black Friday, Mother's Day, etc. It's important to have enough staff on hand to deal with sales during these times, and afterwards, when there may be exchanges and returns. Capacity to handle busy periods ensures you don't lose out on sales or customer loyalty.
14. Keep an eye on new Internet of Things (IoT) technology and what the future holds
65% of 25-49 year olds speak to their voice-enabled devices at least once per day, and 61% say they'll use their voice devices more in the future. By keeping an eye on what smart devices are becoming capable of, and learning about this technology now, you'll be ready to boost your business when it goes mainstream.
15. Measure customer satisfaction and loyalty
And finally, if you want to improve something, you need to measure it first, and gain insights into where the pain points are. With customer satisfaction surveys (CSAT), you can quickly gauge sentiment about your products and service. And the Net Promoter Score (NPS) will tell you how likely your customers are to recommend your business to others.
Get measuring with our expert-designed survey templates. Download yours now
You'll also be able to measure customer churn and loyalty as markers of how successful your customer experience program is.
Free eBook: The Ultimate Digital Experience Playbook