Brand Experience
How Rihanna and FENTY took celebrity
entrepreneurship
to a new level
From Mark Twain — who once put his name to a line of innovative fountain pens from The Conklin Pen Co — to actor Scarlett Johansson and comedian Colin Jost starring in an Amazon Alexa Super Bowl ad, celebrities have been endorsing products for more than a century.
In recent decades, however, we've seen the rise of celebrities as entrepreneurs. Rather than simply endorsing a product or accepting a sponsorship, hundreds of celebrities have channeled their ambition, capital, brains, and selling power to start successful businesses.
Take Ryan Reynolds, for example — the Canadian-American actor turned businessman has a major stake in just about everything: a professional soccer team, a famous gin brand, and even a mobile network.
You've also got the likes of Ashton Kutcher, whose venture capital firm has invested in several high-profile technology start-ups, and Oprah Winfrey, who produced and hosted The Oprah Winfrey Show, the highest-rated daytime talk show in American TV history, and is worth $2.5bn.
Oh and don't forget the planet's youngest self-made billionaire, Kylie Jenner — the owner of the Kendall + Kylie clothing line, Kylie Skin and the online merchandise hub, The Kylie Shop.
But there's putting your money or your name to something, and then there's using your values as the foundation for creating a company that turns an entire category on its head. Rihanna, and what she's done with FENTY, are about the latter.
Rihanna = FENTY
FENTY isn't a celebrity endorsement or a licensing deal to cash in on fame to drive awareness, it's heart and soul Rihanna.
And it all comes down to authenticity.
The company was born out of Rihanna's struggle to find make-up that suited her skin tone and the desire to create a beauty brand that was inclusive of all.
"There needs to be something for a dark-skinned girl; there needs to be something for a really pale girl; there needs to be something in-between." — Rihanna at the FENTY launch.
The reason for this is that for centuries, darker-skinned women (or simply those who were not white) have been neglected and marginalized by beauty brands. Since the European colonialism of the 1500s, beauty standards have more or less been prescribed, with the message being: White is beautiful.
As a result, people of color and ethnic minorities were neglected and underrepresented. Over the course of five centuries, everything makeup brands produced seemed to purposely refute and disregard the reality of the world we lived in.
It's only in recent years that brands have truly started to expand their palettes to provide more colors, and it's been dubbed the "Fenty Effect".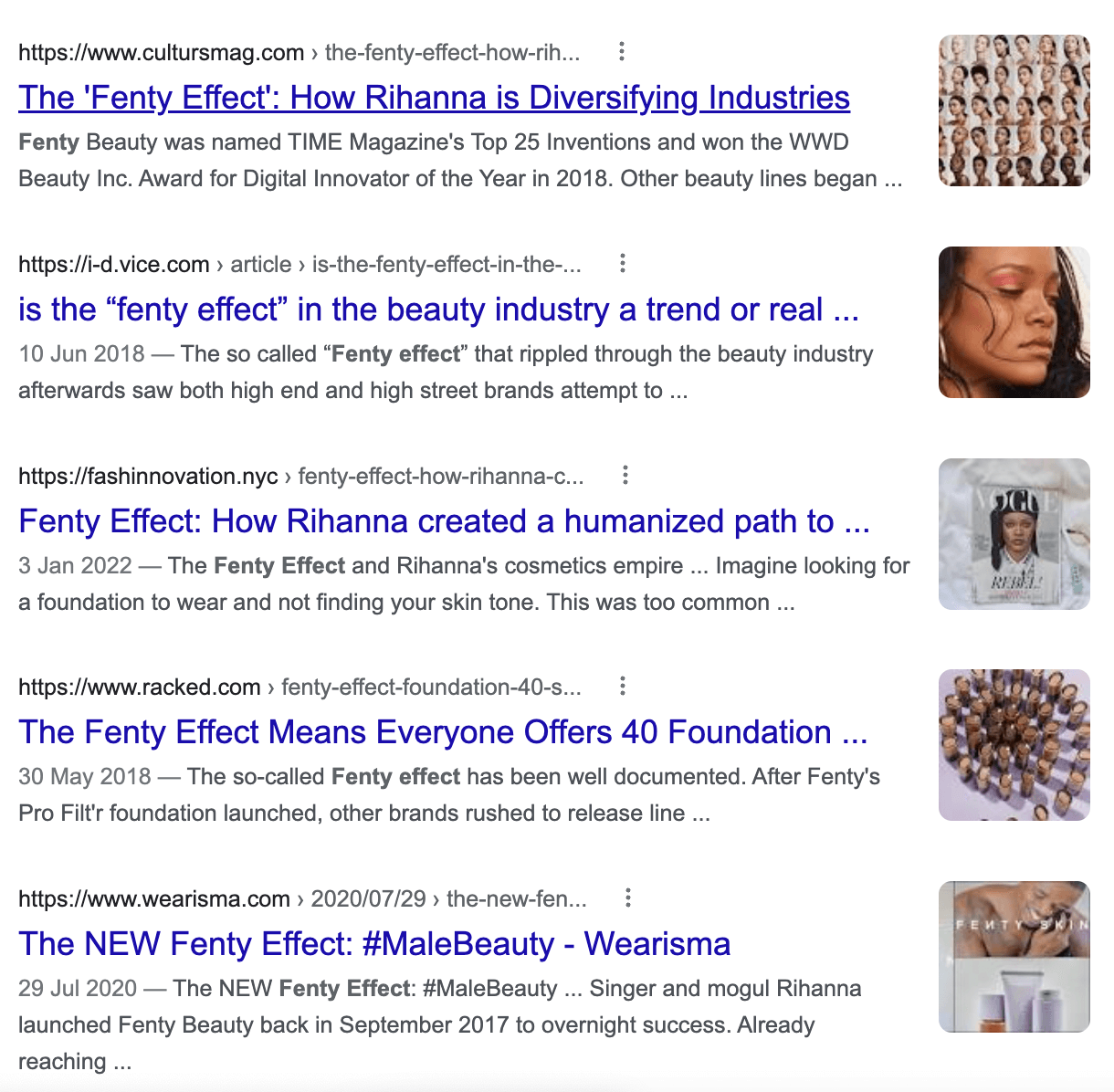 Making real change
But even though these brands had started on the path to more diverse and inclusive cosmetics, Rihanna knew that she could do more — that there was still a gaping void in the industry that needed filling.
This is where FENTY comes in. Through authenticity, inclusion and genuine connection — both to Rihanna and those underserved by the beauty industry — FENTY has become what it is today.
"FENTY's unabashed celebration of inclusivity through its products and campaigns are what put a spotlight on the needs for more diverse beauty products." — Time Magazine
It's not 'Rihanna's beauty brand', it's just FENTY — a cosmetics powerhouse whose product innovations and inclusivity have since been mimicked by some of the industry's biggest players.
From its launch with 40 shades of foundation (which has since expanded to 50) to more recent offshoots into lingerie through Savage x FENTY, it's remained true to its founding ideals.

(There's even a shade finder quiz! A quiz!)
FENTY does everything: foundation for every skin tone, lingerie for every body shape, and gender-neutral cosmetics. With this kind of consistency, whatever FENTY does next, its loyal fans know that it will be diverse and inclusive.
This is why it eclipses sales of Beyonce's Ivy Park, Kim Kardashian's SKKN, Serena Williams' HSN, and countless other (still very, very successful) businesses which, on paper, have a similar level of star power and the finances to compete.
A sweet spot worth $1.4bn
Rihanna isn't alone in identifying that sweet spot where personal brand, entrepreneurship, and celebrity pulling-power combine.
But she's certainly the most successful.
Last year, she made the Forbes list of America's most successful self-made women and now has an estimated net worth of $1.4 billion — the vast majority of which comes from FENTY and Savage x FENTY.
Her celebrity was a springboard, but the company's success has come down to its unwavering adherence to its brand values, constantly innovating on product, and diversifying along the way into new ventures that have inclusivity at their heart.
It turns out by developing products accessible to everyone, there's a pretty large target market out there, and Rihanna's out to reach them all.
Looking for more?
Explore why brands like Costco, Fenty, Impossible and Patagonia are loved by customers in the Irreverent docu-series. Dive into the future of the workplace experience in Work: New.0. And finally, hear from creators and brands who are paving the way for better and more human experiences, and the technology helping them to do it.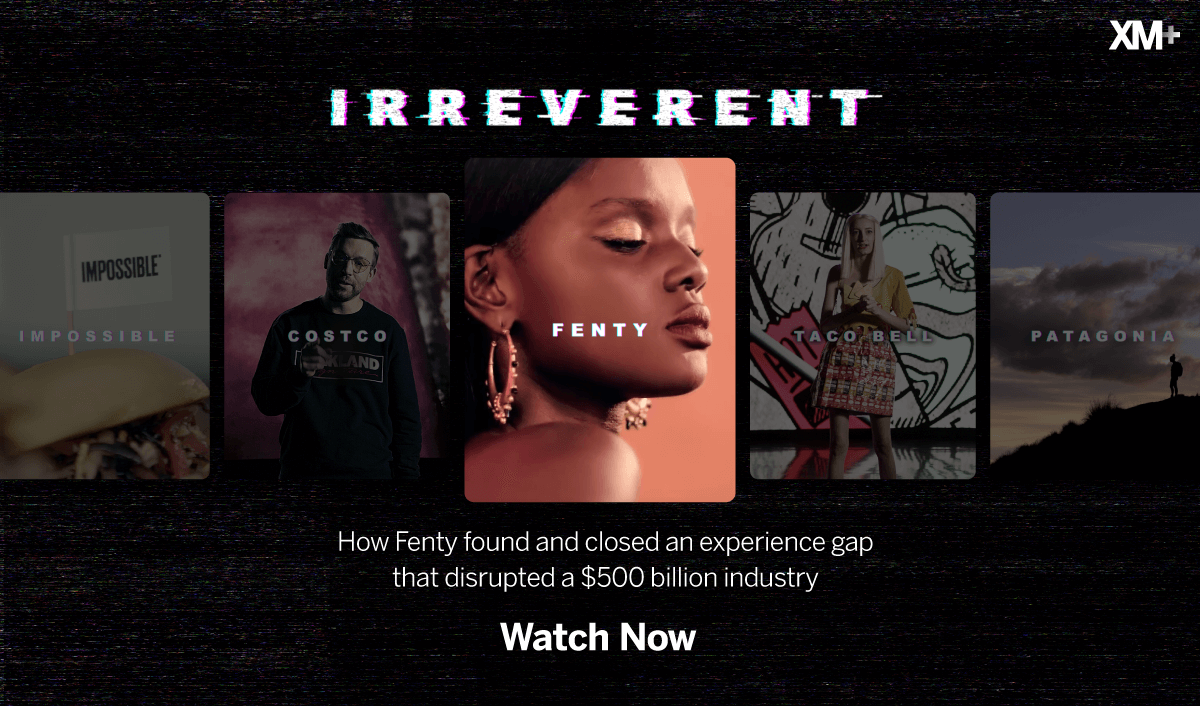 Related Articles