Employee Experience
How to keep remote employees engaged in 2022
More employees are working at home during Covid-19 than ever before. How can organizations keep up with their remote employees' requests for more culture and flexible support?
It's clear that remote working is an accepted working method that is growing – remote work has grown 173% since 2005 (11% faster than the rest of the workforce, which only grew by 15%).
Now, due to necessity, Covid-19 has enhanced the number of people working from home or remote locations at a much quicker pace.
Employers face the pressing challenge of adapting their business, but also addressing their company employee experience.
We can help you find ways to engage with work from home (WFH) or work from anywhere (WFA) employees to maintain positive employee experiences (EX).
Start measuring remote employee engagement now with our free survey template
What is remote employee engagement?
Engaging with remote employees is more than simply replacing face-to-face meetings with remote video conferencing or calls.
Since remote workers have had to work from home on a global scale, there is immense pressure on companies to find ways of bringing together their people, and investing in the creation of a new 'workplace' dynamic and company culture.
Remote employee engagement is the strategy of investing in the two-way process between managers and employees. It describes how organizations interact with their employees to keep them involved and motivated, and how employees respond and feedback to improve their working situation.
Why is it so important?
When both managers and employees are working in harmony, you have the most successful remote working set-up for good employee engagement. For employees, this offers:
More autonomy over when and where they work
Better work-life balance with opportunities to exercise
Fewer office distractions
Less workplace stress with resultant lost workdays
Reduction in carbon footprint and costs of traveling
The potential for older people to contribute.
For companies, there are some great incentives:
More productive employees
People who work from home "worked 1.4 more days every month, or 16.8 more days every year" than people who worked in an office, says Airtasker
Employees have higher job satisfaction
80% of remote workers say they are happy with their job, compared to 55% of on-site workers, says OwlLabs.
Employes save capital costs
In the US alone, there will be an estimated $4.5 trillion in savings a year, as a direct result of remote working by 2030 (due to improving productivity, reducing fixed overheads and increasing agility). On a more local level, a typical employer can save an average of $11,000 per half-time telecommuter per year.
Free eBook: How to Design an Employee Engagement Survey
How to keep remote employees engaged
Without employee engagement ideas to keep your remote workers engaged and motivated, managers face distributed teams, lack of face-to-face contact with co-workers, and potentially less interaction: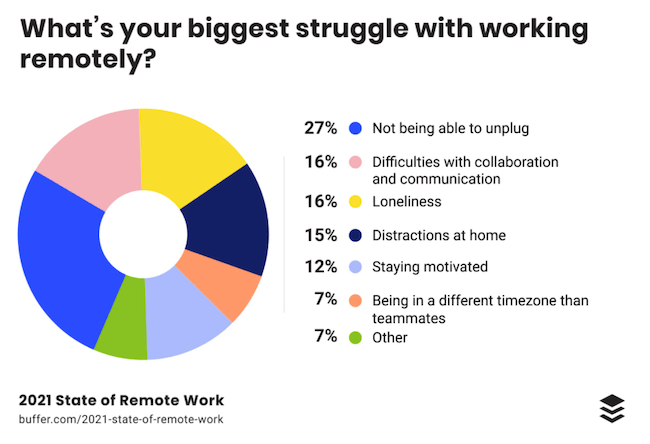 This makes it tricky to maintain a company's culture, values, and, ultimately, employee engagement.
Here are 11 ways that you can use to get, and keep your remote employees engaged:
1. Encourage flexible working practices to meet deadlines
Your remote workforce may be made up of an international group of employees of all ages, who work in different time zones. These employees have their own optimum ways of working.
One person may produce their best work at 6 am, another at 11 pm. The traditional 9-to-5 commuter day – which tries to define when and where workers should feel their most productive – suits few people well, and is likely to become a rarity as flexible working becomes the norm.
There's no one-size-fits-all approach to how your people should work. Check in with what works for them. Set clear expectations and make sure you regularly check in to make sure they're not struggling.
2. Promote wellbeing and healthy lifestyles
Particularly conscientious remote workers may find 'switching off' after work challenging, as they may work too hard and for too long. This can lead to burnout, physical and mental health issues.
Providing access to health resources or wellbeing activities will show your employees that you care for their health and want to support them to be healthy. These could include:
Make sure your people are taking regular breaks. Working while being at home blurs the line between work hours and the end of the day. Who hasn't felt guilty for taking ten minutes during this time? A mandatory lunch break can give people some much-needed rest.
Get your employees away from their desks with Covid-friendly company activities. You could offer sponsorship for fundraising activities or set up competitions that call for people to share their pictures of nature.
Create a culture where employees have psychological safety to disconnect and take time off
Help employees communicate with each other by giving access to a 'wellbeing' library or online channel that promotes sharing. People can gain information, learn about exercises (like yoga) and take up mindfulness.
Small initiatives like these go a long way to making your employees feel well inside and out, and your remote workers engaged.
3. Support remote working in your company communications
Usually, working remotely is introduced during company changes (e.g. when a company relocates) or when employee circumstances change (e.g. with long-term health conditions). The change management for these events is already existing and well-established in company policy.
However, in recent times, the pandemic has helped the uptake of remote work. In this unprecedented situation, remote working has been quickly rolled out and difficult situations are dealt with on a case-by-case basis.
Whatever the reason, the company can help employees adapt to remote working faster by supporting remote working practices in their communication strategy. This can include:
Using your internal company newsletter to focus on company good news and growth, despite turbulent times, to engage remote employees and make them feel part of the success.
Updating internal workplace policies to include rules and information on flexible and remote work, to establish fair and consistent operating procedures.
Managers can provide written email confirmation of weekly tasks or upcoming deadlines, so that there is clarity, for their remote team members.
4. Provide your employees with the right hardware at home
Remote working pivots on high-quality, reliable, portable technology. Remote employees may find accessing information hard or have problems connecting to the work network if their technology is outdated or inefficient. For example, IT issues during meetings are 18% more challenging for remote workers compared with those in an office environment.
Workers need the best HD laptops, tablets, and phones, and access to the fastest, most reliable broadband to support video conferencing. Despite the initial expenditure to supply employees with the right hardware, the benefits of productive employees over non-functioning employees see this cost quickly accounted for.
5. Use the right software for your employee's working requirements
Email, with its faceless formality and endless 'reply all' threads is probably the least engaging medium for flexible workers. Far more efficient remote work tools include task and project management platforms, communication and networking systems such as video chat and messaging, cloud storage, and remote team management apps.
There's a huge selection of remote working collaboration and communication tools available, many of which integrate with each other.
Most companies pick and mix the ones that best suit their tasks and employees. Review the following list of examples to see what would help your company:
E.g. Zoom face-to-face video calls. The virtual team can discuss tasks that need more explanation, share screens, host webinars, create virtual conference rooms and hold invitation-only meetings. Sessions can be recorded for future reference.
E.g. OneDrive and Google Drive. Secure and shareable, these can be integrated with other tools to streamline collaboration.
E.g. Trello and Asana. Manage workflows and help the team stay focused on projects, tasks, and goals.
E.g. Mural and Miro. These are collaborative whiteboards to thrash out ideas and present results.
Time tracking and focus apps
E.g. Toggl and Serene. For remote workers needing to stay focused and productive, these kinds of applications track project time or switch off distractions enabling deep focus on a particular goal.
6. Invest in building strong communication between managers and employees
Remote workers are generally self-reliant, tending to soldier on with tasks until they encounter a problem. Tempting as it is to leave them to it, a good manager should check in with remote team members on a regular basis.
Connecting through video conferencing at the beginning of a task, with follow-up supportive communications and requests for updates, means you're also monitoring for danger signs.
Video conferencing can also be used for traditional tasks, like setting performance goals, though these should be discussed to make sure they are viable in a remote setting.
Making time for scheduled 1:1s is helpful for sounding off or emotional support. For managers, this means paying attention to the mental health of the employee. Some things to look out for are non-verbal cues in video calls, like changes in performance, low energy, or poor understanding of the goals.
7. Help employees to stay socially connected, virtually
Employees working from home may feel isolated, lonely, and detached from colleagues. It's harder to engage remote employees by bouncing ideas around and getting different perspectives remotely. And company culture is difficult to maintain without those casual, sociable 'water cooler' interactions that help a team gel.
In addition, because much of human interaction is through body language, people working remotely miss out on non-verbal communication when they don't see colleagues, and may misinterpret message tone. How can you help your employees feel more connected?
Investing in virtual social software can provide the platforms where conversations can happen. For example, try the following for casual hangouts:
E.g. Slack. Organize conversations into dedicated, searchable, prioritizable channels that integrate with hundreds of other apps.
E.g. Unremot and Pukkateam. See which teammate is available for a quick chat, then click and call them.
Arranging social events like 'virtual coffee breaks' or 'pub quizzes' to connect different employees for social interactions is also a good strategy.
Collect employee feedback today with a free Qualtrics account
8.  Include remote workers in onsite office culture
We think of office culture as an organization's internal environment, featuring the personalities, the décor, the fun social interactions, and the impromptu team lunches. A remote worker can feel forgotten in the midst of this on-site activity.
To ensure remote employee engagement, it's important to include them in the interactions and fun things that on-site workers get up to.
Make video conferencing the norm so that people can interact face to face. Instead of launching straight into business, make time for some friendly 'how's it going?' chat at the beginning and end of calls, and introduce some playful elements, such as virtual tours of everyone's workspaces.
Virtual 'getting to know you' team-building activities can be great for new joiners or at the formation of a new project team.
If the situation allows for it, you can create opportunities for everyone -- remote and on-site -- to meet up occasionally, whether in designated workspaces or on company retreats or team building days out.
9. Take an interest in your employee's personal circumstances
When the workplace interacts with an employee's home, there are bound to be family-related or personal issues that arise. This is in stark contrast to the traditional impersonal on-site office setting.
As the employee's home experience can take a toll on their performance, it's important to know in advance what impact this might have. Managers should respectfully take an interest in the personal circumstances of their team so that they can support where needed.
It shows employees that you care for them, and want to keep in touch. It also builds trust and transparency, which leads to greater employee confidence. Employees will more likely share personal situations if there is an understanding manager on the other side of the conversation.
In the long run, you'll end up with an enviable relationship with your team, and an appreciation of their lives, which will make your life as a manager easier.
10. Show appreciation
Acknowledging work done is an important aspect of employee engagement and company culture, but it can be easy to forget to do this for remote employees.
It's a fact that employees whose efforts and accomplishments are recognized and rewarded tend to be more loyal to their companies.
Gary Beasley, co-founder and CEO of Roofstock, said "kudos cost nothing but provide important public recognition for a job well done, effectively compensating people in the form of social currency, which is highly valued.
Make recognition visible so other members of the organization are aware of the valuable daily contributions that remote workers make. It could be as small as a 'Good job!' GIF on the team chat, sending a virtual 'happy birthday card, or gaining a company award.
11. Ask for feedback
Are your employees really heard and valued?
You've encouraged two-way communication across several channels and you're connecting up with your team members regularly. Are there opportunities for your employees to give feedback on work, strategy, or processes?
One of the best ways to understand your employee's views and engagement levels is to ask them. You can do this through a simple survey that asks them for their feedback, and analyzes the results on an individual basis and alongside other employees' data.
Measure remote employee engagement
To give you some employee engagement ideas, there are three types of employee satisfaction surveys you can use for a remote workforce:
eNPS: Asks a simple, single question: 'On a scale from 0-10, how likely are you to recommend our brand/company to a friend or colleague?' eNPS can help you understand your remote employees as part of a wider employee experience program.
Pulse surveys: Frequent, quick surveys to measure employee engagement and organization health. These are particularly useful to collect feedback from employees about their remote work, specific projects or activities.
360 surveys: Employees receive confidential, anonymous feedback from people who work around them, usually their manager, peers, direct reports, as well as themselves. For remote workers who have historically tended to be sidelined, 360 feedback surveys are particularly inclusive and informative.
You can download our ebook: How to Design an Employee Engagement Survey, which outlines the foundation on which you can build any engagement survey.
Most importantly, employee engagement surveys provide management with the knowledge and tools to build positive employee experiences and a thriving work environment: Employee attitudes, burnout tendencies, passion factors, loyalty, workplace climate, and competitive intelligence are all key indicators of retention, satisfaction, and productivity.
Remote work is here to stay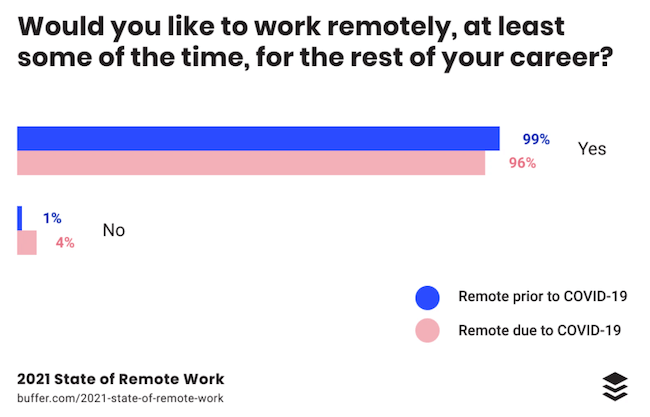 The answer is clearly a resounding 'yes'. And when you use Qualtrics XM to capture all your employees' experience, whether they are remote or not, you'll be able to:
Listen and remember by capturing and storing all your experience data from your employees, both remote and on-site, in a single system of record for every interaction across your organization.
Process and understand with powerful, predictive analytics that make sense of your entire data set, proactively recommending actions to take next.
Build a culture of action with intelligent, customizable workflows that automatically alert the right people, and trigger actions in every part of your organization.
Make a start and try out our survey template for measuring remote employee engagement.
Measure remote employee engagement with our free survey template