Why Qualtrics
10 perks of being an intern at Qualtrics
Being an intern at Qualtrics has hands down been the coolest opportunity I've ever had. I honestly feel like I've learned so much more in my last two months here than I ever could have in school, and I'm super grateful for the shot I've had to work here. Overall, though, there are 10 specific perks of this internship that DEFINITELY stand out - and are reasons why you should highly consider this opportunity if you're interested at all in sales!
1. The Culture
It is literally fun to come to work here. The way the office is set up is such an open, inviting space, and the people who work here are some of the coolest, smartest, and nicest people I've ever met. Everyone finds time to fit us into their day, and welcomes us with open arms to shadow or take a small part in whatever they're doing, all for our learning benefit. Although sales is by nature an extremely competitive career, Qualtrics really emphasizes its "one team" mentality - one person's success is everyone's success.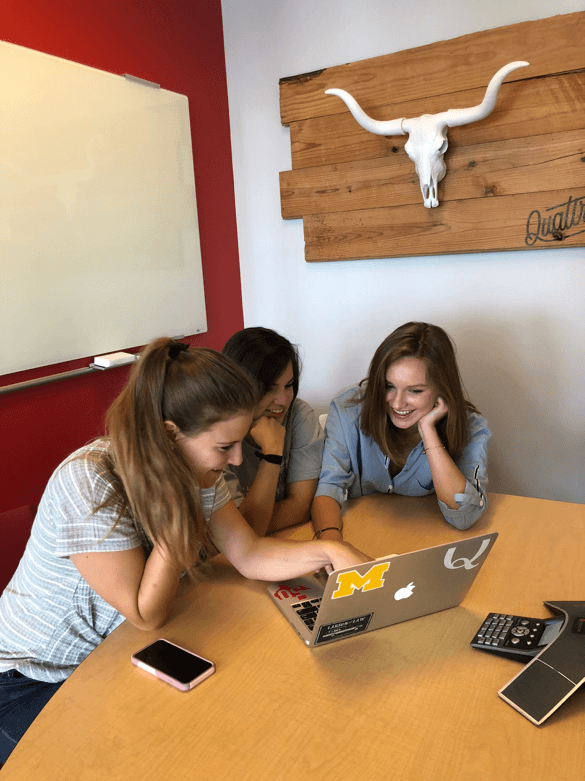 2. The Training
From day one, it blew my mind how much Qualtrics invested in us. Not only does our internship involve blocked-off times multiple times a week with leaders in our company to guide us in our careers, but they even sent us (expenses fully covered) all the way to our headquarters for a week-long intensive training program. Qualtrics is even supporting us and training us throughout this whole summer with the goal of all of us becoming certified in our software.
3. The Lunch & Learns
Every Tuesday, we have a lunch & learn with a C-level executive in Qualtrics. They tell us all about their careers and experiences, and then the floor is open to us to ask any question we could have. I can't emphasize enough how cool this is…full time employees try to sit in with us to have this experience as well.
4. The Mentorship
A lot of my friends in internships this summer have expressed to me that they never really get feedback on their work…in all they do, they never know whether their bosses are psyched or upset about what they've been doing. I can't relate to this issue. As an intern at Qualtrics, I'm matched from day one with a sales development representative mentor as well as an account executive mentor, both who are fully invested in my success at this company. I have one-on-ones at least once a week with both of these mentors, as well as with my boss and my recruiter. I get candid feedback from all of these people almost every day. If there is an improvement to be made, or a success to be recognized, it is always quickly acknowledged.
5. The Tech
One of the most impressive aspects about this company is how quickly it's grown. From starting in our CEO's dad's basement around 15 years ago, to being one of the most highly regarded and fast-growing tech-startups on the market today.. My boss honestly told me that if I were to come back and work at Qualtrics full time, I would 100% not be coming back to the same office in Dallas - we would have too many people by then to fit in the same space. The constant innovation and growth in this company is inspiring, and makes me proud to say that I have a small part in it.
6. The Food
This one might seem not to fit in this list, but trust me, it does. We get a catered lunch catered in literally 4 times a week. I honestly don't even know what to buy at the grocery store when I go to get food for my apartment - everything I could want is already in our fridge in the office. This might seem like a small perk, but it makes a huge difference when compared to my friends at other jobs. I don't even have to buy myself beer, because there is a fridge of everything I like, fully accessible in my office...

7. The Dress Code
There isn't one! Seriously! I have worn sweatpants and flip-flops to work before. As long as you're getting your work done and don't look nasty, pretty much anything goes.
8. The Extracurricular Activities
One of the fun parts about working at Qualtrics is that the hiring process is not only specific to the candidate's IQ and prior experience - culture fit is equally, if not more, important. That means that everyone who works in this company tends to be outgoing, friendly, and wants to have a good time - so we do, in and out of the office. Whether it's a weekly team happy hour, a concert, a quarterly office-wide party, an intramural softball league, a book club, a Bachelor-watching wine night, an office-wide talent show or a mentor-mentee dinner party, there is an activity for you in this office, and a group of people who enthusiastically make it happen.
9. The Transparency
All of our progress as interns is updated in real-time on a dashboard accessible by not only our boss, but also our colleagues. I know where I stand in my group every day by how many calls each of us have made, and how many meetings each of us have set. Our metrics are completely open and transparent, and the numbers speak for themselves. Our team lead can give us real, tailored feedback and areas of improvement to hit based on specific metrics, and is able to help us make actual changes to our rhythm.
10. The Opportunity
From day one, our team lead has told us that our intern group is not just fighting for a few spots. We all could likely secure full-time job offers at the completion of this internship. This summer is basically a dry-run of our future lives and careers, should we succeed and end up continuing to work here. I think that's the most awesome opportunity we could ask for. This internship gives us an honest shot at figuring out our professional careers - and lives - in a supportive and fun environment, which is as much as an intern could ask for.
If you're interested in opportunities such as this be sure to check out our current open jobs at www.qualtrics.com/careers/
Don't forget to follow us on social! LinkedIn | Instagram | Facebook | Twitter | Glassdoor
Related Articles