Why Qualtrics
A Day in the Life of a Qualtrics Intern – Meet Emily Risch
Emily Risch, a former sales intern in the Dallas office, shares with us a story of the "day-to-day" life of a Qualtrics intern. She gives her insight into some of the learning opportunities presented to her, how she grew her life in and beyond the office, and some of her favorite features of her #QualtricsLife.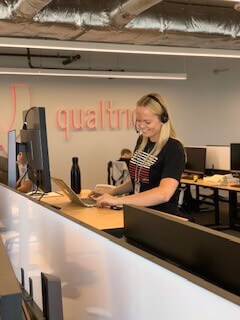 Hey! My name's Emily Risch and this past summer, I was a software sales intern at Qualtrics in the Dallas office. I'm going to take you through what a typical day looked like for us interns (during business hours of course, since I'm not sure if anyone else went for a run at 5:30 am every day like I did #studentathlete). Every day had its own unique surprises and challenges but I'll break down the typical events for everyone's favorite day of the week: Friday!
I usually got to the office at around 7:45 am to plan out my day and read over any emails that I missed from the day before. I loved going through the 'Billing like crazy' email thread to see deals closed from different account executives in the company; it gave me the drive to hopefully make one of my own entries in that thread one day. I'd take a look at my calendar and see what was scheduled for the day and prep for any meetings that I'd be introducing. As interns, if we set an initial qualifying meeting, we would usually introduce the agenda, then hand it over to the account executive for the discovery questions.
Then, it was off to the phones to rip off some morning dials to my prospects in central time. If there's one piece of advice I can give to a prospective sales rep, it's to pay attention to time zones! I still forget if Minnesota is in eastern or central. On a good day, I'd set a meeting or two or get decently nice objections from people that I make a note of as good people to reach back out to at a later time.
After my morning calls were done and I'd mined some new contacts to call, I'd hop on one of my favorite account executive's meetings to take notes on his talk track and how the prospect responded to it. I loved watching demonstrations of the Qualtrics platform to see the different capabilities that we can bring to help an organization. Every company needs its own unique solution so every demo is different! Shadowing meetings was great preparation for my capstone presentation, in which I ran my own meeting with a fake prospect (played by one of the Dallas team leads). After the meeting hour was over, I'd put all of the good nuggets I'd heard into my bank of questions and head off to the kitchen to see if lunch had been delivered yet (which usually had by around 11:30).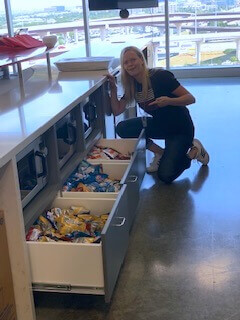 Lunch hour was usually dedicated to self-development so I'd listen to my own recorded calls and calls from top performers. There are so many resources within Qualtrics to learn from yourself and from colleagues, which definitely backs up the emphasis on self-development. I'd also work on my project for our 'Shark Tank' competition, a unique feature of the Qualtrics internship. Each intern had five minutes to present our idea for a program to implement in the office with a positive return on investment. I proposed a volunteering program to strengthen ties with the local Dallas community, with some extra ideas to incentivize employees to participate. The winner of the competition gets a sweet prize, so fingers crossed!
After lunch, we had TGIF every other week, which is the all-office meeting in Dallas. Staying true to transparency, TGIF was usually spent giving updates from each of the sales teams and sharing some wins from the previous weeks. If you're a new hire at your first TGIF (or anything else where you'll be introducing yourself), definitely have a fun fact (or three) on hand!
Another meeting we had on Fridays was a video call with the Provo sales intern group to talk about how our week had gone and to get updates about upcoming events in the internship program. It was a great way to do a weekly catchup with the Provo group since we didn't physically see them after training! And a little healthy competition between the two intern teams definitely fueled my fire #teamDallas.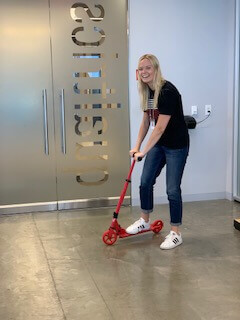 I usually waited until later in the afternoon to make more calls since that's usually when my highest answer rate was, so I might take a scooter ride or play a rousing game of ping pong in the meantime. I had a recap of the week with my manager in our weekly one on one meetings and he gave me a lot of coaching tips during that time as well. Those meetings definitely helped me grow as a sales rep the most and the mentorship that Qualtrics provides is unmatched by any other internship program that I've been a part of. I had two different mentors during my time in Dallas, one on the SDR side and one on the account executive side, and both were extremely helpful with any questions I had and somehow stayed patient with me during my craziest and most stressed moments. Shoutout to my SDR mentor, Katie, for being my personal photographer!
Finishing my calls usually wrapped up my day and I'd head out of the office by 4:30pm. Every day was fast-paced and there was always a lot to do, but the personal growth that this internship gave me is indescribable. The challenge and the quick pace were definitely worth it for how much I learned and the connections that I made this summer.
---
Internship opportunities are often what you make of them, but it's important to have a company that is equally invested in your future and development to make the most of the experience. When interviewing for internships, make sure to understand what development looks like for interns. Ask questions around how much of their current full-time employee population is made up of former interns, or if there are former interns they would recommend networking with.
To discover what the Qualtrics interns are up to, you can explore the Qualtrics Life blog where you'll find stories of current and former interns.
Qualtrics is growing, and if you're ready to find your "why" at a place like this, you can explore our open opportunities at any time by visiting our career page. Looking to discover "Why Qualtrics"? You can find a whole series here.
Want to chat? You can get in touch by checking out Qualtrics Life on Twitter, Facebook, and Instagram.
Related Articles