Why Qualtrics
Regina, Field Marketing Manager: Choosing a Creative Career
I like to discover new things such as books, new places, interesting people, new trends, art, etc. and I want to learn constantly. This is why I am in marketing. You need to be always open to changes and new developments. In marketing, I have the chance to be creative and always in touch with people, new trends, and technologies. Qualtrics is very state-of-the-art with modern leadership and state-of-the-art tools. The offerings of Qualtrics are very relevant for customers and make a difference. I have met many new people at Qualtrics with whom I am now friends. My colleagues inspire me and I am constantly learning new things.
What attracted you to Qualtrics in the first place?
The product offering.
What was the turning point where you 'had to have the job'?
When I spoke to the leadership and colleagues.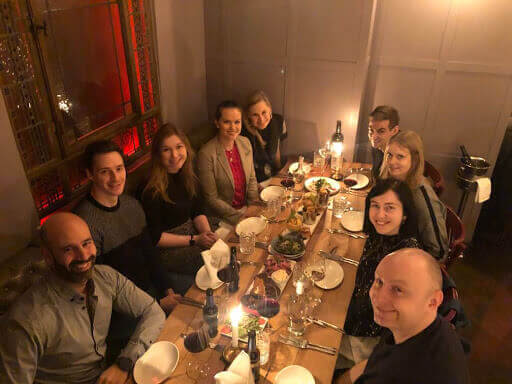 What does your day look like?
Mostly I start with a run, having a good coffee before I have meetings with many people. After the meetings, I digest the input and bring it into my projects.
What is your favorite part of your role?
That everyone is open to new ideas - you never get a no.
Any tips for someone who is considering a role at Qualtrics?
You need to meet the team - I love working with my colleagues.
What surprised you most about working at Qualtrics?
How often we had team meetings face to face in Dublin and parties.
What made you want to get into marketing?
I started in an agency and moved into marketing at one of my former clients. Since then I've been in marketing and I love it.
What are your aspirations in your career/life?
I want to inspire people with new ideas, thoughts, and connect with them.
What is your top #LifeHack?
Have a good coffee in the morning and you start with a high :-)
How have you become involved in community at Qualtrics?
I love to show people around my city and entertain them.
Qualtrics is growing, and if you're ready to find your "why" at a place like this, you can explore our open opportunities at any time by visiting our career page. Looking to discover more reasons "Why Qualtrics"? You can find the whole series here.
Want to chat? You can get in touch by checking out Qualtrics Life on Twitter, Facebook, and Instagram.
| | |
| --- | --- |
| | Regina is an alumnus of Fachhochschule Regensburg and started her career ad agency called A.S.M., and moved to a client after one year. Her preferred way to explore new countries or cities is via bike. She has travelled through at least 10 countries via bicycle, including Albania, Austria, Montenegro, Croatia, Bulgaria, Morocco, Italy, the US, and Turkey. |
Related Articles