Why Qualtrics
Giving Customers a Voice: Bliss Talks Customer Success Careers at Qualtrics
I love to shop. Shop for local fruit and cheeses at a farmers market, shop at these great Target surplus stores back in my hometown, shop for iconic leather jackets that never go out of style; you name it, I've probably looked for it. So it was no surprise to my family when I ended up in a career in the retail industry. From my first internship as a PR intern at Vera Bradley to my last role before Qualtrics as the Director of Strategy & Analytics at Victoria's Secret, I've been captivated by the ever-changing landscape that is retail. In retail, nothing matters until the customer says, "I'll take it," and constant interactions with organizations shape iconic brands. All that makes it that much more critical to understand the "why" behind customers who love your product and brand.
Qualtrics helps brands figure out the "why." We give customers a voice and enable companies to act on that feedback and drive strategic change. In my role as a customer success manager, I help organizations realize value from the Qualtrics solution. I'm a strategic partner who's invested in the success of my peers within some of the largest and most iconic brands in the world. We're helping organizations deliver smarter research faster, close the loop with unhappy customers, and put employees at the core of any change. Plus, just like retail, the tech landscape is always evolving which means there's never a day when I'm not learning something new.
What attracted you to Qualtrics in the first place?
I love being a part of a fast-paced culture and industry. Qualtrics coupled that with a high-growth trajectory, which created a unique environment where roles that don't exist are created and the future of the organization is shaped by current employees.
What was the turning point where you 'had to have the job'?
Prepping for my interviews, I remember watching the video about how VW Australia leverages Qualtrics to run their voice of the customer program and impacts the way the dealerships interact and engage with customers. It was so powerful to see how this software tool helps give customers a voice.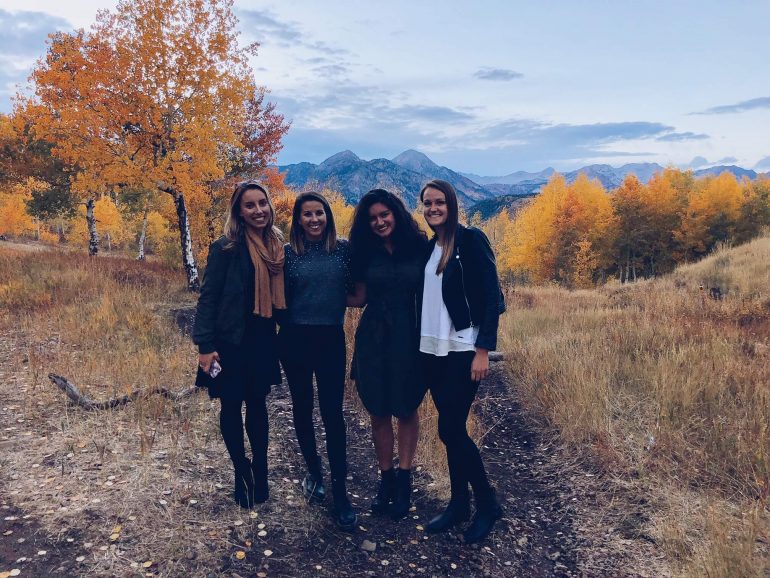 What does your day look like?
No day is ever the same. I'm on the road visiting my customers and helping lead them through strategic workshops where we evaluate how their programs are driving impact to their bottom lines. When I'm in the office, I'm constantly working with internal teams to solve problems and deliver for my customers.
What is your favorite part of your role?
Bringing together people who report into different organizations, which have different goals and focuses, and together delivering for our customers.
We know you moved to Utah - tell us about moving here.
I'm a huge fan of the mountains. At one point when I was living in Columbus, I was flying out to somewhere in the Mountain West at least 2 weekends a month. That's when I realized: why not live somewhere that you want to vacation in? And that's pretty much what Utah is: a permanent vacation with an endless supply of activities. Before moving here I never would have thought I'd "had to have" multiple tents, several different sized hiking packs, snowshoes, skis, paddleboards, and so much else. And did I mention there's a Patagonia outlet in SLC?!
Any tips for someone who is considering a role at Qualtrics?
Be passionate about why you do what you do.
What surprised you most about working at Qualtrics?
The open desk concept is not as distracting as I expected it to be. It's actually really fun to be able to lean over and ask a colleague a question to help get an answer to your customer even faster.
What's the name of the school you earned your MBA at?
The University of Michigan, Ross School of Business
What was it about Qualtrics that made you want to join the team after you completed your MBA?
I worked for a few years post-MBA at Victoria's Secret in Business Operations and Strategy before joining Qualtrics and loved that I had the opportunity to support a world-wide recognized brand. But I was excited for a change, and the growth opportunity Qualtrics presented. Now I get to work with some of the biggest and most recognized brands in the world and help them solve problems. We get to shape research programs, create experience management programs, and work with C-Suites of the Fortune 100. What more could an MBA grad want?
How did your time there prepare you to be successful in your career?
I'm so grateful for my time at Ross because it taught me how to maximize other people's strengths. I learned so many critical soft skills shaped by Ross leadership principles that are applicable across every industry. Specifically, opportunities in our MAP projects and other real-world experience that we were exposed to at Ross have had direct application to my current role today.
Qualtrics is growing, and if you're ready to find your "why" at a place like this, you can explore our open opportunities at any time by visiting our career page. Looking to discover more reasons "Why Qualtrics"? You can find the whole series here.
Want to chat? You can get in touch by checking out Qualtrics Life on Twitter, Facebook, and Instagram.
| | |
| --- | --- |
| | Bliss is an alumnus of Indiana University and the University of Michigan. She started her career at Vera Bradley. Bliss loves the mountains and has been hiking in Utah since she was 3 years old. She's climbed several peaks above 14,000ft throughout North and South America. She's explored over 30 countries and (tries to) read a book each week. |
Related Articles