Why Qualtrics
Chelsea, Social Media Lead: Pursuing Brand Growth
I have two goals in my professional career. The first is to actively find "problems to solve" or opportunities to work on interesting projects that will ultimately help me grow. The second is to dig into projects about which I'm passionate. Qualtrics challenges me to do both of those things.
What attracted you to Qualtrics in the first place?
When Qualtrics first reached out to me I was not actively searching. I was happy at a software company in Boston and had just started taking on some management responsibilities. Yet, the more I learned about Qualtrics the more I was intrigued. The company had a solid business in survey software but was ready to grow in exciting new ways, like amplifying digital efforts and expanding into new industries; I wanted to be a part of that and thought it would give me an opportunity to grow myself.
The whole Qualtrics team is also incredibly kind and human in ways I've never seen a company be before. I'll explain more below.
What was the turning point where you had to have the job?
As a part of my recruiting process, the hiring manager (who later became my first manager at Qualtrics), wanted me to meet people around my age and from my alma mater to show that Utah was a good place for young people to live. I sat with the group out in the Qualtrics gardens talking about life in Utah and I remember them telling me that, it maybe sounded crazy, but I was going to love Utah. That in fact, everyone who moves here is always so surprised by how much they love it. That stuck with me, as did the care that they took in arranging that lunch for me. After I eventually took the job, I realized they were actually right; I think about that a lot.
Also during my interview process, I learned a core truth about one of the executives, CEO Ryan Smith. It was explained to me that the goal was to bet on people and, once you have the right people, trust them to do the right thing. To me, that was a sentiment that truly resonated and one that made me excited about being part of the company.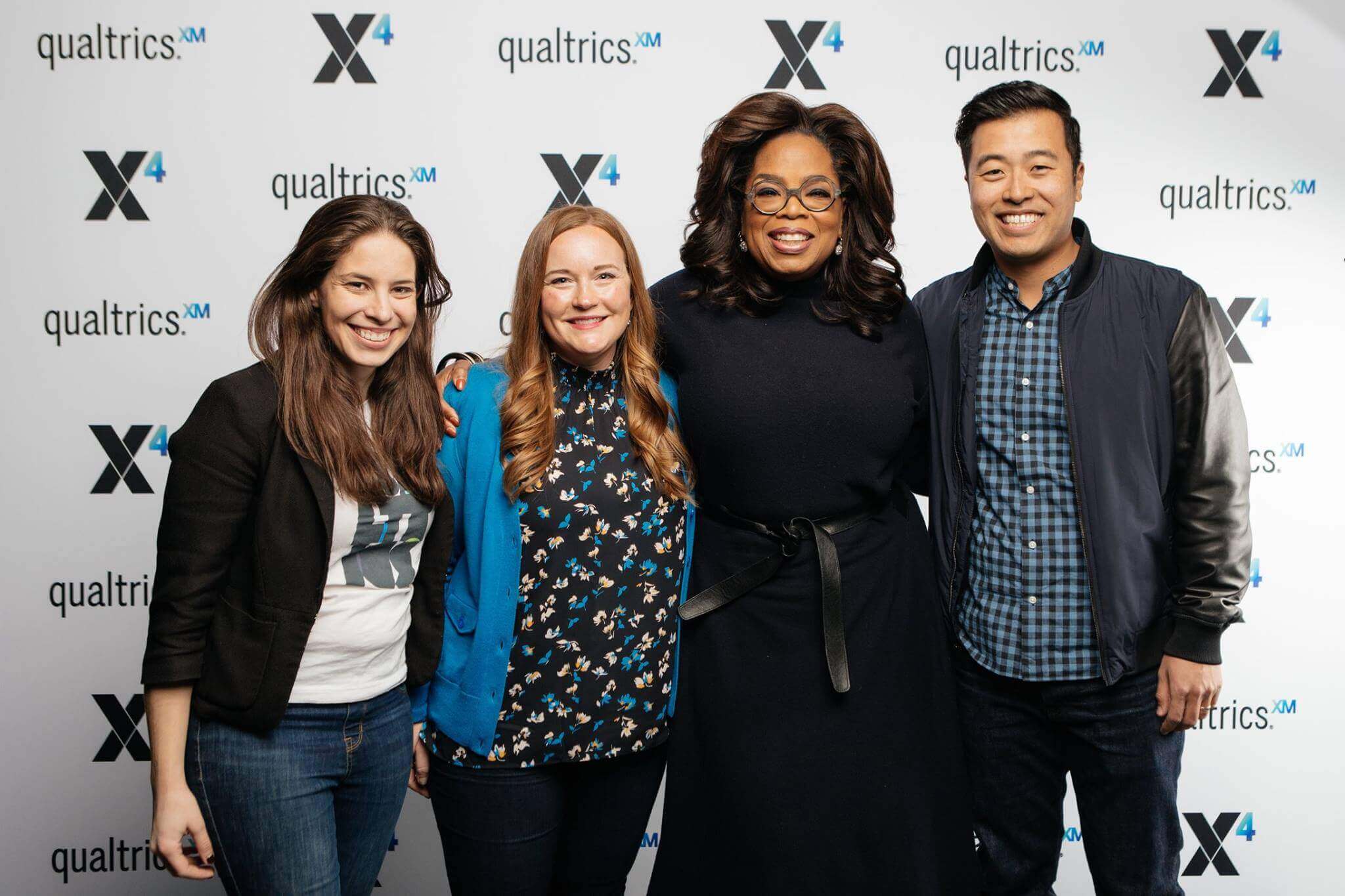 What does your day look like?
Today, we all work a little bit differently, and my day largely includes commuting to my kitchen, doing daily/weekly standups, making a healthy lunch, and working with my colleagues over Zoom meetings, but here's a taste of what an average day would look like in the office —
No two days look the same, but the general structure includes ...
I wake up around 5:30 am, get ready for work, make myself a green tea and do a little early morning reading. I make sure there isn't anything extremely pressing in my email and catch up on the day's news in social media. Since we're two hours behind the east coast and seven behind London/Dublin, I find it's important to check in on news early. Then I drive the 40 minutes down from Salt Lake (some great podcast listening time in there) and get to the office around 8 am. I usually spend my mornings catching up with our European offices. One of my closest teammates is in London so we're always reviewing content schedules and strategy early in the morning over video chat.
Next, I spend a little time responding to email, any social posts that have come in overnight. I then make sure that any assets that we have upcoming on social are in the process of being briefed, designed, and written out for our agency. The next part of the day is spent planning out and working through strategies for things like our big X4 conference, employee amplification, and upcoming campaigns, as well as in team meetings and 1:1's. On Mondays, I also deliver training to new hires on how to leverage social media at Qualtrics. Afternoons are spent working with our teams in Sydney and Seattle to make sure we're aligned on upcoming campaigns. Then I head out around 5 pm. (Qualtrics is better than any company I've ever seen at making sure people leave the office and enjoy their evening. It's odd to see anyone there past 6 pm.)
Up until recently I would get home and go to class for my master's part-time, but since I just finished (woohoo!) I now close the day catching up on my TV shows or on my latest book.
What is your favorite part of your role?
I love the way that social media works with so many different parts of a company. We speak on behalf of the brand to prospects, customers, journalists, etc. every day. To do so we have to ensure that we are creating the right content, prioritizing the right messages for our products and brands, partnering with our executives to communicate key messages, and working with our sales and support teams to ensure incoming inquiries are getting to the right place. Imagine working with people from all of those departments. I also get to work with social media teams from groups like the Utah Jazz and SAP to make sure that our partnerships work across social.
Beyond saying the right things, we always want to make sure that we're creating the right experience on social media (after all, our company is based on experiences), so on top of everything, I'm thinking about how we can iterate on our model to make it an even better experience for our audience.
Oh, also the people, have I mentioned that yet?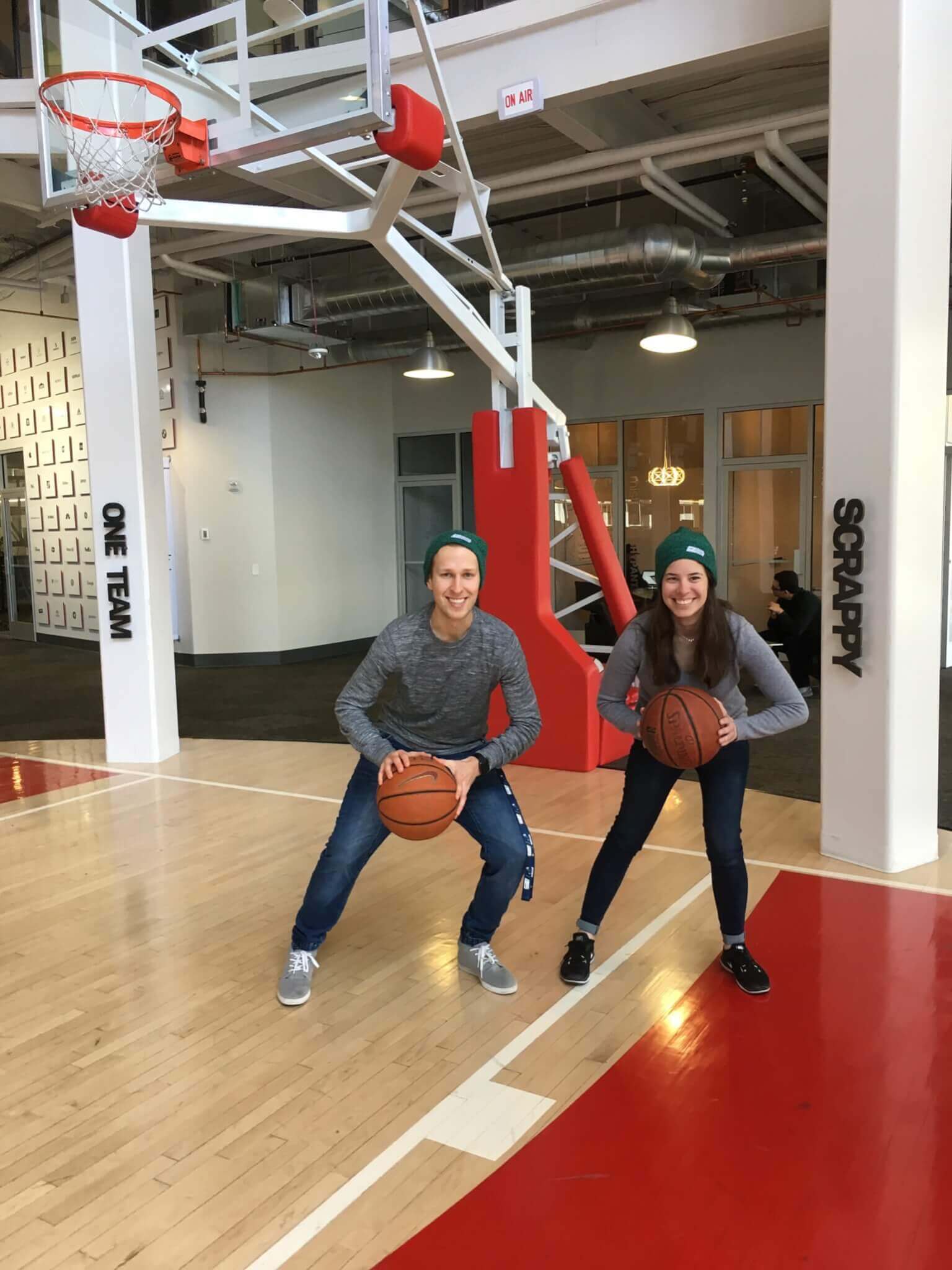 You made the move to Utah, right? Can you tell us your story about moving here?
When I accepted the job I was living in Boston so a move to Utah was not exactly what I had planned. I had been here multiple times to ski but that was all I knew of Utah. My family and friends were located mostly on the east coast and in Europe, so I was skeptical of the idea of moving two time-zones away. Luckily for me, I had a close friend from undergrad who had recently moved to Salt Lake to work for the Huntsman Cancer Institute - one of our partners for 5 For The Fight! After really considering my options, I decided I was going to be "all-in" (one of our core cultural tenants) on this new western adventure and make it awesome. And it's worked out!
As a "city-dweller," I decided Salt Lake was the best place for me to live. It has ended up being a great fit for me. I've met tons of friends through sports leagues, improv class, young professionals groups, and ski weekends and now we have a large group of transplants that are always finding something to do together (hiking in the summer, skiing in the winter, etc). I also ended up buying my first car in Utah which was a big life milestone.
Any tips for someone who is considering a role at Qualtrics?
Go after it. Be prepared to adapt and change with a rapidly growing company. Plan to be extraordinary.
What surprised you most about working at Qualtrics?
We think out of the box at Qualtrics. I mean not even in the same zip code as the box. That enables us to provide a completely different experience in our marketing and for our customers.
That includes re-envisioning every experience to make it better. One of my favorite stories of this last year was when I was working with our marketing leadership team on our 2019 X4 conference, and I was pitching them the idea of a Twitter wall, which would showcase great tweets of people at the conference. The team's response was, "sure … but how can you 10x that?!" Next thing I knew I was getting a blimp to fly around and drop challenges for people to complete to increase our interactive engagement. Everything we do, we do all the way!
The second is the care that people here have for each other. Not just professionally, but personally. People genuinely care not just about me and my professional advancement, but about my quality of life. Someone who is ultimately happy in life will be a better, more committed employee. So win-win.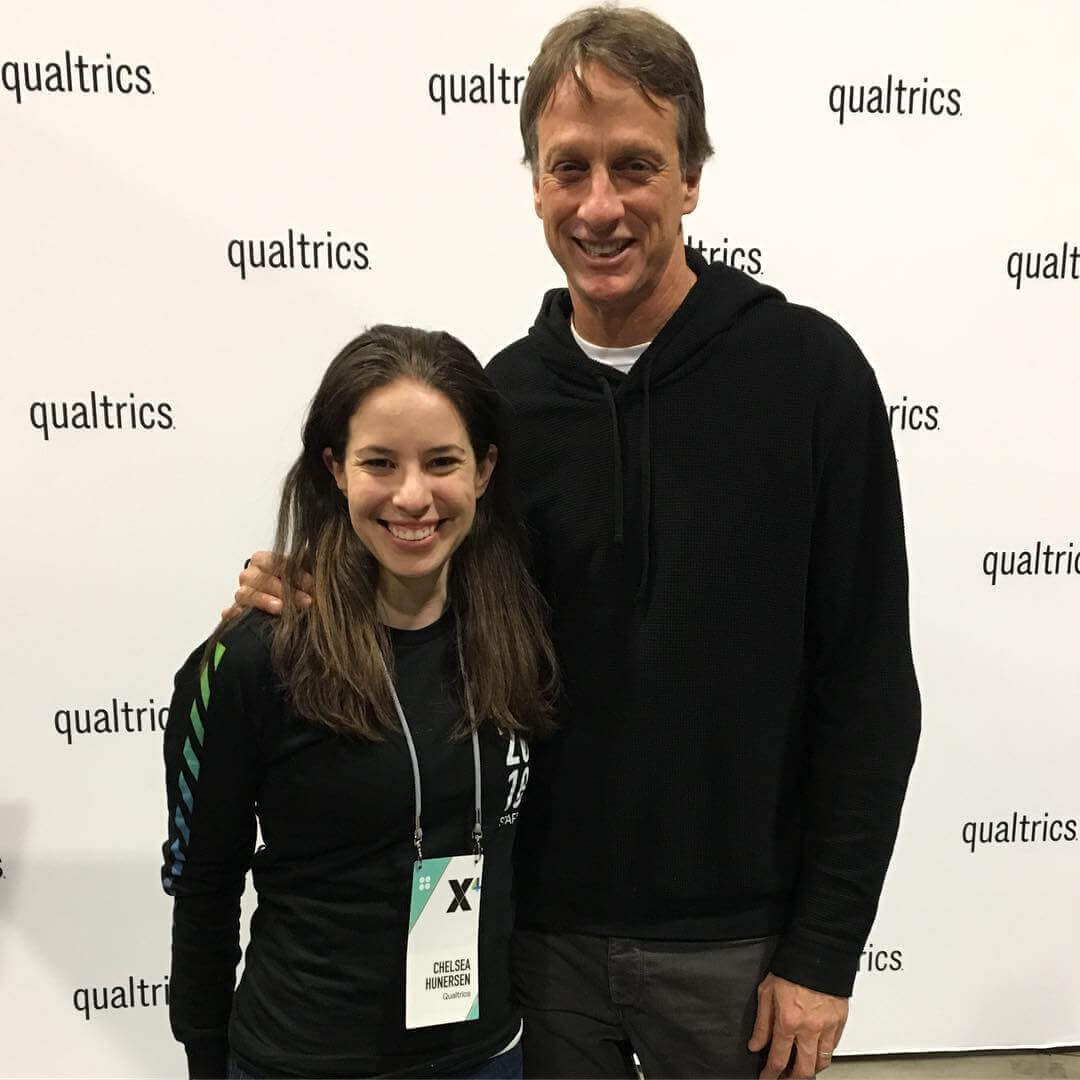 What made you want to get into marketing and social media?
In college, I thought I was going to work in television. I spent years interning at production companies and TV networks and even rose to running my campus TV station. Eventually, I decided I didn't want to be a production assistant running around New York City all day and I found the digital side of media. At the time, I also started taking classes in information science. When I graduated, I started working in technical services for a marketing software company. Since then, I've been fascinated with how social combines my love of media, social sciences and technology!
What are your aspirations in career/life?
I just finished my masters in Integrated Marketing Communications earlier this year. I plan to use that to continue growing in the marketing org helping to build teams around content and brand for social. The goal is to ultimately manage some sizable teams achieving big impact and doing new things in social media.
How have you become involved in the community at Qualtrics?
I am actively involved in our Women's Leadership Development (WLD) group. I started as a discussion group participant, then became a discussion group leader and then the group marketing leader. Last year we were able to double our email subscription base, send out several quarterly newsletters, create slack channels for people to talk about women-in-leadership topics, and set up our first International Women's Day takeover, which included taking over screens, and walls globally to celebrate women we admire. We've also created WLD stickers I love seeing around the office including on the laptops of our executives!
Most recently I've taken on the role as the first membership chair in WLD. As we grow as a company and as an employee resource group, my role is to help engage and retain members so they can get involved with WLD in the way that works best for them. One of our newest initiatives that I'm excited about is how to involve remote women and help them grow.
Lastly, one of my discussion groups, which was originally focused on the constructs around gender inequality has turned into a regular working group, where we are dreaming up and implementing new initiatives to promote inclusive practices at Qualtrics.
Qualtrics is growing, and if you're ready to find your "why" at a place like this, you can explore our open opportunities at any time by visiting our career page. Looking to discover more reasons "Why Qualtrics"? You can find the whole series here.
Want to chat? You can get in touch by checking out Qualtrics Life on Twitter, Facebook, and Instagram.
| | |
| --- | --- |
| | Chelsea is an alumnus of the University of Michigan and Northwestern University, and started her career at Executive Networks. She was a contestant on Nickelodeon's Slime Time Live at age eleven. |
Related Articles