Why Qualtrics
Sarthak, Solution Architect: Going Far Together
"If you want to go fast, go alone; if you want to go far go together"
I believe in the phrase "What is meant to happen will happen".
Well, I had first heard about Qualtrics from a friend at a party. He mentioned casually that he thought that I would gel in well at Qualtrics and enjoy working here. Before I could get into the mix of reviewing open roles, I was contacted by the recruitment team.
What I loved almost instantly was the very area Qualtrics operates in: bringing Customer, Employee, Brand, and Product experience to the forefront, and showing the value of "why!"
My interview process was both exciting and challenging, and speaking to some really smart people cemented my interest to join Qualtrics.
By the way, it is also worth noting that my friend now sits literally across the table in the office!
Why did you decide to become a solutions architect?
I have been working as a Solutions Architect for the last few years across the Telco and Healthcare industries. I love the balanced skillset the role brings to the table, Technical expertise coupled with business acumen. A Solutions Architect wears different hats in different projects; that makes this role quite dynamic thereby enabling everyday learning. By the way, I have not been able to explain exactly what I do to my wife despite repeated attempts all these years we have been together :)
Why did you decide to join Professional Services at Qualtrics?
XMS Professional Services and the Solution Architect role aligned quite well with my skills and experience. We are responsible for maximising the impact that Qualtrics can have on a client's organisation and, owing to my service delivery experience, I saw it a great fit. One thing which keeps me going is the opportunity to work on multiple different projects, trying to solve important customer business problems. I've always enjoyed building strong relationships with customers and XMS Professional Services allows me to do just that!
What is the "day to day of your role"?
Since the Solution Architect operates in the pre-pre-sales phase, our main objective is to work closely with various sales teams to help drive business value for our customers.
As the customer landscape is constantly changing, on a given day I could be solving a niche problem for an existing customer, or starting out a full enterprise-wide XM solution discovery and scoping activities for a greenfield customer.
Alignment meetings with technology consultants, program architects, XM scientists as well as product and engineering teams are also part of my regular schedule. The direct interaction with the Engineering and Product teams particularly allows me to share client feedback and requirements directly to our product teams for future product enhancements.
And then, other days, I might be doing something completely different. I have participated in various EMEA-wide initiatives like the Green Team, and recently I was a panelist at the Dublin International Women's Day event sharing my experiences on being a new dad and discussing the importance of gender equality in both personal and professional spaces.
More recently, My day now usually starts quite early (thanks to a 4-month-old baby), and in the current work from home situation, I try to keep a flexible schedule in order to support both professional and personal commitments.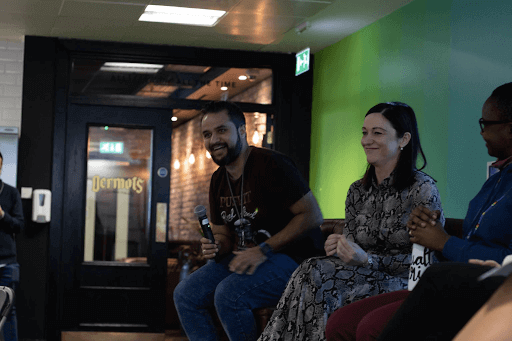 How has your role, and what you're doing now, differed from what your expectations of this job were?
For the most part, the role is in line with my expectations. However, a unique thing about the role is that there is scope for constant evolution and improvement. I find it extremely easy to voice my ideas and then to take the lead in implementing that idea. I have been truly impressed by the plethora of skills and intelligence that all Qualtrics employees have, there is always a new thing to learn every day!
What is the most exciting element of your current role?
The uniqueness that each day brings in! I truly believe in the African proverb that "if you want to go fast, go alone; if you want to go far go together." I enjoy working with internal and external customers and enjoy building relationships through various project engagements. I enjoy learning something new literally every day from my colleagues at Qualtrics as well as from our customers. Our team has a great mix of skills and personalities as well and that makes work exciting and enjoyable.
What does Experience Management mean to you?
One of the first things that attracted me to Qualtrics was the pioneering work they have been doing in the Experience Management area. I have no qualms in sharing that I put a lot of emphasis on reviews and opinions on most things. Be it holiday planning, picking a restaurant, online shopping, or hiring help to get stuff done in the house; I take my time and do my due diligence. In my opinion, a key differentiator for successful businesses in this day and age is not only a solid product or service offering but also a right solution to capture customer and employee feedback in order to constantly evolve.
What do you like most about your job?
If I were to summarize this in one cumulative point, it would be the people I work with. Every day I work with some of the most intelligent (and funny) individuals that I've had the pleasure of working with. One Team culture instills a foundation, you can really rely on people for their support and guidance.
A bar in the office, pool and table tennis tables, delicious food, and snacks are some of the lesser important aspects I like about my job :)
On the other hand, more recently, I am so proud to work for a company that has given the health and well being of its employees, customers, and partners the utmost priority by taking a decision to introduce remote working amidst the COVID-19 situation. The energy that people are exhibiting to collaborate with each other in order to help our clients is simply unparalleled.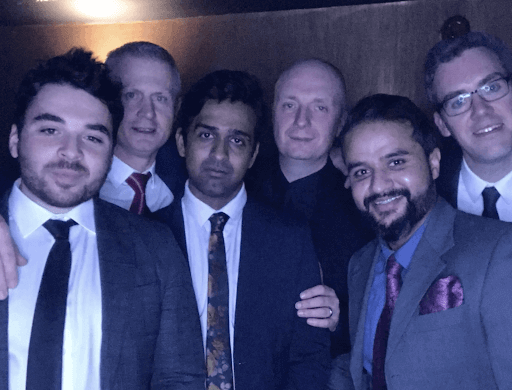 What is your top #LifeHack?
Be honest and give your best at work, but make sure to spend a lot of quality time with your family. And, be the person your dog thinks you are!!
Qualtrics is growing, and if you're ready to find your "why" at a place like this, you can explore our open opportunities at any time by visiting our career page. Looking to discover more reasons "Why Qualtrics"? You can find the whole series here.
Want to chat? You can get in touch by checking out Qualtrics Life on Twitter, Facebook, and Instagram.
| | |
| --- | --- |
| | Sarthak is an alumnus of the University of Pune and started his career at Infosys. An avid cook who can create dishes from 18 different countries, Sarthak has travelled to over 25 countries and has climbed Mt. Fuji. He also runs his dog's Instagram account. |
Related Articles