Why Qualtrics
Why Qualtrics – Brittanie Eraso – Research Services Sales Development Representative – Intern – Provo, UT
The career path I've chosen is that of business. First, I enjoy competition and problem-solving. For the internship I'm in right now, I was doing very well at the beginning and then plummeted in my numbers at the beginning of July. Like sports - you get behind by a few points but you still have to push for the win at the end. There's always a way to succeed. Second, I love connecting with others and creating relationships. Whether this is with clients, family, friends or coworkers, these relationships can bring a lot of joy. Last, I enjoy getting out what I put in. I like to push myself to work hard and especially with sales - you get out what you put in. This all fits into sales at Qualtrics and why I chose to do that here. I get the fire of competition by hitting my numbers, I get to network with others, and I'm seeing the results from my efforts.

What attracted you to Qualtrics in the first place?
I had been hearing about Qualtrics for some time from both my brother and my husband. This is my first job since I'd always focused on college athletics. I love how competitive and high-performing the culture at Qualtrics is. You get a great experience to come in and work hard. Everyone is very motivated to do your best and make each day an opportunity for growth.
What does your day look like?
I get in at 8 am every day. I start the day out with calls. I've had to figure out when the best times for calls are - especially during the summer as a lot of professors are on break. I focus on asking my team members a lot of questions so I can target my email campaigns and cold calling efforts effectively. I stay here until 5 or after depending on what I need to do to hit my goals for the week.
What is your favorite part of your role?
I love going to meetings with our prospects so that we can find solutions to the problems they are facing. It's always a new challenge.
So we understand that you are not originally from Utah. Can you tell us your story of moving here?
Originally from Southern California, I got recruited to BYU to play Tennis. It was my dream to play at the Y. My brother did the same thing - so it was neat to follow in his same path. I moved to Utah and then Michael, my brother, started working at Qualtrics. I heard about the opportunity for the sales internship through him.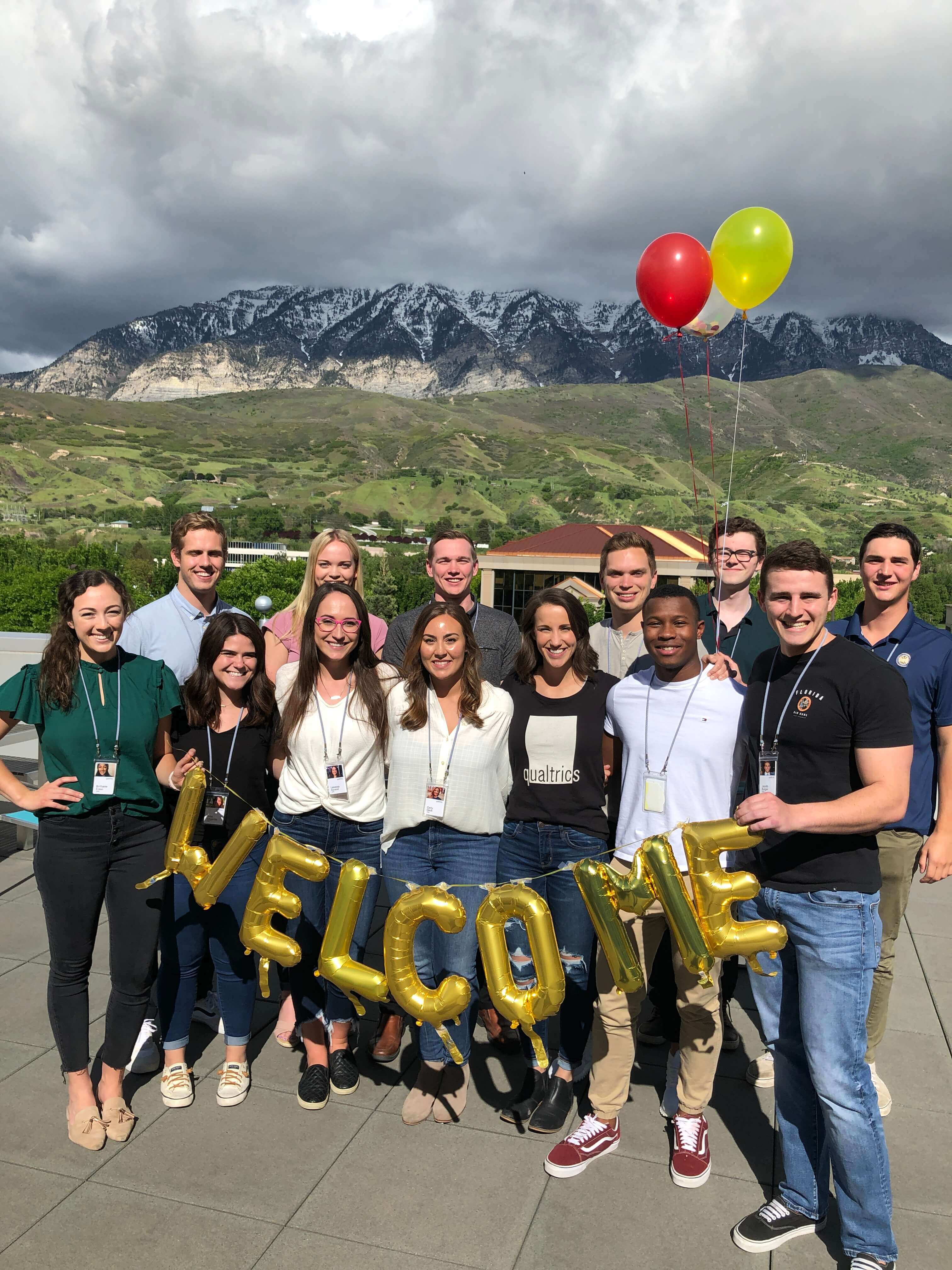 Any tips for someone who is considering a role at Qualtrics?
Recognize what to do when you fail - it'll happen. You have to be someone who is mentally tough. You have to be motivated to find a way to be better. You can show up and cold call and do email campaigns but if you care about succeeding, then it will make a huge difference in your success when things don't work out perfectly.
What is your top #LifeHack?
Work hard - but remember to have fun in what you're doing. Do what you have to do at work, but find time for yourself outside of that.
Qualtrics is growing, and if you're ready to find your "why" at a place like this, you can explore our open opportunities at any time by visiting our career page. Looking to discover more reasons "Why Qualtrics"? You can find the whole series here.
Want to chat? You can get in touch by checking out Qualtrics Life on Twitter, Facebook, and Instagram.
| | |
| --- | --- |
| | Brittanie is currently completing her degree at Brigham Young University, and started her career here at Qualtrics. She played in BYU's division 1 tennis team and was a three-time League Champion in singles and doubles. |
Related Articles