Why Qualtrics
Why Qualtrics – Ellie Urbano – Sales Dogs of Qualtrics – Provo, UT
At Qualtrics we want to connect our people to careers that feed their purpose; jobs that motivate & inspire them. One of the ways we look to build an environment where our teams thrive is by allowing dogs to join their humans at work when we can. We were delighted to be recognized in Rover.com's Best Dog-Friendly Companies 2019 list for the benefit we offer the team! In the spirit of fun, we're exploring stories from the Dogs of Qualtrics. This is Ellie's doggone good "Why Qualtrics" story.
My mom, Ashley Urbano, adopted me out of the New York City Animal Care & Control in Spanish Harlem when I was 3 years old. I've been rolling with whatever the world has thrown at me since that day. Together we moved all over NYC, NJ, and now we're in Utah. So I guess you can say I'm as "scrappy" as they come.
I'm onboard with Qualtrics because whenever I go to work, I eat cookies, chase some doggos, and roll around in the beautiful green grass. Qualtrics allows me to do all of this because it gives my Mom the opportunity to bring me to work with her. I get to meet new people every day, play outside with my friends, drink water from the creek, and watch Mommy make the money that buys me all of my toys.
What attracted you to Qualtrics in the first place?
My Mom decided we would go work for Qualtrics and I follow her wherever she goes.
What was the turning point where you 'had to have the job'?
When my mom told me there were other doggos there who likes to play and other humans who would pet me, I knew I needed to be a QDOG.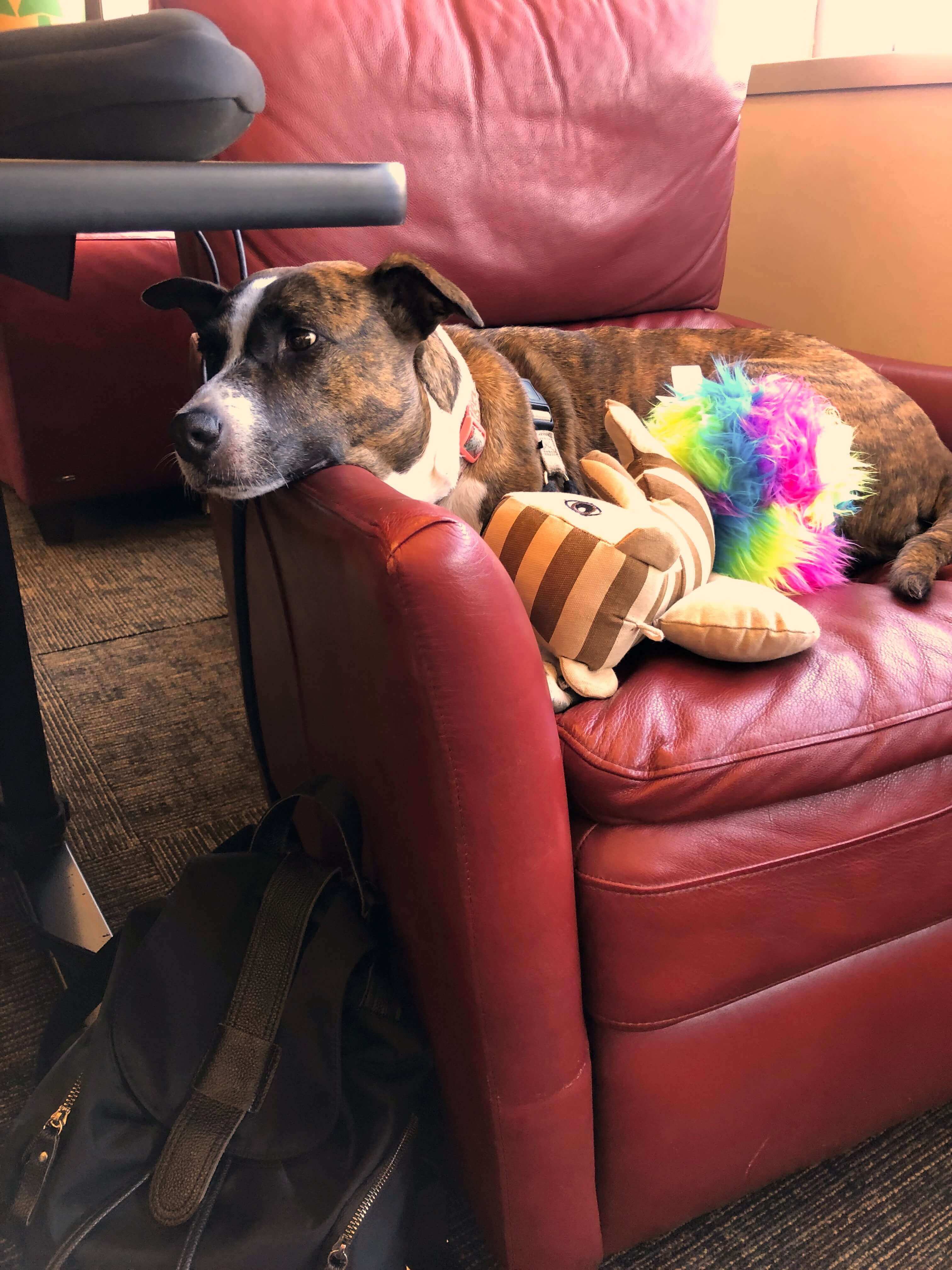 What does your day look like?
Come in, drink some water, say hi to the Sales Team, stop to get some pets throughout the day, go play outside with other doggos while Mom prospects, eat, swim in the creek, go to a meeting or two, get some treats. Ya know, the usual life of a dog, but a million times better.
What is your favorite part of your role?
My Dog Friends
So - tell us about becoming a Utah dog after having started as a NYC pupper?
We drove 40 hours in 2 days. Alllll the way from New York City. We stopped in PA, OH, IL, IO, NE, WY, and finally Utah. I slept through the whole thing for the most part. My mom says I'm the best dog ever.
Any tips for someone who is considering a role at Qualtrics?
Make sure you have a dog I can play with.
What surprised you most about working at Qualtrics?
How tired I was every day after getting home. I snoooooooozzzzeeeeeeeee.
What are your aspirations in career/life?
Be the goodest girl with all the treats and toys. Also, I want to eat everyone's food.
What is your top #LifeHack?
Rolling around in the dirt. I instantly smell fabulous.
How have you become involved in community at Qualtrics?
Qualtrics is growing, and if you're ready to find your "why" at a place like this, you can explore our open opportunities at any time by visiting our career page.
Looking to discover more reasons "Why Qualtrics"? You can find the whole series here. Want to chat? You can get in touch by checking out Qualtrics Life on Twitter, Facebook, and Instagram.
| | |
| --- | --- |
| | Ellie and Ashley are former NYC residents, who now work in the Sales team! Ashley is an alumnus of Montclair State University and started her career at Sterling Talent Solutions. Ellie joined the Dogs of Qualtrics team immediately upon Ashley starting at Qualtrics. |
Related Articles