Why Qualtrics
Why Qualtrics – Josiah Rossdeutscher – Account Executive – Provo, UT
My why has always been surrounding relationship-creating and assisting others to become their best possible self.
Qualtrics has allowed me to make many connections both inside and outside the organization. At Qualtrics if you find a problem, and come up with a solution, the organization will back you to help fix the problem. It may take a little bit of time, but they will definitely help.
What attracted you to Qualtrics in the first place?
Qualtrics was extremely attractive to me because it was exciting. As a kid growing up in rural Oklahoma, moving across the country to the foot of the mountains at a rapidly growing tech company was a whirlwind experience.
What was the turning point where you 'had to have the job'?
My turning point for having to have this job was right after my in-person interviews. When I was heading to Salt Lake to stay the night I drove around the alpine loop. It took you around Mt. Timpanogos and the most gorgeous views.
What does your day look like?
My day can vary greatly. There are days when I'm writing RFPs, prospecting, and working with clients. There are also days where I'm planning events for 50+ people, organizing Happy Hours, Pride Events and helping with a bunch of other internal activities.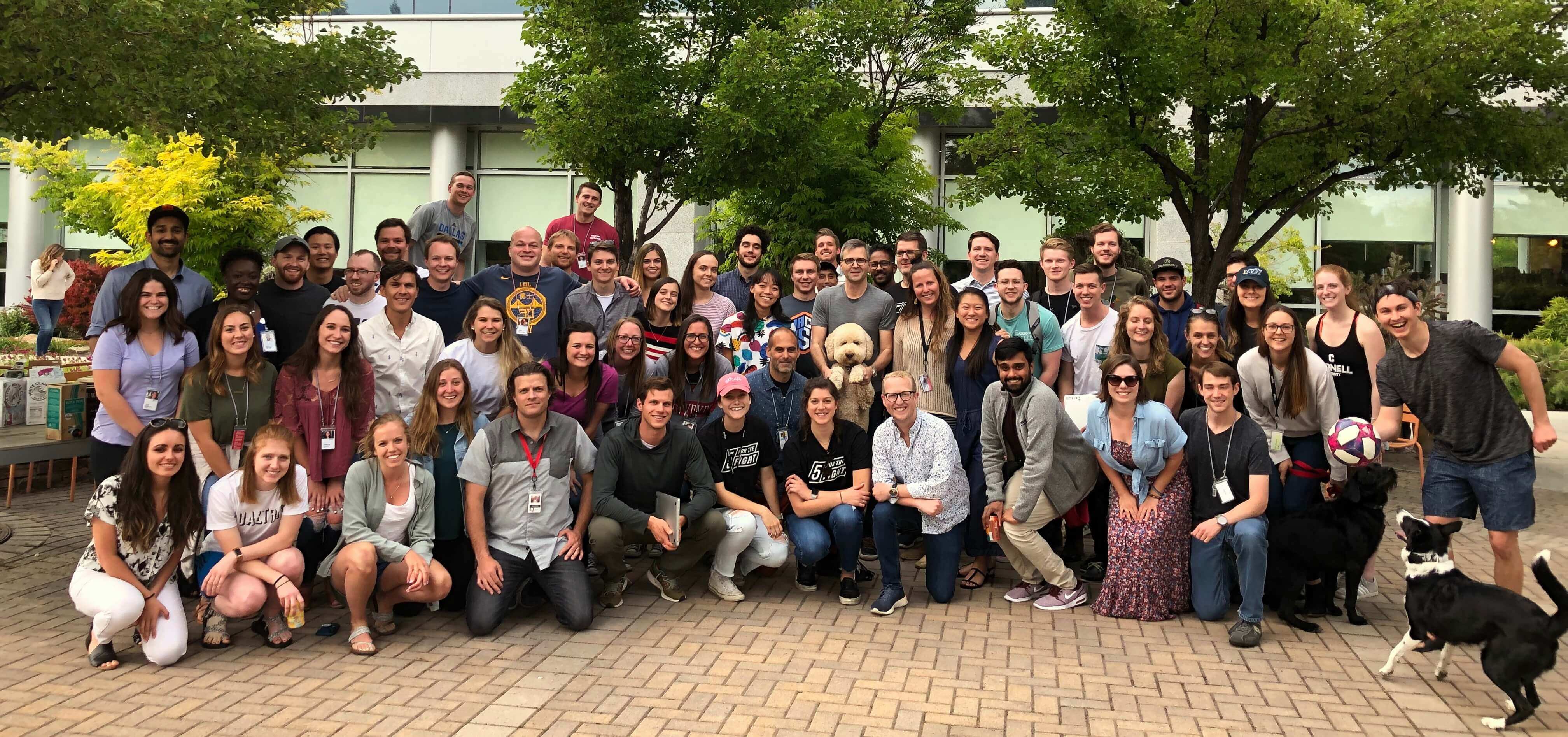 What is your favorite part of your role?
The best part about my role is when I'm talking with someone and the purpose of data clicks with them, whether it is working with an organization on bettering their employee culture or helping a school with their anti-bullying initiatives so that students can report bullying and an administrator can get a real-time notification.
So, you're not originally from Utah - can you tell us your story of moving here?
I grew up in Oklahoma, so moving to Utah was so far outside of my comfort zone. It was really difficult moving 16hrs away from everything that I knew. Leaving all of my family and friends behind on a chance to be a part of a life-changing experience. My hiring process was a whirlwind, so by the time I accepted I had 1 week to pack up all of my worldly possessions into my Toyota Corolla. It was such a quick transition that I actually Airbnb'ed for my first few weeks out here while I was figuring out where to live.
Any tips for someone who is considering a role at Qualtrics?
If you are considering a job at Qualtrics, know that there are people like you here. It has been very cool to see how Qualtrics has grown over the past 3 years. We now have LGBTQ+, Multicultural, Women's, and Military diversity and inclusion groups. If you are worried about moving to Utah, don't worry: we also have a happy hour every Thursday.
What made you want to get into sales?
For me, sales is a tool to do other things both inside and outside of Qualtrics. It has given me a very unique opportunity to work with just about every facet of the Qualtrics organization.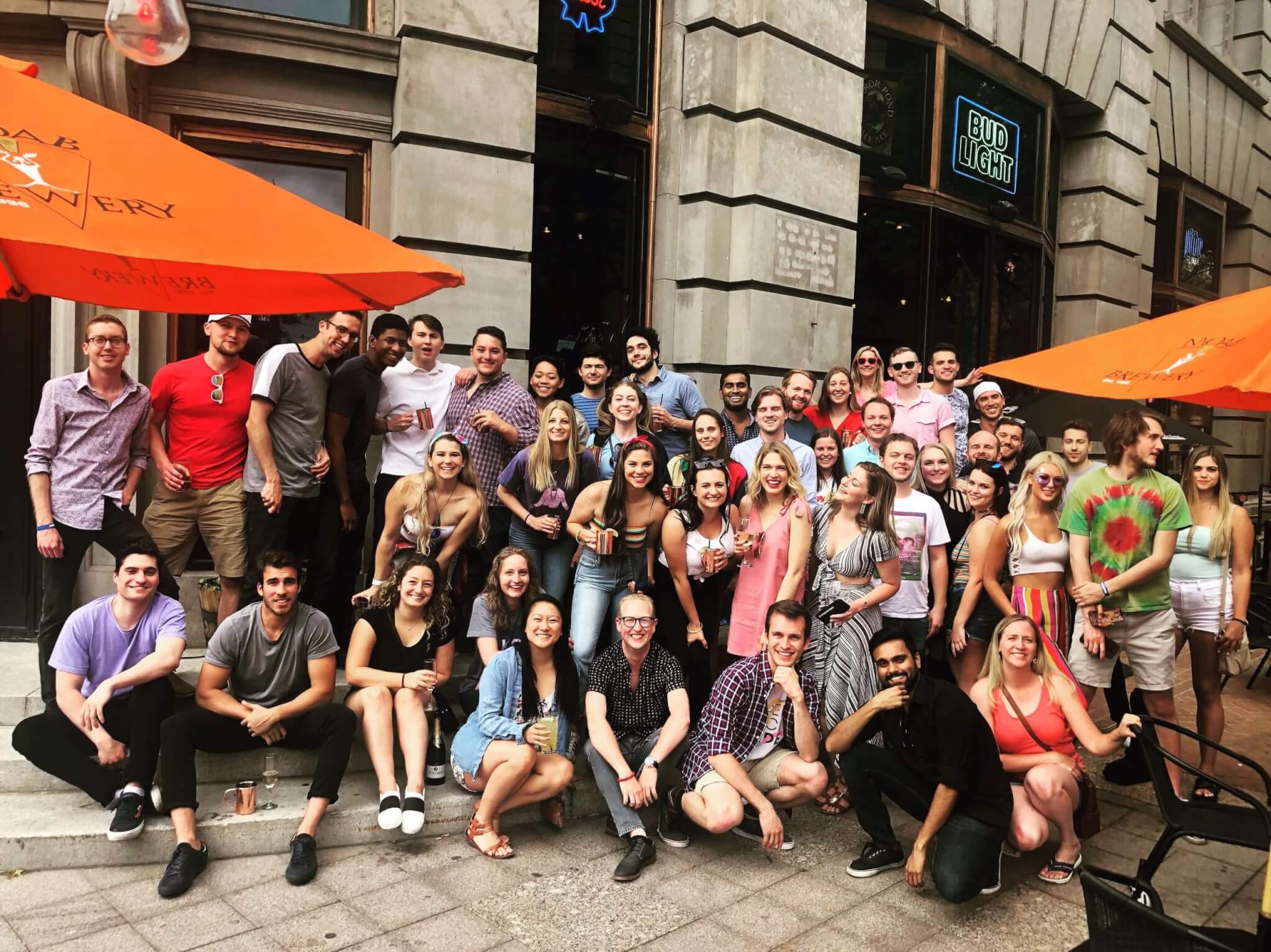 What are your aspirations in career/life?
Ask me in five years because it always changes. However, consistently my life has revolved around causing connections between people. I grew up hearing "all are invited, please bring a friend, not only are you welcome, you are expected." My aspiration is to make this saying permeate everything that I touch. Whether that is where I work, where I live, or what I'm doing.
How have you become involved in community at Qualtrics?
I started off being a part of the WLD (Women's Leadership Development). After about 6 months, I moved into being a part of the events committee. I was on the events committee for several quarters, assisting putting on or helping with events in different ways.
Later that year, I would go on to found "Social Qs," which has been designed for two reasons. First, was to assist out-of-state transplants to form a community, outside of their teams, with like-minded individuals. The second was to assist in building cross-functional communities. In most organizations, it is extremely easy to become siloed in your team department or market unit. Over the past two years, we have seen happy hours go from 8 or 9 regular people to having happy hours with 100 people. During the course of Social Qs, we have seen a co-founder, multiple executives (Russ Laraway, Julie Larson-Green, Mike Maughan, Webb Stevens, Jared Smith, and others), and many team leads and region leads attend. This is something I will be a part of throughout my duration at Qualtrics.
Last summer I became one of the inaugural members of our LGBTQ+ diversity and inclusion group. Since that time, I've been a part of many activities with the group, including attending the first two years of LoveLoud, 2 years with the SLC parade, volunteering at the Qualtrics booth at the Provo parade, helping to organize and to host two events in conjunction with SLC Pride, and organizing the SLC Pride Parade Qualtrics Watchers. I'll be volunteering with LoveLoud later this year, and will continue to be involved with the group throughout my duration at Qualtrics.
Last summer I was asked to help our Q-Salute group with the organization of our Veterans' Day Assembly as part of the planning committee. During the day of our Veterans' Day assembly, I helped execute many of the activities including crowd control and t-shirt handouts.
The final thing that I've played a role in for the past two years has been Dream Team. My second year at Qualtrics Dream Team was the highlight of my year. If you aren't familiar with Dream Team it is an aspect of our annual conference called X4 where we make our customers' dreams come true.
There were so many amazing stories and friends made because of this conference, but I'd like to highlight one. First, I had a request from a woman who requested help with a screen share, an easy enough request. I ran to where she was and set up a screen share on my phone, she walked away and used my phone for a few minutes. She dropped her phone to her lap and came over to give me a massive hug and started crying. I was taken completely off guard. Turns out that the screen share was so she could screen share her partner and baby. This was the first time she was away from her baby and was having a harder time than anticipated.
During my time on Dream Team over the past several years, I've responded to hundreds of requests and have walked/run 30+ miles in the service of our customers and internal employees.
Qualtrics is growing, and if you're ready to find your "why" at a place like this, you can explore our open opportunities at any time by visiting our career page. Looking to discover more reasons "Why Qualtrics"? You can find the whole series here.
Want to chat? You can get in touch by checking out Qualtrics Life on Twitter, Facebook, and Instagram.
| | |
| --- | --- |
| | Josiah is an alumnus of Oklahoma State University and started his career at Qualtrics. He is a self-proclaimed foodie and can't think of a better way to end a day than with great views, good food, and a nice glass of wine. |
Related Articles