Why Qualtrics
'Why' Qualtrics Series: Madison N. – Sales Development Intern, Dallas TX
Describe Qualtrics to a candidate in 3 words!
Challenging, Rewarding, Invigorating

What is your 'why'? Why do you do what you do...
Passion. Everything I do has to be motivated by my drive and grit. If I don't feel passionate about something, I won't put in 100% effort. When I want something in life, I go out and get it and don't take no for an answer - this may be what attracted me to sales in the first place!
How does Qualtrics connect with your 'why'?
Qualtrics fits into my why because I am very competitive. Although I wouldn't consider competitiveness itself a "'passion", it's something that drives me. I am constantly striving to better myself, push myself, and learn more.
What was the turning point where you 'had to have the job'?
The explanation of the "work hard play hard" mentality sealed the deal for me. The idea that I would be pushed to my limits and expected to do my best but also have some time just to focus on myself (self-dev hour) with ping pong/other fun office games was really important for me. I pride myself on having a balanced life and appreciate a company that has a culture to mirror that.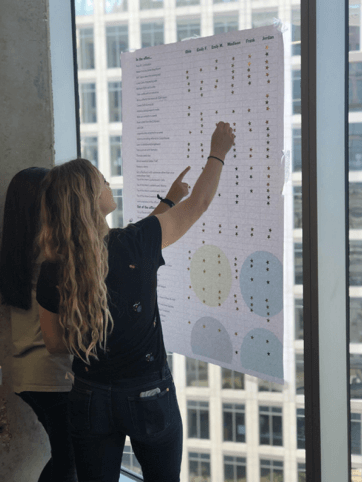 Any tips for someone who is considering an opportunity at Qualtrics?
Be prepared to work hard but also be prepared to be rewarded for that work. The harder you work, the more successful you will be. The best part about Qualtrics is that your success is in your own hands & everyone around you wants you to succeed. Don't be afraid to reach out if you are struggling -more often than not, another person has been in that exact position and will be more than happy to help you push forward.
What surprised you most about working at Qualtrics?
I was pleasantly surprised with how helpful everyone was. Sales often has a vibe of "every person for themselves" which worried me when accepting the internship role. That being said, when I got to Qualtrics, there wasn't one person unwilling to take time out of their busy schedule to help teach me how to prospect, make calls, or learn more. I found this to be something truly valuable in a company.
What made you want to get into Sales?
I wanted to get into sales because of the opportunity it presents. There is unlimited room for success, and at Qualtrics, that success is based entirely on your abilities.
What is your top #LifeHack?
Take things one step at a time. Life & work can be overwhelming at times and I find if I try to do too many things at once, nothing gets done. I've learned to take a step back, make a plan, and stick to it. Eventually, it all seems to fall into place. Oh, and don't be afraid of rejection - use it as motivation to push harder.
| | |
| --- | --- |
| | Madison Nirenstein is a Sales Development Intern in Qualtrics's Dallas, Texas office. She is a senior majoring in Political Science and in Biopsychology Cognition and Neuroscience at the University of Michigan. |
Related Articles