Brand Experience
9 things you need to know about the Gen Z consumer
Gen Z adults, ages 18 to 25, are an emerging consumer force, setting trends that influence the purchasing habits of older shoppers. These youngest of buyers don't think the same way as their parents and grandparents, and their expectations for customer service are higher than any other generation's.
New Qualtrics research shows that Gen Z is more digitally connected, more socially conscious and willing to do more research before making purchases. As digital natives, Gen Z is accustomed to quick and easy service – they're inclined to look beyond convenience to understand what a company really values.
With elevated standards, Gen Z presents both a challenge and opportunity to brands adapting to customer expectations in the pandemic era. Here are 9 takeaways about how to attract Gen Z consumers that all businesses need to know in 2022.
Gen Z is most likely to be upset by a negative interaction with a company
Gen Z is the generation least likely to report being happy with their customer experience (on a scale of upset to delighted). Gen Z was the most upset by their interactions with federal agencies (only 13% gave a positive rating), followed by investment firms and airlines. Gen Z gave the highest ratings to social media and retail stores.
Gen Z expects brands to deliver on their promises – and they're not afraid to look for alternatives when they don't
70% of Gen Z say they've switched brands because the customer experience did not live up to the brand promise as advertised (such as "fast delivery" or "great customer service")
Gen Z consumers (30%) are almost twice as likely as Baby Boomers (16%) to say they strongly agree that they should be treated better if they are new customers of a brand.
Gen Z cares more than other generations about the health and safety protocols businesses have adopted during the pandemic
Gen Z is twice as likely as Baby Boomers to stop purchasing from a brand because they felt their safety measures were insufficient (30% vs. 14%), and three times as likely to start purchasing from a brand because they approved of COVID safety measures, such as mask requirements or curbside pick-up (42% vs. 14%).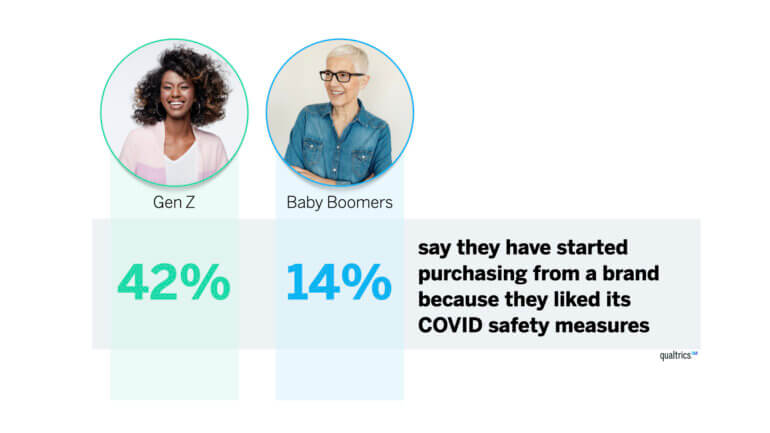 Gen Z is more aware of brands' values and likely to stop buying from a brand if they don't feel a connection to those values
Gen Z (22%) is nearly three times as likely as Baby Boomers (7.5%) to say they were very familiar with the brand values of the products they choose. Gen Z (42%) was 45% more likely than Baby Boomers (29%) to say feeling disconnected from a brand would probably or definitely cause them to stop purchasing.
Gen Z (38%) buyers were also more likely than baby boomers (25%) to say they probably or definitely stopped purchasing with a brand because of an ad that didn't resonate with them.
Gen Z is least likely to promote brands and companies
While they expect ease and convenience as table stakes, Gen Z is the least likely to promote companies or brands within their networks, signaling that companies cannot rely on Gen Z for free promotion.
Brands need to reach Gen Z where they are: online and on social media platforms
For Gen Z consumers, maintaining a social media presence was the second highest ranked way for brands to maintain relevance, second only to "providing superior product/service quality." No other generation ranked social media presence in the top three. In fact, only 13% of Baby Boomers listed social media presence compared to 51% of Gen Z.
Gen Z buyers are more likely to be influenced by celebrities and public figures, as well as their friends and family
Gen Z (29%) buyers were over four times more likely to say a celebrity/athlete/public figure brand endorsement was at least somewhat significant to their decision to purchase from a brand when compared to Baby Boomers (7%).
75% of Gen Z buyers said they were at least somewhat likely to purchase from a new brand if it was recommended by a friend, family or colleague, compared to just 47% of Baby Boomers.
Gen Z buyers are more aware of how brands are addressing social and environmental issues
Gen Z buyers (31%) were nearly twice as likely as Baby Boomers (16%) to say the brands they purchase from are doing enough to address societal and environmental issues. Only 39% of Gen Z consumers were unsure whether the brands they purchased from were doing their part compared to 57% of Baby Boomers.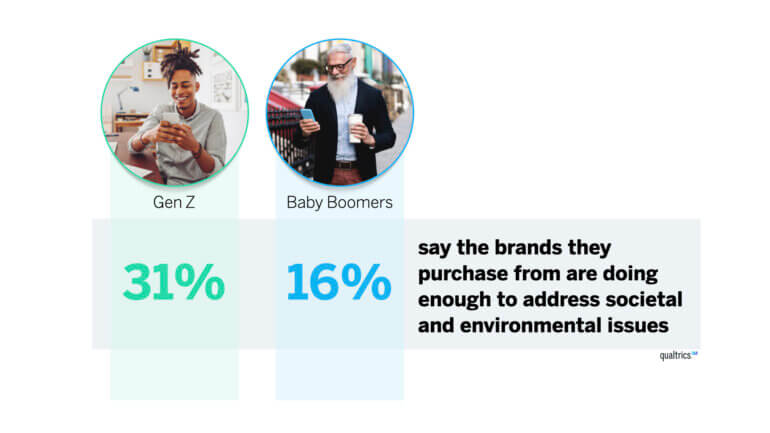 Gen Z does their research before purchasing – those reviews matter!
78% of Gen Z buyers said they research or look at customer reviews most of the time before purchasing from a new brand, compared to only 48% of Baby Boomers.
Learn more about Customer Experience
Methodology
The findings in this post come from two studies. One was conducted by the Qualtrics XM Institute and asked more than 9,000 U.S. consumers about their experiences with 367 companies across 23 different industries. Each company had a minimum of 100 responses from consumers who had interacted with that company in the past 3 months. Participants were selected via a randomized panel and the study ran in Q3 of 2021.
Another Qualtrics study asked more than 2,000 U.S. consumers what they thought about customer and brand experience. Participants were selected from a randomized panel and considered eligible if they live in the United States and are at least 18 years of age. This study was fielded in Q4 of 2021.
Related Articles