XM for Customer Frontlines

Digital

Root out friction in every digital experience, super-charge conversion rates, and optimize digital self-service

Care

Uncover insights from any interaction, deliver AI-powered agent coaching, and reduce cost to serve

Locations

Increase revenue and loyalty with real-time insights and recommendations delivered straight to teams on the ground

XM for People Teams

Engage

Know exactly how your people feel and empower managers to improve employee engagement, productivity, and retention

Lifecycle

Take action in the moments that matter most along the employee journey and drive bottom line growth

Analytics

Whatever they're are saying, wherever they're saying it, know exactly what's going on with your people

XM for Strategy & Research

Research

Get faster, richer insights with qual and quant tools that make powerful market research available to everyone

User Experience

Run concept tests, pricing studies, prototyping + more with fast, powerful studies designed by UX research experts

Brand

Track your brand performance 24/7 and act quickly to respond to opportunities and challenges in your market

XM Platform

Explore the platform powering Experience Management

Teams

For Digital

For Customer Care

For Human Resources

For Researchers

All Teams

Industries

Healthcare

Education

Financial Services

Government

All Industries

Customer Experience

Employee Experience

Employee Exit Interviews

Net Promoter Score

Voice of Customer

Customer Success Hub

Product Documentation

Training & Certification

Community

XM Institute

About Us

Careers

Partnerships

Marketplace

X4 Summit

The annual gathering of the experience leaders at the world's iconic brands building breakthrough business results, live in Salt Lake City.
Customer Experience
Certified Questions: Expert-designed, more reliable results
Certified Questions prepare organizations to be inclusive and exhaustive, without exhausting your targeted audience.
In the world of research, it has become imperative that we capture the right voices. Traditionally, identifying those voices was performed by researchers through the use of demographics questions. Fast forward to today, technology enables any user to ask questions of anyone. Without a scaled approach to standardized demographic collection, organizations run the risk of creating data silos and collecting poor-quality data. With this in mind, we have developed a library of questions leveraging expert methodologies that help organizations standardize demographic data collection. We call this "Certified Questions" and are pleased to announce that they are now available to every user of Qualtrics.

How does it work?
Our new certified demographics questions collect standardized data by using questions and answer sets pre-built by Qualtrics XM Scientists. For easy incorporation into every project, Certified Questions are accessible through the Qualtrics Library. Additionally, XM Solutions will incorporate Certified Questions where appropriate into the guided workflows.
Collected responses leveraging these Certified Questions will automatically build out the participant's profile within Qualtrics XM Directory, your single source of truth for all your experiential and relevant operational data. So as your understanding of that person grows, you're able to start building segments and benchmark data for stakeholder needs. As an added benefit, users have the ability to choose whether or not to display questions that have previously been filled out. This option will reduce survey fatigue, resulting in improved response rates.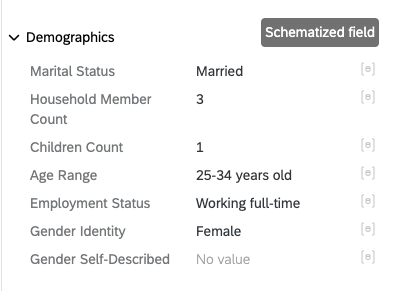 To address the global nature of an organization's reach, these questions have been translated across all XM Platform languages, creating a singular approach to building customer profiles. Leverage these questions globally, build customer profiles across the organization, and uncover how to better design and improve every user experience.
How to incorporate Certified Questions into your projects
You can access Certified Questions within the Qualtrics library. These are clearly labeled so you can have confidence in the questions you select. After a respondent has completed a Demographic Certified Question, that selection will be automatically integrated into their XM Directory profile too!

Be on the lookout!
While Certified Questions currently focus on a few demographics, this bank of questions will continue to grow, as well as include the ability to associate those questions with aggregated benchmarks. These Qualtrics-collected benchmarks will help compare your data against industry equivalents directly in the platform.
With Certified Questions, organizations are better suited to align on data collection strategies and improve each survey respondent's experience.
Start Mastering Certified Questions