Customer Experience
Certified Questions: Expert-designed, more reliable results
Certified Questions prepare organizations to be inclusive and exhaustive, without exhausting your targeted audience.
In the world of research, it has become imperative that we capture the right voices. Traditionally, identifying those voices was performed by researchers through the use of demographics questions. Fast forward to today, technology enables any user to ask questions of anyone. Without a scaled approach to standardized demographic collection, organizations run the risk of creating data silos and collecting poor-quality data. With this in mind, we have developed a library of questions leveraging expert methodologies that help organizations standardize demographic data collection. We call this "Certified Questions" and are pleased to announce that they are now available to every user of Qualtrics.

How does it work?
Our new certified demographics questions collect standardized data by using questions and answer sets pre-built by Qualtrics XM Scientists. For easy incorporation into every project, Certified Questions are accessible through the Qualtrics Library. Additionally, XM Solutions will incorporate Certified Questions where appropriate into the guided workflows.
Collected responses leveraging these Certified Questions will automatically build out the participant's profile within Qualtrics XM Directory, your single source of truth for all your experiential and relevant operational data. So as your understanding of that person grows, you're able to start building segments and benchmark data for stakeholder needs. As an added benefit, users have the ability to choose whether or not to display questions that have previously been filled out. This option will reduce survey fatigue, resulting in improved response rates.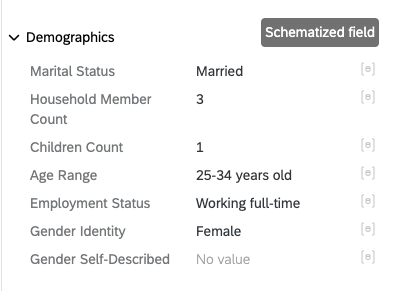 To address the global nature of an organization's reach, these questions have been translated across all XM Platform languages, creating a singular approach to building customer profiles. Leverage these questions globally, build customer profiles across the organization, and uncover how to better design and improve every user experience.
How to incorporate Certified Questions into your projects
You can access Certified Questions within the Qualtrics library. These are clearly labeled so you can have confidence in the questions you select. After a respondent has completed a Demographic Certified Question, that selection will be automatically integrated into their XM Directory profile too!

Be on the lookout!
While Certified Questions currently focus on a few demographics, this bank of questions will continue to grow, as well as include the ability to associate those questions with aggregated benchmarks. These Qualtrics-collected benchmarks will help compare your data against industry equivalents directly in the platform.
With Certified Questions, organizations are better suited to align on data collection strategies and improve each survey respondent's experience.
Start Mastering Certified Questions