Company News
Listening is more important than ever: Qualtrics is now offering its survey software for free
Over the past several weeks, our world has changed and we are all adjusting to a new normal. With the evolving situation surrounding COVID-19, organizations and governments are taking unprecedented steps and making quick decisions to ensure the health and well-being of their citizens, employees, customers, partners, and other stakeholders.
This shifting environment has made listening and staying connected to one another more important than ever.
As these rapid changes are taking place, what has become clear to us is that asking employees, customers, patients, citizens, and suppliers what they need and how they feel is a public good. That's why, effective immediately, Qualtrics will provide free basic access to our survey engine for everyone, indefinitely. These new solutions are now available for free with Qualtrics Surveys.
Sign up for a free Qualtrics Surveys account now.
What is Qualtrics Surveys?
With Qualtrics Surveys organizations can gather important data and listen to others by using a flexible and trusted survey software. This survey tool has been used by millions of users for almost 20 years, and now we are making it available for anyone to use at no cost to help with collecting feedback and listening to the concerns, emotions, and experiences of others.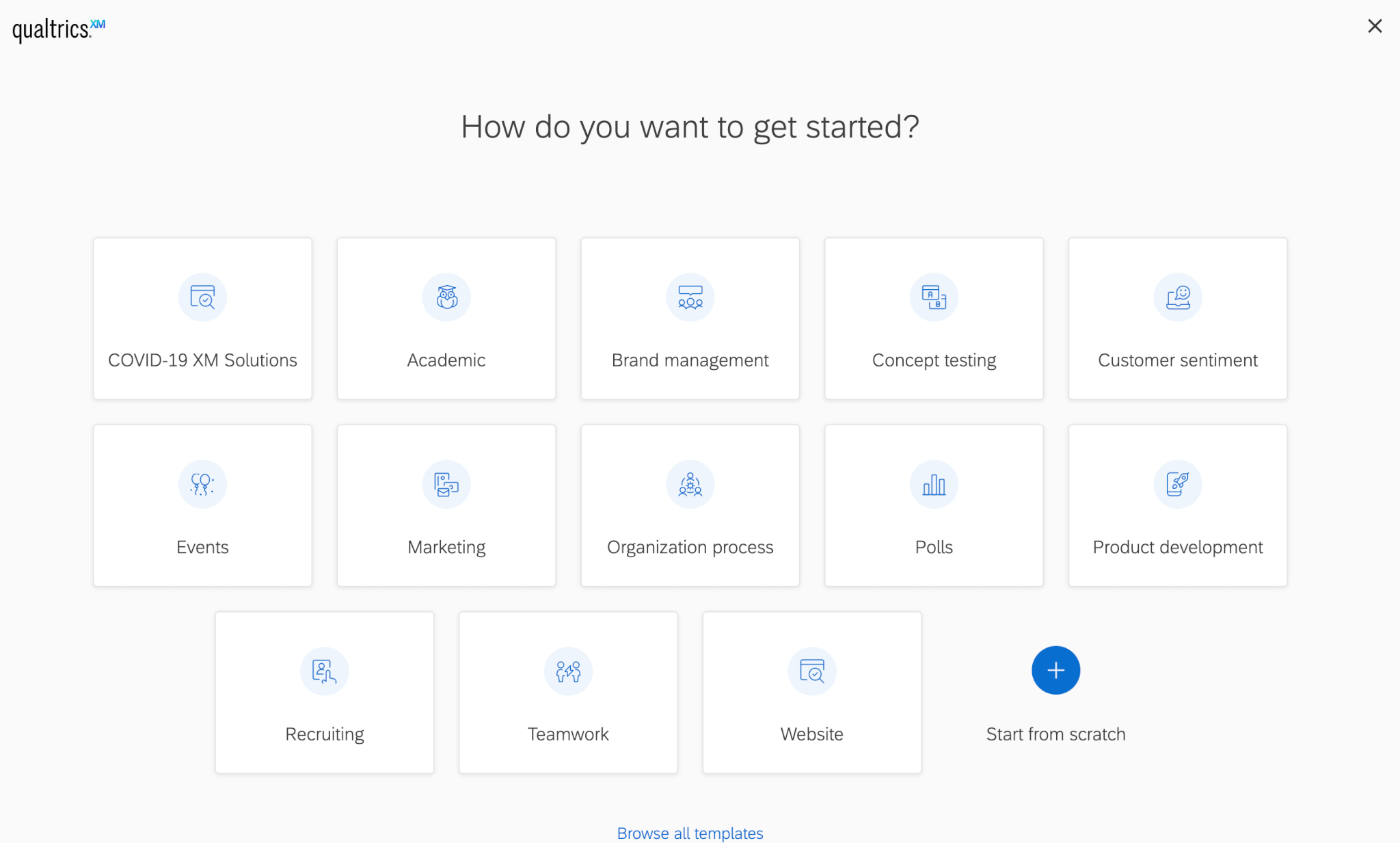 Qualtrics Surveys makes the listening process easy by allowing users to start gathering feedback from scratch or choose from more than 50 pre-designed survey templates. The survey tool also supports multiple question types and distribution channels, and comes with ExpertReview - a smart research assistant that uses AI to detect and improve survey design and methodology errors, in real-time. This resource can be used by any professional, in any role, be it academic, PR, marketing, product, HR, IT, operations, or many others.
With the availability of Qualtrics Surveys, our limited free account offering will be suspended and all existing free account users will be automatically migrated to Qualtrics Surveys.
COVID-19 Solutions available in Qualtrics Surveys
Included with Qualtrics Surveys is a series of XM solutions, tailor-made for organizations to help them continue to move forward during COVID-19. Qualtrics will continue to release free solutions to help organizations cope with the effects of the virus.
For all organizations- To support the global shift to remote work, Qualtrics Surveys includes the Remote Work Pulse solution for businesses and academic institutions. This solution allows organizations to reach out to their employees and get fast insights on workforce well-being, collaboration, employee readiness to work remotely, and actions the organization should take to improve communication.
For local, state, and federal governments - Qualtrics Surveys includes the Public Health: COVID-19 Pre-Screen & Routing. This is an online, guided COVID-19 pre-screen questionnaire that helps officials quickly direct citizens to the right public information and resources, and most importantly helps identify individuals who may require testing for COVID-19 based on CDC guidelines.
We all have a role to play in keeping ourselves, our loved ones, and communities safe. Listening and collaboration are key to supporting each other and creating positive experiences.
Start Using Qualtrics Surveys for Free