XM for Customer Frontlines

Digital

Root out friction in every digital experience, super-charge conversion rates, and optimize digital self-service

Care

Uncover insights from any interaction, deliver AI-powered agent coaching, and reduce cost to serve

Locations

Increase revenue and loyalty with real-time insights and recommendations delivered straight to teams on the ground

XM for People Teams

Engage

Know exactly how your people feel and empower managers to improve employee engagement, productivity, and retention

Lifecycle

Take action in the moments that matter most along the employee journey and drive bottom line growth

Analytics

Whatever they're are saying, wherever they're saying it, know exactly what's going on with your people

XM for Strategy & Research

Research

Get faster, richer insights with qual and quant tools that make powerful market research available to everyone

User Experience

Run concept tests, pricing studies, prototyping + more with fast, powerful studies designed by UX research experts

Brand

Track your brand performance 24/7 and act quickly to respond to opportunities and challenges in your market

XM Platform

Explore the platform powering Experience Management

Teams

For Digital

For Customer Care

For Human Resources

For Researchers

All Teams

Industries

Healthcare

Education

Financial Services

Government

All Industries

Customer Experience

Employee Experience

Employee Exit Interviews

Net Promoter Score

Voice of Customer

Customer Success Hub

Product Documentation

Training & Certification

Community

XM Institute

About Us

Careers

Partnerships

Marketplace

X4 Summit

The annual gathering of the experience leaders at the world's iconic brands building breakthrough business results, live in Salt Lake City.
Why Qualtrics
'Why Qualtrics' – Jennifer L., Account Executive, Dublin
Qualtrics is 5 years old in Europe this year! To celebrate, we'll be showcasing some of the Qualtrics people who have made Qualtrics EMEA what it is today with stories from those who've experienced #QualtricsLife at different stages of our growth in EMEA.
I do what I do because I love it! I did Psychology as my undergrad and I'm working on a masters in Work and Organisational Psychology so working in the Employee Experience space is where I want to be. I'm a focused person and I want a successful career — I knew that Qualtrics was a great stepping stone for that. I've had opportunities here that I wouldn't have even thought of two years ago. Living and working in Dublin was always a goal for me and while I moved over independent of Qualtrics, working here has definitely been a contributing factor to why I have stayed for 4+ years and will most likely stay for many more!
What made you want to get into Sales?
I've always liked working with people and problem solving, so solution sales seemed like a great fit for that! When I first started in sales as a Business Development Rep I wanted to see what sales was all about and I had done quite well sales in my previous role so I wanted to grow and develop those skills. Because the Qualtrics product was so strong and all businesses can use it I was really excited to learn the in's and out's of sales in tech environment. Being on the Employee Experience team really boosted my interest in sales as well because I enjoy understanding the pains companies have around their employee programmes and how they could be solved using our solution.
What attracted you to Qualtrics in the first place?
I was in the unique situation in that I grew up in the States and had used Qualtrics in University. While I did not come to Ireland with Qualtrics I knew it was a huge company in the States that was getting a lot of press around the exciting things that were happening in the company. When I interviewed at Qualtrics it was definitely the people that sealed the deal. It was clear that the opportunity to join a scrappy company with big ambitions was huge, but once I was in the office and met the team I knew it was the type of place where I would enjoy coming to work. From there I just continued to be impressed by the product roadmap, the vision for the future and the charisma of all the employees.
What was the turning point where you 'had to have the job'?
For me, it was once I got past the initial recruitment interview. When I got to meet more people/ see the office and understand the opportunities available I knew it was something I wanted to be part of. Its location in Dublin city centre wasn't half bad either!
What does your day look like?
My day to day differs quite often which is what I really enjoy about the role. Typically I have multiple customer calls a day so in the morning I'm usually doing research around those companies and taking what I know about them already to see what type of Qualtrics product will be most suitable for them. I'm on the Employee Experience team at Qualtrics so I also spend the first part of my day looking at articles/content around what's going on in the space so I can talk about best practice with customers. Between customer calls, I'm usually working on proposals and prospecting into my accounts. I spend a lot of time in our EX product making sure I'm up to date with all the changes (we have product updates every 2 weeks). We have a great tech support team, but it's always helpful when you can handle the basic product overviews yourself. Outside of that, there are a lot of trainings and meetings at Qualtrics like TGIT and content updates that are pretty exciting. No one day in Qualtrics is the same so it keeps you on your toes and keeps you scrappy.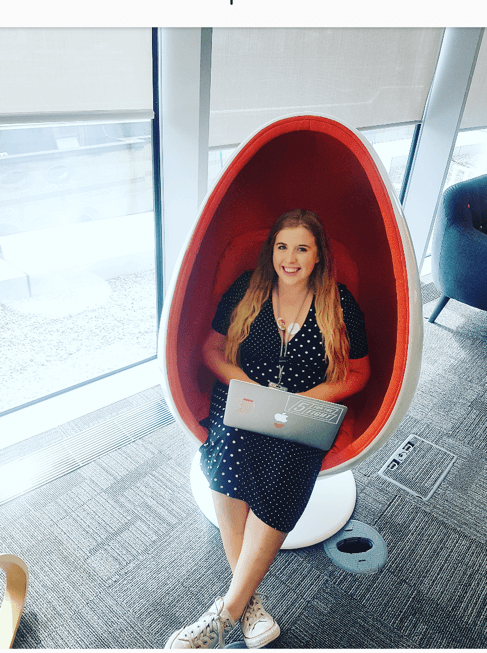 What is your favorite part of your role?
I love the Employee Experience field so I'm really excited to be a part of that as my day to day role. I'm currently working on my MsC in work and organizational Psychology so it's exciting that I get to apply that in day-to-day conversations. Having conversations with customers where you can show them how to combine best practice from a methodology perspective with the best product on the market is always a fun thing to do!
You are not originally from Dublin, can you tell us your story of moving here, etc?
I'm from Ireland originally, but I grew up in the States (between Atlanta and Salt Lake City). I had thought about coming to Dublin for my undergraduate degree, but when I got a more financially feasible offer in Utah I decided to stay to do my degree and take some time in Ireland after I graduated. I moved over in 2014 and began working for a startup in the travel sector. There were only 12 in the company so I did everything from outbound sales, customer care and reservations to marketing and even some finance. It was a great opportunity first thing out of college, but after two years there – I knew I wanted to move to a company where career progression was more readily available and where I'd be constantly challenged in areas that are new and exciting.
Any tips for someone who is considering an opportunity at Qualtrics?
Do your research! Qualtrics is a fast-growing company and things change rapidly so make sure your up to date with where we are so far. Also, be sure that the type of role is something you really want and are passionate about. One of our biggest points of pride at Qualtrics is our culture so we want to make sure that the people who work here are as excited about the opportunity as we are. Working at Qualtrics is a challenge as we are still in "big startup mode" so it's important that you're in a role that you enjoy and that you'll want to go the extra mile. It's important to be OK with working outside your comfort zone if you're considering a role at Q.
What surprised you most about working at Qualtrics?
I think looking back over the past two years it's been the massive amount of change that the company has been through. When I first started people would always tell me how quickly things would change, but in my time we've gone from being the "insights" platform to the XM platform and have launched an entirely new category. There have been countless product updates/improvements and even more change to the way we sell and promote Qualtrics in the market. It's been a whirlwind - me two years ago wouldn't even recognize the company now! It's been challenging, but very fun as well.
| | |
| --- | --- |
| | Jennifer Lee is an Account Executive for Employee Experience in Qualtrics's Dublin, Ireland office. She holds a Bachelors of Science in Psychology & Economics from the University of Utah, and is currently working towards a Masters of Science in Work and Organisational Psychology from Dublin City University. |
Related Articles