Why Qualtrics
Why Qualtrics – Suzanne Scharer – Principal Customer Success Consultant – Provo, UT
I've been given so many unique opportunities & so much support (both personally & professionally) that I live life by paying it forward. While I will always leverage my mentors, I'm at a great point in my life where I can support others on their way up. Qualtrics is a truly unique place that supports me & gives me the freedom to support others inside & outside of our community.
What attracted you to Qualtrics in the first place, and specifically made you want to join after you'd completed your MBA?
My Fuqua classmate contacted me to catch up & talk about opportunities at Qualtrics. The environment here is 100% #teamfuqua & I could tell that right away. I knew some about the product (I used their survey tools in grad school), but I had never worked in tech before. My classmate assured me that this is a place where I could thrive.
The culture at Qualtrics is very similar to #teamfuqua. We are supportive, collaborative, & transparent. We are truly #oneteam - we win & lose together. We also have a growing network of Blue Devils which is a great plus.
What was the turning point where you 'had to have the job'?
After visiting the campus in Utah (I had only been to Utah once before to ski in Park City), I was blown away by the culture. This company actually lives its culture. I could see it throughout my visit with my interviewers, the office tour, and the vibe I felt being on site. I made a connection with those I met in person and I "felt" like this was the place for me.
What does your day look like?
My "typical" day is often 25% client-facing, 50% internal work for my clients, & 25% internal work to grow my Qualtrics knowledge. I use phone/video calls with my client to stay in touch. I use Slack/video calls with my colleagues. Qualtrics is very collaborative, so I spend a lot of time in-person with my colleagues problem-solving. Qualtrics provides lunch, snacks, and drinks (I live for Diet Coke) which makes my life so much easier. I eat lunch with a co-worker 3-4 times a week.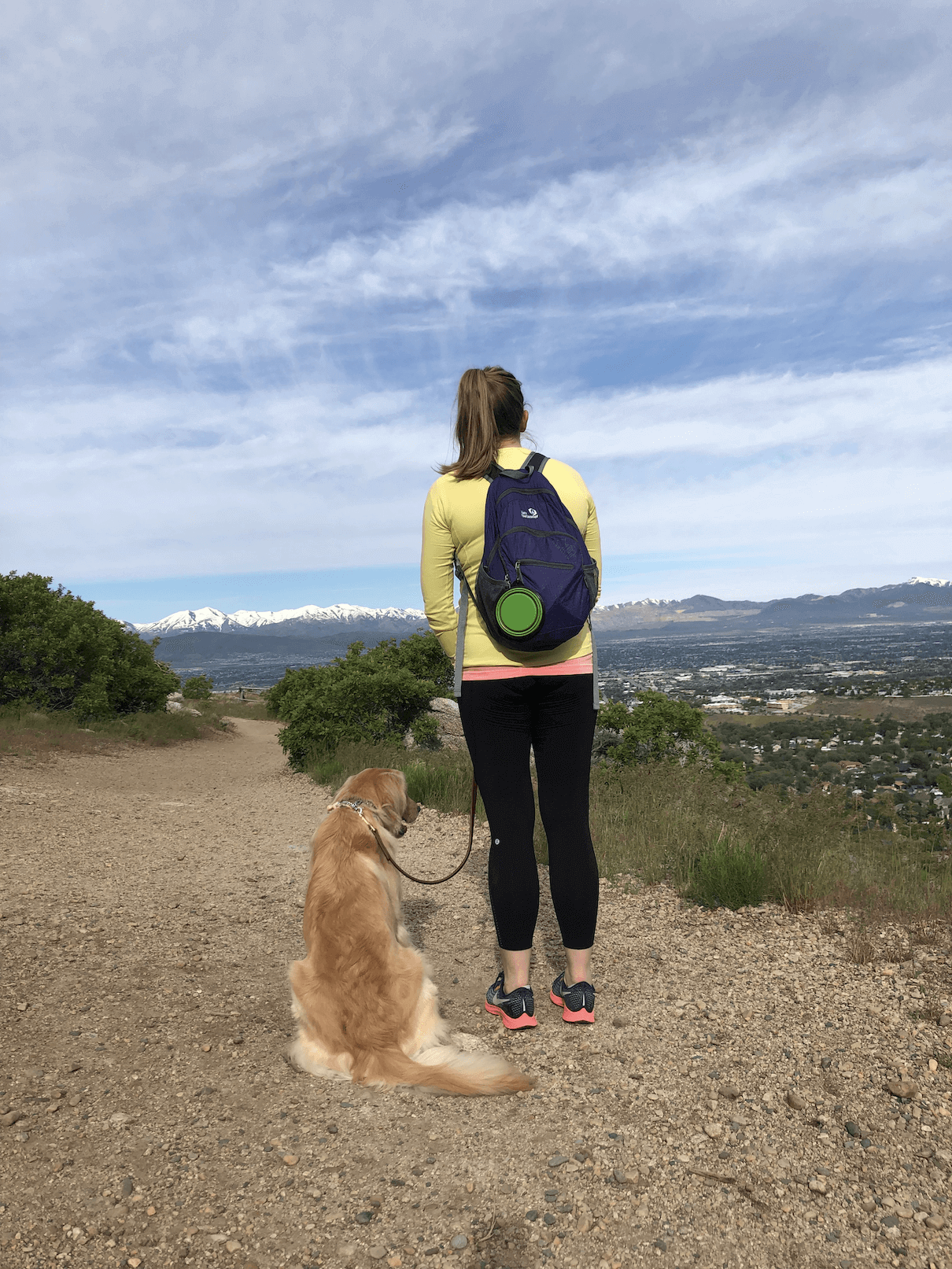 What is your favorite part of your role?
Having a large, strategic customer allows for significant exposure upward with Qualtrics leadership. When I share success stories upward, not only do our leaders read the email (or text), but they respond! This may sound novel, but I haven't had this at past companies.
So you left Chicago for Utah? Tell us about it!
Utah - is - beautiful. I've spent my entire professional career in Chicago & I love the city. There was just something about Utah that sucked me in. I love the outdoor lifestyle & I was ready for a change. I'm so happy I moved to Utah (I live in Salt Lake City with my husband, David, & golden retriever, Maisy). As Qualtrics continues to grow, I know I'll have opportunities to work in different cities across the globe. For now, Utah feels like home.
Any tips for someone who is considering a role at Qualtrics?
Talk to as many people as you need to assess our culture & make sure you can thrive here. We live by TACOS and at first, it felt different. For example, T = transparency and we truly are transparent. When I first got here, it was really weird that you could see every employee's full calendar. Now I love it because we're all open (yes, you can see the days I ride my Peloton before work & when I go to the dentist) and it makes scheduling meetings & connecting so much easier.
What surprised you most about working at Qualtrics?
Qualtrics leverages technology in really smart ways and it makes my life easier. As a former Outlook user, it's now considerably easier to collaborate with the Google suite. Our office is "very smart" and hosting video meetings is super easy. Also, I like using Slack and I find that it's more productive and I can send fewer emails using it.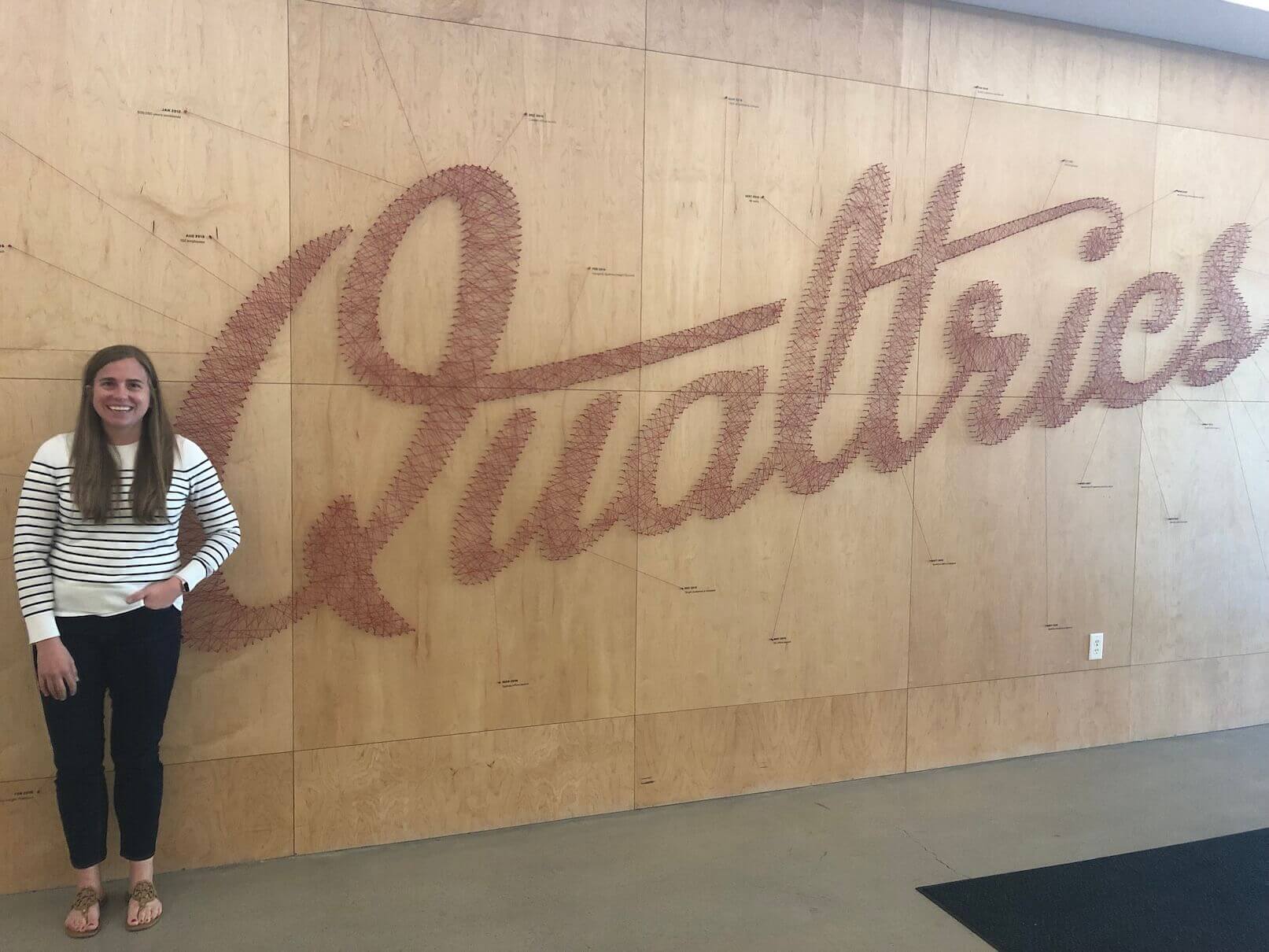 What made you want to get into customer success consulting?
I'm in Customer Success and it's a natural extension of my consulting background. I've had client-facing roles for nearly my entire career, so this transition made sense. Having my MBA also supports my success in this function. We're problem solvers first & my experience at Duke has helped me work together with my colleagues to support my clients.
What are your aspirations in career/life?
I'd like to live a long (ish), healthy life. I work out regularly so I can stay active as long as possible. I'd also love to be a member of a board of trustees for a large University someday.
What is your top #LifeHack?
I love using "Find my Friends" on my iPhone. Living in Mountain time makes it more challenging to stay connected with my family in the Midwest / East Coast. I can see if they're at home before calling them. Also, when I had a puppy, I could see when my husband was getting off the train so I could take her outside & make sure she didn't get "too excited" (i.e. pee all over the floor) when he got home.
How have you become involved in community at Qualtrics?
I'm part of the women's affinity group (WLD) & I'm very involved with Fuqua recruiting. Unofficially, I read every email welcoming new hires scoping for recent Chicago transplants, OSU alumni, & Duke alumni so I can make a new connection.
What's the name of the school you earned your MBA at?
Duke University Fuqua School of Business
How did your time there prepare you to be successful in your career?
I loved my time at Fuqua - both inside & outside of the classroom. The network has proven very successful: the reason I'm at Qualtrics is because of a Duke classmate (we met originally when I was his section leader at Orientation.) I'm so grateful for my 2-year experience at Fuqua because it helped me switch careers (Sales & Trading to Consulting) then led me to Customer Success in Tech where I've found an incredible team & company.
Qualtrics is growing, and if you're ready to find your "why" at a place like this, you can explore our open opportunities at any time by visiting our career page. Looking to discover more reasons "Why Qualtrics"? You can find the whole series here.
Want to chat? You can get in touch by checking out Qualtrics Life on Twitter, Facebook, and Instagram.
| | |
| --- | --- |
| | Suzanne is an alumnus of the Ohio State University and the Duke University Fuqua School of Business. She started her career at BP. Suzanne met her husband on Bumble and she has donated her hair 3 times to an organization that makes wigs for kids surviving cancer. |
Related Articles