Customer Experience
2021 XMI Customer Ratings benchmarks now available
Close competitive gaps faster with our XMI Customer Ratings benchmarks. Here's what to expect.
With barriers to entry for businesses and customer switching costs at an all-time low, you need to be able to identify and close customer experience competitive gaps faster than ever. That's where Qualtrics XM Institute™ customer ratings help.
Qualtrics XM Institute's customer ratings provide a cross-industry, open-standard benchmark of customer experience. Measuring the performance of over 366 organizations across 23 industries in the US, it's a powerful tool to help you assess how you stack up against the competition.
The 2021 XMI Customer Ratings exist in two forms: Overall and Consumer NPS®. The overall ratings are a composite metric of customer experience  based on consumers' ratings of three elements of their recent experiences with companies: success, effort, and emotion, while the consumer NPS ratings measure the Net Promoter Score first championed by Bain et al. This is the third year the ratings are being published by the XM Institute.
Standout findings for XMI customer rating benchmarks
Qualtrics CX customers get access to the full reports.  Contact your Customer Success Manager if you have any questions on how to, but in the meantime here are some key findings.
Overall NPS bounced halfway back. After the average NPS dropped by 61% in 2020, it increased by 69% from 2020 to 2021. The 2021 average NPS of 20.3 is 67% of the 2019 levels.
Younger consumers have the most variability. Adults who are younger than 35 had the largest drop in NPS between 2019 and 2020, 30.9 points. They also had the largest increase in 2020, 10.8 points. However, their NPS remains 85% below the 2019 level.
Older consumers have limited variability. NPS among consumers who are at least 55-years-old didn't go through much of a change, only dropping 6.7 points between 2019 and 2020. In 2021, their NPS almost reached their 2019 level.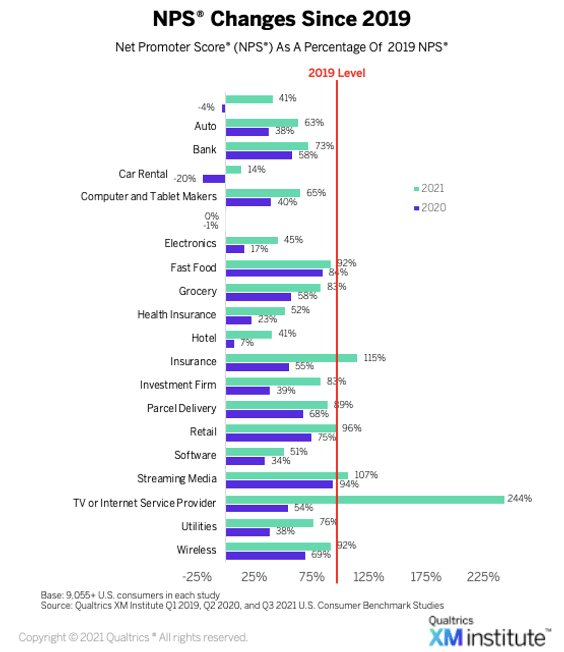 How the get access to benchmarks in the Qualtrics platform 
If you are new to benchmarks, you can use the Benchmark Editor to quickly upload the benchmark data you'd like to display in your dashboard. This could be your own benchmark data or XM Institute data. Simply go to the settings of your dashboard, select the benchmark editor, and click "add benchmark" then follow the workflow.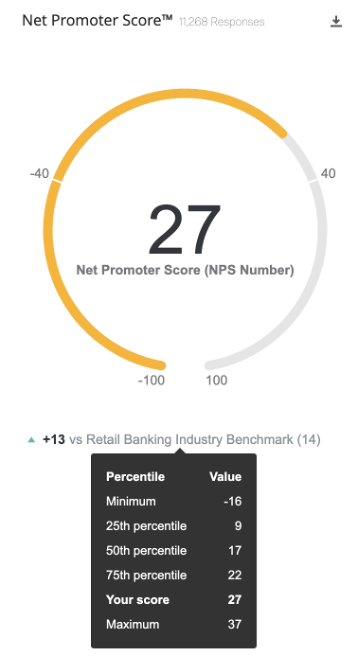 For those that already display the XMI Customer Ratings -Consumer NPS or XMI Customer Ratings - Overall, you can quickly update them with the new 2021 data by going to the benchmark editor, clicking on "View updates", reviewing the changes, and then confirming them.
Finally, remember you have on-demand access to a full downloadable version of the report within the Benchmarks editor so you can dig deeper.
If you need support updating your 2020 benchmark data, you can review this support page or contact your Customer Success Manager to help guide you through the process.
Related Articles