Employee Experience
X4 2023: See the new HR innovations helping organizations to win on employee experience
X4 2023 saw more than 8,000 XM leaders come together to experience 3 days of inspirational keynotes, more than 80 stories from the world's biggest brands, and no fewer than 20 new innovations on the XM platform. Here, we dive deeper into the solutions announced for Employee Experience, and how they can help make business more human.
Check out the latest innovations launched at X4 2023 for customer research, employee experience, marketing, and insights teams.
Want to see more? See what's new in Customer Experience, Brand and Research & Insights at X4.
The New Products & Solutions Making Employee Experiences More Human
The pace of change over the past three years has been immense. From return-to-office and digital work to employee well-being and inclusion, we've all had to grapple with a plethora of challenges. 
As we've navigated this new world of work, we've all come to realize a simple but salient fact: to be successful, people must be at the heart of everything we do.
While it sounds simple — truly putting people at the center of the work experience is hard. Why? Because it requires an intricate and deep understanding of what people need at EVERY MOMENT of their experience. 
For almost a decade, Qualtrics has created and brought to market Employee Experience (EX) solutions that are unmatched.
Today, we're proud to announce a single integrated suite of purpose-built solutions that will help you and your people teams make the right decisions for your workforce and business. 
We call it XM for People Teams. It ensures you can:
Build diverse and high performing teams

Improve frontline manager and individual effectiveness

Make informed and timely people and business decisions across the entire EX continuum
Collectively, the innovations within this suite are designed to address the THREE most critical challenges that organizations of all sizes are facing today.
Challenge 1: Supporting overwhelmed managers
As the people closest to our employees on the frontline, managers play an incredibly important role in improving key drivers that influence both employee experiences and business outcomes.
Yet many managers lack the necessary training and support required to effectively lead their teams in today's dynamic work environment while maximizing performance.
With Manager Assist, they have the insights and recommended actions they need to lead their teams and grow as a manager. 
Manager Assist is a powerful, all-in-one employee experience hub built for managers.  It tells a clear story of how a manager's team is doing — including what's going well, and  where the opportunities are to improve.
Simple dashboards with visuals help managers ZOOM in on critical EX  metrics, such as engagement, inclusion, intent-to-stay and well-being.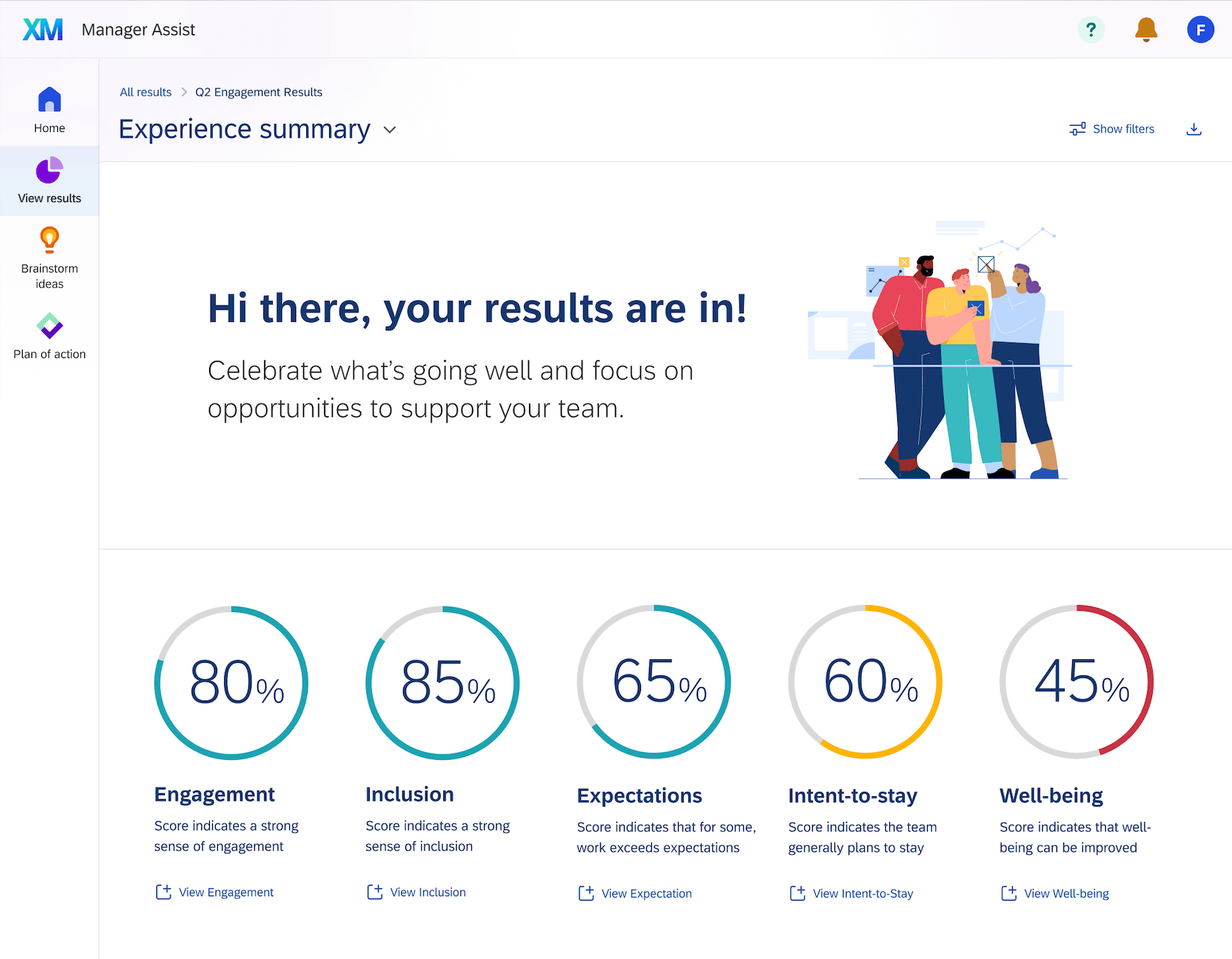 By knowing where to focus, managers can immediately start to take the best actions that will have the biggest impact on their team's experience to ensure better outcomes.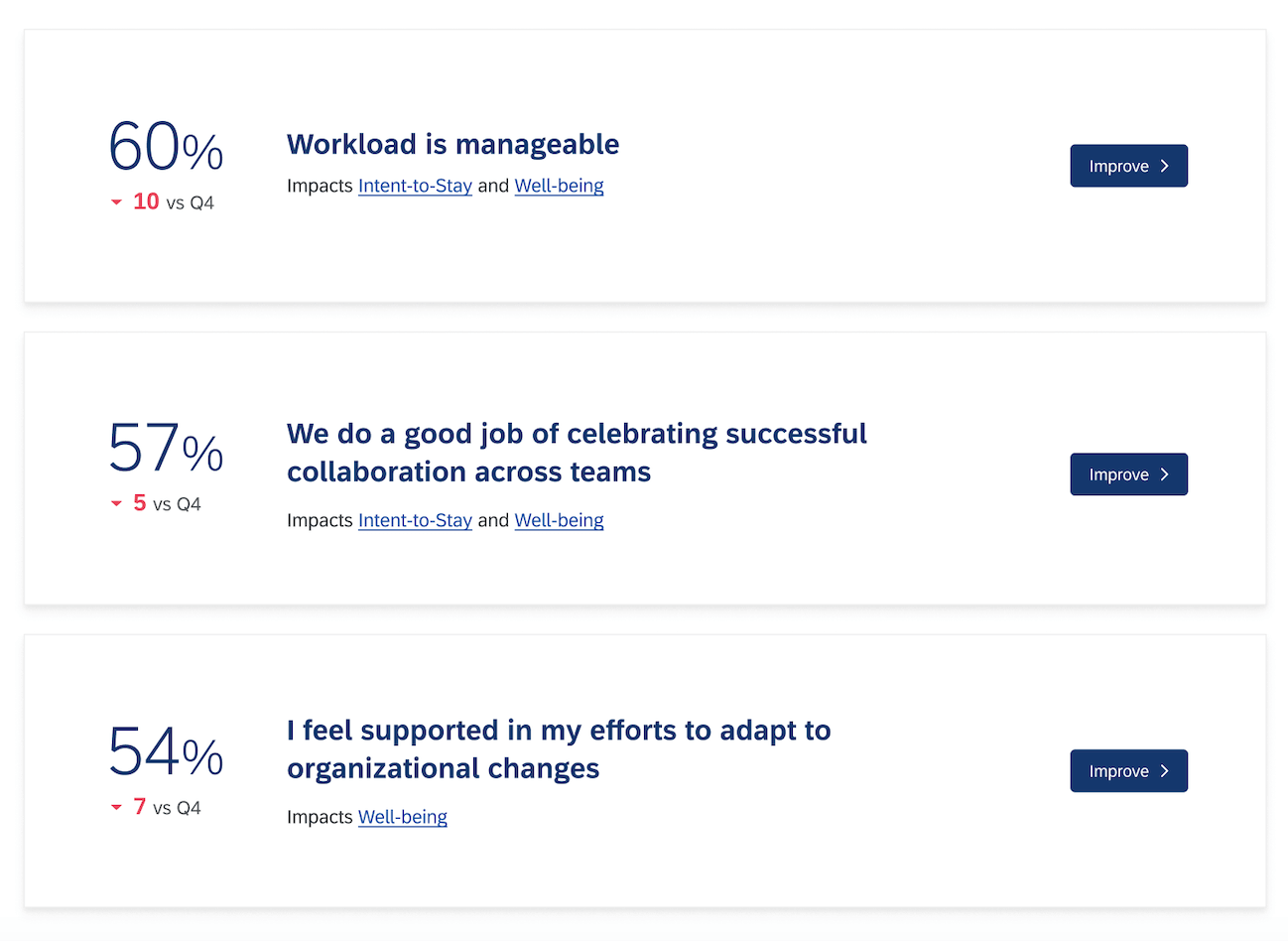 Because Qualtrics has the largest employee experience database on the planet, we have thousands of benchmarks that managers can use to compare their scores against.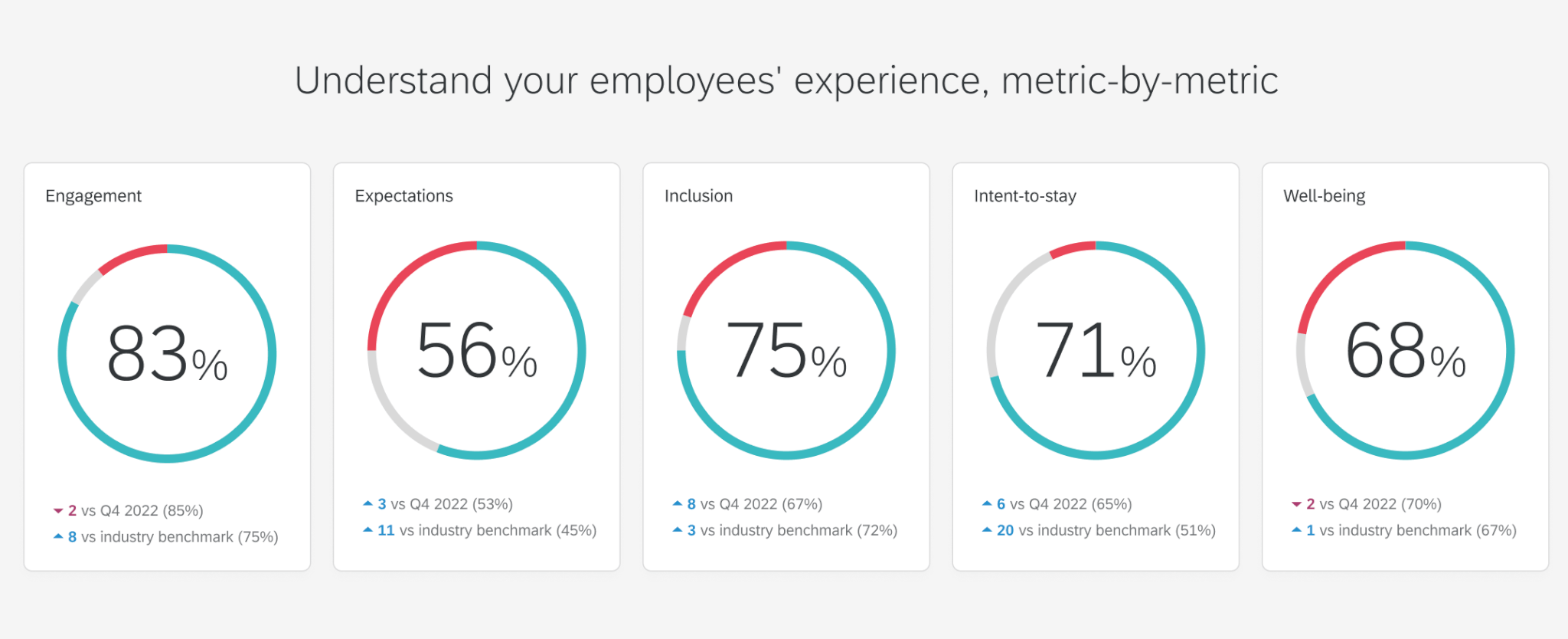 Once managers have the insights and benchmarks they need, they can work closely with their teams to brainstorm what they can do next to increase engagement, well-being, inclusion, intent to stay and other key metrics. 
Challenge 2: Understanding every aspect of employee experience without more surveys
As work continues to twist and turn, it's never been more important to have a real time pulse on employees' experiences. Using annual, quarterly or ad hoc surveys only provides a single point in time understanding of an employee's overall experience. You're simply NOT getting a complete picture of how they're doing, moment-to-moment.
The good news is employees are sharing their experiences across more channels than ever before. Whether it is on Slack, Teams, Zoom, or social sites like Glassdoor — the emotions, comments, thoughts and feelings that employees share help leaders and people managers understand what our people really care about. 
With the volume of feedback organizations receive — literally millions of different data points — there's been no easy way to listen to and QUICKLY uncover insights in-the-moment… until now, with EmployeeXM Discover. 
EmployeeXM Discover is the world's most powerful continuous listening solution that enables leaders and managers to uncover people issues in real time, at scale. 
Leaders can dive deep below the surface of experiences and sentiment to uncover how people feel and what really matters, without even asking - all in real time.   
Continuous listening is no longer optional. It is critical to getting  a deeper and more real time understanding of employees' experiences, allowing managers to deeply understand their teams and take the right actions immediately.
Today, we unveiled Weekly Trends.  
Weekly Trends will be a new app integrated directly into Manager Assist.
It will use machine learning to continuously collect, organize and analyze behavioral and experiential signals from Slack conversations and Google Calendar to help your managers know how their teams are doing in real time. 
Managers  will instantly see the well-being of their team. They will know  if their team is doing well or if they are feeling stress  or burnout.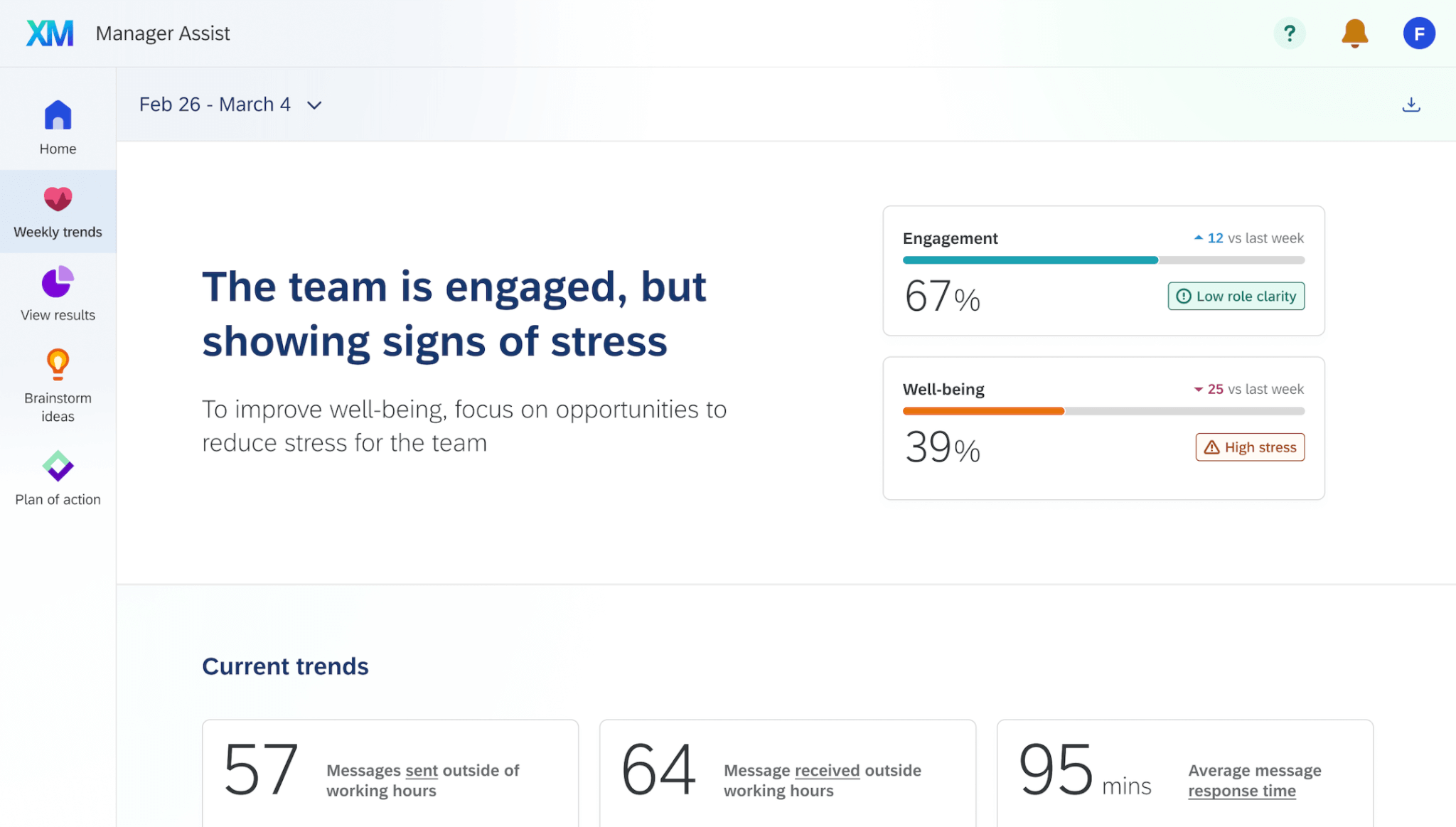 From there, they will be able to drill down to understand what is causing their team to feel the way they do.  They can see that their team is spending too much time doing work after hours and taking longer to respond to messages. 
Plus, with Weekly Trends, managers will learn exactly what to do to deliver better team experiences. Helpful recommendations highlight steps managers can take immediately to accelerate wellbeing and performance.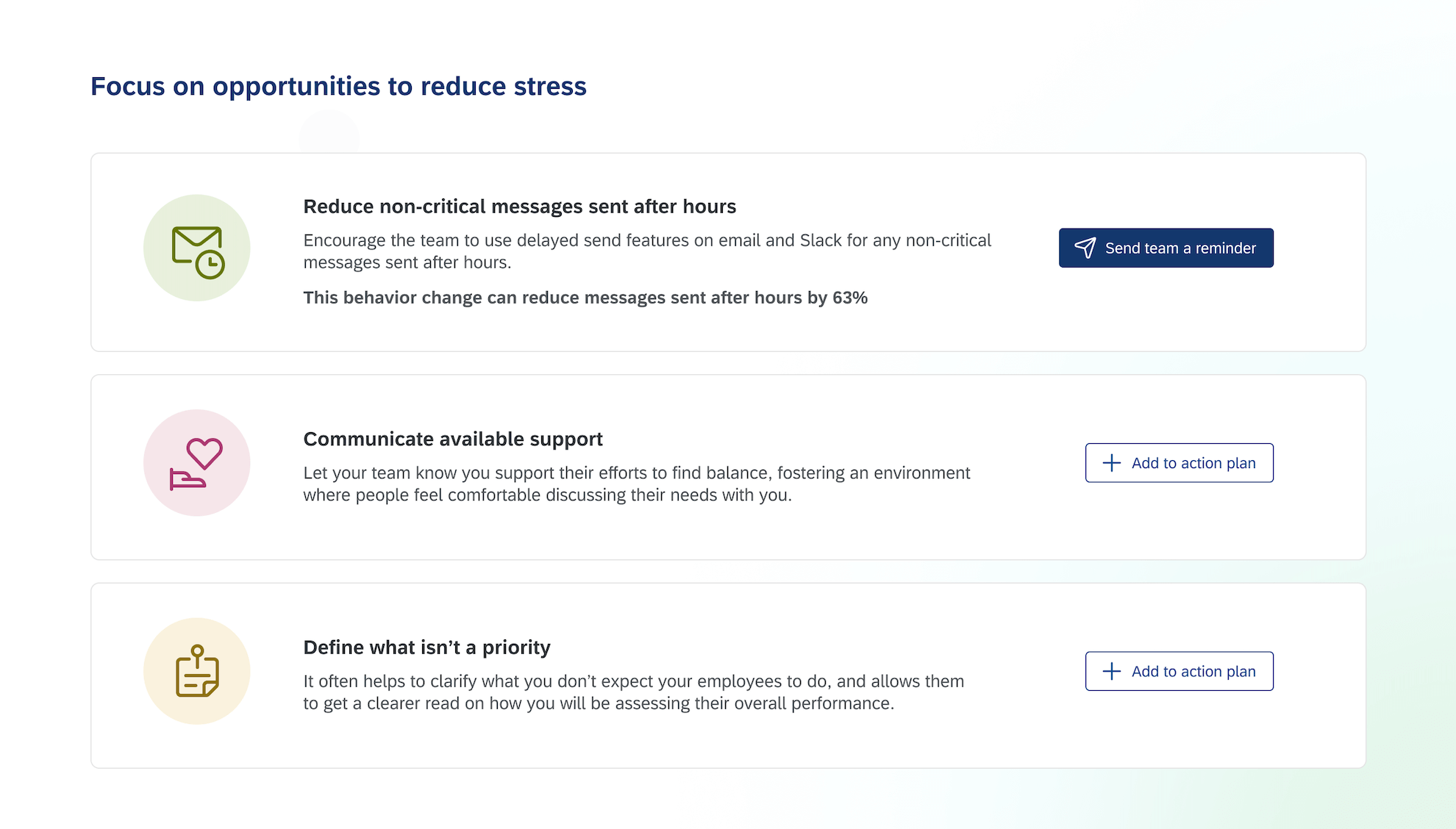 With Manager Assist, managers no longer need to wait until the next pulse to take action to improve experiences - they can get these powerful insights in real time, without even asking.
Challenge 3: Proactively proving employee experience impact to the business
Every leader intuitively knows that customer and employee experiences are connected. 
We know that interactions with employees can make or break customer experiences — but the challenge is quantifying that intuitive knowledge.
So how do HR leaders and other executives know which employee experiences lead to things like increased customer satisfaction, larger purchase sizes, and brand advocacy?
Now, they can find out.
At X4, we showcased CrossXM. 
CrossXM connects ALL your experience data, from your employee experience results to your customer experience scores, to show you which workforce initiatives lead to specific customer outcomes.
In less time and fewer resources, HR leaders can partner with customer experience leaders, to quickly identify which employee experience metrics, such as inclusion, manager effectiveness and training, lead to impactful business outcomes. 
The best part? All of this information is shown inside Qualtrics, so there's no need to leave! 
The Future of Employee Experience Management
At X4, we announced HR Intelligence — our vision for the future of employee experience management.   The Qualtrics HR Intelligence vision will  transform employee experience in new and significant ways.    
The pace of change has been accelerated over the last few years. Organizations can no longer just rely on traditional surveys to understand their employees.  
The future of employee experience is continuously listening across multiple dimensions of signal:  behavioral data from email, corporate chat and calendaring, operational insights from HRIS systems and experiential data from Qualtrics.
By automatically unifying these disparate signals, HR leaders and managers will have a much deeper and holistic understanding of their workforce and teams — in real time.  
HR leaders and managers will be able to access on-demand insights that are multi-dimensional,  available 24/7, and continuously updated to deeply understand and address critical workforce issues as they happen — not weeks or months later when it may be too late. 
With HR Intelligence imagine the possibilities.
Retail organizations will be able to combine behavioral signals from their  calendar system with experiential signals from engagement pulses, to learn that creating consistent shift schedules increases both employee well-being and customer lifetime value.
Healthcare organizations can know that improving manager effectiveness can decrease ER nurse callouts which can reduce average hospital stay - a critical healthcare KPI.
This new future of EX, led by Qualtrics will empower organizations and people managers to make workforce decisions that inspire their people and accelerate their business. 
It's time to make business more human.
Want to dive deeper into the innovations from X4 2023?