Experience Management
Supporting Ukraine Relief Efforts
Like so many of you, I've spent the past week horrified by the war and deepening humanitarian crisis in Ukraine. I've been heartened by the displays of care and support from our amazing team around the world, who have given refuge in Poland to friends and family from Ukraine, donated money to on-the-ground aid organizations and brainstormed ways that Qualtrics products can help. 
At its core, Qualtrics technology helps organizations build deeper connections with the people who matter most, by enabling them to listen, understand and act. As we watched news coverage of more than a million refugees fleeing their homes, we saw an opportunity to help aid organizations on the ground. 
Over one million people have fled Ukraine to surrounding countries and are severely in need of basic essentials. Qualtrics is providing technology that enables nonprofit and regional government organizations to act faster by helping them understand and coordinate the most pressing needs of refugees and route accommodations, essential supplies and volunteer support. We're helping those on site tune into the greatest needs of the people they serve and act swiftly on the ground. 
Quickly connecting people with the right resources and support
A QR code-based solution–available in Ukrainian, Russian, Lithuanian and English–allows nonprofits and regional governments to quickly collect individual and family support needs and route them to the right support channels and local relief coordinators. The QR code can be distributed across refugee registration centers, relief coordinators, local media and other channels. People can ask for needed supplies, resources or support–anything from food and medication to family reunification and financial aid. They can also work with relief coordinators on the ground to submit their information through Qualtrics.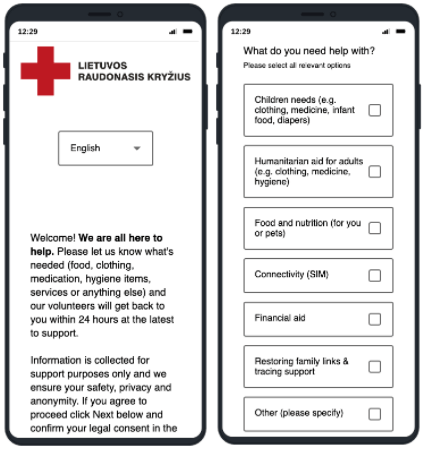 Sample questions for refugees
Once submitted, tickets are automatically routed to the right organizations who can help meet an individual's needs, based on the information shared, and for local coordinators to connect directly with those in need and help provide them with essential resources. For example, food and nutrition needs are routed to a local food bank, and children's needs are routed to Save the Children. Or if someone is searching for missing family members, they can be connected with the right teams organizing these efforts. Centralizing this information helps organizations know where to prioritize their efforts and creates ownership to ensure needs are met. 
Non-profit leaders can also access dashboards to visualize patterns in requests to make more informed decisions on where to expand investments, reallocate resources and identify unmet needs. This way organizations can also scale their relief efforts to help the most people possible.
Refugee feedback dashboard and ticket mockup
To make the most impact possible, the solution also allows non-profit leaders to understand how their volunteers are doing and what the situation looks like on the ground from individual perspectives, as well as ask for feedback on improvements.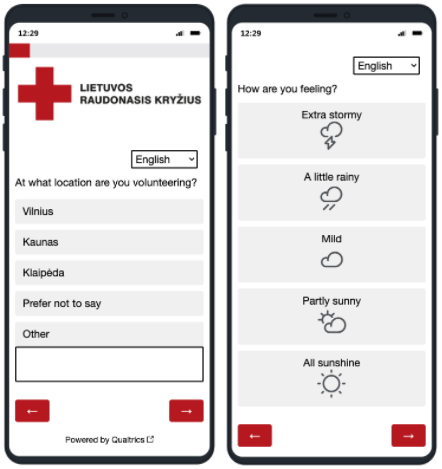 Sample questions for volunteers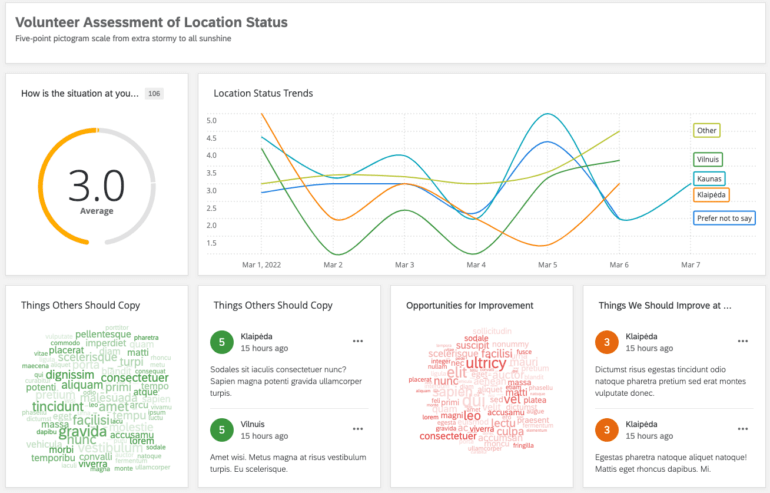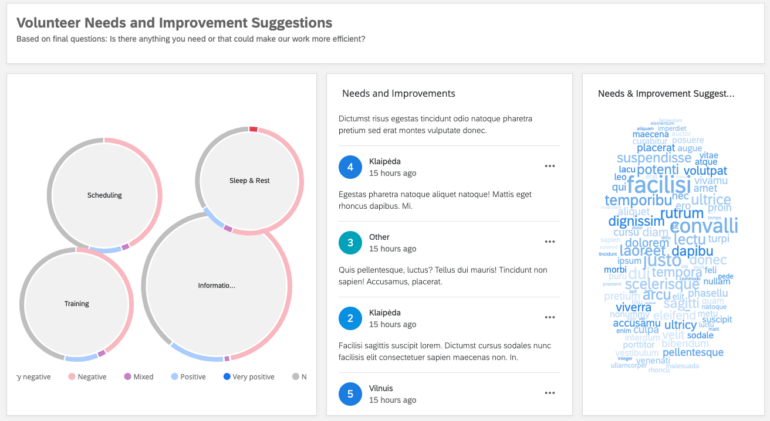 Volunteer feedback dashboard mockup
As we learn from our work with the Lithuanian Red Cross, we are expanding our efforts to work with other nonprofits and regional governments on the frontlines. We hope other companies will join us contributing their technology and resources to help the people of Ukraine. 
Qualtrics is also matching employee donations to three nonprofits supporting Ukraine: International Rescue Committee, Save the Children and ​​Polska Akcja Humanitarna, a Polish relief organization. We hope you'll join us in supporting relief efforts, however you can.
Related Articles