Market Research
Complete your listening system with WhatsApp distribution
The best listening systems are those that meet their customers where they are. It prompts greater engagement and real-time insights, which is why with Qualtrics you can now use WhatsApp as a primary feedback distribution channel.
With over 2 billion users around the world, WhatsApp is a mobile messaging platform that has become an integral part of day-to-day life. Initially positioned as an alternative to SMS, it is now making the traditional form of communication obsolete. So much so, that there are now only 25 countries where WhatsApp is not the market leader. The benefits are clear: you can access WhatsApp through wifi, send unlimited messages and unlike SMS, it's free - wherever you are in the world. For consumers, WhatsApp has completely revolutionized how we communicate.
And it will be the same for businesses too.
If you're a business looking to collect real-time feedback from customers, then WhatsApp - where billions of conversations are already happening all the time, is the obvious candidate. With instant day-to-day access to customers through the WhatsApp mobile app and web/desktop versions, businesses can easily adopt it as a primary distribution channel for feedback.
Facebook Messenger integration capability already exists for Qualtrics customers, and by enabling the same for WhatsApp it allows businesses to take another step towards building the "ultimate listening engine". Businesses will be able to capture real-time feedback from the very channel where customer conversations are already taking place.
How does global distribution with Whatsapp work?
Reach a broader audience, increase response rates, and meet your customers where they are with Qualtrics WhatsApp integration, partnered with Twilio.
There are two ways to distribute feedback requests on WhatsApp:
An invite link to the survey - a link to the survey sent to the respondent that can be opened in a mobile browser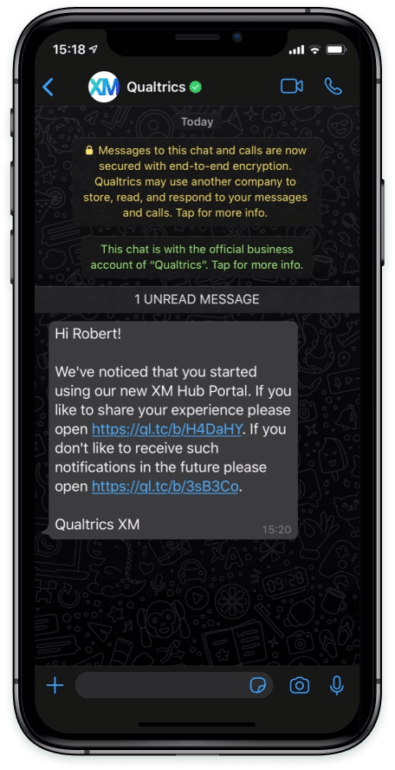 An interactive survey - respondents text their replies to each question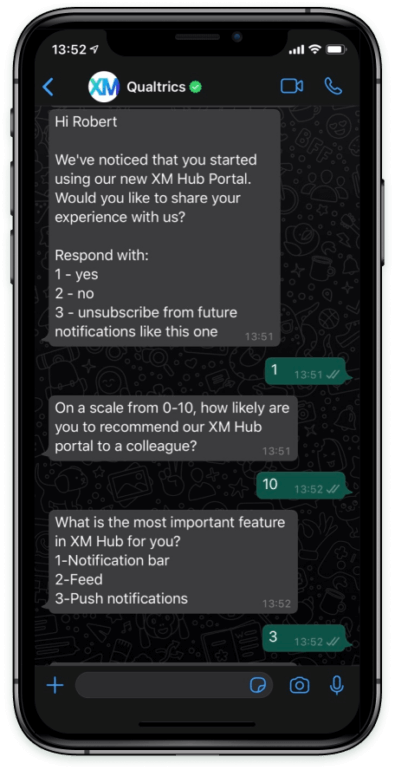 How to set up WhatsApp distribution
Create and verify a Twilio WhatsApp profile
Integrate your Twilio account with Qualtrics
Create your survey and survey message
Create a WhatsApp distribution
Upgrade your WhatsApp business account to an official one (optional)
Learn more about setting up WhatsApp distribution
In order for you to use the Qualtrics-WhatsApp integration, you must first have an XM Directory license, along with licensing that includes SMS distributions. If you do not have an active XM Directory license please contact your customer success manager. You can learn more here.
Find out why Qualtrics is the ultimate listening engine