Customer Experience
How Xero inspired a CX transformation to win more hearts
In 2006, a New Zealand tech start-up disrupted the global accounting industry with its cloud-based accounting software solution. At the recent X4 on Tour Sydney event, Amanda Bourke (General Manager, Customer & Insights - Xero) shared how Xero linked customer advocacy with commercial outcomes to successfully instigate Customer Experience transformation and help drive further growth. (View this session on-demand now.)
Led by beautiful design and constantly iterating features to add customer value, Xero inspired true customer love when it first launched, and has grown to a small business platform with more than 3.7 million subscribers today.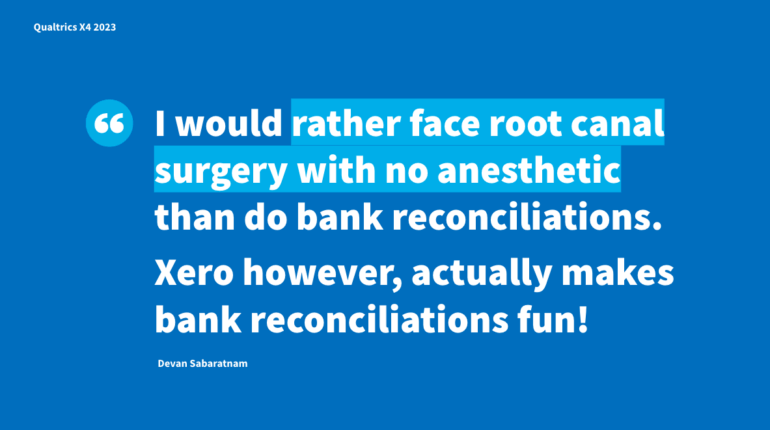 While its Net Promoter Score (NPS) remained consistently strong and Xero's products were consistently praised, the Customer & Insights team noticed a trend. There appeared to be an underlying discontent among customers as to how Xero was soliciting and acting on their feedback.
"Despite strong NPS scores and a customer-obsessed culture that meant our customers practically sold on our behalf, many of them felt we weren't listening to them. Our efforts to engage our customers were not only annoying them in their frequency, but there was a perception that when we asked for their feedback, we weren't prepared to listen."
-Amanda Bourke, General Manager Customer & Market Insights, Xero
Identifying root causes
To understand why, the Customer & Market Insights team conducted an audit and uncovered several findings. They discovered various teams within Xero had access to as many as 13 different tools to elicit customer feedback, in addition to bespoke tools used by product teams.
Xero needed to streamline these disparate systems to avoid duplicated feedback requests, remove data silos and enable more holistic decision-making across the organisation.
Showing the ROI to drive CX buy-in
As most organisations understand, instigating a customer experience transformation program means building a strong business case to justify the investment - a challenge when Xero maintained strong NPS.
"We had to show our decision makers that we would lose our advocacy advantage if we took our foot off the customer experience pedal. We had to demonstrate the link between superior customer experiences and driving exponential growth. Creating an emotional connection means your customers will do more on your platform and stay for longer. It also means that they will proactively promote it. That is a really powerful lever for driving brand equity and attracting customers."
-Amanda Bourke, General Manager Customer & Market Insights
Xero kicked off a whole-of-business program called Journey, Experience, Data, and Insights (JEDI) which essentially tracks and measures success across the entire customer journey.
JEDI carries through every customer touchpoint, creating a uniquely Xero experience that is authentic and consistent.
An enabler of this program is the Qualtrics CustomerXM platform which helps uncover the reasons behind customer behaviours, and surfaces specific areas to address.
"The platform provides greater autonomy to our teams, enhancing the overall customer experience and driving better performance across the different JEDI stages."
-Amanda Bourke, General Manager Customer & Market Insights
A new customer-centric operating model
Using Qualtrics as an integrated Brand and Customer Experience performance hub, Amanda and her team embedded customer-centricity into Xero's operating rhythm, including:
The hub is endorsed and used as a single source of truth for executive decision making (replacing PDFs).
A shared customer research calendar was developed, with all customer questions scheduled through this centralised system. This enables a holistic view of customer interactions, better scripting of questions, and avoids duplication.
Executive endorsement is required before surveys are sent to customers, ensuring greater alignment and effectiveness between teams.
A team of CX champions was created, composed of individuals from across the business who provide input on guidance and rule changes needed from within their respective areas.
Creation of a monthly power download session, enabling all global employees to gain insights into customer-related matters.
Interesting, quirky insights are presented through one-page infographics and displayed across the company's offices, and distributed via internal channels to spark conversations and continuously guide employees to the hub.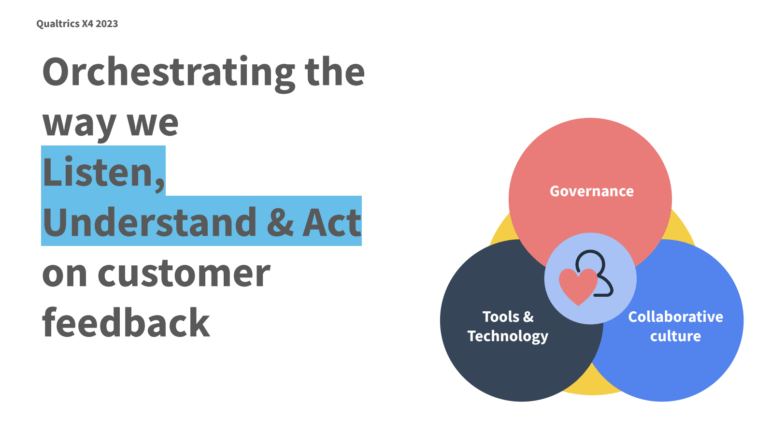 Xero's strategy to drive a new customer-centric operating model.
"Qualtrics has provided us with targeted, measurable, and actionable insights, particularly in relation to NPS, that help bring different teams together around a holistic understanding of our customers. Now, instead of one team trying to solve customer problems, we've got a cross-functional working group from product, education, and our automation specialists all working together."
-Amanda Bourke, General Manager Customer & Market Insights
Next - bringing together brand insights to drive retention and growth
The next evolution for the Xero Customer & Market Insights team is using the Qualtrics BrandXM solution to develop an even deeper understanding of the relationships between customer experiences and brand consideration.
As an example, Amanda and her team are working with the product analytics team to understand how customer experience impacts the brand, simply by gathering insights from their behaviours on the Xero platform.
Watch Xero's full session on-demand today to get across all of the insights shared. Learn more about XM for Customer Frontlines and watch a demo today.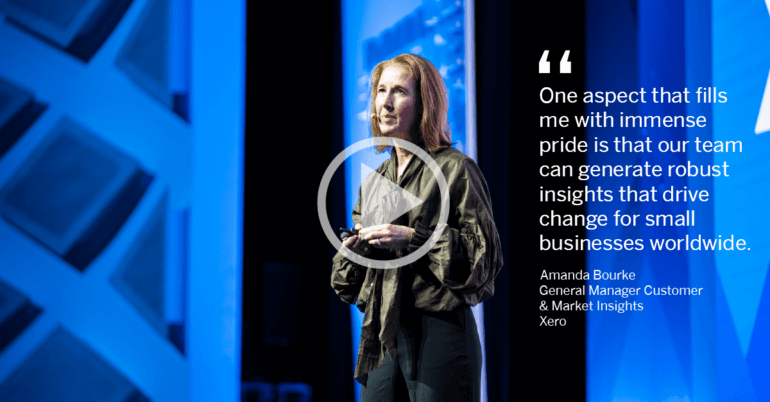 Related Articles