Experience Management
Contact center digital transformation: Your guide for succuess
annanewton // February 2, 2023 // 11min read
With customers looking for more personal and more comprehensive experiences than ever, your contact center is likely inundated with requests and information. We look at the technology and processes behind digital transformation and examine how you can develop your contact center into a successful data-driven customer experience hub.
What is digital transformation?
Digital transformation usually refers to the introduction of new digital technology into a company's operations, helping to enhance products, services and processes with innovative new techniques. A successful digital transformation strategy might mean the integration or upgrading of legacy systems and processes for better efficiency and a better customer and employee experience.
Learn from the world's best customer care leaders at X4 2023
What is a contact center digital transformation?
A digital transformed contact center is an omnichannel hub, supported by automation and other digital technology to provide a more streamlined service to customers. It's able to move away from the stereotype of an inefficient call center and move into the cloud, with a range of support for customer interactions across multiple digital channels.
By taking a contact center digital approach, your brand can discover, collect and analyze your customer data knowledge base in a new way, giving you new insights into the entire customer journey. The digital transformation not only benefits your customers, but helps your support agents to better understand their roles as well.
Why is digital transformation important for contact centers?
A digital transformation journey, particularly for a contact center that might have input from several departments, can seem like a large task to tackle. However, there are some very good reasons why your contact center might need to go through a digital transformation.
It helps you to better meet evolving customer expectations
In a world of vast brand choice and better access than ever, customers' expectations are evolving. Successfully building customer satisfaction is more complex than ever before, particularly in a post-COVID world where many businesses have moved online. Customers are looking for more personalized experiences and have higher expectations than before, and contact centers will need to keep up.
For example, customers want to feel as though each business they interact with knows them and their preferences. Rather than repeatedly introducing themselves and their history each time they interact with the various aspects of your contact center, they want businesses to have all their information to hand for a more personal experience. In our global consumer trends research, consumers told us that businesses need to care more about them - and that they'd buy more if they felt that recognition.

With an omnichannel overview in a digitally transformed contact center, you're able to collate all data in one place and provide the personal experience customers are seeking.
It's easier to collect, analyze and implement feedback
With a contact center that's mired in legacy systems, you're often unable to keep customer data in a centralized location. By using digital transformation to turn your contact center into a hub of insights, you're better able to collect, analyze and implement feedback from customers. Whether they tell you overly in structured feedback such as surveys or more subtly in open-text reviews, you're able to gather feedback for actionable insights.
You're better positioned to give customers the experience they want
Digital transformation means being able to give your customers the experience they want, on any channel, when they want it. Customers expect a seamless experience across every platform and they expect brands to meet them on the channels they want to use – and this goes for the service experience too. If you're not making that possible, you'll struggle to keep your customers coming back.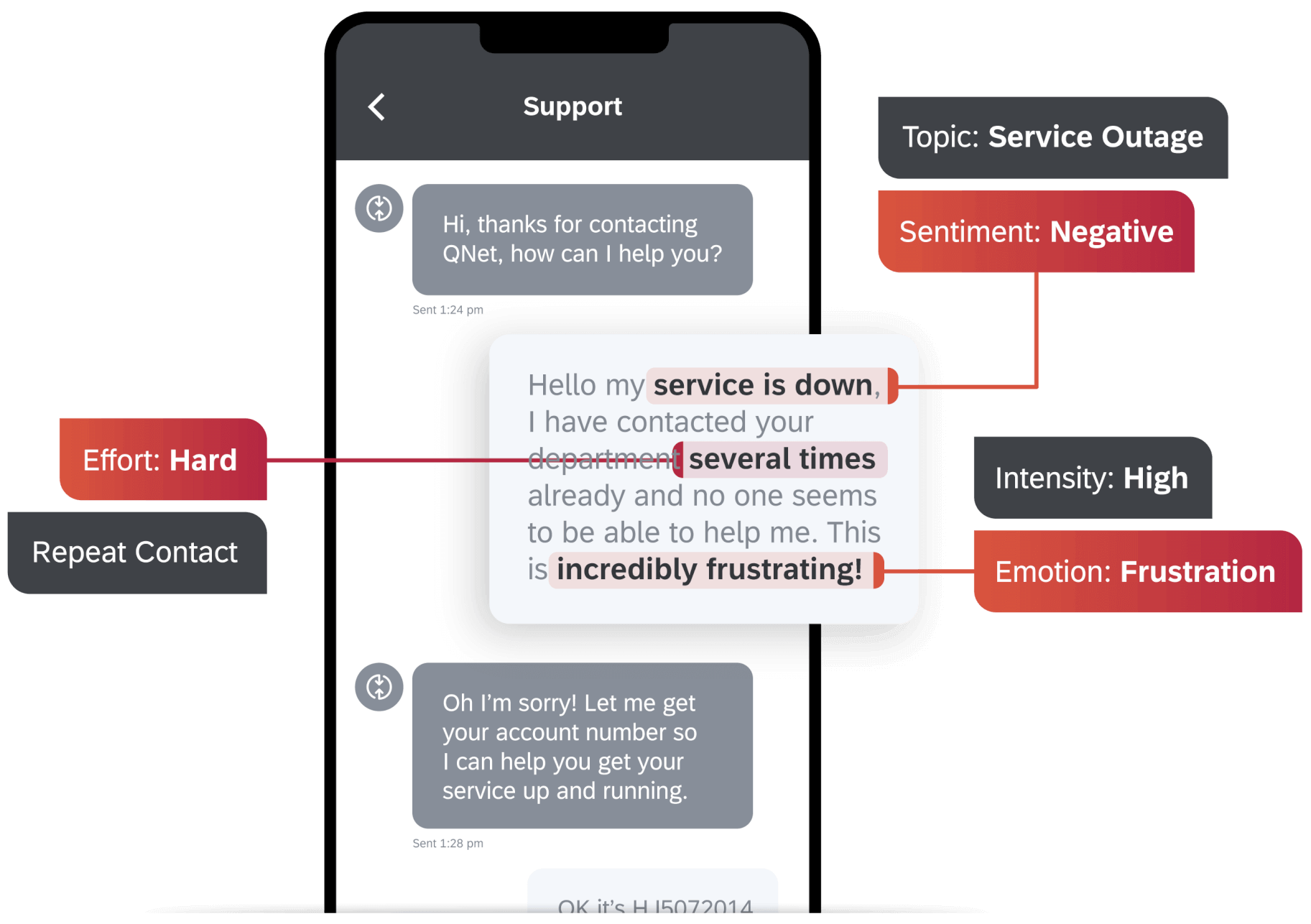 How to digitally transform your contact center
Your digital transformation initiatives will require input from various aspects of your business, not just from your support agents and technical team.
The digital transformation process
Step 1: Understand how your contact center digital transformation fits into your wider business strategy
Your contact center doesn't exist in isolation, to get the best out of it is to turn it into a strategic hub for the business. When you choose to undertake a contact center transformation, you're likely touching on several aspects of the business, from your support agents to sales to marketing to management. It's not just about operational efficiency - you'll need to decide how you want your contact center to fit into your overall customer experience and business processes.
Ideally, it's more involved than just a last resort for frustrated customers - it should be a generator of customer insights and a helpful partner in guiding your audience through the customer journey.
Step 2: Take an omnichannel approach to your customer experience
It's likely that you'll be introducing new technologies into your contact center approach. There's the obvious back-end technology options, such as those used for fraud prevention and cost reduction, but you're also going to have to select which digital channels you want to offer to your customers on the front end.
Your contact center should be able to meet your audience where they are. Each new channel you add should be one that your customers actually use and would prefer to contact you on. For example, certain demographics might prefer calling on the telephone with a live agent to solve an issue, but younger generations might look to mobile apps such as Whatsapp to speak with an artificial intelligence-driven bot to get quick answers. Your technology and digital channels should reflect the demographics your brand interacts with, which is why customer data and segmentation is key to the digital transformation process.
Step 3: Consider how your legacy systems will work alongside new technology
Your new technology base for your contact center will need to be able to handle either the data or the integration of older legacy systems to avoid vital information being lost. It's also important not to disrupt your current workforce processes where you don't have to, as this can impact your employees and your customers alike.
Step 4: Find technology that adequately serves your needs
It's no use making your contact center digital and not using the right technology for your needs. Carefully consider which digital technologies will augment your customer experience and make your employees' lives easier, rather than adding in digital technologies because they're available.
For example, if your business relies upon being able to give an immediate response to customers, you'll need multiple options for your communication channels, such as a self-serve customer hub or an AI-enabled chatbot. The latter might not be as important if your customers show a strong preference for human interactions, however. Use your contact center data to understand where best to invest your digital transformation strategy.
Step 5: Empower your employees
Your customer service agents are often the only source of human interactions your customers will have with your company. They're the face (or voice) of your business, so you need to empower them to provide the best, most empathetic service possible.
Offering them training on your newly digitally transformed contact center will allow them to make the most of the new systems you've put in place. Give them access to real time analytics so they can provide a better customer experience every time.
For example, if your contact center is supported with natural language understanding (NLU) technology, your customer service agents will be able to detect customer emotion, sentiment, effort and intent automatically, helping them to respond appropriately.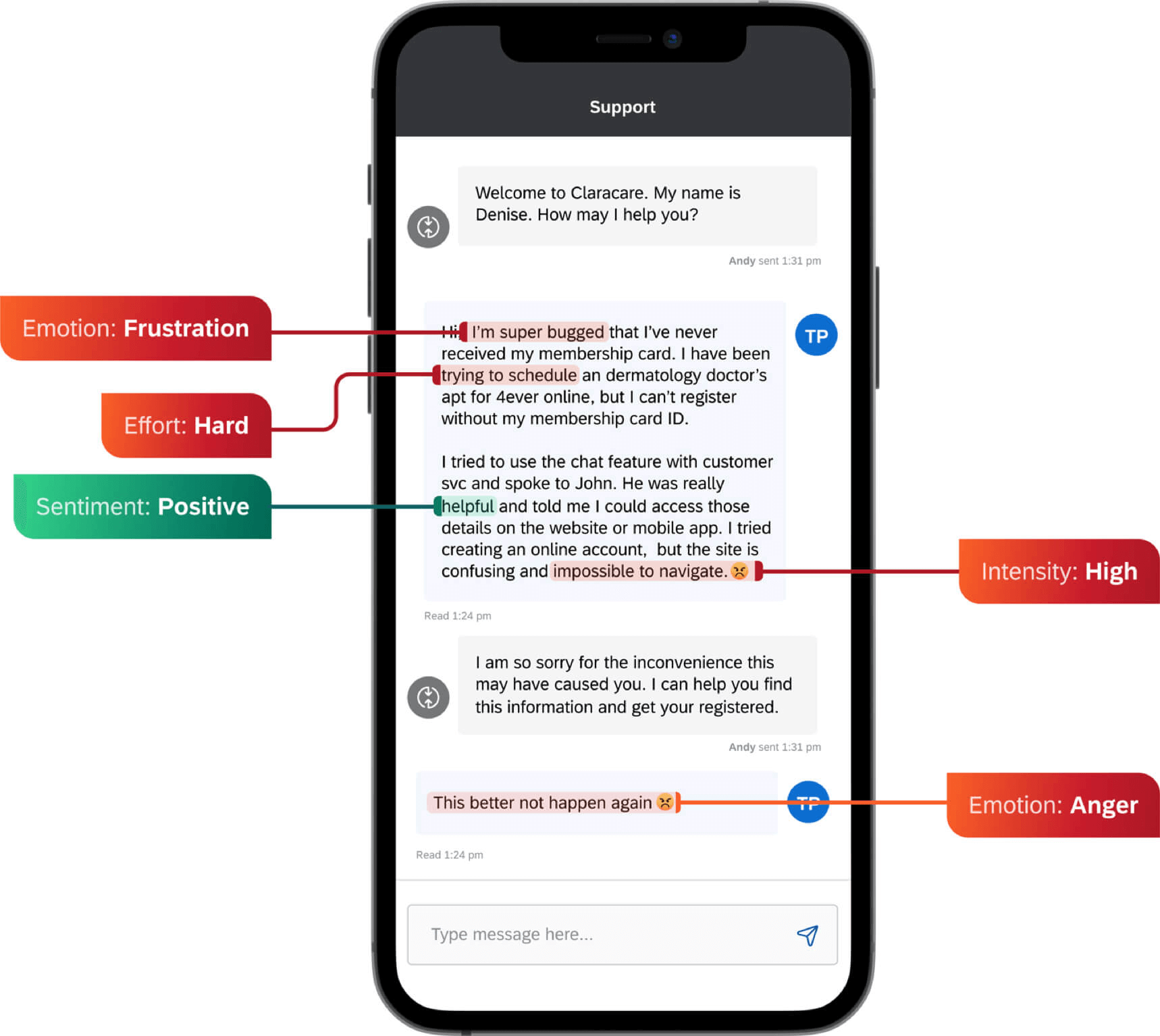 Step 6: Constantly learn and adapt
If you've connected your contact center to real time analytics and customer insights, you'll be able to constantly learn what works and what doesn't. Don't let your customer data go to waste - make sure you're using a contact center platform that can deliver invaluable insights to the right team member at the right time. Adapting your strategy will be easier with technology at its core.
Contact center digital transformation best practices
Embed customer journey data deeply into your contact center
Understanding your customer journey is key to providing a contact center experience that's not only helpful, but memorable. Contact centers shouldn't just log complaints - they should be a source of customer loyalty opportunities for your brand.
Whether your contact center is there to answer queries through self-service functions, resolve service issues or drive new product ideas through feedback, your customer journey data should be entwined with that of your contact center.

Focus on the overall customer experience
It's all too easy to focus on outreach to contact centers as the key target of customer experience efforts. However, for better customer retention, you need to see the contact center as just one part of the overall customer experience.
Think about how you can use the data gleaned from your contact channels to create customer experiences that delight. Can customer queries be more easily and quickly answered with a customer information hub or self-service portal? Do customers care more about agent empathy or short wait times?
Create memorable contact center experiences with Qualtrics
With Qualtrics, you can put your contact center at the heart of your customer interactions, and turn customer satisfaction into increased revenue.
Powered by sophisticated machine learning and automations, real-time analytics and hundreds of technological integrations, Qualtrics can help you make your contact center digital transformation a successful investment for your business.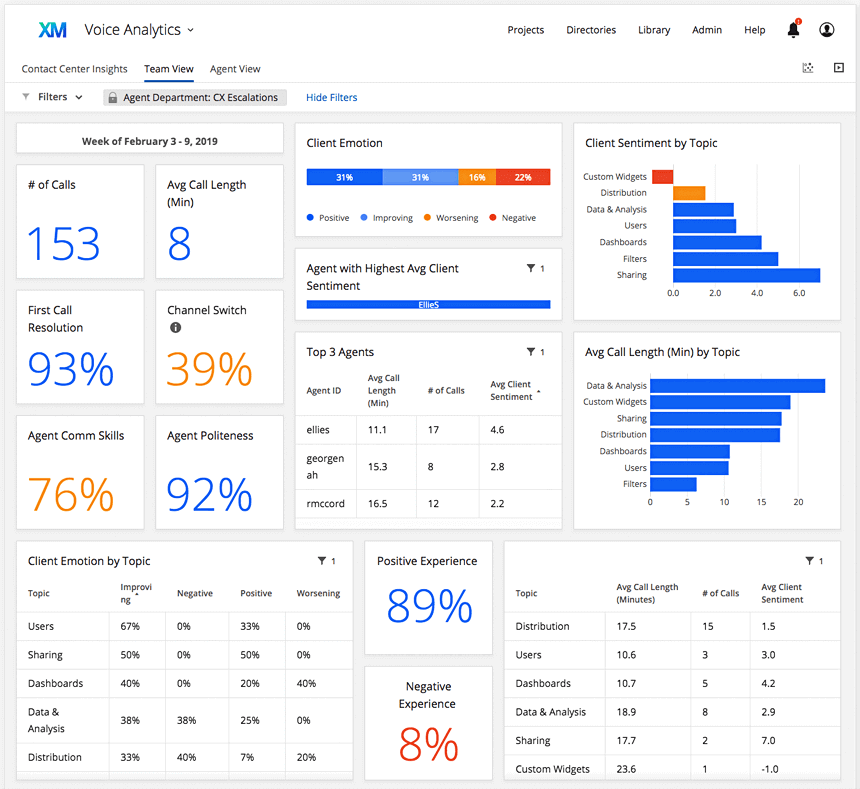 Learn from the world's best customer care leaders at X4 2023